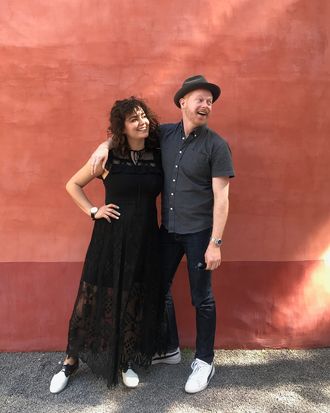 Photo: Courtesy of Jesse Tyler Ferguson
About seven years ago, actor Jesse Tyler Ferguson walked into the offices of Hedley & Bennett — Ellen Bennett's apron company (that now also makes very good masks) — to design his custom apron, a gift from his husband, Justin Mikita. "We didn't know each other, but by the time he walked out, we were two peas in a pod," says Bennett, who made Ferguson a member of her gorgeous Technicolor wedding party a few years later. "He felt like a long-lost brother from another mother." It helps that Ferguson, who also runs a food blog turned book called Food Between Friends with recipe developer and author Julie Tanous, is just as into food as Bennett is. ("We talked about food and restaurants and aprons," Bennett adds of their meet-cute.) So we asked the pals to share the gifts they'd like to give each other this holiday season — all of which happen to be great gifts to give your own best friend.
From Ellen to Jesse
There are two things I believe every good cook should have in their home: a good cutting board and a good apron. I have this cutting board at home and it lives on my counter. It is a no-regrets perfect gift for any foodie in your life.
The Waxman is Hedley & Bennett's coolest apron and a great gift because it's super durable, beautiful, and easy to clean. Every good cook should have a good apron, and this one is one of our best. It's handmade here in L.A., made with leather straps and wax canvas.
I don't wear perfume and neither does Jesse, so this is the perfect gift. It looks nice, smells nice, and you can keep it near your kitchen sink to have after cooking and then handling the inevitable ton of dishes.
This is from a beautiful brand in Marfa, Texas. I love everything it does and would give this blanket to Jesse for a few reasons. Jesse grew up in New Mexico and I would love to give him something that reminds him of home. We went to the Albuquerque Balloon Fiesta a few years ago and this blanket reminds me of that adventure. Lastly, Jesse and I both love color and this blanket just reminds me of him so much.
I love this bowl and am obsessed with Mud and all its ceramic colorful dishes. Not only is this bowl oven-safe and durable, it's beautiful as well, and the color pops so beautifully on a kitchen counter.
From Jesse to Ellen
My cooking partner Julie gave me one of these last year and I love it so much. In my opinion, there is nothing more essential in a kitchen than a really good cast-iron pan, and Smithey makes one that is so pretty, you won't want to put it in a drawer. Ellen inspired me to hang my most used pans over my stove, and I know this one will look great han