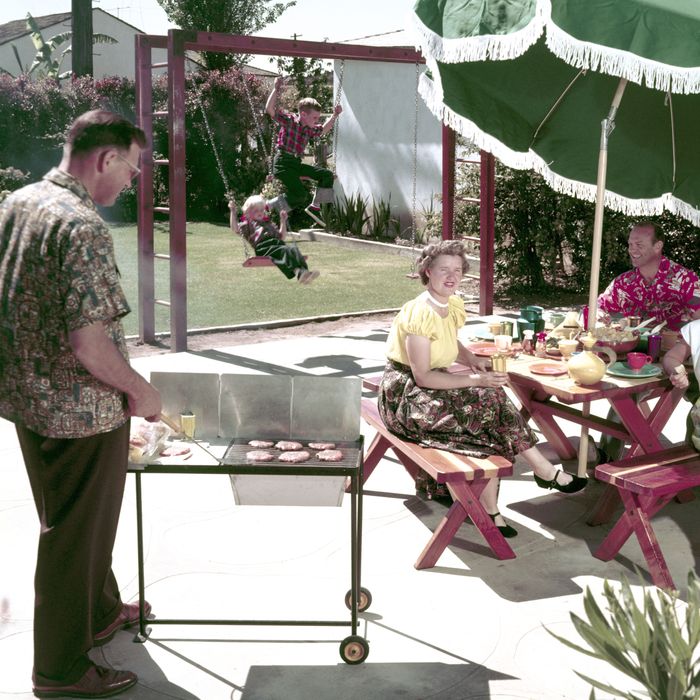 You, too, can have a get-together like mine.
Photo: J. R. Eyerman/The LIFE Picture Collection/Gett
At the risk of sounding pompous, I'm a pretty competent outdoor griller. That sounds like a bigger brag than it is; most of my prowess with grilled foods comes thanks to timers, tongs, spatulas, and meat thermometers that help me serve meat to charred, medium-cooked perfection.
Until a few years back, I didn't believe in gas grills and never used a thermometer due to some inscrutable sense of pride. The result? Mostly good eats, but also a lot of waiting around for coals and occasionally biting into markedly undercooked or overcooked meat. It wasn't until I loaded up with the right tools — starting with the grill, before moving on to thermometers, tongs, even a grill light and gas-level indicator — that I started turning out perfect grilling every time. These are the best grill accessories I use.
After doing my research, I hunkered down and bought a Broil King Baron S440 grill, which is cheaper than a comparable Weber, but arguably better for a few reasons (four burners rather than three, more square inches of cooking space, and the inclusion of a side burner for the ability to cook something else while your meat's grilling). There's also a temperature gauge built right into the lid, though, of course, I always keep a meat thermometer around for extra precision.
I lived in L.A. for 12 years, and just about every day there was perfect grilling weather. Now, I live in N.Y., and many days are cold, wet, and best spent indoors. Even so, I use our grill year-round. With the ThermoPro TP20 Wireless Remote Meat Thermometer, I can actively monitor a steak, chop, fillet, or chicken breast's cooking progress while sitting on the couch inside; it's a unit with a clear LCD screen linked to a remote device with stainless-steel probes that stay inside your meats as they cook. You can set a time or preset heating targets and just wait for the alarm to go off while you're watching Atlanta.
Different meats require different grill tools. Delicate fish fillets need to be flipped using a spatula; burgers, steaks, and chops should be handled with tongs; while chicken breasts are most often best stabbed and handled with a fork. But does all that mean you need to use a separate spatula, grill fork, and tongs? No, because the Stingray is the Swiss Army knife of grilling equipment, combining all three tools and even sporting a bottle opener built into its handle. Truth be told, they're playing a bit loose and free with the seven-in-one claim, as the brand is calling one side of the spatula surface a toothed tong, the other the regular tong, but it's definitely at least a four-in-one.
Anyone who thinks a barbecue light is unnecessary either enjoys superb outdoor illumination (doubtful) or doesn't do much grilling. Cooking outside in the dark is such a frustrating experience that can easily lead to bad and even potentially dangerous meals (before the Zeust, I'd even resorted to strapping on a headlamp). This light is a slender stainless-steel lamp with a flexible gooseneck design, which, unlike most grill lights that clamp on to a section of the grill, has a sturdy base that can perch on a flat surface but is also magnetized to stick onto any ferrous metal. In other words, a total lifesaver.
You know those fancy battery-powered, motorized grill brushes that have spinning heads promising to give you the cleanest grill ever? I hate those things. I used one for a few weeks a few years back, then tossed it and reverted to a $10 little scraper that worked twice as well. The Grill Daddy Pro Bristle Lock Safety Grill Brush might look fancy, but really its large, slightly odd shape is all about ergonomics. The length, arc, and handles of this brush allow you to deliver maximum force as you clean your grill, which you'll be doing with stainless-steel bristles secured in place with a proprietary "Bristle Lock" technology that ensures you'll never find an errant metal bristle in your bite. The handle even has a water reservoir that distributes steam over the grill (tip: Always clean a hot grill for best results), helping lift grit and grime while cutting through grease.
You're asking: Why do you need a handheld meat thermometer when you already have the remote ThermoPro TP20? Lots of reasons, the simplest of which is that often you will have lots of different meats on the grill and you'll need to take a variety of readings quickly. The compact, durable Lavatools PT12 Javelin Meat Thermometer produces a temperature reading in about three seconds, and it displays the reading on a large LCD screen that's easy to see even in low light. (Which isn't a problem anymore thanks to that grill light we discussed, right?) Also, said readings are accurate to within one degree, so not only does this thermometer read more quickly than a traditional analog meat thermometer but it also removes the guesswork. (As in: "Hey, is this needle pointing at Super Rare or Burned Into a Lump of Charcoal?")
One of the most common — and worst — parts about grilling is scraping crusted bits of food off of the burners after they have fallen through the grate. Sliced veggies, shrimp, even the occasional hamburger patty can slip through, creating quite the mess to be addressed. That is, unless you're using the Grillux BBQ Basket, a stainless-steel grill basket that can be placed atop any sort of grill (charcoal, gas, or even wood fire) and filled with loose veggies, shrimp, fries, and so on. Most people think of these for veggies, but I love using mine for delicate meats all the time, like flaky fish or a thin cut of steak. Bonus: It not only keeps the internal components of the grill cleaner — the grate's cleaner, too.
Okay, let me clarify things: When you use the AP Products Propane Tank Gas Level Indicator, you can still absolutely run out of propane, but it will be due to your own negligence (sorry). That's because once you've placed the remote magnetic sensor (or sensors) underneath your grill's propane tank, the phone app will inform you as to exactly how much propane is left. To some, this might seem unnecessary, but the first time you run out of gas with a rack of ribs or filet mignon on the barbecue will be the day you ask yourself, "Why did I not buy that crazy little indicator?"
Looking for some gloves? Writer Caitlin M. O'Shaughnessy discovered these pit gloves — used by actual pitmasters — and loves them so much that she uses them as oven mitts: "The right tool for the job? Artisan Griller pit gloves, which my mother discovered in time for Thanksgiving 2015. At first, I made fun of her for her enthusiasm about ordering a hostess gift 'guaranteed to make you feel like a real pitmaster,' but the highly reviewed gloves (4.8 stars and 807 reviews) are the ultimate kitchen utility player. The cotton-lined gloves are coated with neoprene rubber and designed for true-blue barbecuers who have to handle hot meat on the smoker — that means they're also waterproof, stainproof, and (most importantly) greaseproof."
If you're looking for a different digital meat thermometer — a more special one — Strategist writer Maxine Builder stands by the (admittedly pricey) Thermapen, which has also been endorsed by pitmasters we spoke to: "What makes the Thermapen stand out from other digital kitchen thermometers is its speed and accuracy. According to the manufacturer's website, this food thermometer can tell the real-time temperature of whatever you're trying to measure within 0.7 degrees Fahrenheit in under three seconds. That speed makes a noticeable difference when you're balancing a roasting pan on a hot oven door as you try to take the temperature of whatever's inside without burning yourself or letting out too much heat."
We included this portable grill (that packs up into something like a suitcase) in a Father's Day gift guide last year, and so many of you bought it that it was sold out for a bit on Amazon — it's back now just in time for Father's Day 2018.
If you're averse to all the flipping and prodding and measuring required of grilling, do what Myron Mixon (four-time winner of the World Championship Barbecue Cooking Contest) says and get a smoker instead: "Some people think you can't cook everything on a smoker, but they're wrong: This smoker works whether you're doing hot dogs and steaks or pork and ribs. For a hot dog, you just put it in the smoker and come back in 15 minutes. No need to watch over it, flip it, or anything. I usually like to put a little barbecue rub on it, and that gives it a nice little crunch. The truth is, everything that someone would want to barbecue you can cook with the Masterbuilt smoker, and it's much more delicious."
If you're interested in cooking a beer-can chicken for a crowd, pitmaster Nick Pihakis of Jim 'N Nick's Bar-B-Q in Birmingham recommends this nifty contraption: "This is, in my opinion, one of the best ways to cook a chicken. Not only is upright roasting the optimal position to roast a chicken (fat drips away, heat surrounds the chicken 360 degrees, skin crisps up better), this cooking method allows the steam and vapors to flavor the chicken from the inside cavity out, helping it to stay moist. This pan is functionally designed to hold the bird upright, and features a drip pan and handles, which allow you to easily place it on the grill. It's a must-have."
The Strategist is designed to surface the most useful, expert recommendations for things to buy across the vast e-commerce landscape. Some of our latest conquests include the best women's jeans, rolling luggage, pillows for side sleepers, ultra-flattering pants, and bath towels. We update links when possible, but note that deals can expire and all prices are subject to change.
Every editorial product is independently selected. If you buy something through our links, New York may earn an affiliate commission.