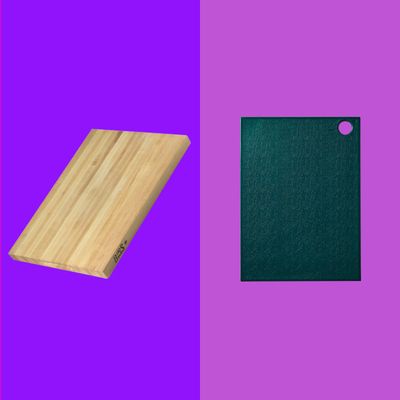 Photo-Illustration: The Strategist
Though we use cutting boards day in, day out, we rarely regard them with the same prestige as knives or consider the pros and cons of different models like we would when buying an expensive blender or air fryer. Indeed, when I called up a bunch of experts to ask them about their own favorites, many told me they had never thought so hard about what makes a great one. But then it turned out (unsurprisingly, I suppose) that they had a lot to say — and passionately, at that. Most people have several in their rotation, a mix of the usual suspects like plastic and wood, sometimes with a more unexpected material thrown in, like rubber. They also own varying sizes, some with fully flat surfaces and some with additional bells and whistles. You'd probably be wise to curate a mix of your own and grab whatever is best for a given task — chopping, carving, smashing, grating, slicing, peeling, fileting — at any moment. Read on to hear about each.
The most straightforward feature to consider when buying a cutting board is its material. There are three wooden ones on this list, which tend to be durable but not too hard on your knives. They're quite handsome — and though there's a standout wooden pick for its design, all could easily double as cheese boards set out at a party. They're also very long-lasting; if you take care of yours, it should be with you for years. Upkeep, though, is a potential downside. I wouldn't use mine for anything that stains, like beets, and they must be washed by hand and treated with oil or –cream every so often or they will dull and dry out. They also tend to be relatively thick and heavy. (Be wary of superthin wooden boards, which can warp with wear.)
There are also four made of plastic, the other most popular material, on this list. Plastic boards are thinner because the material is harder (though well-made ones shouldn't dull your knives super-quickly either). They're also much lighter, easier to maneuver around and store, and are dishwasher-safe. They likely won't last quite as long as their wooden counterparts, but they're cheaper.
Finally, there's one rubber board, meant to be particularly good for your knives (and your wrist, too).
For the boards below that come in multiple sizes, I've listed the dimensions of the one that the expert spoke about directly but noted in the description if there are more options available.
Material and size both affect weight. The heavier the board, the harder it will be to move around and clean. Particularly lightweight ones might require you to place a kitchen towel underneath to ensure they don't slip. In the case of this list, not every brand disclosed the exact weight, so where it's unknown, I made sure to detail what the experts said on the matter in the description.
I've noted whether each board is hand-wash only or dishwasher safe. (Though remember: Wooden boards require the extra step of applying oil or cream.)
Best overall cutting board
Material: Recycled plastic | Size: 14.75" long, 10.75" wide, 0.375" thick | Weight: 1 pound | Care: Dishwasher-safe
Material Kitchen's reBoard and the Boos Block below both received the most endorsements, with five pros each (including myself) citing how much they love them. I chose this as the best overall because it's a bit more accessible and versatile. I use mine multiple times a day, whereas I only pull out my Boos for heavy-duty tasks, or to serve on (more on that below).
Food stylist Judy Kim has been a die-hard reBoard fan for four years; she has seven in rotation — some at home and some in the case she totes around to kitchens all across New York City for work. "The texture of it is probably the most important feature," she says. "Some other plastic ones are so sleek and so smooth, you can feel your knife slip sometimes, even just a little bit." This also helps the board stay in place on the counter, even though it's very lightweight, something that recipe developer and cookbook author Alexis deBoschnek appreciates. "It's substantial, but also easy to handle," she says. She owns a couple of the mini-size, too, ideal for things like chopping garlic, slicing chives, or cutting lemons. For recipe developer and cookbook author Kristina Cho, they're her choice for preparing proteins. She points out that some other plastic boards tend to get gritty after a while, but these are easy to clean and have held up, with no grooves or marks showing after a year of consistent use. Bill Clark, culinary managing director of Catskill's Scribner's Lodge and Fellow Mountain Café, uses his at home for quick tasks like chopping onions as well as for meat and fish — but says they're also perfect to take out to the grill, camping, and on vacation. Finally, all of the people I spoke to pointed out the beautiful color options (something you don't often see when it comes to plastic boards); Kim describes them as "deep and saturated." And most pointed out that they're made sustainably with recycled plastic and renewable sugarcane.
Best wood cutting board
Material: Wood | Size: 20" long, 15" wide, 1.5" thick | Weight: 10 pounds | Care: Hand wash only
No way around it: Boos Blocks are thick and heavy. (Here, we've listed the medium size, but you can go slightly smaller or bigger.) While that means they're not the easiest to move around and clean, they provide pretty much the sturdiest work surface you can find. (There also is an indent on the side, which acts as a handle to help control it.) Cho even puts hers over her sink for bonus counter space in her small kitchen where it "really does not slip," she says. The fact that it's big also means she can prep various ingredients at once, scooting them to the side when she's done. "There's something nice about chopping your produce against a wood grain," she says, "something almost buttery." Clark keeps his "permanently installed" on his countertop, too, reserving the surface for tasks like making sandwiches, buttering morning toast, and prepping vegetables — "anything that doesn't involve raw meat, poultry, fish, or alliums," he says. That way, he can simply wipe it down when he's done, only giving it a more thorough wash about once a week. Food and prop stylist and cookbook author Jess Damuck and co-owner and chef of Los Angeles's Kismet Sara Kramer both point out that the Boos doubles beautifully as a party platter for cheeses, charcuterie, tinned fish, and crudités. Damuck uses hers for pizza, too. If the price sounds intimidating, know that all these experts have had theirs anywhere from five to eight years and they're all still going strong — with the exception of Cho, who recently decided to invest. "I'm always cautious about what I spend money on," she says, "but this feels like something that will be with me for a long time."
One note: Color and price variations can be found based on the type of wood you buy. The maple one listed is the lightest shade and the cheapest, the cherry is slightly darker and costs more, and the walnut is even darker and the most expensive of the bunch.
Best less-expensive plastic cutting board
This board is the most no-frills of the bunch — and that's exactly why editor and cookbook author Klancy Miller loves it. "They became my go-to by chance," she says. "Whenever I've moved apartments, I've made a trip to Ikea. The first time I threw one in, just filling up my basket. And now, if it's not broke, don't fix it." The price is an obvious advantage; even with shipping, it's by far the cheapest on this list. Given that, they've lasted Miller a long time. She's had her most recent one for nearly six years. She most frequently cooks for just herself, sometimes for a small handful of friends, and the size works well for that. Plus, she finds them easy to clean. "I do always use a dish towel underneath," she says, "and it works."
Best wood cutting board with a moat
Material: Wood | Size: 18" long, 13" wide, 1" thick | Weight: 5.5 pounds | Care: Hand wash only
I've sung the praises of this thoughtfully designed board before, and I'm here to do it again. I've had mine, the largest of three available sizes, for several years now. I find it's big enough to do all manner of things — cut long vegetables like carrots and celery, carve a whole roast chicken, chop a few ingredients at once without having to move them — but not overwhelming to handle. It's pretty light, especially for wood, and the tapered edges make it easy to pick up. There's a moat and pour spout on one side to catch and release juices from the aforementioned chicken (or any other meat, for that matter), and the liquid from fruits like watermelon and citrus. Perhaps the smartest feature of all, though, is the one I never thought I would use when I first got it: a small slot on the opposite surface to hold up my phone. It's super useful for displaying a recipe (especially when I'm watching a TV show on my laptop and don't want to pivot back and forth) and also for FaceTiming my family and friends while cooking (something I do often) without having to make them stare at the ceiling.
Best plastic cutting board with a moat
Material: Plastic | Size: 14.7" long, 10.3" wide, 0.5" thick | Weight: 1.67 pounds | Care: Dishwasher-safe
A few experts mentioned Oxo's Good Grips Utility Board (and it's no big surprise, as Oxo is one of our favorite brands for kitchen tools). Recipe developer and cookbook author Ali Slagle first told us about hers in her Strategist story on the essential kitchenware she brought with her while living in a van for six months — her go-to before, during, and after that trip. "I've tried a bunch, and what this one lacks in beauty it makes up for in utter practicality," she says. It doesn't come with any of the issues that certain plastic boards can, like clinging onto smells, being hard to clean stains off of, and wearing and warping with a lot of use. She appreciates the moat, practical in the same instances as the Five Two one above. "But the key thing — the thing that really makes this board succeed and that no other board has — is the little no-slip feet on each of the corners," she says. They're made from silicone and cling to your counter to ensure the board stays perfectly in place. Damuck has a couple of different sizes, too — a bigger one for throwing on top of her Boos if she's dealing with meat, a smaller one for smashing garlic or cutting a lime for cocktails. She loves that she can throw them into the dishwasher and that they're light enough to take with her to food-styling jobs.
Best rubber cutting board
Material: Rubber | Size: 18" long, 12" wide, .75" thick | Weight: Unknown | Care: Hand wash only
In the restaurant, and for bigger cooking projects at home, Clark turns to these commercial rubber cutting boards, which come in many different shapes, sizes, and thicknesses. "They're super-easy on your knives," he says. "You can really feel a difference when you use them consistently." Even with the softer material, they last for years, and Clark assures that they don't absorb and hold on to odors as much as plastic and wood. He does warn, however, that they're on the heavier side, especially the thicker you go.
Most stylish plastic cutting board
Material: Recycled plastic | Size: 16" long, 11" wide, .75" thick | Weight: Unknown | Care: Dishwasher safe
This cutting board was as close to being a viral sensation as a cutting board can be (at least in the food world). A couple of years ago, I started seeing the distinct speckled surface pop up in so many people's Instagrams — Dan Pelosi, Carla Lalli Music, Danny Bowien, Bill Clark, Natasha Pickowicz, Kia Damon, and too many more to remember. It's held on, still around, and I finally got my hands on one of my own. It's hard not to be drawn to the pattern and colors. Even the mostly black-and-white version I have pops, which means it looks great sitting out on my counter (where I store all my boards) and that it can seamlessly double as an appetizer platter. But it's also not all in the appearance. Just like the reBoard, it's sustainably made from recycled plastic scraps. The surface is gentle on your knives and doesn't easily show grooves and marks. It comes in a myriad of shapes and sizes, each with slightly different design details (none or one or two handles, a moat or no moat, a stamped-out ring for hanging or not) so you can pick the best one for your needs. The standard one shown here is thicker than all other plastic options in this roundup but still feels quite light.
Most stylish wood cutting boards
Material: Wood | Size: 11.75″ long, 8.25″ wide, .5″ thick | Weight: Unknown | Care: Hand wash only
If color doesn't appeal but you still want a board that stands out, Doshi chef Susan Kim recommends these wooden boards crafted by Russel Ooms. He uses different types of wood — walnut, oak, cherry, poplar, mahogany, douglas fir, wenge, purple heart, padauk, and more — to create one-of-a-kind striped patterns across each surface. Kim recently picked one up for herself at Little King in Beacon, New York, and it's become a favorite, what she now reaches for to slice bread in the morning and to cut vegetables. "Of course, it's visually pleasing," she says. "But the most appealing thing about it is that it's very, very light for wood, which makes it easier to use."
• Kristina Cho, recipe developer and cookbook author
• Bill Clark, culinary managing director of Scribner's Lodge and Fellow Mountain Cafe
• Jess Damuck, food and prop stylist and cookbook author
• Alexis deBoschnek, recipe developer and cookbook author
• Judy Kim, food stylist
• Susan Kim, chef of Doshi
• Sara Kramer, co-owner and chef of Kismet
• Klancy Miller, editor and cookbook author
• Ali Slagle, recipe developer and cookbook author
The Strategist is designed to surface the most useful, expert recommendations for things to buy across the vast e-commerce landscape. Some of our latest conquests include the best acne treatments, rolling luggage, pillows for side sleepers, natural anxiety remedies, and bath towels. We update links when possible, but note that deals can expire and all prices are subject to change.