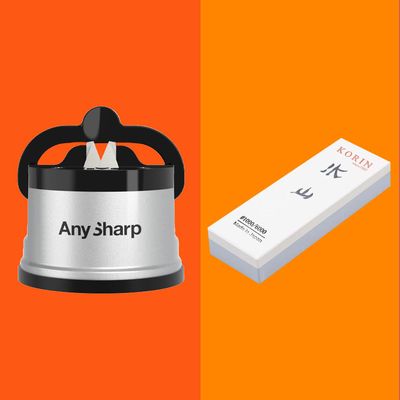 Photo-Illustration: The Strategist; Photo: Retailer
We have plenty of advice on the best kitchen knives and the best chef's knives, but over time and with lots of use, even the best blades in the world will become dull and less effective. Knowing how to maintain your knives is as important as knowing which knife to buy in the first place. Broadly, knife sharpeners come in two forms: pre-set, integrated devices, and more customizable, cut-back devices, such as stones or rods, which allow chefs and more experienced amateurs to fine-tune their sharpening skills. Your choice will depend on your skillset (the former are best for home cooks, the latter for more experienced chefs). Once you've made your choice, finding the right one within your budget can be tricky given the variety of options available. So, I've spoken to professional chefs, home cooks and kitchen bloggers to find their favorite picks. I then cross-referenced grit strength, warranties, and ease of use to find the right choice for every type of chef — and knife. However, knife care goes beyond just sharpening: Before you start with any knife sharpener, wash your knife with soap and water, then dry fully to reduce friction. Once you're done, wipe with a dry cloth — and if you want, a little olive oil or mineral oil.
You can pick up a simple knife sharpener from your local big-box supermarket for less than ten bucks, or you can spend closer to $1,000 on a high-end tool that wouldn't look out of place in a professional kitchen.
With one notable exception — which I've flagged as such — I've gone for those that offer the best value for money for their longevity. Like a knife, a knife sharpener should be a buy-once, buy-well purchase. Sometimes it can be worth spending a little more on a mid-level device that comes with a long warranty or has low-cost replacement parts than buying a cheaper disposable device that's less effective or doesn't last as long.
Pre-set, integrated devices are best for everyday home cooks. If you're an experienced amateur (or a chef), then cut-back devices, such as stones or rods, might be a better fit for you. If you're choosing the more customizable devices, you then have to pick between a stone or a rod (or steel). "A steel will revive the blade for a little while, but it is not a long-term solution to sharpening your knife like the stones are," says Akshay Bhardwaj, Michelin-starred executive chef at Junoon and the upcoming Jazba.
Grit is a catchall term for the rough material that sharpens your knife. Grit can be made from a number of materials, and broadly divide into natural materials and synthetic ones, though you also get ceramic sharpening stones that are made up by combining ceramic particles into a single stone. Beyond the material choice, there's also the roughness, or grit level. Every grit level is different; the lower the grade, the coarser the stone. (This chart may help.) Anything between #1000 to #3000 is ideal to sharpen a dulled knife. Beyond #4000, you're looking at such a fine grit that you're trying to finesse your knife edge into a buffed, polished finish. I've pointed out the grit levels of the whetstones throughout.
Best overall knife sharpener


If you have a couple of knives you use all the time and want to keep them sharp, it's hard to go wrong with this $20 sharpener from AnySharp. The company specializes in sharpeners and offers professional grade options as well as sleeker designs at a higher cost, but the Pro is a good all-rounder. At around an inch square, it weighs just under 200 grams — perfect for a small kitchen, and able to be tucked away in a drawer. "It's easy to keep your knives sharp without taking up loads of kitchen space", says lifestyle blogger Jen Mellor. It's easy to use, too: The AnySharp attaches to a kitchen worktop with its patented PowerGrip method, which means it won't move while you draw the blade back-and-forth over its tungsten carbide sharpening tools. Those tools are set at 20 degrees, the optimal angle for most sharpening stones, so even a novice cook can use it. "It sharpens knives so easily in a few strokes without the risk of cutting yourself, is small and compact, so perfect for slipping into the drawer and is not expensive," says Mellor. Want to extend the life of the AnySharp beyond the ten-year warranty? Spare sharpeners can be bought for around a quarter of the price of the whole product and attached to the top of the device.
Best (less expensive) knife sharpener
Pre-set / Warranty: Unknown / Grit: Tungsten carbide
At less than $10, the KitchenIQ 50009 is highly rated by users, with nearly 70,000 reviews on Amazon. There are two sharpeners within the device, which grips the edge of the counter: one fine, and one coarse, with channels that ensure you're sharpening the knife at just the right angle. "I love how this tool brings my old, lifeless knives back to life with just a few simple strokes," says one Amazon reviewer. "The Edge Grip feature is a game-changer, allowing me to safely and stably sharpen my knives on the edge of my kitchen countertop."
Best stone knife sharpener


Custom / Warranty: Unknown / Grit: #1000/ #6000 whetstone
The Mizuyama looks daunting: It's a two-sided, rectangular stone not unlike an oversize pencil eraser — a world away from the AnySharp above. But Akshay Bhardwaj, Michelin-starred executive chef at Junoon and the upcoming Jazba, says it's actually easier to use than you'd imagine, and is a good transition tool for those who want more customizability. "The price point is very reasonable, and the two sides act as two separate stones so it functions as an all in one stone that gets the job done," says Bhardwaj. "The #1000 side is a tougher grit and the #6000 is a finer grit so you can sharpen on the #1000 side first before polishing your knife on the #6000 side." Bhardwaj recommends watching one of the many YouTube videos showing how to use the Mizuyama before diving in.
Best (more expensive) stone knife sharpener
Pre-set :(20 or 15 degrees) / Warranty: Unknown / Grit: Diamond
If the AnySharp is too basic, but you're not ready to take on a rod or whetstone, the Tumbler is a great choice. It bridges the gap between the pre-set novice device, and a customizable stone. "I usually use #1000- and #5000-grit stones to sharpen my knives, but a lot of people are intimidated by finding the right angle when sharpening with it," says Samuel Kim, senior director of culinary operations at Kijung Hospitality. "Companies now sell attachments with stones that will guide you to the right angle." One that Kim recommends is the Tumbler. "I find it is a great alternative and easy-to-use sharpener for home use," he says. You place the knife against the magnetized block (which can set the sharpening angle at 15 or 20 degrees) and roll the cylindrical disc along the blade.The solid hardwood body on the sharpener's two parts is an is eye-catching and stylish detail.
Best rod knife sharpener
Customizable / Warranty: Unknown / Grit: Alloy steel
Rods are generally discouraged for sharpening knives compared to stones because they are only a short-term solution — like putting a puncture kit on a deflating tire rather than replacing it with a new one. But they're still useful, particularly if traveling or if you're short on space. "The F. Dick 11 inch Sharpening Steel — Multicut is a steel that can make your knife feel like it's brand new just after a minute of honing," says Bhardwaj. "Although it is on the expensive end, it is a steel that will last you a very long time." Bhardwaj has owned his for many years, and always travels with it in his knife roll because of its ease of storage.
Best professional knife sharpener


Customizable / Warranty: 8-year warranty / Grit: Diamond
If you have the budget, the diamond grinding wheel and adjustable angle between 8 and 22 degrees makes the Tormek the choice for many professional kitchens. It's ten times the size of the AnySharp and weighs nearly 14 pounds, so it needs plenty of space. The Tormek T1 is around half the price and three-quarters the size, so could be a decent, more sensibly priced alternative. But the T2 is the choice of Brian Pancir, corporate culinary director of Thompson Hospitality, who calls it "one of the best purchases I've made for my at-home kitchen."
"It is a little on the pricey side, but I own a lot of high-end knives and only want to use the best to sharpen them," Pancir says. "The T2 has a variety of adjustable options and all the accuracy from eight- to 22-degree angles of sharpening." If you're still balking at the price, bear in mind the Tormek's eight year warranty means this costs you a little under $2 a week for ultra-sharp knives.
The Strategist is designed to surface the most useful, expert recommendations for things to buy across the vast e-commerce landscape. Some of our latest conquests include the best dining room decor items, coffee makers, knife sets, Japanese coffee brewer, charcoal water filter, and drinking glasses for water and more. We update links when possible, but note that deals can expire and all prices are subject to change.
Every editorial product is independently selected. If you buy something through our links, New York may earn an affiliate commission.