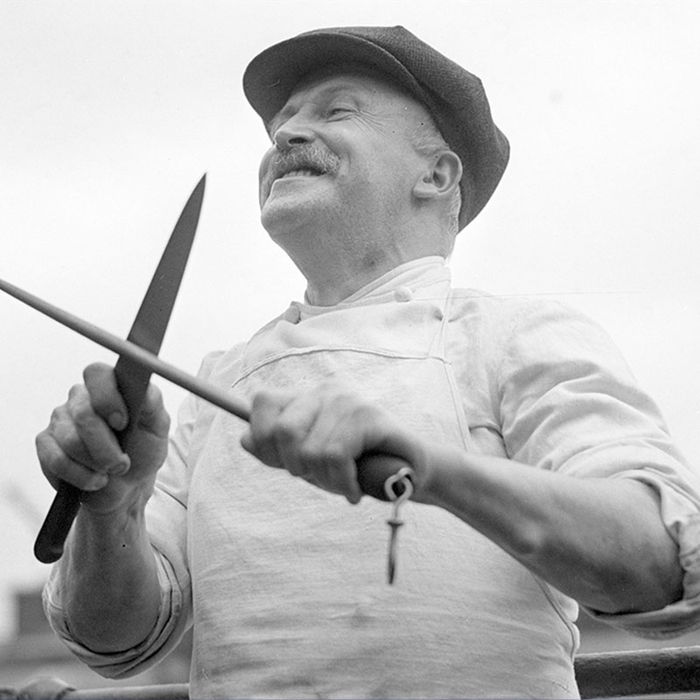 Photo: Hulton Archive / Getty Images
Here at the Strategist, we like to think of ourselves as crazy (in the good way) about the stuff we buy, but as much as we'd like to, we can't try everything. Which is why we have People's Choice, in which we find the best-reviewed products and single out the most convincing ones. (You can learn more about our rating system and how we pick each item here.)
And while we've written about lots of kitchen knives — including butter and steak knives — here, we've rounded up the best knife sharpeners, as praised by the most enthusiastic reviewers at Amazon.
Best-rated (and least expensive) knife sharpener
"I have used at least a half dozen with similar 'pull the blade through the groove design' and none of them worked well enough that I ever bothered to give them a second chance," says one experienced reviewer, who was trying to sharpen his mother's dull knives. "She was so impressed with the results that she pulled out of her junk drawer multiple retired paring knives, a filet knife, and a huge 12-inch American made chefs knife that was about 30 years old and asked me to sharpen them. I was able to bring back a cutting edge on all of them." Many other reviewers comment on how quick and efficient this sharpener is. "I tested it on a few of my dull knives at home," says another reviewer, "and it takes about 10 strokes on the course grind, and 10 strokes on the fine grind to get a sharp enough edge to slice printer paper without tearing. I love how simple and how little time it takes to sharpen a knife enough for kitchen use." Even a sushi chef could give it a thumbs-up for workplace improvements, saying, "I gotta say this is the best sharpener I ever bought in my whole life … Even my coworkers were surprised and asked me to order one for them."
And now for some micro picks of every type of knife sharpener you might be looking for.
Best pocket-size knife sharpener
"While the piece is light, it doesn't feel cheap and doesn't seem like it will randomly fall apart," writes one reviewer of this lightweight knife sharpener. "I keep mine on a key ring with a spare car key so that I can take it to the beach, someone else's house, or camping," adds another reviewer. "It sharpens quickly and easily. So handy to have around. EVERYONE should have one of these on a keyring near to wherever they are carving, cutting, and trimming meat or game, and it's easily washable." Another reviewer with travel and convenience on their mind writes, "This small sharpener has worked well for me so far, so I am going to keep it in my truck for when I need to sharpen a blade but am away from the house." Beware the sharpener in hand, though, as one reviewer mentions, "Nice pocket sharpener. Coarse slot for really dull edges and ceramic for finishing edges or touch-ups. It puts your hands a little closer to the blade so caution is advised."
Best handheld knife sharpener
"I like how small and compact this sharpener is, easily small enough to throw into a kitchen drawer," says one satisfied reviewer who thinks it is more efficient than an electric sharpener. "With this handheld sharpener, it's very quick and easy to sharpen. Personally, I can't really tell the difference between knives sharpened with this or my electric sharpener … They both give an extremely sharp edge, but this one was only a fraction of the cost." The knife sharpener gets dozens of reviews for ease of use. This reviewer explains, "The AccuSharp makes it so easy to get that perfect blade in seconds. Nothing to plug into the wall, no moving parts. Just a very straightforward product that works exactly how you hope it would." Another user says this handheld knife sharpener works better than anything else they've tried: "We have been using this for just over four years, and wish more than anything I had known about them years ago. SO much faster and easier than the old whetstone and oil method, and a lot more efficient than the ceramic-type ones that I've tried." If you need more convincing, this reviewer concludes, "The advantage of this little jewel is the tungsten carbide honing blades, which are much harder than the knife blade. This is commercial-grade material in a handheld product."
Best honing steel
"I had been skeptical about the whole honing idea, but that's certainly not the case now," says one honing skeptic turned believer who reviewed this steel. "This steel works really, really well and only takes a handful of swipes to get my knives suuuuper sharp. Noticeably sharper than ever before." Another satisfied reviewer explains the benefits of using this sharpening steel for knife upkeep: "It hones, meaning it does not sharpen but helps keep the edge after sharpening … This effectively allows you wait much longer between sharpenings, spending mere seconds each time used." After using this honing steel, many five-star reviewers note that their knives cut through tough products with ease. One committed customer said they use this steel to tune up large kitchen knives before every use: "I'm always pleasantly pleased at how quickly it works. Just a few quick passes and I'm back to savaging my way through a steak or brisket, sometimes the occasional pork butt."
Best two-stage electric knife sharpener for straight and serrated knives
"Holy cow. The difference in just a small amount of sharpening is amazing. I grabbed every sharp knife I had in the kitchen, serrated and all, and ran them through the device. It was easy, it was quick, and the results were gratifying," raves one reviewer of this two-stage electric knife sharpener. Its ability to sharpen all different types of knives, including serrated blades, makes it a favorite. "I got this sharpener because my knives (which are not that old) started to be slightly blunt," says another reviewer, adding, "I like the feature of having a side to sharpen serrated knives, which I could not find in other sharpeners. It is very light and small so it does not take much space in my kitchen drawer. I love it and use it almost everyday."
It's even recommended by an arthritis sufferer with achy hands, who explains, "Straight edge knives can be used in either of the 2 slots — coarse and fine. Serrated knives should just be used in the fine slot." Another reviewer concludes, "I have made many old kitchen knives useable again. I also like how well it works with serrated knives … I also like how it is very compact and does not move around on the counter when in use, especially with only applying minimal pressure."
Best two-stage electric knife sharpener for straight knives
"Today I have successfully sharpened all my knives and am extremely pleased," says one reviewer of this two-stage electric sharpener. "My worst knife, which had very obvious dings in the blade, required two passes on stage one, and then I did an additional two passes on stage two. The blade now looks perfect and cuts extremely well." And according to at least one reviewer, this electric sharpener can even revive a blade as dull as a butter knife, of various lengths: "This first knife was about as sharp as a butter knife, so it took about 8 or 9 passes on each side before I had a sharp edge that cleanly sliced through a sheet of paper. I then proceeded to sharpen 9 other knives in my kitchen drawer, including a couple of 4-inch paring knives, a boning knife, a couple of 6-inch general purpose knives, 2 chef's knives, a roast slicer and a large butcher knife and it took all of 10 minutes." Many reviewers also speak to the fact that it's easy to use, like one who admits, "I have no freaking clue how to sharpen a knife … so I was looking for something that was relatively idiot-proof. Sharpening the knives is easy … Just draw the knife across each of the openings a few times, in turn, and there's an immediate noticeable difference in the way they cut."
Best compact knife sharpener with suction cup
This compact knife sharpener has many fans. "Finally a sharpener that gets my kitchen blade REALLY sharp. I've bought countless blade sharpeners and this is by far the absolute best I've ever used," says one reviewer, adding, "this little beast is small for easy storage and the suction cup (so far) really grips any clean flat surface and doesn't slip at all once the lever has been pulled down." Dozens of reviewers also rave about the suction cup at the bottom of this knife sharpener, which allows it to be used on nearly any surface. "The suction cup grips well on smooth surfaces: granite, glass, smooth tile or formica," says a happy customer. Another adds, "It grips even better if you spritz a little liquid on the rubber suction cup first." A third raves, "As an experiment, I adhered ours to a window and it stayed firmly on that vertical surface for three days!" One reviewer concludes that this little sharpener is "very easy to use, affordable price, and about the size of the Eclipse gum container. I have a few serrated knives and several steak knives that definitely needed attention. They are now sharp!! I'm very happy with this sharpener and it's a great item for gifting."
Best angled knife sharpener
The Triangle Sharpmaker set the stones' sharpening angles at either 30 degrees or 40 degrees, depending on the blade. "The multiple stones make it easy to go from shaping and working quality sharpness, to razor edge for blades that need it," says one reviewer. "The triangle design makes it easy to sharpen just about anything that needs to be sharpened." Another reviewer adds, "It's hard to mess up on the sharpening angle with this setup the way this sharpener system is designed. Just simply make sure to have the blade facing down, perpendicular to the holder and that's all you need to keep in mind. Super easy to use and the system is set up for the least amount of setup time and fiddling/tinkering with adjustments." Another reviewer concerned about their knives remaining scratch-free, appreciated the way the sharpener is set up, saying, "With the Spyderco, nothing comes in contact with the sides of the knife. There are no clamps that can leave marks. Nor are you required to lay the knife on its side, where it can pick up grit and get scratched." Plus, it's easy to use, as this reviewer remarks: "This sharpener is pretty much idiot-proof. If you follow the instructions you will have good sharp knives in no time."
Best three-stage electric knife sharpener
"This sharpener, if you follow the instructions, will truly make your knives SHARP. Sharp enough that I've cut my hand three times because I'm not used to having to be as careful," warns one reviewer. And according to another reviewer, this electric knife sharpener works much better than other options on the market, especially manual ones: "I've tried sand stones, wet stones, Arkansas diamond stones, and countless electric knife sharpeners. This two stage sharpener with third stage strop is the real deal. I turned my cheap paring knife into a scalpel. It also worked on my very expensive Japanese paring knife, as well as my cheap set of kitchen knives." Ideal for traditional 20-degree factory edges, another reviewer says, "I carefully followed the clear directions and used the unit to reform the edge, running it through all three slots. When I was done, I grabbed a piece of copy paper to test the edge. The knife that previously had the cutting power of a butter knife sliced through the paper effortlessly. I was so impressed that I sharpened all of the kitchen knives that very morning. When I was done, they were better than new!" Plus, it's not just about slicing but longevity too, as one reviewer notes, "The biggest difference I see in this sharpener is how LONG my knives stay sharp. It's ridiculous. Two to three months and they're just beginning to dull (cheap knives). With my Japanese high carbon steel knife, it's been about 6 months and I use it quite frequently."
Best three-stone knife sharpener
"The three stone system is excellent and covers all of your sharpening needs, from bringing a dull beat up blade back to life, to putting a new grind on a blade, to just keeping sharp knives sharp," writes one satisfied reviewer of this knife sharpener. Though at least one reviewer thinks the sharpener is as beautiful as it is useful:"The stones are clearly marked at the end, where those red tabs on the side indicate as to which are the coarse, medium or fine grain stones. Switching to each stone is as easy as lifting one of the sections that holds the stone, then turning it to the stone you want to use and reseating it back into the base." The base has perks too, as another reviewer explains, "The nonslip feet on the bottom keep the holder firmly planted on your work surface so it's never skating away from you as you work the blade across the stone." One dedicated reviewer bought five of the top-rated sharpeners on Amazon and took them for a spin, giving themselves a ten-minute time limit. They conclude,"My Smith's TRI-Hone is the simplest stone to learn among Stone sharpeners and gives you a good manually created edge … Instructions are clear and gives you performance like the WUSTHOF Diamond Steels for a fraction of the price."
Best dual-wheeled knife sharpener
The dual steel wheels on this piece intersect to sharpen both sides of a knife blade at the same time. "Gets a knife nice and razor sharp after only a handful of passes," says one reviewer. "The double wheel design is where it's at. Just turn the wheels a little bit with your finger every few passes so that you aren't wearing a groove into the sharpening edge." With high-carbon stainless-steel wheels and a nylon base, the sharpener gets high praise for its simplicity. "It doesn't require a lot of pressure to get a nice, sharp edge," says another reviewer. "The wheels take the guesswork out of making sure you have the right angle. I also like the size and shape. I can throw the sharpener right in the drawer with my knives and it doesn't take up a lot of space." Another reviewer uses this sharpener for their carbon-steel knives, explaining, "It works wonderfully for that and they always stay sharp enough to glide through receipt paper like it isn't there. Even my cleaver is that sharp. I've taken a pretty dull knife and brought it to an edge with this too although it takes some time."
Best fine-grain stone knife sharpener
"This will work really well on my large blade knives and my katanas," says one reviwer of this sharpening stone from Winco. "This is awesome and huge. I used it to sharpen two 12-inch bowies. It did fantastic. I was able to keep the proper angle all the way down and still had runway left over." Plus, its two sides offer various grains, "rough and less rough," as one reviewer describes it, which allows for different types of sharpening. "I've been using it to sharpen all kinds of things: chisels, knives, axe heads, etc. With some honing oil, you can put a nice edge on a blade using this stone." Short and sweet, one reviwer concludes, "Wow, I no longer have a hard time using ALL my knives, cutting is a cinch, meat and chicken come out great, fish cutting is swift, my knives leave a clean cut and my scissors are smooth — don't pinch at all! This is a great sharpening stone."
Best double-sided knife stone sharpener
"I think the rods are better for holding a very fine edge but not for bringing a knife quickly to a sharpened edge," explains one reviewer who did a lot of research before buying. "The 600 grit side I will use for knives that are very dull so I can get them close to sharp quickly. The heavily used side will be the 1000 grit. I will use this as my all-purpose tool to sharpen kitchen and pocket knives in just a few minutes." Often touted as a good beginner's stone, both sides come in handy. "I let the stone soak in water for a couple hours, then spent 10 minutes on the 600 grit side, then 10 minutes on the 1000 grit side," says one reviewer who was sharpening their knives for the first time. "Now the knife is able to cut tomatoes with ease." Happy for the good deal, another reviewer writes, "If you like to sharpen your own knives but don't want to pay 50 bucks (or more!) for 'quality' whetstones, this stone is excellent. Two grits is enough to put a shave-capable razor edge on your knives." This reviewer adds, "Hand sharpening is not for everyone, as it is a developed skill, but if you develop the skill, this stone will do a great job."
Best multipurpose electric knife sharpener
The Work Sharp Sharpener can be used for many blades, as one reviewer explains: "I have a razor sharp axe and hatchets now, had them for 20 years and wish I did this a long time ago. Lawnmower blades can be sharpened without taking off lawnmower. Grass cuts clean and yard is amazing. Old butcher block kitchen knife set is better than new now… Did I mention a hunting knife going thru deer skin like a scalpel?" Aside from being multifunctional, the sharpener is easy to use. As another reviewer explains, "The learning curve is very small, and when you use the right belts for the right blade, and realize to let it do the work without forcing it to, it works very, very well." Another pleased reviewer admits there is a bit of a learning curve, but it's quick: "After a review of the instructions and 10 minutes of practice on a crap piece of an old knife … I got it. I can craft a razor sharp edge on any of my numerous outdoor knives or my wife's kitchen knives in about 5 minutes each." One spouse adds, "I was nervous it'd be too complicated, but after seeing my husband's excitement and then realizing he'd sharpened everything he could get his hands on, it's obvious this isn't complicated at all, but rather very easy to use and fun!"
The Strategist is designed to surface the most useful, expert recommendations for things to buy across the vast e-commerce landscape. Some of our latest conquests include the best dining room decor items, coffee makers, knife sets, Japanese coffee brewer, charcoal water filter, and drinking glasses for water and more. We update links when possible, but note that deals can expire and all prices are subject to change.
Every editorial product is independently selected. If you buy something through our links, New York may earn an affiliate commission.