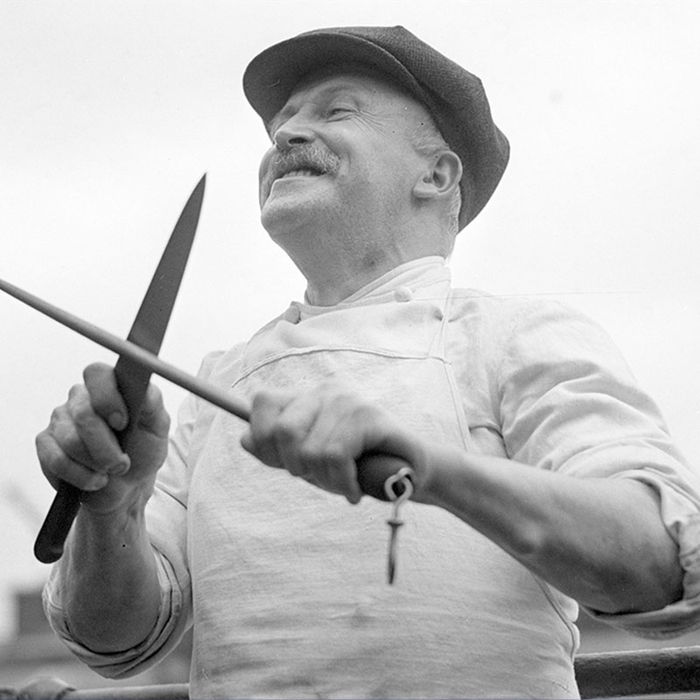 Photo: Hulton Archive / Getty Images
Here at the Strategist, we like to think of ourselves as crazy (in the good way) about the stuff we buy, but as much as we'd like to, we can't try everything. Which is why we have People's Choice, in which we find the best-reviewed products and single out the most convincing ones. (You can learn more about our rating system and how we pick each item here.)
And while we've written about lots of kitchen knives — including butter and steak knives — here, we've rounded up the best knife sharpeners, as praised by the most enthusiastic reviewers at Amazon.
Best-rated (and least expensive) knife sharpener
"I have used at least a half dozen with similar 'pull the blade through the groove design' and none of them worked well enough that I ever bothered to give them a second chance," says one experienced reviewer, who was trying to sharpen his mother's dull knives. "She was so impressed with the results that she pulled out of her junk drawer multiple retired paring knives, a filet knife, and a huge 12-inch American made chefs knife that was about 30 years old and asked me to sharpen them. I was able to bring back a cutting edge on all of them." Many other reviewers comment on how quick and efficient this sharpener is. "I tested it on a few of my dull knives at home," says another reviewer, "and it takes about 10 strokes on the course grind, and 10 strokes on the fine grind to get a sharp enough edge to slice printer paper without tearing. I love how simple and how little time it takes to sharpen a knife enough for kitchen use." Even a sushi chef could give it a thumbs-up for workplace improvements, saying, "I gotta say this is the best sharpener I ever bought in my whole life … Even my coworkers were surprised and asked me to order one for them."
And now for some micro picks of every type of knife sharpener you might be looking for.
Best pocket-size knife sharpener
"While the piece is light, it doesn't feel cheap and doesn't seem like it will randomly fall apart," writes one reviewer of this lightweight knife sharpener. "I keep mine on a key ring with a spare car key so that I can take it to the beach, someone else's house, or camping," adds another reviewer. "It sharpens quickly and easily. So handy to have around. EVERYONE should have one of these on a keyring near to wherever they are carving, cutting, and trimming meat or game, and it's easily washable." Another reviewer with travel and convenience on their mind writes, "This small sharpener has worked well for me so far, so I am going to keep it in my truck for when I need to sharpen a blade but am away from the house." Beware the sharpener in hand, though, as one reviewer mentions, "Nice pocket sharpener. Coarse slot for really dull edges and ceramic for finishing edges or touch-ups. It puts your hands a little closer to the blade so caution is advised."
Best handheld knife sharpener
"I like how small and compact this sharpener is, easily small enough to throw into a kitchen drawer," says one satisfied reviewer who thinks it is more efficient than an electric sharpener. "With this handheld sharpener, it's very quick and easy to sharpen. Personally, I can't really tell the difference between knives sharpened with this or my electric sharpener … They both give an extremely sharp edge, but this one was only a fraction of the cost." The knife sharpener gets dozens of reviews for ease of use. This reviewer explains, "The AccuSharp makes it so easy to get that perfect blade in seconds. Nothing to plug into the wall, no moving parts. Just a very straightforward product that works exactly how you hope it would." Another user says this handheld knife sharpener works better than anything else they've tried: "We have been using this for just over four years, and wish more than anything I had known about them years ago. SO much faster and easier than the old whetstone and oil method, and a lot more efficient than the ceramic-type ones that I've tried." If you need more convincing, this reviewer concludes, "The advantage of this little jewel is the tungsten carbide honing blades, which are much harder than the knife blade. This is commercial-grade material in a handheld product."
Best honing steel
"I had been skeptical about the whole honing idea, but that's certainly not the case now," says one honing skeptic turned believer who reviewed this steel. "This steel works really, really well and only takes a handful of swipes to get my knives suuuuper sharp. Noticeably sharper than ever before." Another satisfied reviewer explains the benefits of using this sharpening steel for knife upkeep: "It hones, meaning it does not sharpen but helps keep the edge after sharpening … This effectively allows you wait much longer between sharpenings, spending mere seconds each time used." After using this honing steel, many five-star reviewers note that their knives cut through tough products with ease. One committed customer said they use this steel to tune up large kitchen knives before every use: "I'm always pleasantly pleased at how quickly it works. Just a few quick passes and I'm back to savaging my way through a steak or brisket, sometimes the occasional pork butt."
Best two-stage electric knife sharpener for straight and serrated knives
"Holy cow. The difference in just a small amount of sharpening is ama