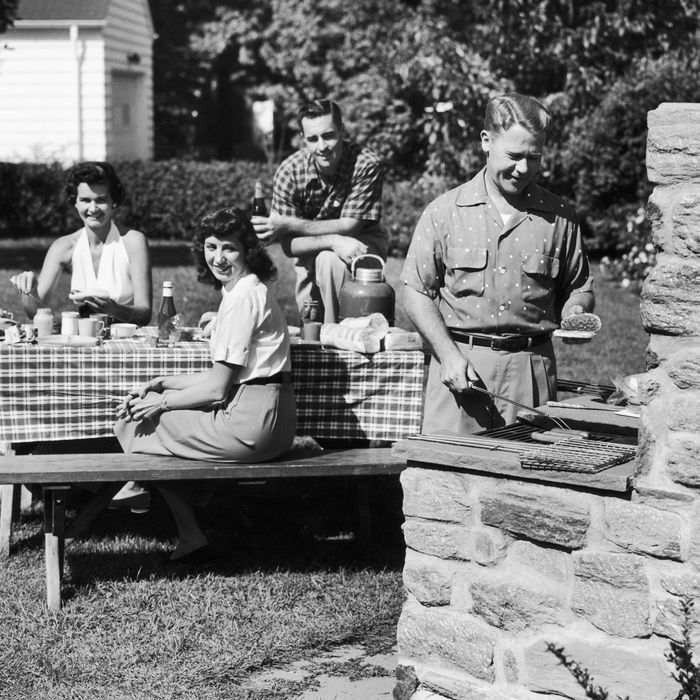 Photo: Harold M. Lambert/Getty Images
Let's start with a question you might be asking right now: What is a pellet grill? In short, a pellet grill is a barbecue grill that uses an automatically fed supply of wood pellets to maintain a preestablished temperature and infuse the cooking foods with smoke aroma and flavor. Your fuel source is also your smoke source. Smart, right?
It's a common misconception that cooking with a pellet grill is difficult, but once you figure out how to load the wood pellets into the hopper and set the temperature, it's much easier than cooking with a charcoal grill or a traditional offset smoker. I should know, having used those types of grilling hardware for years to slow-cook rib racks and pork butts. If you're looking for a set-it-and-forget-it grill that infuses your meats with rich, smoky flavor with the push of a button, these are the best ones you can get.
Best pellet grill for camping or tailgaiting
Most pellet grills are big and heavy; once they're in place on your porch, patio, or deck, they're not going anywhere any time soon. The Davy Crockett Pellet Grill from Green Mountain Grills, on the other hand, was designed with portability in mind. At nearly 60 pounds, you're not going to bring it on an overland trek, but for car camping or tailgating, this pellet grill, which has folding legs and a removable side tray, is the perfect choice. And by the way, you'll need a car (or at least a car battery) to operate it if you're not near an outlet: the grill connects to a vehicle's 12-volt outlet to keep the flame regulated. But you can feel free to kick back around the campfire while it's cooking, as the Davy Crockett is Wi-Fi enabled and can be app controlled.
Best affordable pellet grill for beginners
If you're looking for a smaller pellet grill that comes with a smaller price tag, the Cuisinart CPG-400 Wood BBQ Grill & Pellet Smoker is a fine unit. Its 400-square-inch cook surface is a great size when you're grilling for the family — though a bit tight for the family reunion. The hopper holds a decent 15-pound supply of pellets, and the grill's moderate weight and pair of wheels make it easy to wheel the CPG-400 around the yard or to tuck it back into the shed or garage when the cooking is done.
Best pellet grill for gas grill enthusiasts
If you have done much cooking with a pellet grill, surely you have come to love the steady heat these grills predictably produce. But that even-keeled cooking does have one drawback. Sometimes you want a little fire roaring up through the grates; it's those flare-ups that give meat its perfect finish sear. With the Camp Chef, you can slowly and steadily smoke your meats to the perfect internal temperature, then toss them on the extra hot grates of the sear box to give that touch of char and grill lines. Just note that using the sear box — which is really just a mini gas grill — will require a propane hookup.
Best professional-grade pellet grill
If you're already convinced you're going to get a pellet grill, then why not go for the top-of-the-line model? Ah, right: the thousand-dollar price tag. Well, that aside, the Traeger Pro 780 is just about the best pellet grill out there today, and it's one of the finest full-sized grills I've ever used. The 780 refers to the square inches of cooking space, which allows you to grill up to six full racks of ribs (or 34 burgers!) at once. The hopper is large enough to hold enough pellets for well over an hour of cooking without refill, and you can control the temperate setting using controls on the grill or via app. That's right, this is a Wi-Fi smart grill. And thanks to a reliable fan delivering air and a durable auger that delivers pellets, that temperature you set is going to be accurate to within a couple of degrees. So yeah, the 780 is expensive, but it's also exquisite.
Best pellet grill for extra-slow cooking
If you're a fan of slow cooking, a Z Grills 700 E Series pellet grill is the choice. This pellet smoker has a huge 20-pound hopper (by comparison, the Traeger above has 18), so you can load up enough wood pellets for hours of smoking with minimal refills required. It also uses a large drip tray and collection system to channel away grease and oil drippings. This prevents flare-ups and keeps the grill