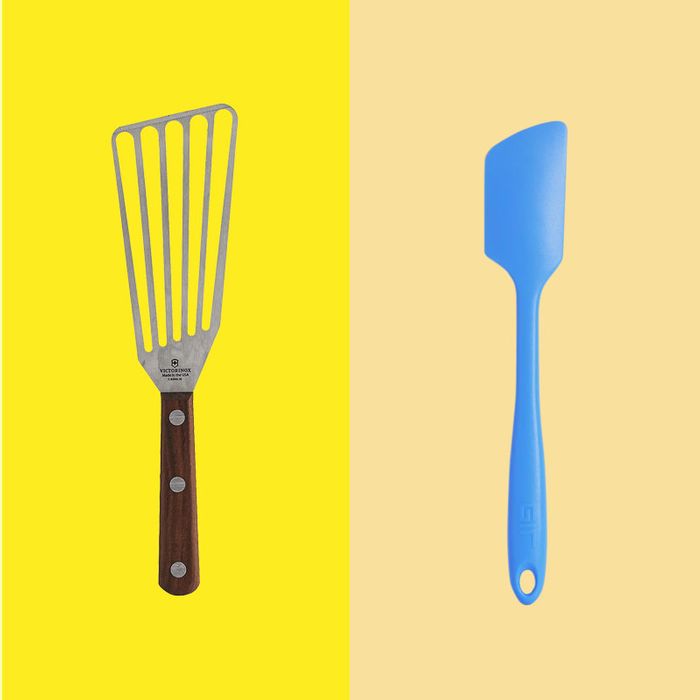 Photo-Illustration: The Strategist
As a food writer, sometimes recipe developer, culinary-school graduate, and general cooking enthusiast, I know that having the right spatula for your dish — whether it's soft scrambled eggs, a buttercream-frosted cake, or a perfectly crispy piece of salmon — is crucial. Sure, any spatula you pick up will probably do the job of transferring pancakes to a plate or spreading brownie batter, but a bad spatula isn't just frustrating — it can make your cooking worse. "I definitely have some that I hate," says New Yorker food writer Helen Rosner. "A bad spatula is so flaccid and disappointing." On the other hand, a good spatula is still inexpensive and can go a long way toward making your dishes turn out the way you want them to. To help you find the best one for you (and your culinary needs), I reached out to some fellow spatula enthusiasts, including cooks and food writers.
A good spatula should feel like a natural extension of your hand. It should be easy to grip, not heat up to uncomfortable temperatures when you're using it, and neither too clunky nor too flimsy. It should have an edge that allows you to scrape a pan or side of the bowl cleanly, and not peel or bend.
Like any kitchen tool, a spatula is only useful if you can thoroughly and easily clean it, either by hand or in a dishwasher. For that reason, all our experts warned against spatulas that have detachable heads, where gunk and soap can get caught, making it a breeding ground for bacteria.
You should be able to use your spatula to cook, of course, which means that it needs to sustain high temperatures without warping, melting, staining, or burning. It should last you a long time without needing to replace it.
Best overall spatula
Construction: 100% BPA-free silicone | Cleaning: Dishwasher-safe | Heat resistance: To 550 degrees
There are several categories of spatulas. You've got your scrapers or stirrers for, say, sautéing onions or loosening the brown bits from the bottom of a pan. There are flippers or turners, which you use to get under a steak or a fried egg. And there are spreaders, which allow you to smooth out cake batter or make sure the surface of a quiche is even. Ideally, you want a few tools to do those jobs, but if you could only pick one, every expert I talked to would choose a one-piece silicone spatula. And the best one-piece silicone spatula is the GIR Ultimate Silicone Spatula, which performs all of the functions listed above: flipper, scraper, and spreader.
The GIR is made of 100 percent silicone and is heat-resistant to 550 degrees, meaning that it can easily tackle anything you have on the stovetop. It has a fine edge but a sturdy core, cleans easily, and comes in 21 different colors. "The GIR is just a really solid overall spatula," says Kelsey Youngman, food editor at Food & Wine. Emma Laperruque, author of Big Little Recipes and senior cooking editor at Bon Appétit, points to the GIR spatula as the one to get behind. "I grab it for scraping cake batter, shuffling scrambled eggs, and much, much more," Laperruque says. In the seven years I've owned mine, I've used it to make sheet pans' worth of birthday cake, to caramelize onions, and for searing a steak on the cast iron. Because it's all silicone, I don't worry about using it on nonstick or enameled surfaces, and it hasn't peeled, warped, bent, or picked up weird smells.
Best less expensive spatula
Construction: 100% BPA-free silicon-coated, nylon core | Cleaning: Dishwasher-safe | Heat resistance: To 600 degrees
Tovolo makes an excellent all-silicone spatula, one that Kierin Baldwin, chef-instructor at the Institute of Culinary Education, prefers. "They have some kind of armature on the inside that's better than others," Baldwin says of her classic flat Tovolo, adding that its handle is unbreakable. "It's great for stirring, folding, and stir-frying. They're heat-resistant, which I love. And they have a fine edge so it can clean the side of a bowl easily."
I've used Tovolo spatulas, and I like them too — the nylon core means that they're a bit more rigid than the GIR, which some cooks prefer. Plus, because the Tovolo runs a few dollars less than the GIR, it's a good option if you're going to buy multiple. Most home cooks can get away with one, but if you bake a lot, having one spatula dedicated to sweets is a good idea because silicone can sometimes pick up smells or stains.
If you're looking for a highly rated, one-and-done set, try the Di Oro Seamless Series 3-piece Silicone Spatula Set, which appeared in a previous version of this story. One reviewer who had "agonized over various single spatulas before settling on this set" says this three-pack "covers all the use cases I could imagine."
Best spatula for baking
Construction: Stainless steel with wood handle | Cleaning: Hand-wash | Heat resistance: To 480 degrees
One of the most common tools Baldwin reaches for when teaching pastry chefs is her offset spatula, different sizes of which she uses "for everything," including frosting, lifting and moving, and spreading cake batter. For the home cook, one small offset should be enough, and Baldwin, Youngman, and Ari Miller, chef-owner of Musi in Philadelphia, all point to this one from Ateco. "In my desert-island scenario, the Ateco offset would have to be there," Miller says. Baldwin, meanwhile, praises the Ateco's comfortable handle and the thin metal blade that can "get under anything I'm working with."
The Ateco offset is useful for loosening slices of lasagna or quiche from pans, and its handle won't melt or bend. The one downside of the wooden handle, however, is that it needs to be hand-washed. But if that's a deal-breaker, there's a version with a plastic handle — just make sure not to get too near a heat source, or it will melt.
Best fish spatula
Construction: Stainless steel and wood | Cleaning: Hand-wash | Heat resistance: To 1,700 degrees
Don't let the name dissuade you — it's useful for so much more than fish. With its flexible metal edge, you can use it to flip crêpes, turn burgers, and crisp up hash browns. For Youngman, her Victorinox Fish Spatula is a must-have tool. "I feel like it's an extension of my hand, strong enough to lift things, lets you peek under fish," Youngman says. "I like that stuff doesn't fall through the slits, but you can look through it in terms of seeing browning and fat rendering. It cleans up well, and it doesn't bend or warp on the edge." The only drawback is that the wooden handle needs to be hand-washed, or over time, it will crack and split.
Best (less expensive) fish spatula
Construction: Stainless steel with a plastic handle | Cleaning: Dishwasher-safe | Heat resistance: To 480 degrees
If you're looking to spend a little less, Miller swears by his Ateco fish spatula. The wooden handle means that the tool won't heat up even when handling it for long periods of time, and the slats of the Ateco are well-spaced, allowing you to drain a steak or burger of grease. "Right now we use them for a dish on the menu that has Halloumi in it," he says, "so we can brown the Halloumi, then strain it, all with one tool."
For an alternative less expensive fish spatula, a previous version of this story featured the Winco FST, which users love for its versatility and precision. The Winco, one reviewer writes, "is so thin and angled just right, which makes it perfect for getting under any food item cooking in a pan and pulling it up in one piece." And if you're looking for a turner made of plastic rather than metal, the small, highly maneuverable Norpro Turner comes highly reviewed, with one buyer adding that it "loads in the dishwasher like a dream."
Best mini-spatulas
Construction: Silicone | Cleaning: Dishwasher-safe | Heat resistance: To 500 degrees
Both Miller and Baldwin recommend getting an all-silicone spatula with a smaller head to scrape out jars and containers. Miller says he "lives and dies" by them, as they're especially valuable when consolidating containers. "If you just use a spoon, you could be left with a whole portion's worth of product in a quart container," he says. "But mini-spatulas get into every corner, which means they save us money." Miller recommends Cuisinart's mini-spatulas, which come in a set of three and have three slightly different angles to allow him to get into "literally any crevice in the kitchen."
Or you could reach for the UpGood Silicone Mini Spatula writer Julie Vadnal swears by, which has an even longer handle for fitting into tall, slim jars.
Best spatula for grilling
Construction: Stainless-steel and silicone handle | Cleaning: Dishwasher-safe | Heat resistance: To 1,700 degrees
When Miller's restaurant turned into a cheesesteak pop-up called Frizwit during the pandemic, he discovered Mercer's Hell's Handle Heavy Duty Turner. "For years, I was using this basic grill spatula with a wooden handle," Miller says. "I hired a cook who asked to bring in his own, and it was a revelation. It has a heatproof handle and is contoured. If you're using it as a short-order cook, it's much more comfortable and you can cook better with it." Even if you're not dealing with a lunch rush, the Heavy Duty Turner is practical for scooping up larger pieces of food a fish spatula couldn't handle, like steaks or vegetables on a grill or griddle, but it's also useful on a stainless-steel pan with more surface area. "Not to be dramatic about it, but this thing is the Ferrari of spatulas," Miller says.
If you're in need of a turner for eggs, look into the Di Oro Silicone Turner, a top pick from a previous version of this story that has a similar stainless-steel-and-silicone construction. According to reviewers, its angled, silicone head is particularly handy for keeping yolks intact when flipping.
Best wooden spatula
Construction: Bamboo | Cleaning: Hand-wash | Heat resistance: To 400 degrees
When it comes to spatulas, Rosner says her main criterion is how flimsy or firm the edge is — and this angled wooden bamboo spatula has an edge that's firm enough to break some ingredients apart, she says. The edge of a wooden spatula is usually firmer than a silicone-tipped utensil, but it still won't scratch the nonstick lining of a pan. That makes it particularly great for scraping up the precious browned bits you need for a gravy, or for breaking up ground beef so it browns. Bamboo construction is easier to deal with than some woods — it's durable, but it doesn't require frequent oiling or maintenance. The only drawback is that it's better to hand-wash them than put them in the dishwasher, where the wood might split and crack.
Best combination spatula (spoonula)
Construction: Nylon body, silicone edge | Cleaning: Dishwasher-safe | Heat resistance: To 500 degrees
If you're looking for a spatula that combines the functionality of a flat spatula with the scooping ability of a wooden spoon, you'll want to look for a spoonula. Of that category, Youngman has one resounding winner: the Le Creuset Revolution Bi-material Saute Spoon. The spoonlike bowl lets you scoop ingredients as well as move them, making it an excellent combination serving and cooking utensil. "I have almost too many feelings about this spatula," Youngman says. "The tip of the spoon is shaped so it can easily go into corners. It had a flexible corner-scooper and scraper, while the rest of the spoon is more rigid, which I prefer. It's heat-resistant, and it gives me that confidence that I know how to control it when I'm cooking. I've gifted it to everyone. I love it."
Our kitchen + dining writer's pick
Construction: 100% BPA-free silicone | Cleaning: Dishwasher-safe | Heat resistance: To 550 degrees
While I reach for my GIR Ultimate Spatula every single day and my Victorinox Slotted Fish Turner nearly as much (both are on this list), there is a certain situation where I need a flat, wide, and soft utensil: flipping anything in a pan I don't want to scratch. For this, I use GIR but its Flip spatula. With a tapered edge and a sturdy-but-flexible silicone body, it easily slips underneath pancakes, smashed potatoes, grilled cheese sandwiches, and more — without the risk of digging into the surfaces of nonstick and even well-seasoned cast-iron skillets. And while a metal spatula works just fine for transferring a sturdy cookie from sheet pan to cooling rack, I like this one for more delicate, crumbly kinds, like shortbread. —Emma Wartzman
• Kierin Baldwin, chef-instructor at the Institute of Culinary Education
• Emma Laperruque, senior cooking editor at Bon Appétit
• Ari Miller, chef-owner of Musi
• Helen Rosner, food writer for The New Yorker
• Kelsey Youngman, food editor at Food & Wine
Some other spatulas we've written about
The Strategist is designed to surface the most useful, expert recommendations for things to buy across the vast e-commerce landscape. Some of our latest conquests include the best acne treatments, rolling luggage, pillows for side sleepers, natural anxiety remedies, and bath towels. We update links when possible, but note that deals can expire and all prices are subject to change.