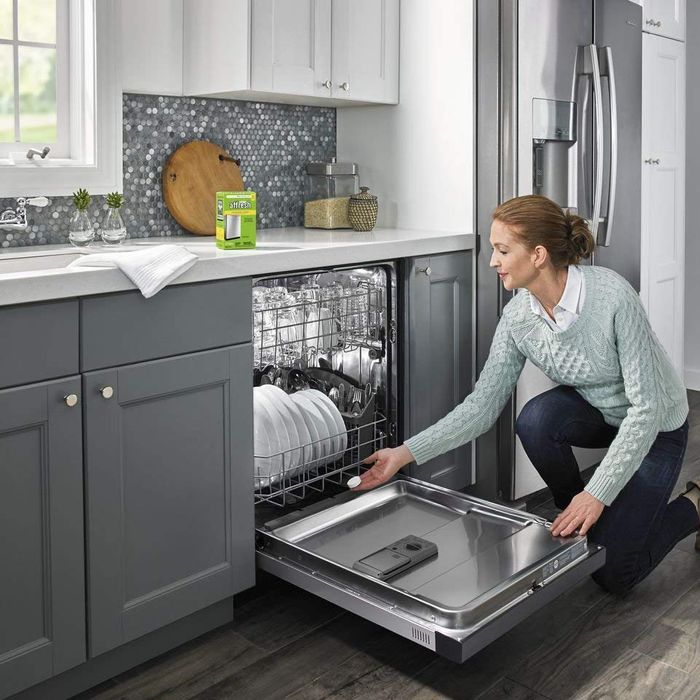 Even if you take a forensic approach to spring cleaning, it's easy to forget that your dishwasher needs a good scrub-down, too. And though we've written about lots of ways to clean hard-to-get-to places — including a vacuum shower squeegee, a brush attachment for a power drill to clean bathroom tile, and shoe deodorizers that combat bad trash-can smells — here, we've rounded up the best dishwasher cleaners, as praised by the most enthusiastic reviewers on Amazon.
Related Articles: Best Dishwashers | Best Countertop Dishwasher
Best-rated dishwasher cleaner
Nearly 28,000 reviewers give this dishwasher cleaner five stars, and many agree that it works miracles on extra grimy dishwashers. "We haven't done any cleaning on our dishwasher in five years, and the sliding dish trays were tough to pull out or push in, there was detergent build up all over the inside, and there was a milky film on all our cups," one reviewer says. "I bought Affresh, ran the dishwasher with two tablets while it was empty, and the difference was astounding … No more film on the glasses, no more dirty dishes from clogged sprayers, no more odors, or build up around the door seals." Another reviewer, who thought their dishwasher was beyond repair, says that this saved them from having to buy a new one. After using Affresh tablets, "My glassware that I thought was permanently etched and ruined came out like new. Same with cutlery. The difference is unbelievable." This gets rid of odor, too, according to over 15 percent of reviewers. "Upon opening the dishwasher you got hit with a 'yuck' smell," explains one. "The smell is gone." And while the directions say you can run this with a full load of dishes reviewers warn against it. Let this reviewer be your cautionary tale: "I ran my favorite Pyrex measuring cup in the cycle and it came out bare … all the painted measurements had been WASHED OFF." Apart from that, many reviewers agree with this user who says, "These are a great, inexpensive and easy way to clean your dishwasher for sure."
Best-rated (less expensive) dishwasher cleaner
"I had believed that the OLD appliance and its discoloration was equal to that of an aging humans wrinkled face … but I was proven so wrong because this product resulted in what I'd say is equivalent to a face-lift AND a three-day spa 'toxin' release," one reviewer says of this dishwasher cleaner. "The smell of soured milk sprinkled with hints of tuna fish oil was becoming overwhelmingly abrasive. In one cycle … smell? GONE. Walls? WHITE." Many other reviewers experience similar results using this Finish dishwasher cleaner, including those living in areas with hard water. One who says their Arizona water is so hard, "you can use a fork to eat it, kinda hard." And they go on to say, "This stuff is like magic," so much so that they've subscribed to it. "One cycle in the dishwasher and it runs like it did when I first got it." Reviewers also note that this works a variety of dishwasher models, including ones by Maytag, Samsung, and Whirlpool, and about 15 percent say using this once a month is all you need: "If you use it once a month it will keep your dishwasher clean, performing excellent, and most importantly it will extend the life of it."
Best bleach-free dishwasher cleaner
Reviewers say this bleach-free dishwasher cleaner — that uses biodegradable citric acid to remove odors and stains — works just as well as the heavy-duty stuff. Before trying it, one reviewer's dishwasher was so "disgusting" they were ready to buy a new one altogether: "It was completely coated with mineral deposits and other disgusting stuff — even though I would scrub it. Then I read about this product and decided to give it a try," they write. "It is simply amazing! I ran it through the regular cycle once and 95 percent of the stuff was just plain gone." Since then, they've used the powder with every wash, "and the dishwasher looks brand-new! It is completely white inside — even all of the racks — and the metal is gleaming. I wouldn't have believed it if I didn't see it with my own eyes." Another reviewer was impressed enough with the results that it made them "SO wish I had taken a before and after photo … I suppose I wasn't expecting it to work THAT well." Their dishwasher had some "pretty heavy buildup and odor," so they used two packets for their first wash and report that the results were "AMAZING. I will definitely begin using this every month!"
Best dishwasher cleaner for stains


"I have three stains on the inside of my dishwasher door that have been there for years, I think," one says. "I thought, Yeah, right, but decided to do it anyway. I really didn't expect any improvement. Boy, was I wrong. One of the stains is gone and the other two are reduced in size and faded to a shadow of their former selves." And many other reviewers say that this dishwasher cleaner is particularly good for stains, especially since it is a liquid and can be used to spot-treat. "I put a cap full on each trouble spot for a little while and used the rough side of a sponge to scrub and then ran some through the dishwasher," one user explains. "Might take a few times, but my dishwasher looks much cleaner." It also helps with odors. One says, "The smell is gone, and the dishwasher has a fresh aroma." Plus, Oh Yuk acts as a descaler, which addresses any white film that may have built up.
Best dishwasher cleaner pods
"This is the best product in the world. If I were a salesman I could still sell the stuff all day long to everybody I met," writes one reviewer, and nearly 80 percent of reviewers who gave this dishwasher cleaner five stars would probably do the same. Not only do reviewers say that these Cascade pods help with bad dishwasher smells, it also makes their dishes cleaner. "I tried it and lo and behold the dishwasher is like new," one says. "The bad smell is gone, and the dishes come out spotless." Another thinks it solves all mystery dishwasher problems. "My elderly dishwasher was moaning and squeaking," they write. "It was painful to listen to. I came across this at the supermarket and after using it just once, the dishwasher ran smoothly and quietly. Now I use it after every 10 or 12 loads, and it seems to have solved any problem that existed." Reviewers also appreciate how many pods they get in one order. According to one, you don't have to worry about them going bad: "These pouches are easy to use and have never dried out even after being stored for a long time."
[Editor's note: This item is scheduled to restock on May 7, 2021.]
Best (less-expensive) dishwasher cleaner pods
"I've had my dishwasher for 12 years and never used a product like this before," one reviewer writes. And for a first timer they were pleasantly surprised by the results. "The smell was driving me crazy and after one tablet, the dishwasher is odor-free." About 15 percent of reviewers also say that it helps control odors and one even says, "This product is great to clean out your dishwasher of all the food particles and grime that builds up over time." Another adds that it is tough on grease. "The inside of our dishwasher had a coating of grease from not prerinsing a large pan after cooking a batch of bacon," one user explains. "It smelled funny and the dishes just weren't getting their cleanest. This 'magic' pod cleaned it all and washed it right down the drain. No scrubbing on my part required." One thing that sets these pods apart from the rest is that it can be used while washing dishes, which one reviewer says "is a huge plus."
Best dishwasher cleaner for stainless steel
Reviewers with stainless-steel dishwashers have had lots of success fighting hard-water stains with this cleaner from Glisten. "Where we live the water is chock-full of minerals. That, in combination with soap residue, makes the dishwasher look like the inside of cave," writes one five-star reviewer. "I had tried everything I could think of — even going so far as to use a Dremel to grind off some of that buildup." This cleaner "wiped away almost all of the buildup on the first try," and since then, they've used it "religiously every three months" for keeping their stainless-steel dishwasher buildup-free. "If you have a stainless-steel dishwasher interior and live in a hard-water location, you know how the lime and other materials in the water build up and leave a film," writes another. "This stuff is truly magic! I was blown away after using just one bottle. The foggy stained interior was almost bright again," and after a second cycle with hot water, the interior now looks "brand-new. It cured my problem, permanently."
Best dishwasher and washing-machine cleaner
"These things work wonders. I thought I was going to have to replace my dishwasher — it was stained and had a gross smell and left the dishes spotty — then I found these, and now it's like I have a new dishwasher (and it's actually like 30 years old). The stains on the inside are gone, the smell is gone, and dishes come out sparkling, I use a tab in almost every load," one reviewer writes. And others love that you can just pop this in with a load of dishes and it will work its magic. Many say that it not only works on stains but scents too. One says it is this simple: "Just place in the bottom of your washer and run with a load. No more stinky dishes." The end result, according to one reviewer, is dishes that smell "lemony fresh." Reviewers also like that "this can be used for both the clothes washer and dishwasher," one points out. Another who used it in their front load washer says, "Even the glass got clean, it was stained with something I couldn't get off but this got it bright as new."
The Strategist is designed to surface the most useful, expert recommendations for things to buy across the vast e-commerce landscape. Some of our latest conquests include the best acne treatments, rolling luggage, pillows for side sleepers, natural anxiety remedies, and bath towels. We update links when possible, but note that deals can expire and all prices are subject to change.