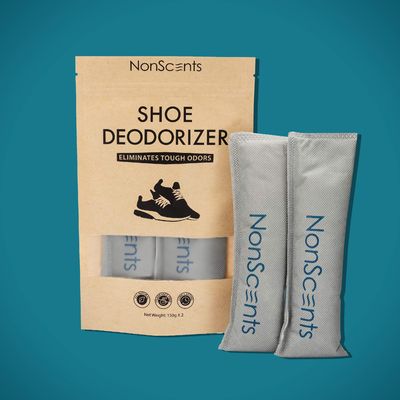 The trash can in my kitchen has seen some things. Like: Whole chicken carcasses on top of old socks soaked with rancid tomato juice on top of a pyramid of unopened bills. (That's not a metaphor.) Even when there is no trash in it, ghosts of meals past haunt its plastic figure, which releases a smell that seriously cramps the sophisticated, design-y feel my wife and I are going for in our home. To stifle that smell, I tried washing the thing thoroughly with soap and water (while wearing a mask over my nose and mouth), spraying expensive French perfume in it, and slathering it in roll-on deodorant. None of it worked. On the verge of just getting rid of the trash can altogether, I tried one more thing: a deodorizing sachet made for slipping into stinky shoes that I had left over from my days as a runner.
At first, it seemed dubious — on the day I put the sachet at the bottom of the trash can (outside of the garbage bag), I checked it hourly, and the smell still most closely resembled that of months-old yogurt and pizza. But the next day, when I had all resigned myself to spending upward of $100 on a new receptacle for junk mail and food waste (the exorbitant cost of trash cans is the subject of another article), I opened mine to toss some coffee grounds and got no whiffs of putrid fruit or burnt chemicals or weird manufactured floral smell to cover those up. I just smelled … nothing. Somehow, the fragrance-free sachet had consumed all of the hellish smells lingering in the trash can overnight.
According to the brand, the sachets and NonScent's other products (which include a cat-litter deodorizer, fridge deodorizer, and a deodorizer specifically for skunk spray) all eliminate funk via a patented "OxiScience Technology" that utilizes natural and non-toxic ingredients to "attack and remove sulfur-containing odors and ammonia." The sachets are coated in a biodegradable and human-safe polymer that slowly releases the odor-eating ingredients over time to ensure long-lasting coverage. I don't have a chemistry Ph.D. (and many of you likely don't either), so put simply: The sachets have a (relatively) sustainable and safe formulation that uses naturally occurring chemicals to effectively neutralize odors anywhere. They're also small and flexible enough to fit inside of most anything, including all styles of trash can and, of course, their intended vessels — shoes. It's been about six months since I put the first sachet in my trash can, and I'm on pace to replace them about every three months (though replacement frequency may vary based on the size of a can, what goes in it, and how often stuff goes in it).
Friends are probably too polite to note the improvement in our home's smell (or the fact that I am now willing to open our trash can in front of them), but my life has improved immeasurably. I no longer live in fear of folks discovering my not-so-secret shame, or having to come up with excuses for why I don't immediately clear the table after dinner parties. More importantly, our home now mostly smells like nothing — which is a heck of a lot better than everything we've ever thrown out, all at once.
More Strategist-approved odor eaters
Former Strategist writer David Notis says this hospital-grade spray is the only thing that works to eliminate lingering boy smells from the apartment he shares with two male roommates. "You usually just need one or two pumps. A fine cloud of unscented mist comes out and within about ten seconds … nothing," Notis writes. "No garlic or mildew or bathroom odor. Just neutral air."
Upon visiting a vet's office that smelled of "orange blossoms and Aperol spritzes," Strategist senior writer and cat owner Karen Iorio Adelson discovered the scent came from one of these "ugly" candles. After putting it to the test in her home, Adelson confirmed the candle's funk-fighting ability: "Cat odors no longer assault visitors as they walk through the door, and new guests often can't believe I even own cats," she wrote.
Strategist writer Liza Corsillo told us she's used this spray to remove stains caused by chocolate, coffee, blood, and her dog's urine. Turns out, the formula that makes it so effective at removing stains also makes it incredibly effective at eliminating odors, too: "It's made using a mix of good bacteria and enzymes that eat any remaining fluids left after you wipe up the majority of a mess. This level of thoroughness, I came to find out, is especially important when cleaning dog pee out of textiles because trace amounts of urine and odor can hide in the crevices."
The Strategist is designed to surface the most useful, expert recommendations for things to buy across the vast e-commerce landscape. Some of our latest conquests include the best acne treatments, rolling luggage, pillows for side sleepers, natural anxiety remedies, and bath towels. We update links when possible, but note that deals can expire and all prices are subject to change.