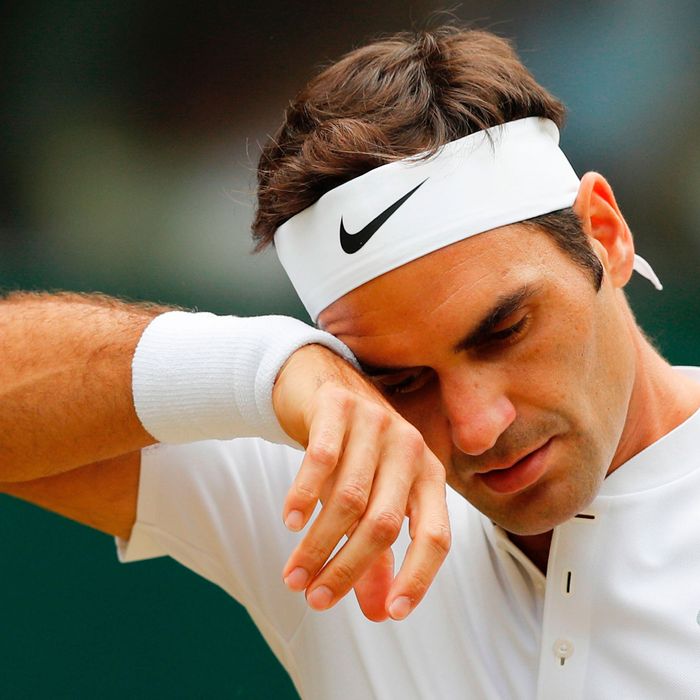 Photo: ADRIAN DENNIS/AFP/Getty Images
Sweating, both literally and figuratively, stinks. No guy wants to go through the day worrying if he's emitting BO, or that he can't lift his arms without revealing serious pit stains. To find out what products are most effective at controlling sweat and odor, we reached out to three dermatologists, two personal trainers and three men's grooming experts. Since choosing a deodorant is such a personal decision, and everyone has different body chemistry, it's hard to proclaim one specific deodorant the "best overall." So instead, we broke everything down into categories to highlight the full range of our experts' picks.
Before we get into all of that, it's important to clarify what we're talking about when we talk about deodorant. "Deodorants technically only mask or neutralize the body odor caused by bacteria, whereas an antiperspirant temporarily suppresses the flow of sweat," says Jennifer Chwalek of Union Square Laser Dermato­logy. As she explains, the metallic salts in antiperspirants — typically aluminum compounds — "create a plug in the sweat duct reducing the flow of sweat." So one type makes you smell good, and the other stops you from sweating. For that reason, Jeremy Fenton of the Schweiger Dermatology Group and Samer Jaber of Washington Square Dermatology agree that the gold standard for sweat and odor protection is a combination antiperspirant deodorant.
Another quick point of clarification: You've also probably heard a lot about "aluminum-free" deodorant or "natural" deodorant. The two terms essentially mean the same thing, says Jaber. "Natural deodorants are aluminum-free products," he explains. "Aluminum salts are the only FDA-approved chemical antiperspirant." Aluminum can be irritating to sensitive skin, so if you're prone to rashes or itchiness, you might want to opt for a deodorant-only product that kills odor-causing bacteria. Fenton suggested ingredients like "zinc, witch hazel, or essential oils that have antibacterial properties, such as lemongrass, sage, and tea tree, or baking soda, which neutralizes odor." Whatever you're looking for, we've got you — or your pits — covered. Here are the experts' picks for all levels of stinky and sweaty.
Best men's antiperspirants for very heavy sweaters
Certain Dri is Fenton's favorite brand for excessive sweating. "One of the keys when you're using it is to apply at night. You want the aluminum to settle down in the sweat glands," he says, which is harder to do during the day when you're actively producing sweat. Because it's so strong, Fenton recommends starting slowly — every other night at first — to avoid irritation. "There's a cumulative effect as it settles into the pores," he says, so using it every 48 to 72 hours may be all you need.
Chwalek recommends this powerful antiperspirant, which you wipe on once a week. Endorsed by the International Hyperhidrosis Society, one SweatBlock wipe can be effective for up to seven days. Like Certain Dri, SweatBlock is supposed to be applied at night. But if leaving the house in the morning without applying anything feels strange to you, Fenton says you can use a non-antiperspirant deodorant in the morning for added odor protection. Strat writer Carlo Dellaverson, a self-proclaimed "card-carrying member of the excessive-sweating community," says SweatBlock wipes "have taken on a sort of cult status among excessive sweaters, for when nothing else works."
Best men's antiperspirant deodorant for moderate to heavy sweaters
For guys who don't need the most powerful antiperspirant, or who find it irritating to their skin, Fenton says Mitchum is "one step down" in intensity from the strongest stuff, and very effective for controlling wetness and odor.
Best men's antiperspirant deodorant for sensitive skin
Fenton, Chwalek and Jaber all like Dove antiperspirant. "If you don't need superstrong stuff, a lot of guys like the scent of Dove's men's skin-care line," says Fenton. Aluminum zirconium tetrachlorohydrex, the active ingredient in Dove, is less irritating on the skin than some of the harsher chemicals. We have of course written about a wide range of skin-care issues here at the Strategist, and Dove always seems to be a dermatologist favorite, especially for sensitive skin. (The brand tends to keep things simple and offers many fragrance-free options, since chemical fragrance and even essential oils can be irritating to some people.) For an even gentler option, Jaber recommends the sensitive-skin Dove antiperspirant that he personally uses. It's fragrance-free and alcohol-free, and it contains moisturizing ingredients.
If you have particularly sensitive skin but still need a strong antiperspirant, Jaber recommends Vanicream. It has a high concentration of aluminum to prevent sweating, but it's free of all fragrances, dyes, lanolin, parabens, and pretty much any other potentially irritating ingredients.
Ban is another company known for making gentle, fragrance-free products. Celebrity groomer Ronnie Peterson loves Ban's roll-on antiperspirant and told us that he's "been using it for the past eight years." Peterson uses the fragrance-free version, but there are lightly scented options, too. The liquid "roll-on" style dispenses a thin layer of clear liquid, which means it absorbs quickly and won't leave that white residue some deodorants do.
Best men's antiperspirant deodorant for working out
Master personal trainer Joey Levy of Corefit 101 is loyal to this gel-based antiperspirant. "It goes on clear and absorbs well," he says, and it does not leave any "embarrassing wet underarm spots." It also "smells great, and the scent stays strong all day," says Levy. "It's nice to stay dry and smell good even after a hard workout."
Best natural deodorants for men
If any type of aluminum antiperspirant irritates your skin, or if sweat isn't a big problem for you, it may be time to try a deodorant-only product. Just be ready. Chwalek says, "If you do switch from an antiperspirant to a natural deodorant, you may feel extra wet at first, as they really don't reduce sweat." But "that doesn't mean it won't be effective," says Chad Beightol, the owner of men's grooming boutique Consigliere who has been using non-antiperspirant deodorant for several years. As he explains, a good deodorant employs natural ingredients that "fight the bacteria that cause odor." Beightol told us that, after trying out a bunch of deodorants, this is the one that really works for him. "I swear by it," he says. The deodorant contains hops, which, "while great at making beer, are also effective at fighting bacteria and microbes," he says.
Groomer and makeup artist Robert Reyes likes this natural deodorant because it's "long lasting, absorbs quickly, and never leaves residue transfer on clothes," he says. He likes the "clean scent" with notes of honey, lavender, and eucalyptus.
If you're worried that natural deodorant won't quite cut it when it comes to sweaty activities like working out, you're probably right. But not this one, according to certified personal trainer Ariel Brill. "It's one of my daily workout deodorants," he says. "It's all-natural and made for athletes. And it feels soothing on the skin." Even though it's not an antiperspirant, Brill doesn't see a big difference in how much he sweats between using this and his antiperspirant. Active ingredients include matcha and arrowroot powder, and he likes the "Rise" scent, which contains cedar and vanilla.
Fenton likes Jason's line of natural deodorants and recommends their tea-tree-oil deodorant if you're looking for a lightly scented option with bacteria-fighting tea-tree oil. If you have very sensitive skin, Fenton suggests using Jason's unscented option instead. "Even the deodorants without antiperspirant can be irritating," he says. You'll need to go through some trial and error to find the natural ingredients that don't bother you.
The Strategist is designed to surface the most useful, expert recommendations for things to buy across the vast e-commerce landscape. Some of our latest conquests include the best women's jeans, rolling luggage, pillows for side sleepers, ultra-flattering pants, and bath towels. We update links when possible, but note that deals can expire and all prices are subject to change.
Every editorial product is independently selected. If you buy something through our links, New York may earn an affiliate commission.