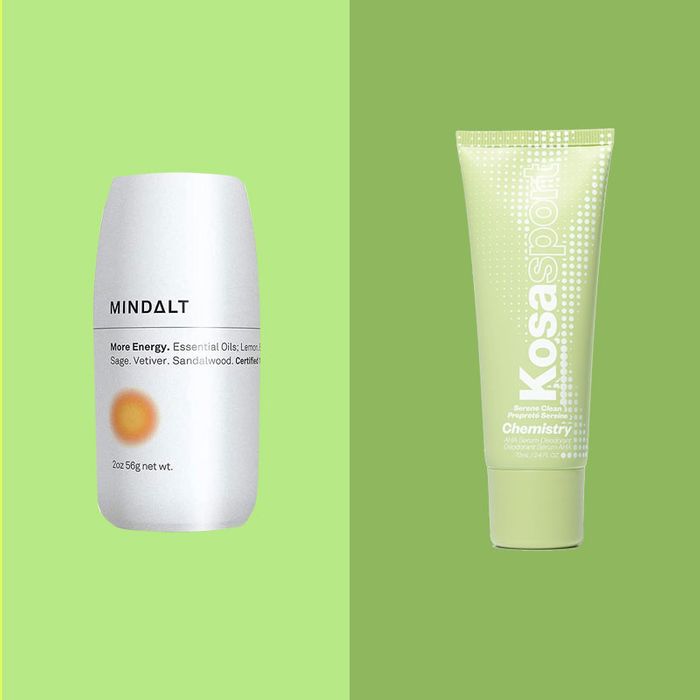 Photo-Illustration: The Strategist; Photos: Retailers
Finding a good deodorant is much like finding a good pen: Sometimes you just happen upon it at a friend's and other times it requires an extensive hunt and many many attempts. That's to say that deodorant is subjective and highly personal to your taste. But generally, a good deodorant (antiperspirant or not) will stop you from smelling and offending your fellow man, and if it's meant to reduce sweat, make your armpits less sweaty. Deodorant is also broken down into two categories: deodorants with aluminum and deodorants without. Aluminum-free deodorants are often referred to as "natural" and use ingredients like arrowroot powder, magnesium, and baking soda to absorb additional moisture and keep you smelling fresh. Aluminum will help to stop you from sweating, natural deodorants will not.
To track down the best, we talked to dermatologists, athletes, trainers, and sweaty Strategist staffers about the deodorants and antiperspirants they're using to stay fresh — from the mind-altering natural deodorant one Strategist writer swears by to clinical-strength ones that last up to two days.
Best antiperspirant-deodorant stick | Best antiperspirant-deodorant stick for sensitive skin | Best clinical-strength antiperspirant-deodorant stick | Best antiperspirant-deodorant gel deodorant | Best antiperspirant-deodorant deodorant stick for super-sensitive skin | Best long-lasting natural deodorant | Best natural deodorant with probiotics | Best natural deodorant with magnesium | Best natural deodorant for moderate sweaters | Best AHA deodorant | Best-smelling natural deodorant
Antiperspirant or deodorant: Deodorants are broken down into two categories: antiperspirants and deodorants. Antiperspirants contain aluminum, which works by blocking the sweat glands and cutting down on the smell. Deodorants on the other hand use a range of ingredients to absorb sweat and minimize smell. A popular ingredient in non-aluminum deodorants (often referred to as natural deodorant) is baking soda, which does a good job of absorbing sweat and smell. Baking soda can be sensitizing, however, and has been known to cause irritation and sensitivity for some people. With that in mind, we've included lots of baking soda-alternative formulas too.
Scent: Deodorants come in a wide variety of scents, from floral to earthy to citrus, which helps to scent your pits and mask the funk. Fragrance can also be an irritant, so that's something to keep in mind if you have sensitive skin.
Price: Deodorants tend to be the more affordable side, but in case you want to get the biggest bang for your buck, we've noted how much you get in a tube, as well as the cost per ounce.
Best antiperspirant-deodorant stick
Antiperspirant | Cucumber melon | 2.6 ounces (Approx. $2/ounce)
If you don't need a super-strong antiperspirant like the Dove Clinical Protection, the standard Dove is a classic and solid option. Tamara Pridgett, founder of fitness creative agency Extended Day Studios and host of The First podcast, has been wearing it since middle school and counts it among the products she can't live without. "It's my go-to and I need to have it at all times," she says. "I like it because it doesn't get clumpy underneath my armpits, and it lasts for an eternity." The classic option offers 48 hours of antiperspirant protection and has moisturizing ingredients for the skin. Strategist writer Emma Wartzman is also a fan: "I have tried a lot and nothing works better for me than this one."
Best antiperspirant-deodorant stick for sensitive skin
Antiperspirant | Unscented | 2.6 ounces (Approx. $1/ounce)
Fitness coach Avamaria Rivas is both a heavy sweater and someone with sensitive skin. To avoid irritation, she only wears deodorant when she leaves the house or teaches fitness classes. Her deodorant of choice is Dove Sensitive, which she found after trying both natural and traditional options. "It's the only deodorant that doesn't break me out," she says. "I also like that I don't smell and that I stay fairly dry after my intense workouts."
Best clinical-strength antiperspirant-deodorant stick