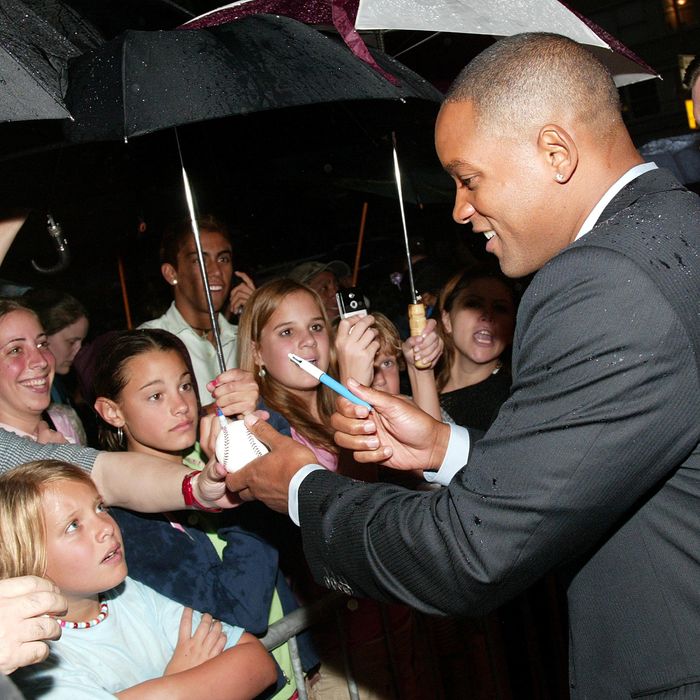 Photo: GraphicaArtis/Getty Images
Finding a pen that truly suits your writing style can be like looking for a needle in a haystack. Whether you're a list-maker or a letter writer, the sheer amount of options — even when you narrow your search to just the 100 pens our editors tested — can be overwhelming. So to make things even easier, we've rounded up the best of the best — from fine point to bold point and ballpoint to gel — according to the most enthusiastic reviewers on Amazon. And if you're looking for more stationery supplies, we have roundups of the best notebooks and planners and a guide to bullet journaling, too.
Related Articles: 100 Best Pens | 100 Best Notebooks | Drawing for Beginners
Best-rated pen
"In a world of fake news, where you can't trust an Instagram model who says she really lost weight using the skinny tea, this pen stands out as a beacon of hope," writes one reviewer of this pen, which really does what it says on the package. "It claims to be an ink pen, and it is! It claims to be erasable, and it is." (We tested it and found that it erases "more cleanly and evenly than a pencil.") Over 55,000 other five-star reviewers are just as impressed with this Pilot pen, and not just because you can erase its ink: "This pen is comfortable to hold, and it writes very smooth. It's a lifesaver, a time saver, and my new favorite pen," writes one self-proclaimed pen snob. And a college student who also uses this pen's waste-saving refill feature likes that the pens "do not smudge and do not bleed through paper" and says they "would be miserable without them." One reviewer notes, however, that the erasable quality of the ink is heat-activated, meaning there's a chance that, "if put near high heat/sun/humidity, back pockets, etc., the ink will disappear." They still give this pen five stars — claiming to be "flat-out addicted to these pens" — so it's not a deal breaker, but it's definitely important to keep in mind.
Best-rated (less expensive) pen
More than 80 percent of reviewers give this set of colored ballpoint pens five stars, and many can't believe their value. "I was honestly shocked at the great quality of these pens," writes one reviewer, who was fully prepared to throw them away in disappointment, but "was pleasantly surprised when I received these, they are terrific!" They add, "These pens are actually triangular, which very comfortably fits in your hand just perfect. I mean, these are no high end pens, but for everyday writing with cool colors, they hit the mark, greatly exceeded my expectations." Others praise them for not smudging or skipping. "They're easy to hold, write smoothly, don't skip, and are just great pens to have around," says one repeat buyer. Plus, "These pens write like butter," raves another reviewer. The one issue you might run into with pens these good is keeping track of them. One reviewer writes "I just wish people in my office would quit stealing them."
Best no-bleed pen
"When Sharpie launched this pen that doesn't bleed I did cartwheels," says one reviewer, and nearly of a quarter of reviewers were just as excited about these no-bleed pens. "They do not smear while writing like so many other pens do," says another. One says this claim holds up "even when using it to write on dinky recycled paper that I got from the dollar store, it doesn't bleed out onto the pages below." One leftie even says that they "don't have trouble with these smudging." Others just like the way these write. "Sharpie Pen is my go-to writing instrument for beautiful, permanent, 'write on virtually anything' writing needs," one says. "Every single day. The sturdy, fine tip and smooth tip edges provide a consistently smooth, 'get out of the way' delivery of clean, smudge-proof penmanship."
Best pen for lefties
This pen has a vocal fanbase on Amazon, many of whom are lefties who appreciate its fast-drying ink that "dries almost instantly" and doesn't smudge when they write. As one lefty says, "Being left-handed, I have always had a problem of ink smearing and making a mess, not just on me but also on the card or letter that I was writing. I also have not been able to find a pen that doesn't skip, one that writes smoothly and just feels good using it. This pen solved all of my problems! I love using it. It puts the fun back into writing!" Another raves, "Writes really smooth and dries quickly. A must have for left-handed people!"
Best disposable fountain pen
About 45 percent of reviewers love the feeling of writing with a fountain pen. "This style of pen makes it easy to write neatly and quickly with a steady ink flow which does not require too much pressure," one reports, adding, "This has a feel that is comparable to much more expensive pens." This disposable fountain pen even made our list of the 100 best pens, and writer Karen Iorio Adelson called it "a gateway drug to the expensive world of fountain pen collecting because it's so comfortable and downright fun to write with." Another says, "I love the easy, smooth flow of ink, and the ability to add an artistic touch to my handwriting." What people like even more is that these are disposable. The same user continues, "With a typical fountain pen, I often have the following problems. (1) The ink cartridges are small and they run out of ink quickly. That means I have to take extra cartridges with me wherever I go. (2) The nibs get clogged with ink and I have to place the nib under running water to get the ink flowing again. What a mess! None of those are problems with the Pilot Varsity pens. Each pen has plenty of ink which lasts a long time. I've never had a nib get clogged up. They are maintenance free."
Best multicolor gel pen set
More than 85 percent of the over 26,000 reviewers gave the InkJoy gel pen five stars, and we thought it was the best of all the gel pens we tested (and came in 23, out of 100 overall, in our ranking). One purchaser says they first tried these out on a co-worker's recommendation, and they were "hooked within thirty seconds: First of all the ink dries quickly, so I didn't smudge it, at all. Ever. Second, they write so smoothly. Third, the colors are vivid and bright and fourth, the pens feel nice in your hands! I have to hide these pens from everyone else because they are always trying to run off with them." Purchasers tend to love the bright colors, the rubber grip, and the smooth quick-dry ink. "These pens have me finding excuses to write," says one reviewer. "I generally hate gel pens because I smear them so quickly when I write, but these are amazing."
Best multicolor pen set for bullet journaling
More than 200 five-star reviewers who bullet journal love this set of multicolor iBayam pens. "These exceeded my expectations," writes one such reviewer who was looking for fine-tip pens with minimal bleed and likes that the pens also "write fluidly" and the colors are "bright and unique." Another reviewer who purchased the set to help their daughter start bullet journaling reports that the pens don't bleed through paper and have minimal ghosting and no smudging. And a third reviewer praises the pens' "vibrant" colors and how thinly and precisely they write, which makes it "so much easier to design my bullet journal."
Best multicolor pen set for adult coloring books
Over 200 reviewers mention using this Stabilo pen set for adult coloring books. "I purchased these because my wife was frustrated that colored pencils did not have a fine enough tip for her adult coloring books," one reviewer writes, explaining, "Most of the new adult coloring books have very small detailed patterns and these fine tip pens are perfect for that. Plus, so far the ink seems to be lasting nicely, and the color on paper is bright and rich. We have since bought several more packs of these for gifts." Another happy purchaser says they're great general use pens and work well for all sorts of craft projects: "These pens are way nice than I expected. I purchased them as liner pens for some of my watercolor paintings and discovered that they're actually water soluble/blendable on watercolor paper. I use them LOTS for scrapbooking, adult coloring books, watercolors. The colors really pop and they write very smoothly on most surfaces."
Best pens for calligraphy
"I just finished addressing 175 envelopes with one pen and would definitely recommend them to anyone looking to try brush calligraphy," raves one reviewer, and many others agree that this two-pack of Tombow brush pens is an excellent choice for calligraphers. One purchaser even goes as far as saying, "There honestly isn't any competition when it comes to brush pens. These two Tombow Fudenosuke Brush Pens are all you need for calligraphy and illustration." Many amateur and experienced calligraphers chime in to say that this set is often recommended by calligraphy experts and calligraphy-focused websites. "These are GREAT brush pens if you are a calligrapher or hand letterer. They are very popular in the lettering community and they are some of my favorite pens to use! I love that it comes in a dual pack. The hard tip is great for beginners and the soft tip has a bit more flex to it and mimics more of a brush pen." One reviewer says this makes for a great starter set, and even offers a helpful suggestion for new calligraphers: "Highly recommend them to anyone wanting to try a brush pen. Just remember: light strokes going up and heavy going down."
Best 4-in-1 pen
This BIC 4-in-1 pen gets a lot of appreciation from purchasers who rely on color-coding for work and organization. As one reviewer writes, "Twenty years ago, my mother used these to highlight interesting things in our print copy of TV Guide. Today, I use them to code documents that require certain things be written in certain colors." Another adds: "I love these pens especially for nursing work as I can color code labs/notes/to-do's etc. There is a lot of information I put on a piece of paper and these pens do a great job helping me get everything done." This one almost broke into the top ten in our list of the best pens, making a strong showing at No. 12. Editor Katy Schneider raved, "I love to use this for checklists — you can make the list with blue or black ink, then put little stars next to the urgent items in red ink. Do I sound crazy?"
Best fine-tip gel pen
"I don't even know myself anymore. Except that I love these things. Heck I never knew I could have that kind of a relationship with a pen," one reviewer writers. Another customer says they're so in love with their pen that they even followed a classmate home who didn't return their beloved Uni-Ball. It's this pen's fine tip that caused this reviewer to act so irrationally. Another reviewer who writes in "a thin loopy style" says, "That's why I really enjoy the very fine tip of these pens; everything just looks so much neater." Others love the pen's "no-skip" smooth glide. One reports, "It writes like an angel gliding across a picturesque frozen lake on the most expensive ice skates." Dozens also give these pens top marks for being long lasting. "You won't find yourself scratching circles in scrap-paper trying to get the ink restarted… These things are ready to go when you are, until the last drop is gone."
Best fine-tip ballpoint pen
"The bane of all fine-point users — finding a fine point that is dark enough to actually see — has finally been solved," writes one reviewer, who thinks the secret is in the pen's ink. "Pilot calls the ink 'Advanced,' but for me, the better word would be 'Perfected.' It is the darkest black ink from a fine point pen that I've ever seen." Many other happy purchasers agree, saluting the Acroball's combination of a fine tip and a winning ink formula. "The ink is always smooth, never gums up, and very fine, leaving your writing neat, precise, and clean," says one, while another adds that the fine tip actually makes their handwriting easier to read. "My handwriting, which is cursive/chicken scratch, is more legible thanks to the ultra fine point. The ink also dries super fast with minimal smudging and glides onto the paper as smooth as butter." And finally, many love the design of these pens, highlighting the "unique white barrel" and the "vibrant and fun" accent colors.
Best extra-fine-tip pen
"For those who prefer their points extra fine, this is the pen for you. Writing with it is like writing with a needlepoint," said our writer Lauren Ro after testing this for our best-pens list — and nearly 500 five-star reviewers have similar praise. One reviewer in search of a finer, higher-quality pen writes, "I have found it! These pens are incredible! The point is superfine, and the ink comes out smoothly and perfectly. I don't think I will write with anything else ever again." Plenty of reviewers with small handwriting also appreciate this Pilot, including one who finds even 0.5mm pens too bold. These, however, are "incredibly smooth and really, really fine. No glops, skips, or anything when writing. Just smooth, thin lines." And another who says their "note taking is next level" thanks to how neatly this pen can write adds that they've "given away several to random people who like a good pen, and everyone was a convert."
Best extra-fine-tip pen for drawing
Nearly 3,000 reviewers give this pen five stars, and many say it's the tip that makes it so nice. "I like the extra fine version because it's easier to write small with them which lends to writing much more quickly for me," one explains. That extra-fine tip is also great for artists: "I even used them to create 24 illustrations for my book Mortuary Arts," writes one reviewer, adding, "These work as well for art as they do for writing, such a great flowing experience." Even writers find it good for doodling, including Strategist writer Dominique Pariso, who said, "If you want to feel like a disaffected art student during your morning meeting, this one's for you." And though one reviewer points out they are a little pricey for a disposable pen, they are long-lasting, even with heavy use: "A single pen lasts for weeks, sometimes even months, at a time."
Best felt-tip pen
The Paper Mate Flair has a lot of friends in high places. Writer Lesley Arfin, Saucony creative director Chris Mahoney, and New York's own Jerry Saltz all told us they're fans. We ranked them at No. 58 in our list of the best pens, and it's a big hit with Amazon reviewers, too. As one purchaser puts it, "Who doesn't love a rainbow of felt tip pens?" Many contrast the Paper Mate Flairs with Sharpies and say they prefer the Flairs because there's less bleed-through and odor. "I love felt tip markers/pens, and am a big fan of using Sharpies for EVERYTHING. However, those tend to bleed through," one writes, continuing, "Luckily, these fantastic markers have the great felt tip writing feel without the smell or bleed; they're PERFECT for my new planner." Another writes, "I really had zero purpose for felt tip pens except when it came to needing to draw on top of full color designs that had been printed off. And my new job just suddenly had me needing to do this constantly. Regular pens don't show up well and Sharpies bleed through horribly. These are the perfect alternative and the color assortment made them even better."
Best bold gel pen
"I don't care if this product goes through the roof on pricing, I will never, ever, not once not ever, EVER, buy any other pen if it's not a PILOT G2 Premium Refillable & Retractable Rolling Ball Gel Pens, Bold Point, Blue Ink, 12 Count (31257)," says one reviewer. And lots of other satisfied reviewers appreciate how boldly this pen writes. "The thicker ball point creates a much broader stroke (as expected), but also makes it easier to write on hard surfaces," one says. Others just like the way it looks: "What I love about them is that they make a real 'mark' on the page. A bold one. One need not squint to see what's there or what's said, they can simply look with their normal eyes." It's also a smooth writing experience according to many. "The pen glides across the paper with less resistance, and the ink seems to dry more quickly," one says, while another reviewer writes, "the soft grip and the smoothness of the ink on paper brought a tear to my eye." If there is any drawback to these pens, "It writes so boldly, it may take an extra second or two before the ink dries," but many are perfectly fine with that. Besides, according to one reviewer, "I have never experienced any of these Pilot G2s drying out."
Best bold ballpoint pen
Reviewers who prefer a bold ballpoint pen praise this BIC one highly. "I have used this pen all the way up to multi-hundred dollar Mont Blanc pens and I prefer this one over those any day," writes one reviewer with a pretty powerful testament for these plastic pens. It's a nice option if you like "Thick, solid lines," according to another reviewer. That's because "these pens have 1.6 mm and are the boldest — thicker line of any pens I have bought." And even with that extra girth, about a third of reviewers also describe the pen as smooth. "You don't have any trouble getting ink onto the paper," one reviewer reports. "It just kind of slides onto the page effortlessly." Not only does the bold point make it easier to write, but "I think I write prettier with it," according to one reviewer. Another reviewer even says their handwriting looked bubblier and rounder with this pen, while another thinks they're so nice to use, they wrote their wedding thank-you cards with it. "Even paying bills by check is better."
Best stick ballpoint pen
At under $6 for a pack of 12, the Pentel R.S.V.P. ballpoint pen is a great value. It's also, as nearly 300 reviewers highlight, distinctly "smooth." One writes, "These have been my favorite pens for years. Smooth writing with excellent control and no trailing." Another adds, "The only thing I can say is that this is like the Cadillac of clear, smooth writing stick pens!" And while many like the more readily available medium-point 1.0mm model, the fine-point 0.7mm earns the most enthusiastic endorsements. "I've had other fine point pens that were hard to read due to skips and thinness in the printing, but none of that with these. Just sharp and strong, and the fine lines look tidier when writing small."
Best gel pen with metal tip
This set of gel pens is popular with reviewers looking for a smooth-writing gel pen in assorted color options. One teacher says, "These are my go-to teacher pens. I use them for grading papers, writing notes, and pretty much everything I do in the classroom on a daily basis. I love these pens and I'm so grateful they come in so many great colors." Another reviewer writes that they're great for note-taking or for organizing categories in a planner: "I LOVE these pens so much. They write very smoothly and do not smear. I like to use them for note-taking (and document-filling, with the more 'professional' colors) at work and school." They add, "Love, love, love, and I'll be using all of these until the very last drop of ink — then I'll buy more!"
Best compact pen
Over 100 five-star reviewers praise the Fischer Bullet Space Pen's "compact" build. One purchaser says, "I was amazed by how small this pen is when it's closed. I mean, it's quite literally something you can stuff in your pocket and for that it's there." And while many mention buying this because they wanted a small "pocket-sized" pen, they also appreciate that they can attach the cap to the opposite end, "extending the length of the pen to make it comfortable [to hold] while signing a document." One particular review seems to sum up what so many appreciate about this pen: "The real reason to this pen is durability and portability. If you just want a pen for your office, get a box of Precise V5's. If you want a pen to carry around, get this."
Best pen with pocket clip
"It truly is a quality writing instrument," says one reviewer, who thinks very highly of this pen. "The ink flow is smooth it is comfortable to hold and feels well balanced in the hand. The unique design and operating function make this a one of a kind." The design is something several reviewers call out as a main selling point. "Whoever engineered this thing should have won some kind of prize," writes one reviewer. "I can't stop opening and closing this thing. It does so with such a satisfying 'plunk.' Takes two hands to open, one to close." Others love the spring-loaded pocket clip, because, as one reviewer explains, "The end of the clip has a little roller wheel so it won't wear down your clothes as you clip and unclip it multiple times per day." And one reviewer concludes, "It writes smooth as silk with great action (friction of tip against paper) and provides an even deployment of ink on all paper surfaces I've tried it on, a true pleasure to write with."
Best astronaut pen
"The fact that this wonderful writing instrument is a standard-issue Astronaut pen is just a really cool bonus," says one satisfied reviewer. Another appreciates that, "When you hold it you feel a connection to project Apollo and even the now-ended STS." And while many are fans of real astronauts some just remember this pen from Seinfeld: "We are extreme Seinfeld fans and I got this for my husband from the episode about the Astronaut Pen. He knew immediately, of course, and it's a great novelty item. Plus it's a great PEN." But really, this pen is more than just a novelty. The ink in this all-metal, ballpoint pen "flows well, drys quickly and writes cleanly," according to one reviewer.
The Strategist is designed to surface the most useful, expert recommendations for things to buy across the vast e-commerce landscape. Some of our latest conquests include the best women's jeans, rolling luggage, pillows for side sleepers, ultra-flattering pants, and bath towels. We update links when possible, but note that deals can expire and all prices are subject to change.
Every editorial product is independently selected. If you buy something through our links, New York may earn an affiliate commission.