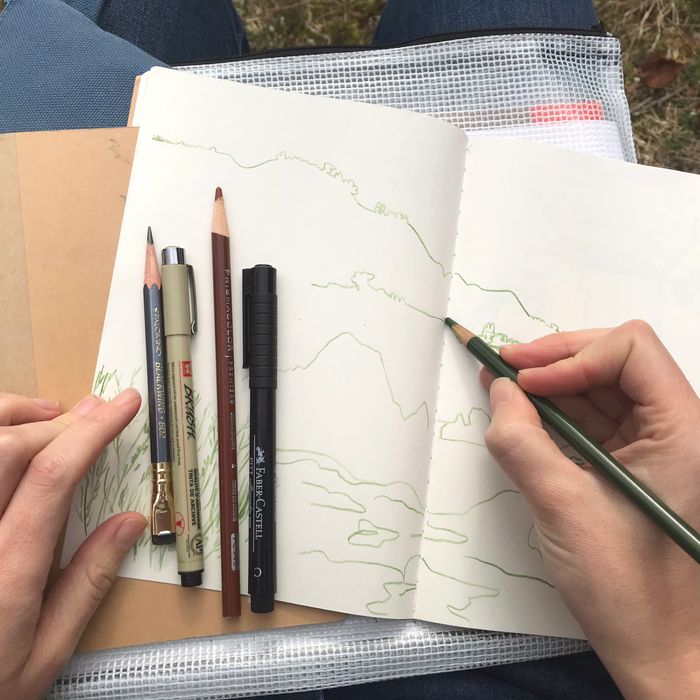 Drawing the Big Sur cliffs in my sketchbook.
Photo: Liza Corsillo
Everyone has their own way of decompressing. Mine is drawing. Specifically, it's drawing to the soothing sounds of Bill Callahan with a Modelo Especial or a cup of mint tea by my side. Like yoga or meditation, drawing has been a powerful tool for me in managing stress and anxiety during all of this self-isolating. And it can be for you, too. Even if you have no idea what you're doing.
Other than not judging yourself, the hardest part of getting into drawing is deciding what to draw. It's best to start with everyday objects: a coffee mug, your favorite tchotchke, a can of beans, the fire escape across the street, or the corner of your bedroom. You want something simple and basic — and, unlike your roommate's cat, something that's not going to move before you're done. Even if you're not creating museum-worthy work (and don't worry, you won't be), you will have a visual diary to remind you of this crazy experience years from now when we're all grateful it's only a memory.
As a part-time illustrator, I do a lot of drawing on an iPad. But when I'm drawing to relax or get ideas out, I use a pared-down toolkit that I have been perfecting for more than ten years. Because this type of drawing is more about the experience than the results, the best tools are ones that encourage you to stay loose and limit self judgement whenever possible. Of course, you can draw with anything you have at home, including your toddler's crayons and the back of a phone bill. But using slightly nicer materials will make what you're doing intentional and help you focus. Plus, if you create something you're proud of, it will be that much less likely to or disintegrate over time. Here are the best pens, pencils, paper, sharpeners, and zip pouches to get you started — and grow with you as you improve.
Pens
Artists' pens come in a million different styles, from fine-tipped microns used by architects to chunky square markers for sign making. While it's fun to test everything out, you don't want to overwhelm yourself with materials. Brush-tip pens are typically used for calligraphy, but they're also great for beginners because they force you to make an impression of what you see, rather than an exact rendering. Instead of a hard round tip, they use a flexible brush. The harder you press, the more ink is delivered and the thicker your lines will be, giving you the effect of three or four pens in one. (If you've ever tried one of those Zen Buddha Boards, drawing with a brush tip pen is similar, only your drawing doesn't disappear when the ink dries.)
The Sakura Pigma brush tip uses rich black archival ink that won't fade over time. The ink also dries waterproof so you don't have to worry about smudging your lines as you work. Like markers, brush tip pens dry out quickly if you leave them uncapped. I happen to like how it looks when the brush is a little dry. But if you don't like the look, I know from experience that you can bring this pen back to life by dipping it gently in a dish of water.
Chisel-tip pens are a little different. They have a flat rectangular tip that is stiff and consistent. They make a wide flat line if held one way and a very thin one if rotated. This makes them a great for graphic comic book style drawings, filling in large areas, or just zoning out and drawing a bunch of satisfying stripes across the page. Like the Sakura pen, this Faber Castell pen's ink is archival and waterproof. You don't need to press down hard at all to get a rich black line, plus your pen will last longer if you use it with a lighter touch.
This is a great set of chisel-tip pens for beginners. It comes with three different sizes so you can experiment using thick lines for large areas and thin lines for smaller details.
Pencils
Pencils range in hardness and are rated from 10H to 12B, with H indicating the level of hardness and B indicating the graphite's level of blackness or softness. The higher the number, the softer or harder the lead will be. (Hard leads make lighter more precise lines that are less susceptible to smudging; soft leads create richer, heavier lines.) Beginner drawing pencils should fall somewhere around the middle of the spectrum, let's say 2 or 4B — soft enough to make a range of marks depending on how hard you push down, but not so soft that they crumble if you press too hard.
Many people swear by Blackwing pencils — me, Rob Corddry, and the guy who drew Bugs Bunny included. Though they don't adhere to the above rating system, Blackwing does rate their pencils as soft, balanced, firm, and extra firm. Their soft pencils, which I use for drawing, are around a 4B and they glide across paper without smudging or leaving graphite crumbs behind. The difference between a Blackwing pencil and a basic number 2 is like the difference between iodized salt and fleur de sel. They are great for shading, doodling, or even attempting to draw everything in your fridge.
Prismacolor colored pencils are soft and waxy and make drawing feel more like it did when I was a kid, but with a little more control. I keep a black or dark brown one with me at all times for quick sketches.
This set will help you add color to your black and white drawings or add a kick to your sketches by drawing in dark green, brown, or navy instead of black.
Sharpeners
If you draw with pencils, at some point you'll have to sharpen them. Nearly any sharpener you'd use on traditional pencils will work. Here are the two that I use: one for home and one to keep in my pouch with my pencils.
If ASMR is your thing, you might enjoy the soothing buzz and vibration of an electric pencil sharpener. When I am feeling particularly anxious, sharpening all my pencils and lining them up on my desk helps me chill out.
If you plan on drawing anywhere other than your house, you'll also want a portable sharpener that catches the shavings for you. This one uses a two-step sharpening system to first shave away the pencil's wooden casing with a larger hole and then create an extra sharp point with a smaller hole.
Paper
When you're starting out, any kind of paper will work. (Later, you might want to invest in toned or textured papers.) The more important thing right now is to use a blank notebook instead of loose sheets of paper. That way you always know where to find your work, and it provides a rewarding way to see how much you've improved, along with a visual diary to look back on whatever it was you were going through when you filled the book.
I have a collection of Muji and Moleskine notebooks spanning several years that I can revisit like photo albums. Both types have smooth opaque pages that help keep ink from bleeding and plenty of pages to get you started but not so many that you'll be overwhelmed. The Muji notebooks have the added benefit of fitting perfectly in most purses.
Editor's note: These notebooks are available right now on Etsy, but stock is low. They'll be back in stock on Amazon by January 19, according to the retailer.
If you want to spread out across the page a little more I suggest these extra large Moleskines.
Pencil cases and pouches
Zip pouches help keep drawing tools from getting lost, accidentally snatched by partners or roommates, or mistakenly thrown into the junk drawer. They also make traveling — even if that means from the bedroom to the living room — with your whole kit extremely easy.
I usually have two pencil cases or small zip pouches on like this one on hand. I use one for pens and the other for pencils, colored pencils, and my portable sharpener.
You can throw your pouches and your notebooks into one of these mesh zipper bags. They hold a surprising amount of stuff, are waterproof, and let you see what is in each pouch quickly and easily. You can also use one to store your completed notebooks or a selection of your best drawings.
The Strategist is designed to surface the most useful, expert recommendations for things to buy across the vast e-commerce landscape. Some of our latest conquests include the best acne treatments, rolling luggage, pillows for side sleepers, natural anxiety remedies, and bath towels. We update links when possible, but note that deals can expire and all prices are subject to change.