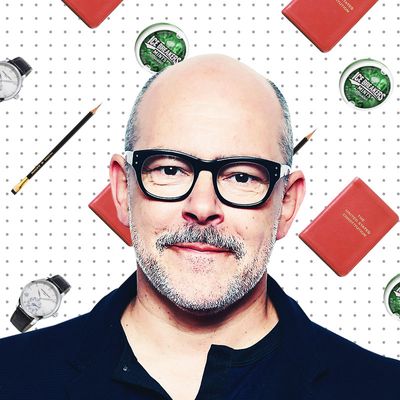 Photo: Courtesy of Getty Images
If you're like us, you've probably wondered what famous people add to their carts. Not the JAR brooch and Louis XV chair, but the hand sanitizer and the electric toothbrush. We asked actor Rob Corddry — who stars in The Unicorn on CBS with Walton Goggins and whose new show, a spinoff of Corddry's comedy Childrens Hospital , called Medical Police will be released on Netflix in 2020 — about the pencils, mints, and smartwatch he can't live without.
My wife and I were in Big Sur. It was our first vacation without the kids — they were both in camp at the same time for three and a half weeks — and it was amazing. I found these in some gift shop or something. I like it when people take the time to make a really nice writing utensil. Believe me, I've experimented. I've experimented with Mitsubishi's, I've experimented with Tombows. But the physical experience of writing with a Blackwing pencil is very real. There's nothing like that soft graphite. I actually wrote my youngest daughter's last birthday card with one of these. I drew a picture of a roller coaster on the front and wrote the message inside with a Black Wing. Was I in a hurry to get this done because her party was about to start? Yes. However, I think I'm probably gonna write a better love letter, especially to my little daughter, if I'm having a good, tactile experience with my writing utensil, you know? I really do think the tool you choose affects the work you do. When I write in scripts, for The Unicorn specifically, I highlight in yellow and then I write notes in the sides with a Black Wing.
I was never a watch guy. I became a watch guy because of Ballers, the show I did before The Unicorn. They had a $3 million sneaker budget on that show. Oh my God. Especially coming from Childrens Hospital, which was a bare-bones experience without a lot of perks. Going into Ballers, there was literally a cheese tower every day at lunch. One day there was a chocolate fountain. I wore a $35,000 watch every day. The lifestyle that they portrayed on that show can only be described as bonkers. But it got me into watches. I like things, unfortunately, and my tastes run pretty expensive because I like things that are very well made. You can tell the difference between a nice, well-made watch and a really crappy one. But I don't go overboard with them. This particular watch is less than $1,000 which is very, very cheap in the watch world. It is a classic looking, analog watch, yet it is a smartwatch. I have an Apple Watch that I wear most of the time. I don't love it in terms of the look of it or anything, but I've grown very accustomed to its features. I'm not gonna be able to look up the weather on this watch, but it does little things. It's like a watch with a secret. It has a step counter and a sleep tracker but I really don't use it for anything but telling time. I just like that I have the opportunity to use it for other things if I need to.
$8.99 for six! That's a great deal. I'm obsessed with these. I now wear glasses full time. This is a fairly new thing for me, but you know I'm an old person now, I guess. And I am obsessed with having very clean glasses. I look at friends and I see the dust or the prints or the scratches on their glasses, and I have a visceral reaction to it. It makes me feel terrible. Sometimes I will take them off their faces and clean them for them. If you know somebody that's perhaps on the meticulous side who has glasses, this is a fantastic gift.
I won this. This was hard-won. I have it in my hand right now as a matter of fact. It's so soft and tiny. I won this in a White Elephant at a friend's house. My friend Heather has a living nativity party every year where all of us go over to her house and she gives us a character and then we get into the shed and she takes a picture. I think she might even be Jewish. God, what a great White Elephant. Yankee Swap is actually what we call it. And you know what, the constitution is a pretty good read. I read the whole thing when I got it. My memory being what it is, I may as well have read only excerpts. But it is such a handy reference, especially these days, and I have it with me all the time. When something is mentioned in the news or at a hearing or anything referencing the constitution, I can just look it right up.
I think the Aquaphor and the Icebreakers can be dealt with in one fell swoop. They're both very benign, annoying addictions I have. I don't even think I have dry lips. I just, even now, starting to talk about Aquaphor, I'm licking my lips and I feel like reaching into my pockets to get my tube. I've got what looks like about 40 tubes here in my top drawer in my desk just waiting to be applied. To lube up. I call it lubin' up. It's horrible, it's a weird obsession with needing moist lips. The Icebreaker breath mints are similar. I have one in my mouth right now. I always have to be sucking on a mint. I guess Freud would probably say something about this but I don't know, who has the time to look into that.
It's so dumb, but I started bullet journaling. It's a little insufferable, I admit. In my defense, I've been really obsessed with apps and electronic ways to get things done for the last 10 or 15 years. But then I realized that going back to analog was the way for me. It's just, again, putting pencil to paper. That makes me feel more connected to my day and the things I have to do. It's a dotted Moleskine book, rather than a grid. You use the dots to sort of describe what certain tasks are. Whether it's an event or a task or something else. The thing I really like is migrating. At the end of the day, if you haven't done a certain thing that you meant to do today, you turn that dot into a little 'greater than' sign and you migrate it to the next day. So it's still in progress. There's a lot of task apps and systems designed to feel like you're getting things done even if you're not, and if you're making a mark next to a task, you feel like you've accomplished something. Even if that mark means all you're doing is migrating it to the next day, you know? It's a good feeling.
The Strategist is designed to surface the most useful, expert recommendations for things to buy across the vast e-commerce landscape. Some of our latest conquests include the best acne treatments, rolling luggage, pillows for side sleepers, natural anxiety remedies, and bath towels. We update links when possible, but note that deals can expire and all prices are subject to change.