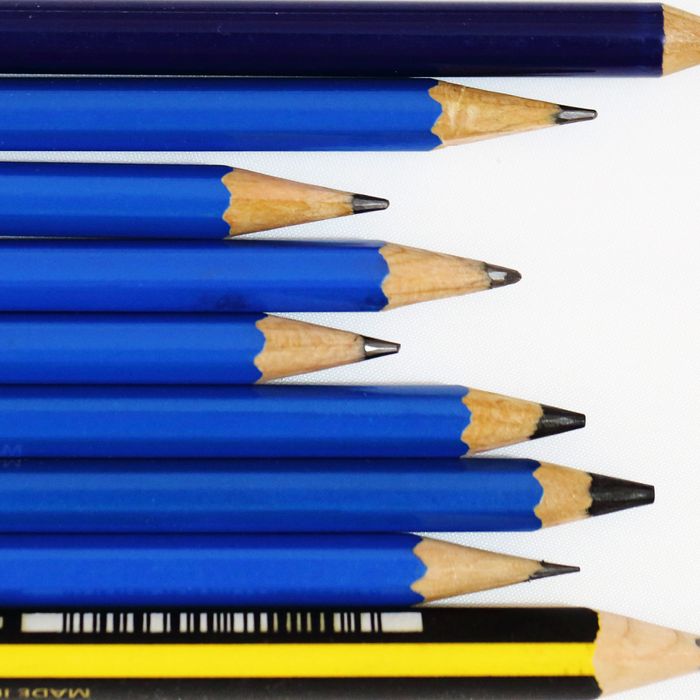 Photo: Sujay Govindaraj/Getty Images
Because they are erasable, pencils are often the first tool creative people use when sketching out a new drawing, sculpture, painting, or even designs for a new line of clothing. Pencils are also, in many cases, the tool those same artists have been using from the time they learned to write, giving them plenty of time to find a favorite. The ubiquitous writing and drawing utensil may seem as commonplace as a fork, but (like with forks) there is a tremendous variety of pencils out there. To find the best drawing pencils, we talked to artists from different disciplines about the ones they reach for over and over again, whether they're doodling in a sketchbook or putting the finishing touches on a large-scale work. "I've been using drawing pencils all my conscious life," says illustrator Christoph Niemann. Below, he and 11 others share their favorite drawing pencils — as well as their thoughts about the finer points of pencil design, how a great one should feel when you hold it, and which degree of lead quality is best.
Best overall drawing pencil
Among the 12 artists we talked to, the consensus was that Staedtler's drawing pencils are superior. The German brand is beloved among artists and graphic designers and came recommended by three people we spoke with. It was officially founded in 1835, but its roots go back to a circa-1662 item in the Nuremburg city annals that references a pencil craftsman named Friedrich Staedtler. Needless to say, the company has had a while to perfect its craft, which shows in its offerings (its range of lead grades, for example, is wider than most other pencil makers'). Staedtler offers leads from 12B to 10H, with B indicating the graphite's level of blackness or softness, and H indicating the level of hardness. The higher the number, the softer or harder the lead will be. (Hard leads make cleaner lines that are less susceptible to smudging; soft leads create richer, heavier lines.)
Joshua Abelow, who uses pencils on soft paper to create large line drawings (that he never revises or erases), says he's been using Staedtler's 6B Mars Lumograph pencils exclusively since 2004. "I like the 6B because it's soft enough to produce a wide variety of marks depending on the speed and pressure I apply." Andrew Kuo and Sebastian Black, both painters, say they also prefer Staedtler. Kuo uses HB Staedtler pencils exclusively (HB, which is the midway point of lead grades, stands for hard and black so it's both precise and rich), while Black says that he regularly uses both HB and 2B. This set of six Mars Lumograph pencils includes a range of lead degrees, from HB to 8B, so you can test all three of the artist's favorite leads.
Best overall (backup) drawing pencil
As Staedtler's pencils' name suggests, the tools are made specifically for drawing and sketching. But interestingly, just as many artists (three) told us that Bic's mechanical pencils are an equally worthy drawing pencil — largely because you can buy them anywhere in a pinch, the lead doesn't smudge, and there's no need for sharpening. Illustrator and clothing designer Tuesday Bassen is a fan of mechanical pencils because they are naturally precise, and told us she uses Bics when she can't find her more expensive Kaweco mechanical pencil. "I use these for purely utilitarian purposes. They are strewn everywhere in my life." Artist Michael Cline calls them his "go-to, all-purpose implement," adding that he "loves their ubiquity, and that they're just as easily purchased at Staples, as at a bodega. I usually have one close at hand for sketching quick ideas in my Moleskine, or for making sharp clarifying lines when finalizing the composition of a painting." Illustrator Daniel Fishel told us that his undergrad professors recommended using wooden pencils in a range of leads (like the above Staedtlers), but said that he would constantly break those because he always dropped them. His solution? Using Bic mechanical pencils because, as he puts it, "I could just throw whatever lead inside them and it would be more cost-effective."
Cline and illustrator Julia Krusch both told us they swear by Faber-Castell drawing pencils. Cline notes that "they take to a blending stick very nicely," adding that "when I want to make finished drawings (which is not very often), I use Faber-Castell. They have a smooth, uniform quality." He prefers the brand's 9000 series, which feature leads made from a combination of finely ground graphite and clay, while Krusch opts for Faber-Castell's Pitt Pure graphite pencils (6B or 9B), which are more sustainable because they lack a wood casing and are made of pure graphite. She especially likes using a Pitt Pure "to emphasize a contour or draw single heavy lines." The set shown comes with a range of Faber-Castell drawing pencils, including both Cline and Krusch's favorites. For contrasting small details, Krusch likes another Faber-Castell pencil — the Clutch — with 0.5-mm lead (artist and licensed art therapist Margot Werner is also a fan of the Faber Castell Clutch).
Best drawing pencils for creating chunky lines