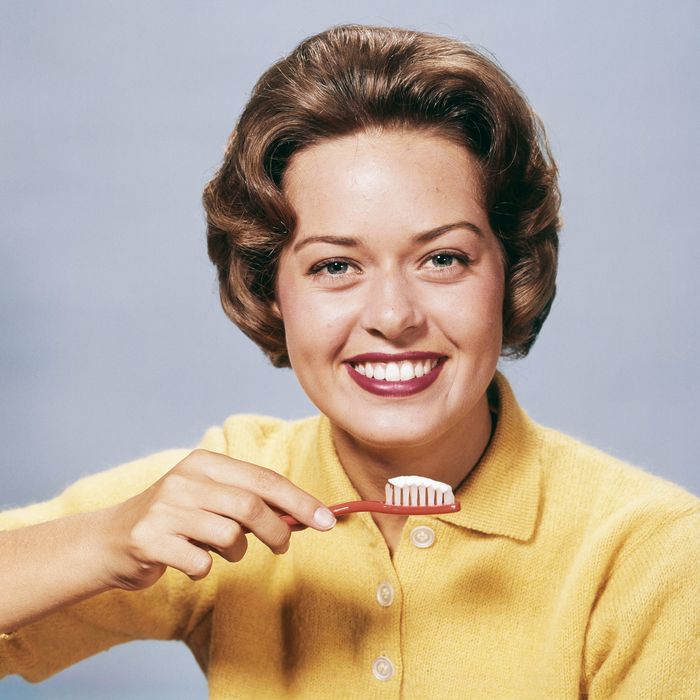 Photo: Lambert/Getty Images/Fototrove
Though we all learned how to brush our teeth as kids (and have presumably been doing it twice a day, every day, ever since), there's so much more to know about caring for your teeth — especially as the number of products that claim to clean, whiten, or straighten your teeth grows. You may have asked yourself many of these questions, maybe even while brushing your teeth or swishing mouthwash, like: Should I finally make a switch to an electric toothbrush? What is a water pick, and is it better for my gums than dental floss? Is tooth jewelry a good idea? (And, while we're at it, how do I brush my dog's teeth?)
To answer these questions about oral hygiene, and many more, this week, we're taking a deep dive into everything you need to take better care of your teeth (and gums and tongue), from dental floss and fluoride-free toothpaste to toothpicks and tongue scrapers. Welcome to Teeth Week at the Strategist.
Best toothbrushes
Photo: Reid, Hilary
Though writer Hilary Reid admits to being electric-toothbrush-averse, she tested six toothbrushes from direct-to-consumer brands including Goby and Bruush. She thought the vibration of the Quip was a little strong but would recommend it as a good "lightweight electric toothbrush, one to bring on a trip, or even one to just freshen up with after work."
Though she describes this futuristic, self-cleaning toothbrush as decidedly fugly, "designed to look like a space station — cool if you're a fifth-grader, maybe? — complete with an unsubtle, Star Trek–y celestial logo on the front," Rachel Rosenbilt swears by the Aura Sonic Toothbrush System to keep her teeth clean. She says, "The 40,000-stroke-per-minute sonic contraption leaves my teeth and gums feeling so satisfyingly, professionally clean, I actually skipped a couple dental appointments (don't judge)."
With over 6,000 reviews, this Oral-B electric toothbrush is the one we've deemed best reviewed on Amazon. "This toothbrush leaves my teeth feeling like they've been power-washed," one satisfied reviewer writes. However, if you're looking for something that's less expensive or got a more niche function, we found nine other highly reviewed electric toothbrushes on Amazon.
We talked with dentists to get their picks for the best electric toothbrushes, and dentist Jonathan Levine recommended this Arm and Hammer option for those seeking a less-expensive but effective electric toothbrush. He calls it "a good starting point, good for travel, and better than manual."
This manual toothbrush with silver bristles, according to writer Frances Dodds, can "whisk away the early formations of plaque in deep crevices that a regular toothbrush can't reach, and from surfaces that floss wouldn't reach either (unless you're doing a heavy-duty, reach-every-angle floss job)."
If you've ever wondered what toothbrushes the Strategist's editors use to keep their teeth clean, morning and night, we've got the answer. Some go for functional, electric toothbrushes, like the Quip or Philips Sonicare, but associate editor Katy Schneider admits, "I use these Swiss Curaprox toothbrushes because I love they way they look."
Dentists recommend that you start brushing your baby's teeth as soon as their first tooth erupts, which means you'll want a good baby toothbrush — like this one with a small head and soft bristles.
Once you have the right toothbrush, you'll probably want a toothbrush holder. We found some well-reviewed options on Amazon, including this stylish stainless-steel one from OXO that also has a lid to keep bristles away from bathroom germs.
Best toothpastes
If you're looking for a natural toothpaste that can whiten, is flavored with mint from the Willamette Valley in Oregon, and is cruelty-free, the toothpaste from Hello should fit the bill. But we also asked dentists about some other fluoride-free natural options.
Jen Doll describes Opalescence whitening toothpaste as the "blingiest tube I've ever seen," and claims it helps keep her teeth shining, too. "Unlike traditional whitening toothpastes that use peroxide, Opalescence removes surface stains (up to two shades in a month) by scrubbing them away with silica. But — and this is key — it's not so abrasive that you can't use it every day," she explains."
The packaging of this bright-pink toothpaste "makes it look like something a cheerful WWI-era nurse would have in her supply kit" and the flavor, according to Angela Serratore, has "something pleasingly herbal medicine–y about it: Fernet Branca spiked with the most delicate whisper of spearmint." But it turns out Euthymol toothpaste has a veritable cult following and is a fancy European toothpaste that's more unique than Marvis.
This fluoride-free, red toothpaste from Weleda "evokes the aftertaste I imagine one would get after chewing on some mint leaves," writes Margaret Rhodes, but the reason she switched to it was to get clear skin, after suffering from likely fluoride-caused rash on her chin. "After a couple weeks of almost au natural brushing, my skin cleared up. I don't fully understand how — after all, it's not like you put toothpaste on your face — but for a perioral-dermatitis-free, antibiotic-free existence, I don't need to."
With over 1,000 reviews, this fluoride-free toothpaste from Jason is our pick for the best-rated, less-expensive toothpaste on Amazon. The mint-vanilla flavor is divisive but, according to one reviewer, "It took me back to being a kid when I looked forward to brushing my teeth because of the awesome flavors they had."
If you're looking for a good baby toothpaste, you do want a formula that's full of fluoride, to help fight cavities. Four dentists we spoke with specifically recommended this toothpaste from Tom's of Maine because it's got a mild flavor and is ADA-approved and preservative-free — in addition to being formulated with fluoride. But if strawberry isn't your kid's favorite flavor, there are plenty of other picks.
Best mouthwashes