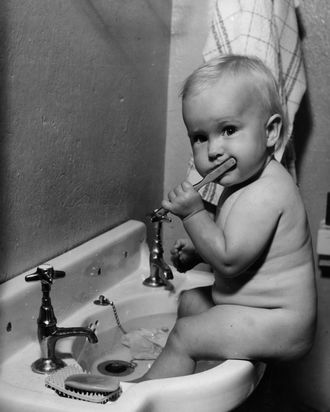 Photo: Time Life Pictures/The LIFE Picture Collection via
If you want to make sure your baby's pearly whites stay, well, pearly white, then it's a good idea to get him or her used to an oral-hygiene routine — even before any teeth arrive. Patricia Braun, chair of the American Academy of Pediatrics' section on oral health, recommends wiping gums with a cloth as soon as your baby is born. Then, "once a tooth erupts, transition to a toothbrush," she says, even if your little one isn't eating solids yet. "Milk sugars in formula and breast milk can start to break down enamel in teeth," which typically start to come between six months and one year of birth. Kevin Donly, president of the American Academy of Pediatric Dentistry, agrees. "I recommend that parents begin to brush their children's teeth as soon as the very first tooth erupts," he says, even if it's just one tooth. "Although there might not be a great chance of a cavity because the saliva cleanses that lone standing tooth, we still want to get that bacteria off it so you don't see any early demineralization or breakdown of that enamel," he explains.
When it comes to the type of toothbrush parents or caregivers should use for babies and toddlers, the seven dentists we spoke with all say to stick to models with a small brush head and soft bristles (which are better for tiny mouths and sensitive gums). They also advise using fluoridated toothpaste with whatever brush you ultimately choose. Rashmi Ambewadikar of Astoria Smiles Pediatric Dentistry also advises changing toothbrushes out at least every three months. Below, our experts' picks for the best toothbrushes for babies, including silicone teethers, wipes, and ergonomically designed options.
Best overall toothbrush for babies
As noted above, the most important criteria parents should look for when choosing a toothbrush are small heads and soft bristles. Colgate's My First Toothbrush has both, plus a handle that's comfortable for both adults and children to use. Jeremy J. Dixon of Gramercy Pediatric Dentistry says the brush is "the perfect size" for babies. Sara Goldberg of Kids Only Dental agrees, noting that it will fit comfortably in a small child's mouth, allowing parents to effectively get at the bacteria and plaque that accumulate in a newborn's teeth and gums. Minoo Buchanan of North Brooklyn Pediatric Dentistry also named it as a good option for new brushers. Plus, this affordable six-pack will get parents through their first year and a half of brushing (meaning there's one less baby thing to worry about restocking).
Best toothbrush-teether combo for babies
"I love the Baby Banana Training Toothbrush because it doubles as a teether too," says Rebekah Otto, editor-in-chief of Babylist. It also makes a supercute gift for expecting parents, and is one of the most popular products on Babylist registries, she says. Astoria Smiles' Ambewadikar agrees this toothbrush is a great option for 1-year-olds and younger. "It's bright, cute, and easy to hold for parents, and children." New moms and dads will likely love that the banana is made from 100 percent food-grade silicone, and that it's dishwasher-safe (making drool cleanup hassle-free).
Best finger toothbrush for babies
For babies and kids who need some extra encouragement come brushing time, both Ambewadikar and Otto recommend Brushies. While finger brushes like these won't allow a child to develop a feel for using a real toothbrush, Ambewadikar says they are a fun way to build excitement around dental hygiene in younger years. Brushies' set of finger-puppet–like brushes come in a variety of animal characters, including whales and dinosaurs, and with a storybook that details the characters' adventures. "They introduced me to the idea of 'sugar bugs,' which was a helpful visual to get my 3-year-old brushing twice a day," says Otto.