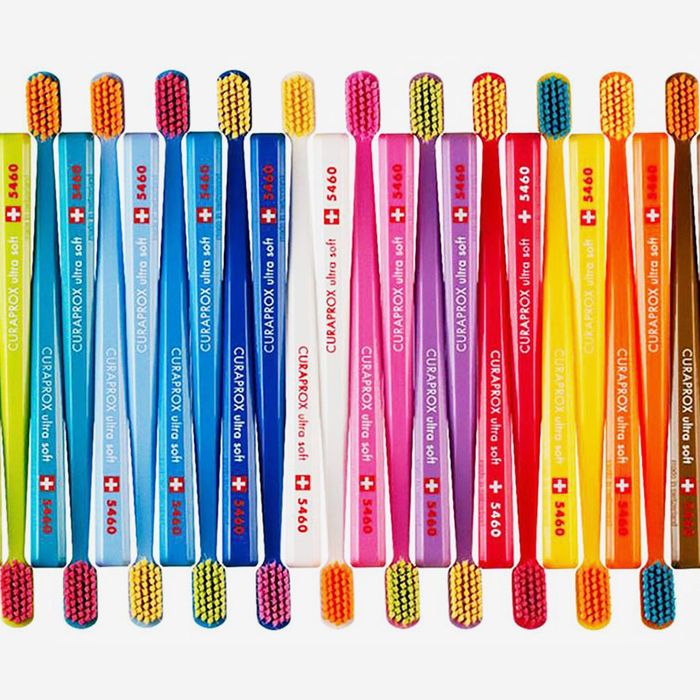 Our associate editor puts this Swiss toothbrush in a Muji stand.
Photo: Courtesy of Curaprox.
If you follow our monthly Strategist haul, then you're familiar with the idiosyncrasies of our editors' and writers' shopping habits. While we think of those as the highlights, there are plenty of other, less glamorous things that we buy — and love — on the regular, too. So whether you've wondered about the SPF moisturizers we slather on our faces, or the work bags we tote around, this is the Stuff We Buy Ourselves. In this edition: the toothbrushes we rely on for optimum dental hygiene.
Jason Chen, deputy editor
I feel slightly bad about this because I didn't actually buy this toothbrush so much as I received it as a gift (I was using a Sonicare already that I got myself), but this is the toothbrush I use now because I prefer the way it feels in my hand. I also like that it takes up less counter space than the glass the Sonicare charges in. I wouldn't say the features are much different than standard sonic toothbrushes, but it definitely beats a manual.
And, I like the suite of products in the Apa line (especially the white rinse, which cleans without hurting).
Margaret Rhodes, senior editor
I know that I should be using a Sonicare, or really any electric toothbrush, but there's a meditative quality to analog brushing that I don't want to give up. I figure if I'm flossing, it's all fine. I buy these SoFresh toothbrushes once every six weeks or so at a beauty pharmacy near my house, both because the bristles are downy-soft and because they come in excellent translucent colors. Most of my bathroom is white (white appliances, white tiles, white shower curtain), but these sit in a red-and-gold glass Moroccan tea cup, and it's a satisfying pop of color on the sink. I brush with my fluoride-free Weleda toothpaste, to which I'm still loyal.
Simone Kitchens, senior editor