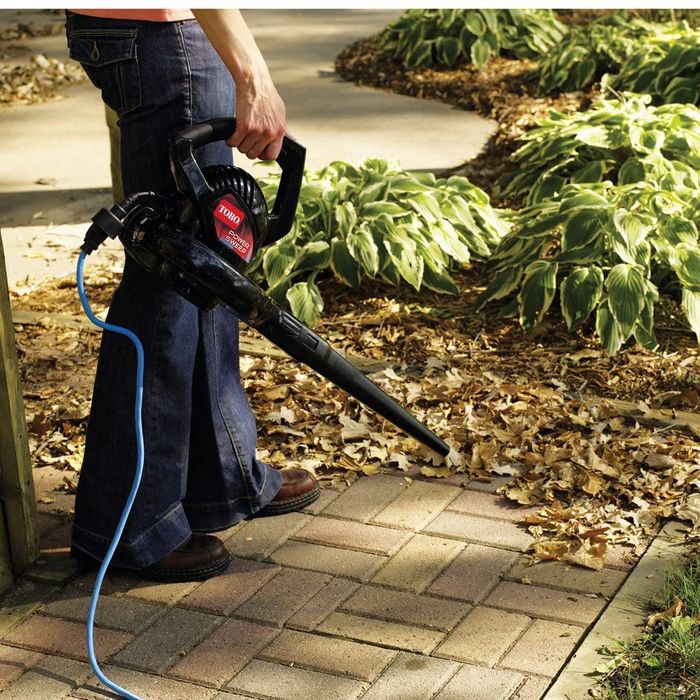 Here at the Strategist, we like to think of ourselves as crazy (in the good way) about the stuff we buy, but as much as we'd like to, we can't try everything. Which is why we have People's Choice, in which we find the best-reviewed products and single out the most convincing ones. (You can learn more about our rating system and how we pick each item here.)
And while we've written about lots of yard tools before — including the best garden hoses, the best lawn mowers, and the best garden shears and pruners — here, we've rounded up the best leaf blowers, as praised by the most enthusiastic reviewers on Amazon.
Best-rated leaf blower
With over 2,000 five-star reviews, this gas-powered leaf blower gets top marks for being lightweight while still having "plenty of power." Or, as one reviewer put it, "It's powerful, well balanced, light, and reasonably quiet for a gas-powered blower." Another experienced customer attests, "I have owned or trialed every major handheld leaf blower on the market. This one by far is the easiest and most powerful of them all." That sentiment is echoed by a reviewer who bought this Hitachi leaf blower to help care for his "large wooded property with tons of mature trees," and he notes, "dude, this thing rocks. The air impact is very strong. This thing has the impact to get the leaves out of the grass with ease. Wet leaves? Not a problem." And many reviewers note that this leaf blower starts up easily, despite being gas powered. "Works every single time without having to pull and pull and pull to get it started. Easily controlled," one customer writes. Another mentions that he's "put about a gallon of gas through it the last week and got probably 6 hours of use." One reviewer concludes that this leaf blower is "perfect for any homeowner" because it's "light and well balanced," yet "moves an unbelievable volume of air for its size."
Best-rated (less expensive) leaf blower
"When I saw the price on this blower I was skeptical as to whether it would work well," one reviewer admits, continuing, "I was surprised at how well it works. I even have to be careful to stand back a little from my succulents and delicate plants or they just get pulled right out of the soil." Another admits he "was very reluctant to purchasing this unit," but overall, is impressed, explaining that it's, "Very easy to assemble, and handle, and does a great job blowing leaves in piles, even damp leaves." A few five-star reviewers scoff at the fact it needs to be plugged in to work, but this reviewer argues, "Yes, it's electric and you will need to drag an extension cord around. However, you won't need to buy gas and oil or perform the regular maintenance usually required for gas powered lawn tools." Or, as one reviewer concludes, "I can't complain about this leaf blower. It was just $20 or something like that? And it does blow the leaves away, so hey, what more can I ask it to do?"
Best electric leaf blower with adjustable speeds
Over 700 customers use the word "powerful" to describe this leaf blower. One even calls this electric blower "hurricane powerful," explaining, "This thing blows leaves across my big yard, and cleans my garage in a minute or two." One reviewer, turned off by "gas-powered buzzing monsters," appreciated the fact that it's electric. And according to some experienced reviewers, that means it's also easy to use: "It's electrical, so there is no gas and oil to mix, no spark plug, no pull-starting, no batteries to run down in the middle of a job, no batteries to charge, no dead battery packs to replace, it just Worx," lists one reviewer. "I was blown away (no pun intended) by the ease with which this blower handled pine needles, which are notoriously difficult (actually impossible) to move with my old blower and which clog up my rake every 30 seconds," one reviewer writes. Another concludes, "This is the most powerful handheld electric blower available," especially "if you're serious about getting the job done quickly."
Best single-speed leaf blower
Although some reviewers admit this is not the most sophisticated leaf blower, more appreciate how simple it is. "Making all my jobs feel so small. Simple to use and easy enough that my 7-year-old son loves to do chores with it. Miracle worker," writes one content customer. Another advises, "Don't let the single speed fool you," because it's still "light and easy to handle and will clean out the leaves from the cracks in the brickwork." One mom purchased this for herself because her "boys have a big ole heavy looking machine" that she could "never use," but she thinks this single speed option from Greenworks is better, commenting, "You can't believe how quick I can do a two car garage and large patio. I'm loving it. It's light and it's strong. It's worth every penny." And though one reviewer admits that there are "other models out there are stronger," he adds, "I wasn't paying for the ability to clear leaves from my town, just my yard. And does this thing ever get the job done."
Best quiet leaf blower
More than 15 percent of reviewers describe this leaf blower as quiet and many attribute that to the four-stroke engine. "It's amazing more companies don't offer four-stroke engines," one writes. "So much less exhaust and I no longer have to wear earplugs when using the leaf blower." Another says the "four-cycle engine is much quieter and no need for fuel mix." The four-stroke engine also helps it run easier. "I rarely have to squeeze the trigger … running at idle produces more than enough air to blow most of the debris," one says. Another notes it's "very comfortable, well balanced, very easy to start, easy to use, quiet variable speed, and is this powerful, even with wet leaves and branches." They add, "I rarely have to use full power even in leaves 12"-15" deep." And on top of all that it's long lasting: "Had this blower for nearly three years … not a single issue."
Best lightweight electric leaf blower
"This is the first electric leaf blower I have used and I was pleasantly surprised by its power. It's more powerful than a similarly sized gas blower, well worth the cheap price," raves one customer. Many also write about how powerful it is, like one who notes, "It has a lot of power, it'll take out leaves even if they are wet and I have fun using it." But the one word that comes up in over 100 reviews is "light." "It have plenty of power to even blow leaves away when they are wet! It's really light and easy to handle," one reviewer says, while a self-described "petite woman" bought this electric leaf blower specifically because it was described as lightweight and was not disappointed. She explains, "Wow, what an awesome buy. It really is light. Blows like no tomorrow, I couldn't believe it."
Best lightweight electric leaf blower with two speeds
Just like the leaf blower above, this leaf blower is described as lightweight by lots of reviewers. "If you want something light to blow off hard surfaces, I think this is a great choice," one writes. Another says it's, "Very strong and light, I love that it was so inexpensive, light eight and powerful." In addition to being light it has has two speed settings, which reviewers love. "Holy moly has it got some POWER," says one user. "Thank goodness it has two settings because I think the high setting would blow the paint off the house." One adds, "It is powerful enough to clean my deck and sidewalks, but when on the lower speed, I can blow items from within my rocks and gravel." Another even thinks the lower speed is powerful enough for most tasks: "I rarely need to use the higher speed." This leaf blower is also electric, so all things considered, "It's very simplistic" to operate according to one reviewer. You just "plug it into an extension cord, aim, and turn it on by sliding the switch to low or high."
Best battery-powered leaf blower
"Wow, this thing is powerful," exclaims one satisfied reviewer, and dozens of reviewers appreciate that this battery-powered leaf blower from Greenworks is also cordless. "I got tired of dragging a cord around my yard, going around trees, shrubs, and cars," says one reviewer, adding, "This was so powerful in our one-third acre Indiana yard that has very mature trees including a black walnut. On highest speed it would even blow the walnuts away." Many write that this is their first battery-operated leaf blower, but that this one hasn't disappointed. One reviewer admitted that they had "avoided" battery-powered blowers "because of reviewers saying they were under-powered and had super short run times," but this blower changed his mind. "I'm here to tell you that this has neither of the problems, at least for my uses. This blower has been nothing short of superb so far." Another just appreciates how quiet, yet effective, it is explaining , "I always hate when I can hear a neighbors blower six blocks away, and I didn't want to be one of those guys. But this unit is remarkably quiet for the power, especially at lower (but still effective) settings. I tried the lower and higher settings, and it delivered a consistent and effective force throughout."
Best leaf blower with vacuum
Reviewers with larger yards appreciate the vacuum component of this electric blower, like one who writes, "This year before Leafpocalypse started, I bought this and I have to say its the hands-down best leaf-related investment I have made." Another raked up the leaves on his two-acre property, but notes "the chore was daunting." He bought this leaf blower to speed up the task, explaining, "I don't need to rake the leaves first. I just walk my yard using the vacuum. The job is taking a quarter of the time." Many were impressed with how much this leaf blower can suck up as a vacuum, like one who says, "As a leaf vacuum, it picks up just about everything (except oak acorns) and very seldom clogs." One even says that it's so powerful, "This thing will blow the paint off my house."
Best leaf blower with vacuum and oscillating tip
This leaf blower-slash-vacuum combo does both of its jobs equally well. "I vacuumed a rock bed that was full of leaves from the last rain, and my wife's small plant trimmings," one reviewer says. "I used it on vacuum for about 60 minutes and it worked flawlessly, and the bag was easy to remove and discard the mulch. I then connected the blower attachment and used it on dry leaves to pile them up into heaps." Reviewers also say this machine's different speed settings help with its precision. "POWERFUL, this has variable speed twisty knob so you can adjust it not to pick up your mulch or have it full strength to suck up those leaves," one explains. Another writes, "I can adjust the level suction to avoid vacuuming up all my decomposed granite, while still clearing the dead vegetation. At full power I could probably clear my yard of all the rocks." This leaf blower comes with a few more attachments than the one above, including an oscillating nozzle. "I suspected the oscillating tip was just a gimmick to get suckers like me to go for the extra bells and whistles," writes one reviewer, but they were proven wrong. "Wow," they continue. "It worked even better. Pine needles often get stuck among and into rocks and weeds and grass. The oscillator quickly dislodged them and blew them into a windrow which it easily kept moving along."
Best leaf blower with a mulcher
"This mulcher/blower has been my go-to tool this fall with leaf cleanup," says one reviewer, adding, "It mulches the leaves better than my old mulcher." And many reviewers were impressed by the dual functionality of this leaf blower, which saved them plenty of time. "It works very well as a mulcher and saves me time and the number of bags I need to clear my yard," explains one. Another reviewer says, "I am not getting any younger and my children are all grown up and moved away, so who else is going to rake leaves? I give this product five stars because it truly is a great machine." One reviewer offered up his system for clearing his yard, advising, "The best system I found was to use the blower function to work up some decent sized piles and then use the mulcher to tear through the pile slowly."
Best backpack leaf blower
Reviewers looking for a slightly more professional option appreciate this two-cycle backpack leaf blower. "Best blower you can buy for your money. I've used this blower in my landscaping business for over three years, left in the rain and snow and it always starts and runs," explains one pro. Another landscaper bought this as a more casual option for his own lawn, explaining, "It has great power. I can clean gutters easily, clear large amounts of grass clippings and leaves. I look forward to clearing my decks and side walk in the winter with it." A few complain that it's heavy, but one reviewer advises prospective customers to "use the waist band to keep most of the weight on your hips rather than your shoulders" for a more comfortable fit. Another overall thinks this blower "is the bomb," calling it, "very ergonomic, not too heavy, not too loud, major blowing power."
Best (less expensive) backpack leaf blower
"I have had both electric and gas-powered hand leaf blowers, but none compare to this one," writes one reviewer. "It does the job many times better than the hand ones." And nearly 70 percent of reviewers who give this five stars are also impressed with how well this works. "We've used it against 4 inches of leaves that [had] been dead, decomposed and wet without any problem," one writes. Another says they used to it clear their half-acre of lawn that was filled with pine needles and pinecones: "Let me tell you this blower will blow pine cones with no issues whatsoever." And compared to a commercial-grade leaf blower, one reviewer says, "This Poulan is lighter, quieter and blows just as hard as my stolen Echo that cost more than double the cost of this Poulan." They continue, "Even the straps are more comfortable than the Echo." Another likes "the 'cruise control' switch," because "you don't have to keep the throttle trigger depressed when blowing large areas." And as long as you don't use ethanol fuel, this blower "starts with no problem and has plenty of power."
The Strategist is designed to surface the most useful, expert recommendations for things to buy across the vast e-commerce landscape. Some of our latest conquests include the best acne treatments, rolling luggage, pillows for side sleepers, natural anxiety remedies, and bath towels. We update links when possible, but note that deals can expire and all prices are subject to change.
Every editorial product is independently selected. If you buy something through our links, New York may earn an affiliate commission.