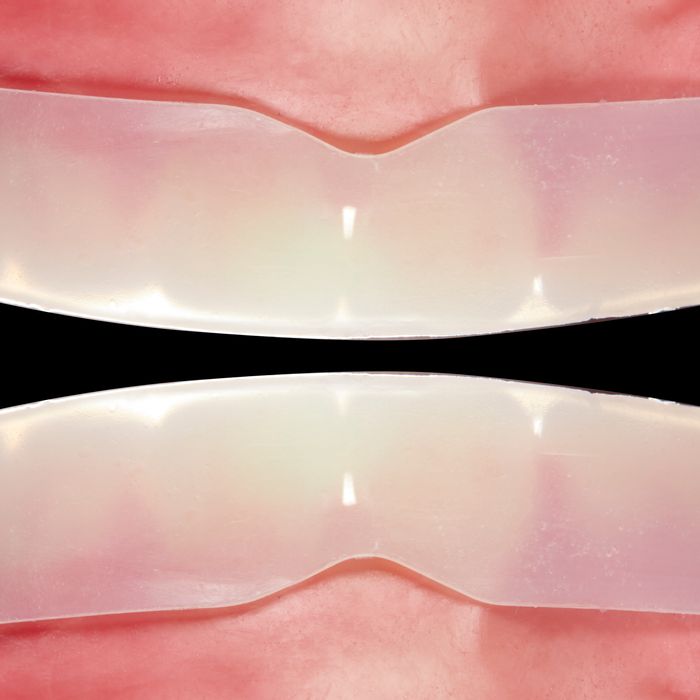 There are dozens of whitening toothpastes and treatments out there, but only so many are equipped to actually help brighten your smile. Before dipping into at-home teeth-whitening products, consider what kinds of stains you're dealing with first, Dr. Mandy Kouroshnia of New York's Cityzen Dental says. If you're seeing telltale yellowing when you smile, you may need only a standard cleaning in the office, while other deep stains can't be removed through whitening (tetracycline stains are one example). But generally, if you're getting regular in-office cleanings and the occasional whitening treatment, at-home toothpastes, strips, and gels can be very helpful for maintaining your pearly whites.
Some whitening products promise to "jump you ten shades in three weeks," which Dr. Marie Jackson, the founder of Stellar Smile Center, says is unrealistic for the regular dentistgoer. That only applies to someone who hasn't been to the dentist for years and has heavy staining on their teeth.
I'm the kind of person who gets her teeth cleaned every six months on the dot. Since my teeth are pretty well maintained, I don't see much whiteness gain post office visit. As the Strategist's house dental-hygiene expert, I'm constantly trying the newest electric toothbrushes, water flossers, and other oral-health products. I started using teeth whiteners more frequently after taking on this post eight months ago, and have noticed the treatments maintain that just-left-the-dentist-clean look (especially a month or two after a cleaning). If you, too, visit the dentist regularly, you can expect these products to maintain that whiteness level and prevent further staining from things like tea, coffee, kombucha, red wine, soy sauce, and barbecue sauce. "Anything that can stain a white T-shirt can surface-stain the teeth," Jackson says. To make sure you're getting a treatment that actually works, I spoke to experts about which ones have the proper active ingredients (more on that below) and what to avoid and even tested a few for myself.
According to the American Dental Association (ADA) and the eight dentists we spoke to, either hydrogen peroxide or ​carbamide peroxide is what you should look for in whitening products. "If it doesn't have that ingredient, it's not going to be whitening your teeth," says Dr. Ben Winters, a.k.a "the Bentist." The ADA website says, "The bleaching action in chemically induced whitening is due primarily to the effects of carbamide peroxide, which releases about one-third of its content as hydrogen peroxide, a strong oxidizing agent."
Obviously there are other whitening agents and alternative ingredients out there, but experts say it's best to avoid trendy, gimmicky products like whitening lights or charcoal, which might actually end up causing harm. "Charcoal is like brushing with sandpaper — it will take off the stain, but in the long term, your teeth get yellower over time because you're removing an enamel layer," Winters says. Hydrogen and carbamide peroxides are the gold standard of at-home teeth whitening, which is why we've only recommended chemical whiteners that use those ingredients below.
While looking for peroxide is a good start, it can come in many different forms. You've got whitening gels, strips, toothpastes, and more to choose from. The ADA has only given its seal of acceptance to toothpastes and whitening strips, but Dr. Chris Salierno, chief dental officer at Tend, told me in an email that hydrogen peroxide or ​carbamide peroxide are "most effective in a gel form that is held against your teeth (think whitening strips, gel in trays, etc.)." Each method will have a different percentage of the active ingredient in it. There's typically a higher percentage of hydrogen peroxide in a whitening gel or strip than there will be in toothpaste, but the best option for you will be something that fits with your lifestyle.
Which brings me to ease of use. You won't see results with any of the below products unless you use them with some consistency and as instructed. If you don't think you'll take the time to add an extra step into your oral-hygiene routine — like wearing whitening strips for two weeks straight — maybe the better option for you is to just replace something already in your routine, like your toothpaste, with a whitening version. Whitening products in general can be messy, which can also be a deterrent. Having to fill trays with gel or dealing with strips that slip off can be frustrating, so below we've only included extra-grippy strips and foolproof methods of at-home whitening.
Best overall teeth-whitening product
Active ingredient: 15 percent hydrogen peroxide | Method: Gel trays | Ease of use: Easy
As Salierno said, gels are one of the most effective forms of at-home whitening, which is why we're starting here. It's a similar experience to an in-office or prescription-strength whitening session, which typically involves a high percentage of hydrogen peroxide and a custom-fit bleaching tray. In those cases, you're usually given a syringe of whitening gel that you can pump into the tray, but this Opalescence Go kit streamlines that process even more. While the trays aren't custom-fit, the process is mess free thanks to the prefilled trays. They can be used for anywhere from 15 minutes to an hour and come with varying concentrations of hydrogen peroxide. There are 10 percent, 15 percent, 20 percent, and 35 percent versions, which you can purchase based on your desired results and tooth sensitivity.
I tested the trays' ease of use for myself, and I have to say, they're as simple to use as our experts told us. The trays come prewrapped and labeled U for upper and L for lower. I placed them in my mouth, bit down for a couple of seconds, and took off the green outer trays. The application itself took about a minute, if that, and I could carry on doing stuff around my apartment while I waited for the 15 minutes to pass. Afterward, I simply brushed my teeth to remove any leftover gel.
As for how effective the trays are, cosmetic dentist Dr. Edward A. Alvarez says he sees results as good as when he does custom bleaching trays. "Many times I tell patients to try the kit and save money," he says. "The trade-off is that the Opalescence Go is disposable, and when you run out of trays, you have to buy a new kit. With custom-made bleaching trays, you keep them indefinitely, and can buy more gel later on at a lower price." Winters agrees: "We sell Opalescence Go in our office and don't even do professional whitening. I'd rather our patients pay a tenth of the price and do it at home." If you already wear a retainer, he suggests creating a DIY whitening tray every now and then using just the Opalescence syringe-gel refills: "Put a little stream of whitening gel into the retainer and wear it at night."
Best brush-on teeth-whitening gel
Active ingredient: 36 percent carbamide peroxide | Method: Gel | Ease of use: Messy
Bite's whitening gel cuts out the need for the tray, as you can brush the gel directly on to your teeth. Compared to the Opalescence Go Kit, this was a little messier and labor-intensive. After painting on the gel, I set a timer, held a smile for two minutes while the formula bubbled up on my teeth, and spit out the excess formula. (The instructions also suggest not eating or drinking anything for at least half an hour after application.) The entire process took less than five minutes, but I was hovering over my sink the entire time. This option, while somewhat messy, is plastic-free and offers a similar-strength formula to the Opalescence Go kit. It contains 36 percent carbamide peroxide, which is the equivalent of approximately 12.6 percent hydrogen peroxide. It has aloe vera in it, too, which "is also very soothing to teeth," according to Dr. Sharon Huang, the founder of Les Belles NYC.
Best teeth-whitening pen
Active ingredient: 35 percent carbamide peroxide | Method: Gel pen | Ease of use: Easy
The main benefit of a teeth-whitening pen is its ease of use. "Anyone who has tried whitening strips knows how difficult they can be to apply on teeth," says Dr. Richard Lipari of NY Great Smiles. "The whitening pen can be a great solution since you essentially use it to 'paint' the whitening agent directly on the teeth." Lipari likes Auraglow because the gel has a substantial amount of carbamide peroxide (35 percent). He says the whitening agent should be "strong enough to produce a visual difference in the brightness of your teeth when used consistently," though he notes that it should "primarily be used between in-office whitening treatments to maintain the brightness of your teeth."
Best teeth-whitening strips
Active ingredient: Hydrogen Peroxide | Method: Strips | Ease of use: Easy
Outside of gels, there are whitening strips, and five of the experts we spoke to mentioned Crest 3-D Whitestrips as their No. 1 recommendation in this category. They are the only product on our list that has the ADA seal of acceptance, which means they have been evaluated for their safety and efficacy. "Many of my patients have also used this product and gotten good results from personal experience," says Dr. Ben El Chami, the co-founder and chief dental officer at Dntl Bar. Jackson's patients have had success, too. "Usually, we'll recommend using it every day for a week or two weeks, and you will see a difference in the shade if used as recommended on the back of the box," she says.
The recommendation is to use this one for 30 minutes at a time, which the strip method makes super-easy to do. While strips sometimes get a bad rap for not being super-adhesive, they are thin and allow you to talk and drink water while you're wearing them, so you could even pop them on in the middle of your WFH day.
Crest uses hydrogen peroxide as the whitening agent in its strips, but according to a public-relations representative for the brand, it does not disclose ingredient levels, as it is proprietary information. However, a 2004 study did indicate that the Crest Professional Whitestrips have a 6.5 percent level of hydrogen peroxide. Salierno recommends the Vivid White strips. He says it contains a higher percentage of hydrogen peroxide, offering the "right level of bleaching power and gentleness for most people whitening at home."
Best (less expensive) teeth-whitening strips
Photo: Retailer
Active ingredient: 6 percent hydrogen peroxide and coconut oil | Method: Strips | Ease of use: Easy
For a third of the price, and with almost the same amount of hydrogen peroxide, Burst's whitening strips are worth a try. The strips contain 6 percent hydrogen peroxide as well as coconut oil, which brightens teeth naturally, according to Huang. It has vitamins A, D, E, and K as well as natural anti-bacterial and anti-fungal properties, so it's great for the overall health of your mouth and soothing, too. Huang says she hasn't seen too much sensitivity with this product in her patients. The strips are meant to be worn 15 minutes a day for two weeks to see results.
Best teeth-whitening toothpaste
Active ingredient: 2 percent hydrogen peroxide | Method: Toothpaste | Ease of use: Easy
Switching to a whitening toothpaste is an easy way to try to get pearly whites. They contain lower percentages of hydrogen peroxide, if they contain any at all, so Kouroshnia says they're best used in conjunction with other whitening solutions. This Colgate toothpaste is one of the few that actually uses a chemical whitener, which is why Alvarez recommends it. Others rely on physical tooth-polishers like silica or calcium carbonate, which can dull the surface of the enamel over time, but "Optic White contains hydrogen peroxide in a small concentration that will actually whiten or bleach your tooth enamel, giving you true color change to your tooth structure." Jackson and Dr. Elisa Mello of NYC Smile Design are fans of this Colgate toothpaste too, but Mello doesn't recommend it for daily use because it can cause sensitivity. "You want to use it judiciously," she says. "You don't want to use it as a replacement for your regular toothpaste. I have patients who love it, so I have them use it once a week."
Best teeth-whitening toothpaste for sensitive teeth
Active ingredient: Hydrogen peroxide | Method: Toothpaste | Ease of use: Easy
If you're looking for a whitening toothpaste you can use daily that won't cause as much sensitivity, Mello recommends Arm & Hammer's Advance White Toothpaste. It ranks much lower than the Colgate Optic White toothpaste on the toothpaste-abrasiveness scale, which can help more in the long run with both teeth sensitivity and staining. "The problem with whitening toothpastes is that they're very abrasive, and while being abrasive can remove superficial stains on the surface of your teeth, it also can remove enamel or scratch your teeth," says Mello. "In the short term, you're seeing a great result, but in the long term, you may have a scratch on the surface that's easier to stain, and that's a problem."
Best natural teeth-whitening toothpaste
Active ingredient: Coconut oil | Method: Toothpaste | Ease of use: Easy
If you're looking for a whitening toothpaste with less additives (like foaming agents, sweeteners, or artificial colors), Hello is an excellent alternative. It's our top pick for natural toothpastes and recommended by two dentists, Dr. Inna Chern and Dr. Jonathan B. Levine. Instead of using hydrogen peroxide or other chemicals, this contains coconut oil as a natural whitener. And while it is a more natural product, it's made with fluoride, meaning it's ADA approved.
Best all-natural teeth-whitening strips
Active ingredient: Coconut oil | Method: Strips | Ease of use: Easy
If you want a completely chemical-free whitening experience, look for something with coconut oil in it. As previously mentioned, coconut oil naturally whitens teeth, and while you could try oil pulling, that can be messy. This product from Lumineux basically puts oil pulling into a mess-free strip form. Another recommendation from Huang, these strips are so natural they've been approved for daily use. In addition to the coconut oil, there are more essential oils packed in like lemon and sage, which means this product shouldn't irritate your teeth at all.
Some more teeth whitening products we like
• Dr. Edward A. Alvarez, NYC cosmetic dentist
• Dr. Ben El Chami, co-founder and chief dental officer at Dntl Bar
• Dr. Sharon Huang, founder of Les Belles NYC
• Dr. Marie Jackson, founder of Stellar Smile Center
• Dr. Mandy Kouroshnia, founder of Cityzen Dental 
• Dr. Elisa Mello, co-founder of NYC Smile Design
• Dr. Chris Salierno, chief dental officer at Tend
• Dr. Ben Winters, the Bentist and orthodontist at Wincrest Orthodontics
• Dr. Richard Lipari, founder of NY Great Smiles
The Strategist is designed to surface the most useful, expert recommendations for things to buy across the vast e-commerce landscape. Some of our latest conquests include the best women's jeans, rolling luggage, pillows for side sleepers, ultra-flattering pants, and bath towels. We update links when possible, but note that deals can expire and all prices are subject to change.
Every editorial product is independently selected. If you buy something through our links, New York may earn an affiliate commission.