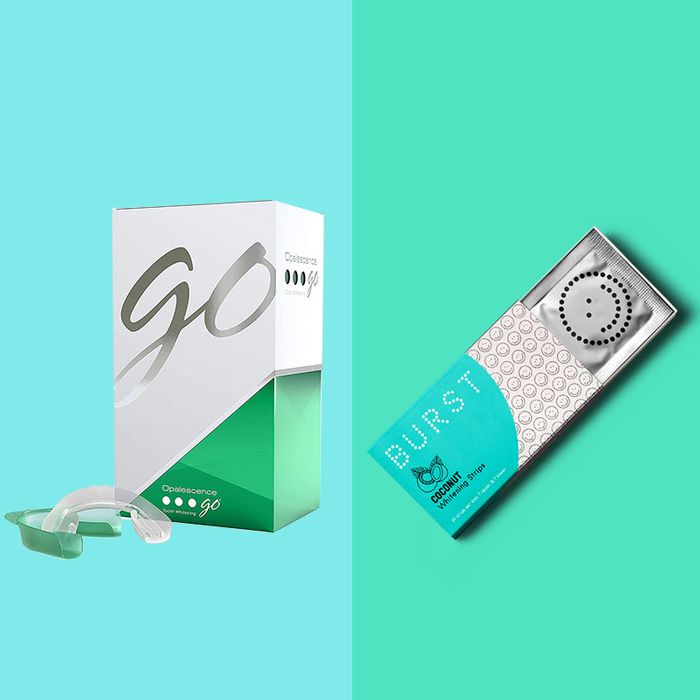 Photo-Illustration: The Strategist; Photos: Retailers
There are dozens of whitening toothpastes and treatments out there, but only so many are equipped to actually help brighten your smile. Dr. Mandy Kouroshnia of New York's Cityzen Dental says for the best results with whitening products at home, you should consider what kinds of stains you're dealing with first. She says if you're seeing telltale yellowing when you smile, you may need only a standard cleaning in the office, while other deep stains can't be removed through whitening (tetracycline stains are one example). But generally, if you're getting regular in-office cleanings and the occasional whitening treatment, at-home toothpastes, strips, and gels can be very helpful for maintaining your pearly whites.
Not all of them, though. Some whitening products promise to "jump you ten shades in three weeks," which Dr. Marie Jackson, the founder of Stellar Smile Center, says is unrealistic for the regular dentistgoer. That only applies to someone who hasn't been to the dentist for years and has heavy staining on their teeth. Someone who gets regular cleanings to remove surface stains won't get the same results. What you can expect from these products is to maintain your in-office cleaning and prevent further staining from things like tea, coffee, kombucha, red wine, soy sauce, and barbecue sauce. "Anything that can stain a white T-shirt can surface-stain the teeth," Jackson says. But whitening products only work if they have the right ingredients. Some products advertised as "whitening" don't have the proper active ingredients or have such a small amount it would hardly make a difference. We asked our experts exactly what to look for (and what to avoid) to find the most effective whitening products on the market.
Best overall | Best brush-on gel | Best strips | Best less-expensive strips | Best toothpaste | Best all-natural strips 
What we're looking for
Active ingredient: According to the American Dental Association (ADA) and the eight dentists we spoke to, either hydrogen peroxide or ​carbamide peroxide is what you should look for in whitening products. "If it doesn't have that ingredient, it's not going to be whitening your teeth," says Dr. Ben Winters, a.k.a "the Bentist." The ADA website says, "The bleaching action in chemically induced whitening is due primarily to the effects of carbamide peroxide, which releases about one-third of its content as hydrogen peroxide, a strong oxidizing agent."
Obviously there are other whitening agents and alternative ingredients out there, but experts say it's best to avoid trendy, gimmicky products like whitening lights or charcoal, which might actually end up causing harm. "Charcoal is like brushing with sandpaper — it will take off the stain, but in the long term, your teeth get yellower over time because you're removing an enamel layer," Dr. Winters says. Hydrogen and carbamide peroxides are the gold standard of at-home teeth whitening, which is why we've only recommended chemical whiteners that use those ingredients below.
Method: While looking for peroxide is a good start, it can come in many different forms. You've got whitening gels, strips, toothpastes, and more to choose from. The ADA has only given its seal of acceptance to toothpastes and whitening strips, but Dr. Chris Salierno, chief dental officer at Tend, told me in an email that hydrogen peroxide or ​carbamide peroxide are "most effective in a gel form that is held against your teeth (think whitening strips, gel in trays, etc.)." Each method will have a different percentage of the active ingredient in it. There's typically a higher percentage of hydrogen peroxide in a whitening gel or strip than there will be in toothpaste, but the best option for you will be something that fits with your lifestyle.
Ease of use: Which brings me to ease of use. You won't see results with any of the below products unless you use them with some consistency and as instructed. If you don't think you'll take the time to add an extra step into your oral-hygiene routine — like wearing whitening strips for two weeks straight — maybe the better option for you is to just replace something already in your routine, like your toothpaste, with a whitening version. Whitening products in general can be messy, which can also be a deterrent. Having to fill trays with gel or dealing with strips that slip off can be frustrating, so below we've only included extra-grippy strips and foolproof methods of at-home whitening.
Best overall teeth-whitening product
15% Hydrogen Peroxide | Gel Trays | Easy
Like Dr. Salierno said, gels are one of the most effective forms of at-home whitening, which is why we're starting here. It's a similar experience to an in-office or prescription-strength whitening session, which typically involves a high percentage of hydrogen peroxide and a custom-fit bleaching tray. In those cases, you're usually given a syringe of whitening gel that you can pump into the tray, but this Opalescence Go kit streamlines that process even more. While the trays aren't custom-fit, the process is mess free thanks to the prefilled trays. They can be used anywhere from 15 minutes to overnight, and come with varying concentrations of hydrogen peroxide. There are 10 percent, 15 percent, 20 percent, and 35 percent versions, which you can purchase based on your desired results and tooth sensitivity.
"I see results that are almost as good with the Opalescence Go as I do with custom bleaching trays, and many times I tell patients to try the kit and save money," cosmetic dentist Dr. Edward A. Alvarez says. "The trade-off is that the Opalescence Go is disposable, and when you run out of trays, you have to buy a new kit. With custom-made bleaching trays, you keep them indefinitely, and can buy more gel later on at a lower price." Dr. Winters agrees: "We sell Opalescence Go in our office and don't even do professional whitening. I'd rather our patients pay a tenth of the price and do it at home." If you already wear a retainer, he suggests creating a DIY whitening tray every now and then using just the Opalescence syringe-gel refills: "Put a little stream of whitening gel into the retainer and wear it at night."
Best brush-on teeth-whitening gel
36% Carbamide Peroxide | Gel | Messy
Bite's whitening gel cuts out the need for the tray, as you can brush the gel directly on to your teeth. While this makes it a plastic-free option, it's a little messier than the trays. With trays, you can pop them in and go about your day while wearing them. This is a little more labor-intensive. Once you paint the gel on, you have to hold a smile for two minutes while the formula bubbles up on your teeth, and then you have spit out the excess formula. However, if the elimination of the plastic is worth it to you, this is a solid option that offers a similar-strength formula to the Opalescence Go kit. It contains 36 percent carbamide peroxide, which is the equivalent of approximately 12.6 percent hydrogen peroxide. It has aloe vera in it, too, which "is also very soothing to teeth," according to Dr. Sharon Huang, the founder of Les Belles NYC.