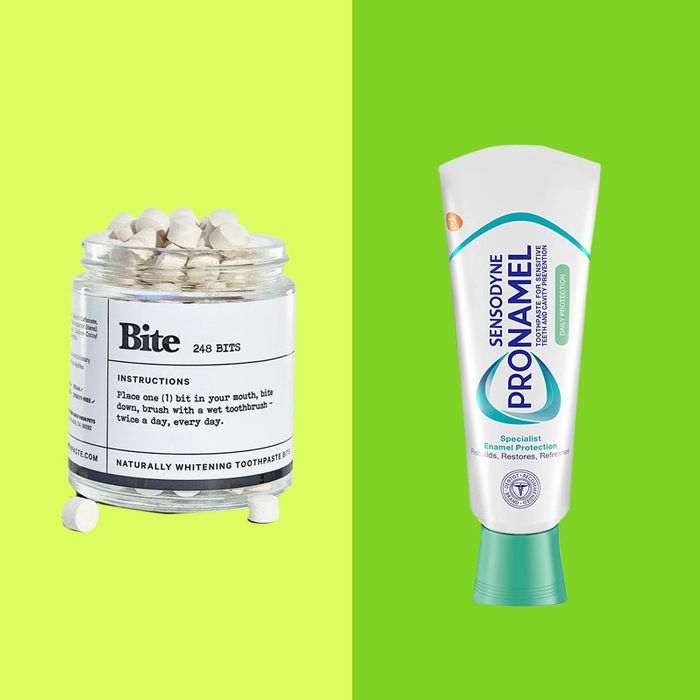 Photo-Illustration: The Strategist; Photos: Retailers
Walk into nearly any drugstore or supermarket, and at least half an aisle is lined with different types of toothpastes. While it's nice to have options for nearly any issue, sorting through them is overwhelming. To narrow it down, we consulted a panel of dentists and combed through our archives for expert-approved recommendations, whether you're looking for a toothpaste to brighten your pearly whites or help with sensitivity.
Use the links below to jump to the specific toothpaste you're looking for, or read on to learn more about the criteria we considered as we put together this list.
Best overall | Best less expensive | Best for sensitive teeth | Best SLS-free | Best whitening | Best whitening for sensitive teeth | Best non-mint flavored | Best fluoride-free | Best tablet | Best for babies | Best SLS-free for babies | Best mint-flavored for babies
What we're looking for
ADA Seal of Acceptance: The American Dental Association is the leading authority on dentistry in the U.S., which is why Dr. Lana Rozenberg, a dentist at Rozenberg Dental NYC, says, "When in doubt, let ADA steer you in the right direction." If you see a label saying "ADA Seal of Acceptance," then it's been tested and will provide effective protection against tooth decay. This is the case for most of the toothpastes we listed, but we did provide a few natural alternatives that don't have the seal mainly because they don't have fluoride (more on that below). A note on fluoride for babies and children: Dentists note that it's important for them not to ingest too much of it. Dr. Rashmi Ambewadikar, a dentist at Astoria Smiles Pediatric Dentistry, recommends children under the age of 3 should use toothpaste about the size of a grain of rice and children three and up should use a pea-size amount.
Contains fluoride or fluoride-free: Fluoride was the No. 1 ingredient recommended by the dentists we spoke to. That's because it "remineralizes your teeth in the earliest phase of tooth decay, often replacing minerals that have become lost and might lead to a cavity," explains Rozenberg, adding that it "also strengthens teeth for even more protection against tooth decay." There were a few non-fluoride options mentioned that we included, but it's worth noting that most of the dentists we spoke to would not recommend a fluoride-free toothpaste. "[Without fluoride] you're skipping out on the main thing doing the work in your toothpaste," says Dr. Mitch Zientz, a dentist at Wellspring Dental.
Contains SLS or SLS-free: Sodium lauryl sulfate is found in most toothpastes: It's the ingredient that causes the toothpaste to foam. But some people are allergic to it or develop mouth sores from it. We included some SLS-free options here in case you have an intolerance, or if you're looking for something with less additives.
Added benefits: You might be on the market for a toothpaste that tackles a specific issue. We've highlighted which ones have added benefits, be it whitening, for sensitive teeth, aiding with gum health, and more.
Flavor: This comes down to preference. Most toothpastes are mint-flavored, but in case you're mint-averse or just want to switch things up, we included non-mint options, too.
Best overall toothpaste
ADA-approved | Contains fluoride | Contains SLS | Gum health, bad breath | Mint
Colgate Total, which used to be the best-rated toothpaste among Amazon reviewers, also happens to be the most touted by dentists. It has "the right ingredients to improve the health of the gums and teeth," Dr. Ben El Chami, the co-founder and chief dental officer at dntl bar, told us when we spoke to him about the best bad-breath remedies. The other dentists we spoke to for this story came to the same consensus. Rozenberg likes that it has stannous fluoride, sodium fluoride, and calcium phosphate because these ingredients bond to weakened tooth enamel, "forming patches, much like patches sewn into worn-out fabric." Dr. Golda A. Erdfarb, an associate professor of dentistry at Touro College of Dentistry, also calls out stannous fluoride because it's antimicrobial, so it helps fight bacteria that cause bad breath, cavities, and gum disease. Plus, Erdfarb says it tastes great.
Best less expensive overall toothpaste
ADA-approved | Contains fluoride | Contains SLS | Gum health | Mint
Crest Pro Health was another toothpaste repeatedly recommended by dentists. Zientz recommends the Crest Pro Health line at his practice for similar reasons as the best overall pick: It contains stannous fluoride. "This not only helps with the bacteria-fighting and enamel-strengthening aspects that we expect all fluorides to do, but also with controlling plaque and biofilm buildup and contributes significantly to overall gum health," says Zientz. You can purchase a three-pack of Crest Pro Health for almost the same price as the two-pack above, making it our best budget pick.
Best toothpaste for sensitive teeth
ADA-approved | Contains fluoride | Contains SLS | Sensitive teeth | Mint
Tooth sensitivity happens when dentin, the water-filled layer underneath enamel, is exposed. Erdfarb explains that exposed dentin sends pain messaging to the brain. She, Rozenberg, and Ambewadikar all suggest Sensodyne Pronamel because it's specifically formulated to block the exposed dentin. "It's like closing off a body of water. If nothing's touching the water, there's no ripple effect. If there's no vibration, there's no pain," says Erdfarb. We've included Sensodyne's Daily Protection Toothpaste, but the line also makes an SLS-free version, in case you're also sensitive to the ingredient.
Best SLS-free toothpaste
ADA-approved | Contains fluoride | SLS-free | Mint
If you're prone to canker sores, Dr. Sonya Krasilnikov of Dental House told us the foaming agent sodium lauryl sulfate (SLS) "was shown to cause gingival irritation and increased occurrence of aphthous ulcers [or canker sores] in those patients who are prone to them." Krasilnikov and Dr. Inna Chern both recommend Hello's toothpaste, which contains fluoride and is SLS-free. That way, you're not using something that could trigger a canker sore while still getting the benefits of fluoride.
Best whitening toothpaste
ADA-approved | Contains fluoride | Contains SLS | Whitening | Wintergreen
Colgate Optic White was recommended as a whitening toothpaste by Rozenberg. While other whitening toothpastes rely only on physical tooth-polishers (like silica or calcium carbonate) to scrub stains off of teeth, Colgate's Optic White uses a chemical whitener (hydrogen peroxide) and works well, according to Rozenberg. Dr. Elisa Mello of NYC Smile Design, a dentist we spoke to for a story on the best teeth-whitening products, also likes the product but recommends using it "judiciously" to avoid causing sensitivity. "You don't want to use it as a replacement for your regular toothpaste," she says. "I have patients who love it, so I have them use it once a week."
Best whitening toothpaste for sensitive teeth
ADA-approved | Contains fluoride | SLS-free | Whitening | Mint 
Sensodyne's Extra Whitening formula has the same dentin-blocking ingredients as the Pronamel option, making it beneficial for sensitive teeth. Ambewadikar also suggested it as an effective SLS-free option. It contains hydrated silica, a physical tooth polisher, but it doesn't contain a chemical whitener. It may not be as effective at whitening as the Optic White, but if you're sensitive to SLS or have tooth sensitivity, this is a good option to use in conjunction with a teeth whitener.
Best non-mint-flavored toothpaste
ADA-approved | Contains fluoride | Contains SLS | Cinnamon
If you don't like the taste of mint, Zientz turned us to Crest's cinnamon-flavored toothpaste. He likes that it contains fluoride, unlike other flavored toothpastes. It's worth noting though that unlike the other Crest toothpaste he recommended, this one doesn't contain stannous fluoride, only sodium fluoride (which still comes with benefits).
Best fluoride-free toothpaste