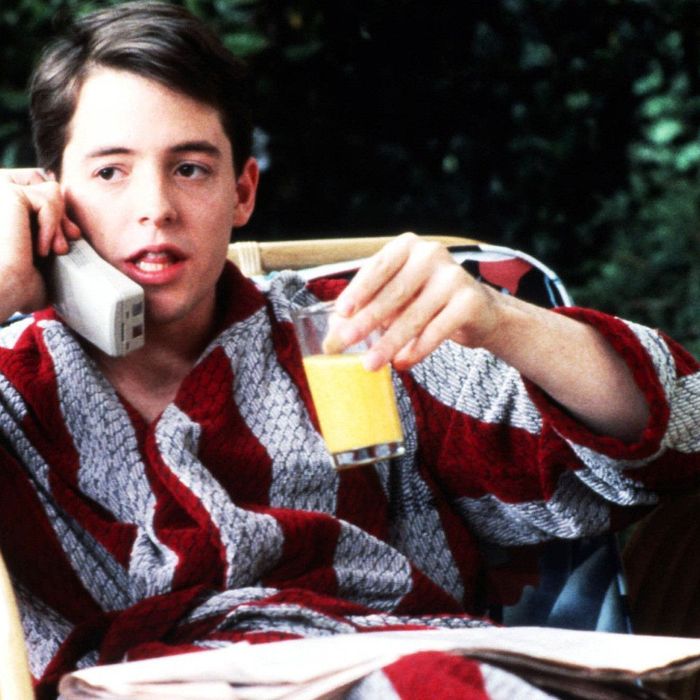 Photo: Courtesy Paramount Pictures
Here at the Strategist, we like to think of ourselves as crazy (in the good way) about the stuff we buy, but as much as we'd like to, we can't try everything. Which is why we have People's Choice, in which we find the best-reviewed products and single out the most convincing ones. (You can learn more about our rating system and how we pick each item here.)
And while we've written about lots of robes before — including one robe that feels like wearing a bed, Prince George's robe, and the best bathrobes for women — here we've rounded up the best bathrobes for men, as praised by the most enthusiastic reviewers on Amazon.
Best-rated bathrobe for men
Many were wowed by how soft this robe is. One describes his experience in it as "being naked wrapped in a blanket" because it's that soft. Another will be "purchasing more for gifts for sure" because of how luxe it is. One admits he "was instantly amazed" at how soft it is because "it's a relatively thin robe, meaning the fabric isn't bulky but it has a great feel and the fit is just right." Many say the softness is irresistible, like one who bought this for her boyfriend admits, "I love cuddling up to him in it and my cat loves it as well. We just bundle up happily together in the softness." Another bought this for her parents but is considering taking it back for herself, writing, "If I could crawl inside this thing and live there forever, I would. I initially bought it for the parents "guest room", so they'd be cozy. But now that I'm envisioning my father's bare junk touching the lavishly soft inside of this robe, I'm tempted to just go steal one from a hotel for them, keep this for mama (that's me)."
Best-rated (less expensive) bathrobe for men
Simply put by one reviewer, this satin robe is "Minty fresh. Pure LUX. Definitely worth the cashola." Another says, "I love this robe, I feel super sexy, confident and wealthy while wearing it." They also say it's "Very high quality and awesome for warm weather." While a few say they purchased this for a costume or special occasion, many do use it for everyday use. One reports their husband "wears it everyday when he takes the dog out and makes himself a morning coffee. Makes him feel like Freddie Mercury." Another says, "I rock it every time I go and shower or just chill or I'm trying to be Hugh Hefner." And while a few love this look just for laughs, be careful what you wish for. One reviewer who bought this as a gag gift for their boyfriend says "ends up he loved it and unfortunately wears it ALL. THE. TIME." No matter your motive for purchasing this robe, many say it runs small and recommend ordering up a size.
And now for some micro-picks for every type of bathrobe for men you might be looking for.
Best terry bathrobe for men
This terry cloth bathrobe got top marks from those looking for a towel-like option. One reviewer just installed a hot tub and wanted something to dry off with on cool nights. He calls this robe "perfect," explaining, "We don't bother with towels, we just pop these on as soon as we get out of the water. The terry is plenty absorbent and soft. The robes keep us toasty warm." Another loves the terry material writing that they are "easily washed and dried, great for after a shower, and it does not hold odors like synthetic fabrics." One more reviewer explains these robes are "amply built for a guy who needs to lose weight," noting that these are "comfortable" and "the belt stays tied." One dad even gifted these to everyone in his family in every color, writing, "Needless to say, my family was thrilled with my purchase. Each one loved the color, and they tell me that the product is soft and absorbent and a luxury to use after their showers."
Best full-length bathrobe for tall men
"If you have giants in your family, and they just want a cozy robe, look no further than this," writes one reviewer who bought this for their 6 foot, 7 inch tall son and says, "This hits mid calf on him." More than 15 percent of reviewers say this is truly full-length for tall guys. "My husband is 6'1 and this robe hits him at the top of the ankle bone, perfect length," one writes, while another 6 foot 6-inch reviewer says "I really have a time finding clothing that fit my long arms and this robe is perfect for me." And even though it's a men's robe, some tall women have had luck with it too. "This thing goes all the way to the floor," writes one woman who is 5 foot, 10 inches tall. No matter their height, many reviewers speak about the quality. One user who begrudgingly got rid of their 30-year-old robe that was "coming apart at the seams and had bleach stains on it" calls this one perfect, explaining, "It has the feeling inside and out of a soft terry cloth towel."
Best waffle bathrobes for men
"This robe is really comfortable and a great buy for something to wear straight out of the shower. The waffle pattern has a great feel to it and provides that extra layer of warmth," raves this reviewer. Another customer "wanted more than just a thin, flimsy robe," but did not want "fluffy." He settled on this waffle option because as he says "this robe was a perfect middle of soft and good form. The waffled finish gives the robe some thickness and substance. But, it's still flexible and comfy. The belt stays tied with minimal effort." One more agrees that "it is waffled but not heavy waffling," while another says although it "isn't soft in the traditional sense of fur, it does feel very nice on the skin."
"This was exactly what I was looking for," says one reviewer, and for them that means, "A robe that provides coverage, has a nice soft feel, and provides that little extra warmth when needed." Like many other customers, they enjoy the balance of this robe being comfortable but not overheating. "I live in SW Florida and the temp outside today is about 95* with high humidity," one explains. "I just tested it out on the lanai, and it was comfortable to me. The material, and stitching are of good quality. It's not too heavy and not too light." More than a dozen warm climate reviewers also say this waffle fabric is perfect for when they just get out of the shower. "The outside is a waffle weave and the inside a smooth weave which works nicely to absorb when I come out of the shower," one writes. While another says, "I live in an all-year round warm climate (Honolulu) and didn't want a hot robe but something I could throw on after a shower or if someone is unexpectedly at my door and this is PERFECT."
Best lightweight bathrobe for men