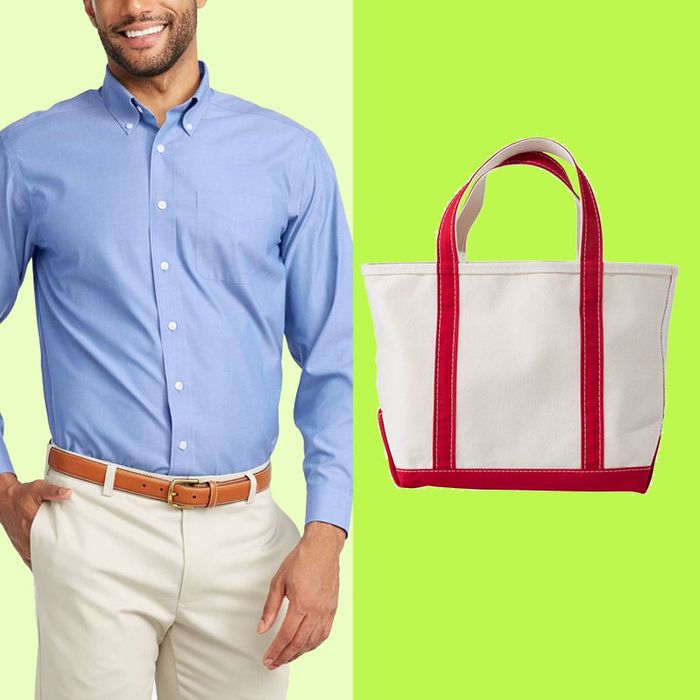 Photo-Illustration: retailers
Anyone who has shopped at a retailer with few physical storefronts to browse knows it can be hard to figure out where to start. There are dozens upon dozens of options that all seem as worthy as the next, but the reality is that products from any given brand are not all created equal. When you shop as regularly as we do, you learn that many brands just do some things better than they do other things. L.L.Bean, we've found, is one of those brands — its massive inventory of unisex basics (and outdoor gear) needs to be carefully sorted through to find gems like the best duck boots, the most durable totes, and the warmest slippers. To help make things easier, we've rounded up all the L.L.Bean stuff our writers and editors — as well as architects, photographers, gardeners, and vintage-store owners — have recommended on the Strategist.
For everyone
"No one can top the L.L.Bean Boat and Tote," says Chris Black, host of the podcast How Long Gone, and our writers and editors heartily agree — so much so that the Boat and Tote is featured on the Strategist 100, our roundup of the best, most stood-behind products that have ever appeared on this website. Ming Thompson, an architect and principal at design firm Atelier Cho Thompson and proud owner of eight of these totes, says, "You might think this is a bag, but you'd be mistaken. It's a laundry bag, a picnic basket, a way to schlep all your things across town." In fact, as former Strategist writer Hilary Reid points out, they were originally designed for hauling ice back in the 1940s, but they've taken on a new life as an actually stylish bag in the decades since, "carried by both Carolyn Bessette in the '90s and Chloë Sevigny in 2016." And if you want to have even more fun with your tote, you can monogram it, as Strategist contributor Sadie Stein has done. The result is something so versatile, it can take you "from Greenwich Academy lacrosse practice to Sunday afternoon at Dover Street Market."
L.L.Bean's Hunter's Tote has a very similar silhouette as the classic Boat and Tote, and it comes recommended by both Chris Black and designer-slash-potter Jonathan Adler, the latter of whom called it the "bargain of the century." The biggest difference between the Hunter's Tote and the Boat and Tote, besides the green or camo-print exterior, is the thermoplastic interior coating that makes it "more water-resistant than its preppier canvas sister," and therefore a bit sturdier for grocery shopping or even picnicking.
If you want an L.L.Bean bag that's even better for food storage, try this insulated tote. It comes recommended by Julie Lindenman, owner of an eponymous event-planning company, who says it does as good of a job at keeping cold food and drinks cold as a Yeti cooler — but at a fraction of the price.
Though there's lots of winter boots that you can buy from countless other brands to keep your feet dry, "Any other winter duck boot is just trying to copy what L.L.Bean perfected more than a century ago," declares our deputy editor (and L.L.Bean fan) Maxine Builder. And over and over again in our reporting, we've found that stylish women and men love the original, unlined Bean Boot for its durability and good looks. Fashion blogger Dana Landon says she's "been wearing these for rain, slush, and mud since high school" because "they last forever." Gardener and MasterClass instructor Ron Finley calls the Bean Boots his "go-to" for working in the yard, because "they're comfortable, waterproof, made in the U.S., and look good." He adds, "When things get muddy — you never have to worry about your socks getting wet." And Builder says the original, unlined, six-inch Bean Boots she's owned for at least a decade are "going strong, even after ski trips out West, brutal New England winters, and New York City's aforementioned black holes of slush."
Former writer David Notis prefers this taller version of the Bean Boot, which also has a Thinsulate lining to lock in heat. He's had his pair for five years and loves to "break [them] out if it's really snowy or rainy or slushy or whatever else." New York deputy editor Alexis Swerdloff also owns a pair and says that they're "as hardworking and practical as everyone says." She likes that her navy boots "blend in to most outfits on days when I don't feel like taking them off when I get to work."
For even more insulation, there's the eight-inch Bean Boot with a shearling lining to keep your feet extra warm — and that's great for extreme adventures, like an Alaska cruise. "Most guests sign up for adventurous shore excursions that immerse them in Alaska's wild natural environment; I recommend they bring waterproof boots to keep their feet comfortable and dry," says Yves Segers, general manager on Oceania Cruises' MS Regatta, who recommends these.
If you're looking for maximum warmth, consider L.L.Bean's ten-inch shearling-lined Bean Boots, which are the winter boot of choice for multiple Strategist writers. "In a full-on snowpocalypse, nothing beats the Bean," says senior writer Karen Iorio Adelson. Writer Lauren Ro says these boots keep her feet "toasty and dry" even when "stomping through inches of freshly fallen snow," and former writer Hilary Reid describes them as "so snow-proof, you could walk through waist-deep snow and your legs might get soaked but your feet would still be warm and dry." However, all three women agree the boots are heavy, which make them, as Reid puts it, "a little too serious to wear on an average winter day."