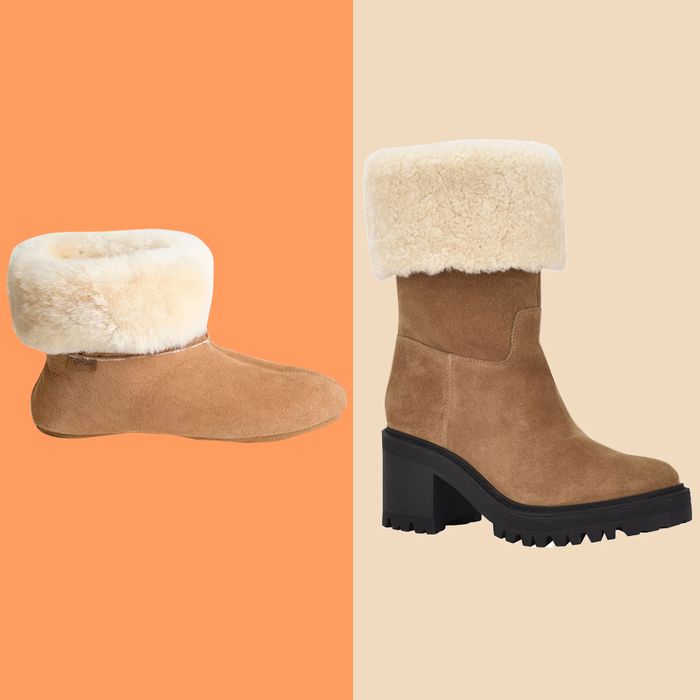 Photo-Illustration: retailers
In our advice column, Ask the Strategist, we take your most burning shopping questions and survey friends, call up experts, and draw on our own personal experience to answer them. As always, please email any online-shopping-related queries to strategist@nymag.com with the subject Ask the Strategist — we're here to help.
What are some shearling-lined boots that are not Uggs?
We get it. You want your feet to be cozy, but for whatever reason, you can't bring yourself to spring for a pair of those sheepskin-lined après-ski (technically, après-surf) boots that have stayed more or less au courant (and mind-bogglingly so) ever since Oprah put them on her "Favorite Things" list back in 2000. Maybe you think they're too schlubby, or, quite honestly, fugly. And yet, every time you see those ubiquitous boots on an actress making a Starbucks run in 90-degree Southern California weather, you catch yourself thinking how nice it must be to slip your feet into something so plush before running out the door. Surely there are non-Uggs out there that will do the trick, you've thought. Turns out, there are. So, without further ado, here are a bunch of boots — 22, to be precise — that are shearling- or faux-shearling-lined and, we think, just as versatile and cute (if not more so) than Uggs.
Birkenstocks could be considered the Uggs of the sandal world, which makes these Birkenstock booties an appropriate alternative for the Ugg booties in question. They have the German company's signature rubber sole and, if its slides are any indication, these will be just as comfortable as the Birkenstock Arizonas, only with more coverage. The booties have a leather upper and a lining made of genuine shearling that should keep your feet as snug as a bug in a rug. They seem an ideal choice if you're looking for a pair that has all the elements of what make Uggs so beloved but comes packaged more like a real shoe.
For something that's just as warm (but won't have you looking like you stepped off the slopes of Vail), consider these Blundstone boots that are basically a winter-appropriate upgrade to the regular Blundstones that several members of the Strategist team own and love. With a sheepskin footbed and Thinsulate lining, they promise to keep your feet quite toasty, even in freezing weather. The Chelsea silhouette is also classic, meaning these aren't just for wearing in inclement weather — they would be great everyday boots, too.
Maybe you want something that's pretty close to Uggs without being from Ugg? If that's the case, these booties from Patricia Green look straight out of an Ugg campaign starring Tom Brady. They have the same chubby silhouette as Uggs, along with a most inviting shearling footbed that practically beckons cold feet to slip inside (and, perhaps, never leave).
Photo: retailer
Running with the whole shearling-cuff thing, this pair of boots from Marc Fisher packs a bit more oomph thanks to the hefty block heel and lugged sole that contrast nicely with the softer shearling.
These luxurious-looking slippers come from Overland, a retailer where I recently bought a sheepskin rug. While I haven't worn them, I think it's safe to say that their genuine Australian Merino sheepskin will feel as fabulous on your feet as my Overland runner (made of similar material) feels on mine. Like the Patricia Green booties above, these also have that Ugg look — the roll-down shearling ankle cuff gets me every time — but this pair is actually less expensive than the real thing. Just know that the soft leather sole on these slippers means you shouldn't wear them outside of the house. But, then again, you probably won't want to leave the comfort of your home once they're on your feet. (For something shorter, consider Overland's Sophia slippers, which have lovely cross-front collar detailing.)