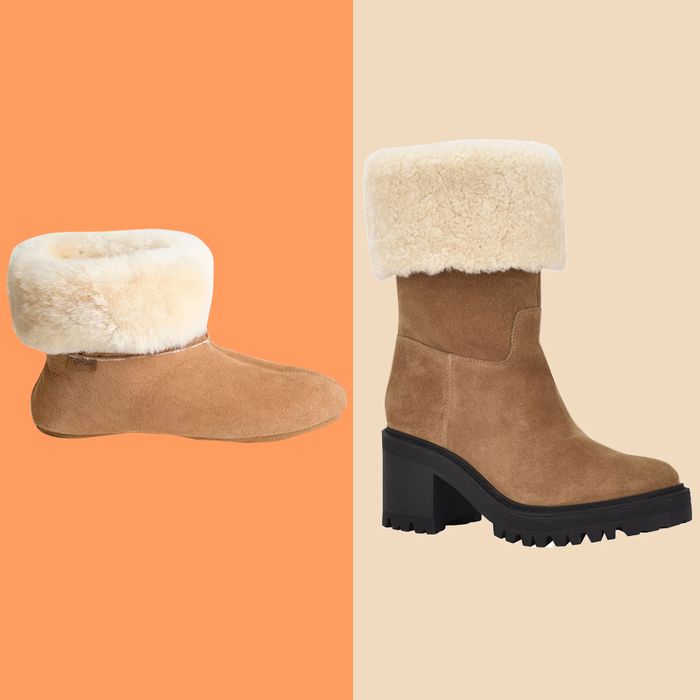 Photo-Illustration: retailers
In our advice column, Ask the Strategist, we take your most burning shopping questions and survey friends, call up experts, and draw on our own personal experience to answer them. As always, please email any online-shopping-related queries to strategist@nymag.com with the subject Ask the Strategist — we're here to help.
What are some shearling-lined boots that are not Uggs?
We get it. You want your feet to be cozy, but for whatever reason, you can't bring yourself to spring for a pair of those sheepskin-lined après-ski (technically, après-surf) boots that have stayed more or less au courant (and mind-bogglingly so) ever since Oprah put them on her "Favorite Things" list back in 2000. Maybe you think they're too schlubby, or, quite honestly, fugly. And yet, every time you see those ubiquitous boots on an actress making a Starbucks run in 90-degree Southern California weather, you catch yourself thinking how nice it must be to slip your feet into something so plush before running out the door. Surely there are non-Uggs out there that will do the trick, you've thought. Turns out, there are. So, without further ado, here are a bunch of boots — 22, to be precise — that are shearling- or faux-shearling-lined and, we think, just as versatile and cute (if not more so) than Uggs.
Birkenstocks could be considered the Uggs of the sandal world, which makes these Birkenstock booties an appropriate alternative for the Ugg booties in question. They have the German company's signature rubber sole and, if its slides are any indication, these will be just as comfortable as the Birkenstock Arizonas, only with more coverage. The booties have a leather upper and a lining made of genuine shearling that should keep your feet as snug as a bug in a rug. They seem an ideal choice if you're looking for a pair that has all the elements of what make Uggs so beloved but comes packaged more like a real shoe.
For something that's just as warm (but won't have you looking like you stepped off the slopes of Vail), consider these Blundstone boots that are basically a winter-appropriate u