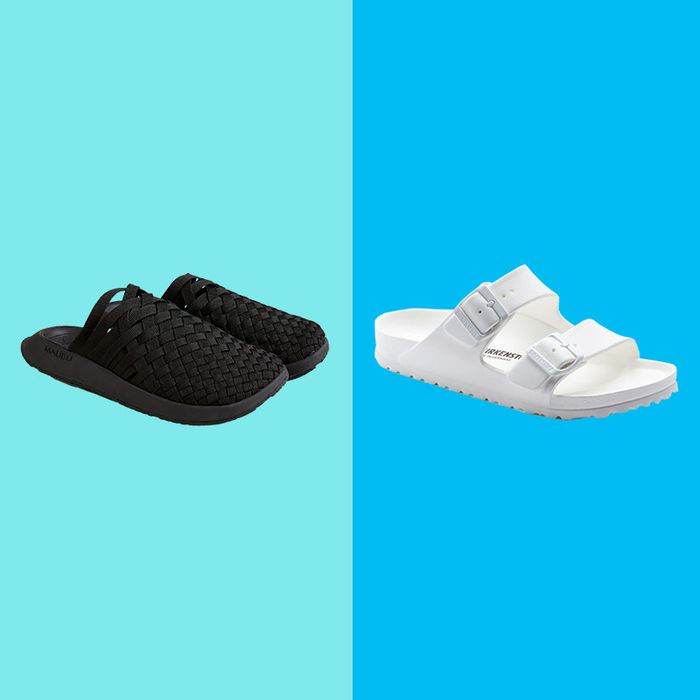 As Strategist writers, we're always noticing trends. Sometimes we notice them at the same time. That's what happened with slides — shoes that you slip your foot in and out of, without having to lace or buckle anything — which felt particularly right for this especially local moment. To figure out why, we reached out to a panel of stylish people to find out their favorites. But first, we had a few things to discuss.
Hilary Reid: We both wanted to write about slides, so clearly slides are on the brain right now. Why do you think they're relevant for this moment?
Jordan Bowman: Slides hold a special place in my heart and right now, everyone wants something you can wear just to go across the street. I think the most important function of a slide is whether or not they're comfortable enough to wear inside but also rugged enough to take a stroll to the bodega or around the block. I found myself wondering about the best versions — and the most stylish, too. And I'm curious what made you think about slides.
HR: I was thinking similarly. It's like, I go downstairs to check the mail four times a day, and the last thing I want to do is lace up shoes. Something you mentioned when we first talked about this, and that a trend forecaster I spoke to for a story last year mentioned, is this idea of "one mile wear," which is a Japanese concept for clothing and shoes that you'd wear within a mile of your house, but still look presentable. A lot of the slides recommended by the stylish people we spoke to really fit that concept.
JB: Definitely. One thing that surprised me was how vast the definition of slides is to some people. When I think of slides, I think of those Adidas sandals with all the nubs in the sole or the Birkenstock Arizona. But a couple of the guys I spoke to also pushed clogs. They were like, "This isn't a slide, really, but you do slide your foot in." Which, fair. They like them because they're hardy. But it's like you said, people are really looking for the kind of footwear that you can wear in that one-mile radius and still be comfortable.
HR: And shoes that can still look nice, too. Some of the women we talked to recommended Birkenstocks, but I also think there's a post-Birkenstock movement of wanting the comfort of a Birkenstock but with a little bit more style — something you could wear to dinner and look slightly dressed up in.
JB: I agree, though I'm still a Birkenstock loyalist. When I started to open up my definition of slides to include clogs or mules, I actually realized that one of my favorites is the Birkenstock Boston, which I've been wearing for more than a year. I thought I was going to get a thousand recommendations for those, but I ended up getting a lot of mentions for Arizonas instead.
HR: And, in the end, no one recommended the spiky Adidas ones.
Best simple slides for men
"I went down this wormhole maybe two years ago," says designer Amardeep Singh. And he came out with Oofos Ooahhs, "the non-sport version without the logo." Singh likes the low-key styling and simple shape of these machine-washable shoes. Unlike a lot of slide enthusiasts, however, he only wears his at home. "I don't support slide-wearing in a major metropolitan area," he says.
"Slides for me are all about practicality, so I tend to wear Birkenstocks EVA Arizonas to do everything around the house," says Octavio Platon Akel, an illustrator and creator of the stylish footwear instagram page, Monsieur Saturday. The Arizona EVA is a classic slide; they're waterproof and easy to clean so they make sense for the beach or a stroll around the block.
"I bought these just to walk the dog and became a full-on believer. These are far and away the most comfortable slides I have ever owned," says Timothy Grindle, co-founder of Canoe Club. According to Copper Terrones, a sales manager at Canoe Club, Hoka is a traditional running company that has recently branched further into the casual/leisure space. "The recovery slide is easily one of the most comfortable footbeds we have come across," Terrones says. "They feel substantial enough to run errands in and they are truly like walking on clouds," Grindle adds. "If you are looking to do something for yourself to just make your life feel a little better, especially these days, this is the best $50 you can spend."
Best stylish slides for men
According to Mike DeStefano, a style writer at Complex, "These things are super cozy. They're my go-to footwear for the countless quick trips to the grocery store when I don't want to lace up a pair of sneakers." He also likes how the style of these slides makes it look like you put a little effort into your outfit. And despite the higher price, "they're worth it," he says. "I've had mine for over a year and they've held up no problem."
Strategist columnist Chris Black used to equate Birkenstocks with "suburban Moms in late model SUVs and white guys in Umphrey's McGee T-shirts." But then he recently tried a pair of taupe suede Bostons: "It took some time to incorporate them into my look, but once I did, there was no looking back." Justin Berkowitz, Men's Fashion Director at Bloomingdale's, is a fan, too. "They are quite possibly the most comfortable and versatile shoes I own," he says. "I love the molded footbed, and they take zero effort to put on and take off." Berkowitz wears them with and without socks, and during quarantine they've been his go-to: "They work incredibly well with my current wardrobe choices," he says.
Photographer Oliver Hooson, recommends the Zumas as an alternative to Birkenstock Bostons. They're tough, and "I've always liked the hand-woven/moccasin style," he says. "Some of my favorite brands, like engineered garments and Monitaly, use these for styling year over year."
Best clogs for men
A few of the experts we spoke to also recommend the classic clog or mule when trying to get a 'fit off during a short walk to the grocery store or — if you're fortunate enough — your own garden. "The Hathenbruck Chillbies definitely appeals to my utilitarian fetish," says James Bailey, a creative director who's worked with clients including Rihanna and the Weeknd. "Anything that looks like it's an off cut on the factory floor or that will only get better as it's beaten up is where my heart truly lies." Drew Romero, a floor manager at Dover Street Market, likes Chillbies too. "Closed-toed mules and clogs are more my avenue."
For a less expensive alternative to Chillbies, Romero recommends rubber Sloggers, calling them "great for the indoors or gardening."
Romero is also a fan of these low-key but tasteful clogs from Birkenstock. "You get hundreds of years of orthopedic consideration without a huge price tag," he says. "The A630's ultra-wide footbed allows my foot to relax and is very comfortable." Although the chunky sole may turn a few heads in the street, "the black colorway definitely humbles them a bit," he says. They're super easy to clean and maintain and "they have a substantial weight to them. They don't feel cheap or negligible. There's even a steel-toe version if you really want to get crazy with it," Romero says.
Best outdoors mocs for men
If you're looking for slide-like footwear that can handle some light hiking, Antonio Ciongoli, Creative Director of 18 East, recommends the Merrell Hydromoc. He's been wearing his all summer. "They have the ease and comfort of a slide but are actually molded to your foot so that I can hit trails with them without worrying that they'll slip off," he says. And if you happen to come across a stream on the trail, just walk right through. "I can jump in without worrying about getting them wet or cutting up my feet."