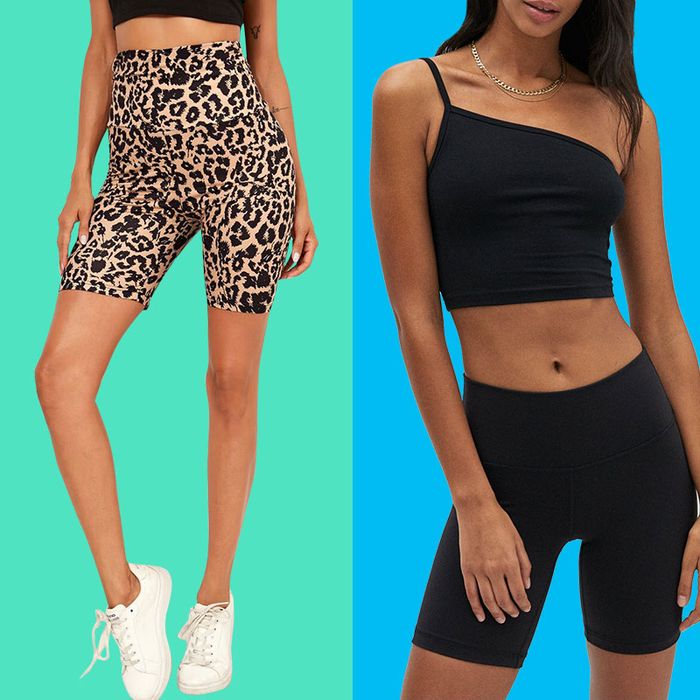 Photo: Courtesy of the retailer.
Fashion bike shorts have been a part of mainstream consciousness for several years, but this summer — with so many of us housebound — is even more primed to be the season of bike shorts. They're comfortable, first of all, having long been worn to reduce thigh chafing in hot weather. Not to mention they're versatile, like leggings, and affordable, playing well with everything from oversized T-shirts to going-out tops. And it doesn't hurt that you can wear them straight from a workout to running errands to your couch. Stylist Alison Deyette considers them a wardrobe basic and a way to show off some curves when strategically paired with other stylish pieces. When we asked her how to wear them, she said "I particularly like bike shorts paired with a button-down top and an oversized blazer," adding that "they also make a great addition under a sheer dress when just wearing underwear seems too revealing." We spoke to Deyette and seven other stylish bike short-wearing women (as well as a few Strategist writers) about the best pairs and how to wear them.
Best
under-$25
bike
shorts
Strategist staffer Liza Corsillo (and one of the writers of this story) loves these Danskin shorts. "I probably wear these bike shorts too much," she says. "The fabric is really soft without losing its shape, even after throwing them in the washing machine over and over again," she adds. Corsillo also said the shorts don't aggressively squeeze her thighs or waist the way other leggings and bike shorts sometimes do. "Plus, they're actually very good for biking and don't chafe or irritate my skin even on miles-long rides." She chose the five-inch shorts, but notes that the longer pair would be suitable for hanging out with friends in a park or dressing up with little wedge sandals. "Most importantly, they make me look sporty and hot."
Strategist junior writer Chloe Anello loves these "fun, light, and reasonably priced" Free People bike shorts so much, she bought two pairs. "I wanted some with a look that was a bit more Princess Di running errands."
"This affordable pair combines two of the summer's biggest trends: bike shorts and tie-dye," says celebrity and personal stylist Samantha Brown, who suggests wearing them with a knotted T-shirt or hoodie and a pair of Nikes for an "effortless, casual look."
At only $8, these high-waisted leopard bike shorts are by far the most affordable on this list. "You can't beat that price," notes blogger and designer Amarachi N. Ukachu. Ukachu says that she loves that they can be dressed up with a strappy heel and oversized shirt or more casually with some sneakers and a cute sports bra.
Best
under-$50
bike
shorts
Three of the stylish people we spoke to all name-checked Girlfriend Collective's high-rise bike shorts as favorites. "You can feel good knowing your shorts are made from 17 water bottles and saved over two gallons of water in production," notes social media and community manager and activist Kara Smith. "Girlfriend Collective can do no wrong in my eyes: sustainable, ethically made, and size-inclusive," echoes Ukachu. She calls their bike shorts a "must-have" because of "the superhigh waistline and the color options available." If you're torn about which color to choose, Strategist junior writer Jenna Milliner-Waddell recently bought them in bright orange.
"These are the bike shorts I wear most often — not for working out — and recommend to all my friends," says Nicole Akhtarzad Eshaghpour, market editor at Who What Wear and curator of the Instagram account Trust Me Buy This. She notes that the slightly thick material has a "smoothing effect and makes you feel very 'hugged' by the shorts." And, because of the high waist, "they're perfect for wearing with longer tops and sweaters as well as shorter styles."
Edith Young, photographer, designer, and author of the upcoming book Painterly Palettes, says that while she's afraid to wear bike shorts while actually biking "after sustaining a gory, bike-related injury to the shin hours before a friend's wedding in Ojai last summer," she does love to style them for non-exercise related outfits. "I recommend pairing them with a black tank top — my favorite is by Filippa K — under that one dress in your closet that turned out to be almost prohibitively sheer, much more transparent than it looked online," she says. "I've found that these three-inch Nike Pros are up to the task!"