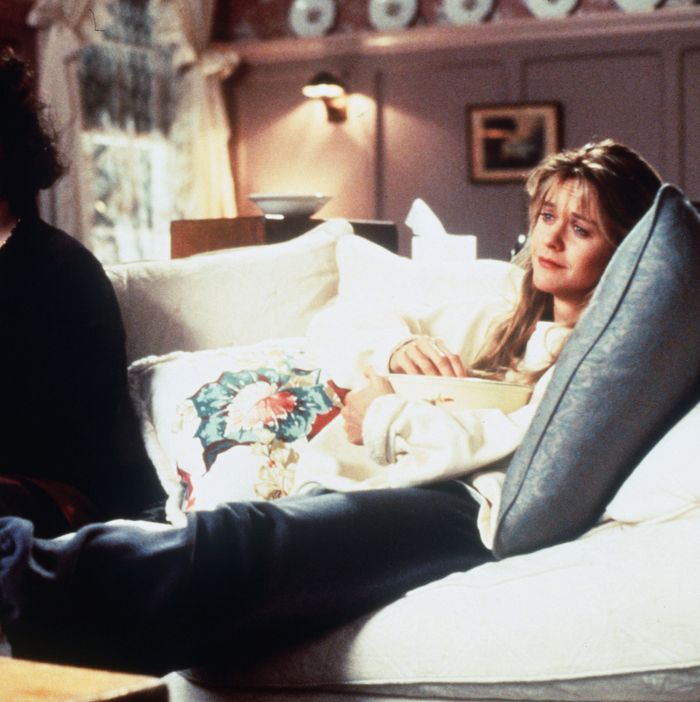 Photo: Tri-Star/Kobal/Shutterstock
If the idea of putting on a pair of jeans these days makes you shudder, we get it. If there were ever a time to wear your softest, most comfortable clothing, this is it. You may have expanded your collection of sweatpants or cozy socks over the past few months, but as we hunker down for the colder months it's not a bad idea to add a few extra pairs to the repertoire. Of course, there are a gazillion sweatsuits, slippers, and supersoft T-shirts out there to choose from, so to get the lay of the land, we reached out to several stylish women to hear about what they're wearing around the house.
Sets
If you're looking for an inexpensive matching sweatsuit, artist Gabi Abrão, who runs the Instagram @sighswoon, suggests browsing the Hanes men's section. "If you're like me and enjoy an androgynous, practical streetwear look, Hanes' menswear (and boys!) section is THE mecca," she says. "They're all made of durable cotton or cotton blends, so you can easily throw them into the washer and dryer — it's just an industrial, practical, no-frills uniform for the house." For a complete sweatsuit, Abrão recommends getting Hanes's Men's ComfortSoft Fleece Sweatshirt and pairing it with Hanes Mens ComfortBlend Sweatpants. "The sweatshirt has an incredibly soft fleece lining that remains intact through multiple washes," says Abrão, who adds that she often cuts her sweatshirts into a cropped style, adding "It's extremely easy and low pressure because of the price." The sweatpants are made of similarly soft and durable cotton with fleece lining, and while they come in fewer color options than the sweatshirts, you could always do as Abrão does and get the classic all-black set.
Artist Shannon Cartier Lucy recently picked up this tomato red sweatsuit from genderless clothing line Ijji, which, in addition to sweats, makes work jackets, canvas pants, and silk shirts that look similarly ideal for wearing in and out of the house. "I have a puppy, which means I am constantly having to throw on my shoes to take him out for walks around the neighborhood," says Lucy. "I needed a good-quality sweatsuit and was especially happy when I found the all-red version. It's supersoft and slightly heavier than your usual knit," which she likes because it means she can wear it out without a jacket. "It's cozy and warm but still breathable," Lucy says.