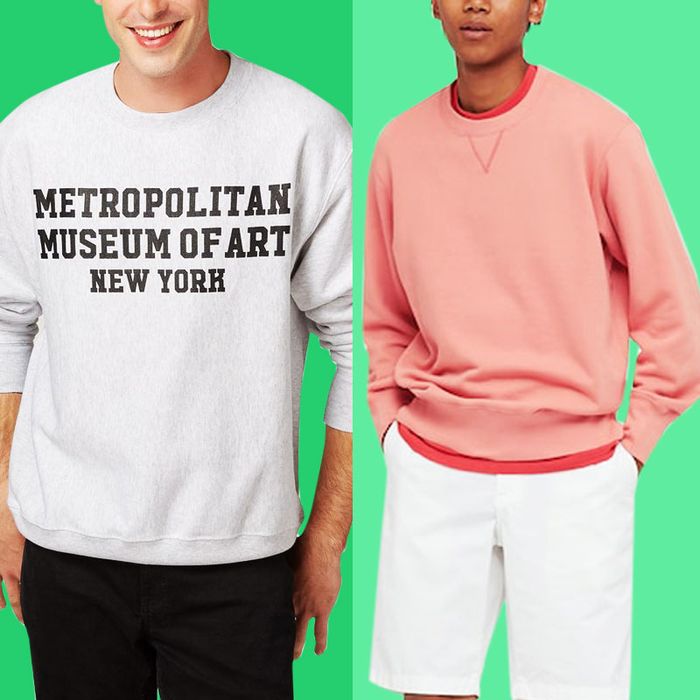 Photo-Illustration: retailers
The humble crewneck sweatshirt has come a long way from its reputation as a shvitz-soaked garment for working out. Today, crewneck sweatshirts are as much a wardrobe staple for work (both at home and in offices), as they are for working out or even dining out. Their rounded necks make them especially practical for layering, whether in winter (for obvious reasons) or in warmer months, when it's not quite cold enough to put on your heaviest turtleneck, but you still want something to throw on over a T-shirt or Oxford shirt. To find the best crewneck sweatshirts, we talked to 17 guys about their favorites. Given that all look more or less the same (save for variations in color or pattern or fabric), we've sorted their recommendations by price, given that some folks may prefer to stick to budget friendly basics, while others may want to invest in a sweatshirt made with finer materials. Each category below is also organized to lead with the styles that got the most recommendations.
Best under-$50 men's crewneck sweatshirts
As we did when reporting on cool men's favorite underwear, socks, and T-shirts, in putting this story together, we learned that Uniqlo makes a solid crewneck sweatshirt, too. (And we should note we are not just asking the same people over and over again, either.) Andrew Favorito, who works in public relations for skin-care brand Tatcha, says the brand's basic long-sleeve sweatshirt combines "Japanese simplicity and design, high-quality fabrics, a towel-soft terry cloth interior, and a dye that can withstand 19571209043 washes without fading, all for $30." It's for this reason he simply calls it "the "G.O.A.T of sweatshirts." If this salmon-y pink isn't for you, it comes in eight other colors (of which Favorito owns three).
Those looking for a similarly priced crewneck sweatshirt that is made more sustainably should consider this one from Alternative Apparel, according to Dejon Mullings, a product-communications manager at Pinterest. "It's made with organic and recycled materials, but it's still extremely affordable," he says, adding that he likes to style it "with jeans or chinos, and because it's a little bit on the slimmer side, I'll wear it as a layering piece under jackets all the time." Shown in blue, the sweatshirt comes in four more colors, including black and a cheery red.
Photo: Retailer
If, like our former deputy editor Jason Chen, you have shopped for crewneck sweatshirts only to find "they were always just a bit baggy or low in the armholes, or most often, too long," then this Gap style may be the you've always been searching for, too. "I read (of all things) Derek Blasberg talking about his search for a good crewneck sweatshirt, which ended up coming from the Gap," writes Chen, who says this Vintage Soft Sweatshirt fits just right — not too baggy, nor too long — and that he's gotten a few since finding it. "Gap's changed the material from a lightweight cotton to something a bit heavier, but the fit is always spot-on," he says.
No crewneck sweatshirt on this list is more affordable than this straightforward style from Hanes, which is a favorite of fitness instructor Patrick McGrath, who first told us about it when we asked him about the best men's loungewear. According to him, it has "a good fit that accentuates your body" and, because it is so inexpensive, he suggests pairing it with some Hanes sweatpants "for a same-set vibe that reminds me of Aimé Leon Dore." (We think the simple style would go just as well with jeans or chinos, too.)
For an under-$50 crewneck with a little more personality, Christopher Echevarria, the founder of loafer brand Blackstock and Weber, pointed us to this one sold by The Met. Not only does it satisfy his (or anyone's) love for merch, but the sweatshirt itself is made by Champion and features the brand's revered reverse-weave construction, which "helps maintain its shape and reduces shrinkage from washing," Echevarria explains.
Best under-$100 men's crewneck sweatshirts
Speaking of Champion, Todd Snyder's longstanding collaboration with the brand has come before up in our discussions with stylish men, so we weren't too surprised when two guys told us they live in this crewneck sweatshirt from that line. "The fabric also only gets better and better with age," says Joseph Suchodolski, the head of global communications at Allen Edmonds, who points out other details to like include the sweatshirt's "cool vintage feel, chest pocket, and the V-stitch under the collar." (While he admits it isn't exactly cheap, he promises that all of these things make the sweatshirt "well worth the investment.") Nicholas Morgenstern, the owner and founder of Morgenstern's Finest Ice Cream, is another fan. "It just fits well; it's not big and bulky," he says, adding, "It's nicer when sweatshirts a little bit tighter." Morgenstern describes the material as "medium weight" and thinner than that of a classic Champion crewneck sweatshirt. Shown in a greenish brown, it comes in five other colors including classic neutrals and a light-green pistachio.
Chris Black and model Miles Garber both love Entireworld's sweatshirts (as do cool women and Strategist writers). Summarizing the style's popularity, Garber explains that Entireworld "made something deemed sloppy into something really cool," with enough structure that you "don't look like you're just schlepping around." Because of their popularity, we've seen stock rise and fall. But if you don't see your size and preferred color available at the moment, know that the brand always seems to replenish its stock eventually.
"This sweatshirt is pretty hard to not wear constantly," orthodontist Justin Maccaro says of this J.Crew style made with French terry. The material, he adds, "is so soft and fluffy, it might as well be made of kitten fur and cotton balls." Aside from being incredibly cozy, Maccaro says the sweatshirt has a "slightly slimmer, tailored cut" that makes it easier to dress up.
Best men's under-$150 crewneck sweatshirts