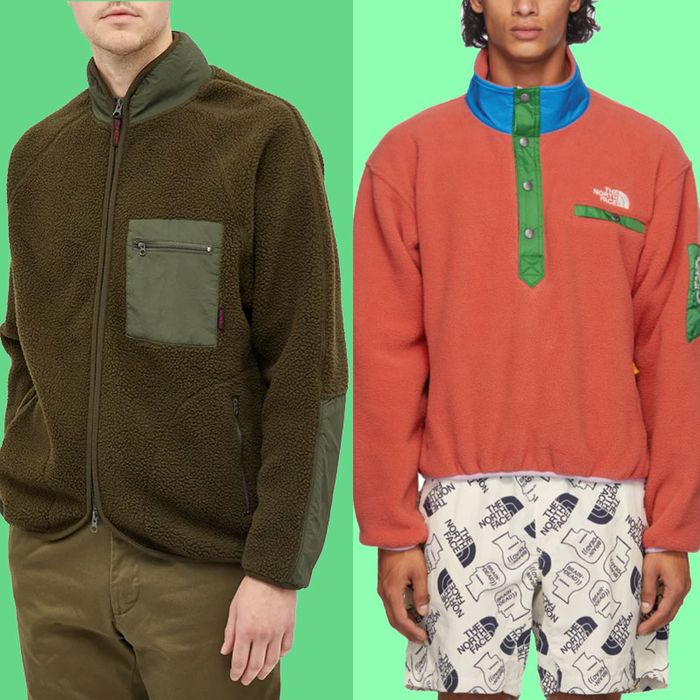 Photo-Illustration: retailers
The temperature has finally dipped below 70 degrees, which means one thing: It's officially fleece season. To find the coziest options, we asked 15 fashionable people — including stylists, bloggers, and our own writers and editors — about their favorites, from trusty Patagonias to this season's new crop of stylish jackets. But first, we wanted to chat about the enduring appeal of fall's fuzziest jacket.
Dominique Pariso: So, I'm sort of surprised by my conversion to fleeces. In high school, I feel like everyone had North Face Denalis —
Jordan Bowman: I always really wanted one.
DP: And I did not. Then I went to college in New England and everyone had a fleece, and I lasted four freezing winters — still never bought one. But then last year, I finally broke down and got a Uniqlo one.
JB: My first fleece was also from Uniqlo. I really liked it, but I decided to level up last year and get the Patagonia Snap-T fleece, and it's just so much better. It really has this perfect one-two punch of style and function. It's super-warm and it looks nice, but most importantly it's cozy. It has these dope ASMR-style snaps (that's where it gets the name from) that are just so fun to pull apart. It's the clothing version of popping bubble wrap. What do you think made the fleece "cool" again?
DP: Sandy Liang definitely made the fleece cool again. And now a million retailers have followed suit. Many women still recommended the classics like Patagonia and North Face, but then there's also this feeling of wanting the coziness of a fleece with a little more style. Some of them are definitely teddy-coat adjacent or take the fleece material and update it with different silhouettes. And obviously fleeces fit right in with pandemic comfortwear.
JB: They're for real like sweatpants for your upper body. I know some people are going to say "Just buy a sweatshirt," which is fine, but, you know, when that wind really starts blowing, a sweatshirt isn't going to hold up (or keep you warm) like a classic fleece. It's perfect fall-to-winter transitionwear.
Best under-$100 fleeces for women


According to actress and blogger Marie Zoumanigui, "You can never go wrong with a simple brown fleece, and this price point is hard to beat." But if you prefer a less neutral choice, this lightweight, quick-drying yarn fleece comes in 12 other colors, including yellow, light blue, and green.
Photo: retailer
Stylist Kiarra Logan just bought this zebra-print jacket from Bershka. "I think it's a great stylish option for the price," she says. Her styling tip: "Wear it with black, shiny Commando leggings, an oversize T-shirt, and stylish sneakers." The jacket also comes in tan, which Logan says she'd "wear with jeans and cute ankle boots."
Photo: retailer
If you want a fleece "that's on trend and does not break the bank," Logan also suggests this cozy ASOS option. The jacket is also available in petite and curvy sizes. "Plan to rock this with a cozy sweat suit and a moto boot," adds Logan.
Photo: retailer
While you may associate Abercrombie & Fitch with your teenage mall days, style blogger Bethany Everett-Ratcliffe told us to check out the brand's asymmetrical fleece, which feels surprisingly sophisticated. "I have had this fleece for years, and there's a reason it keeps restocking after it sells out every year," she says. "It's cozy and fitted, which makes it easy to look cute while staying warm." There are nine different styles to choose from, including solids, two-tone colors, and even prints.
For a perennial classic, Strategist senior writer Karen Iorio Adelson swears by L.L.Bean: "I adore the color. Plus it's very cozy and has a big front 'kangaroo'-style pocket, and I like that I can snap or unsnap the neck depending on the temperature."
Best under-$200 fleeces for women


Photo: retailer
"When I think of winter fleeces, the first one that comes to mind is the North Face Denali jacket," says Everett-Ratcliffe. While she does note that, at $179, it's certainly not cheap, "you are truly paying for the quality." The fleece is also among the most size-inclusive on this list and is available from an XS to a 3XL. "For $20 more, there's one with a hood," she adds.
Photo: retailer
For a less expected silhouette from the North Face, Zoumanigui suggests the Cragmont fleece, which she says is "perfect for chillier fall days." She loves the length as well as the dark olive color.
Strategist junior writer Chloe Anello owns more than ten different fleeces, but the only one she owns multiples of is this pullover from Patagonia. "These are definitely the warmest," she promises. Plus, "they allow for easy layering underneath, without giving you that overstuffed feeling."
For a slightly more retro take on the Patagonia pullover, Zoumanigui suggests this one because she loves the pastel colors. "A fleece like this can give you the mood booster you need on gloomy fall days," she notes.