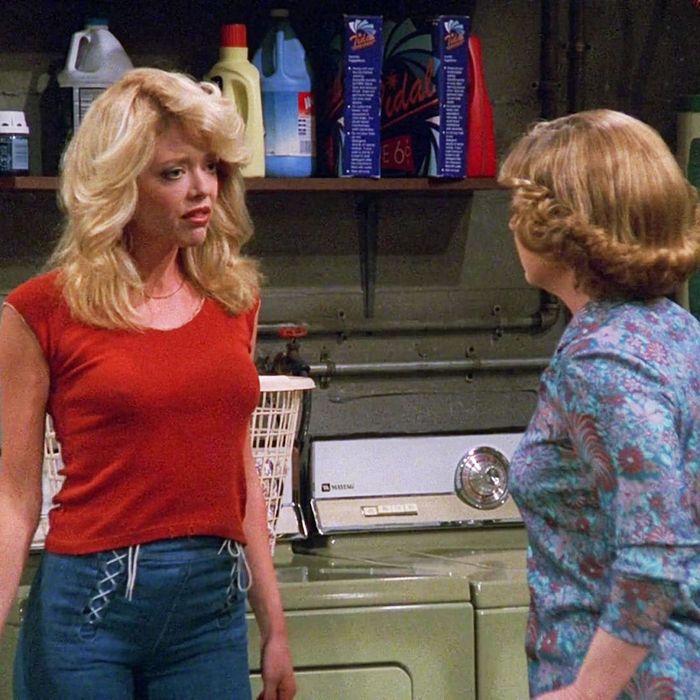 Recently, the activewear brand Girlfriend Collective introduced a new product that's a little different from its typical offerings of leggings, sports bras, and sweatpants: a washing-machine filter designed to capture microfibers (tiny pieces of fabric shed by clothing in the wash) before they enter the water stream. It may seem odd for a workoutwear line to get into appliance accessories, but it makes sense when you consider that sustainability has always been a core principle of Girlfriend Collective. The brand's leggings and sports bras are made with recycled plastic bottles, its T-shirts and tank tops are made in a zero-waste, zero-emissions factory in Japan, and all of its packaging is 100 percent recyclable.
Like most activewear, though, Girlfriend Collective's gear includes synthetic materials. Lycra, polyester, nylon, and fleece make your workout clothes stretchy, breathable, and moisture wicking, but they also shed microplastic fibers when you wash them. The washing-machine filter sounds like a neat solution for reducing microfiber pollution, but can it really make a big difference? And should we be concerned about microfibers in the first place? To find out, I asked six environmental scientists to explain what microfibers are and what we can do about them.
What are microfibers?
"Under a microscope, microfibers look like tiny little threads," says Chelsea Rochman, an assistant professor of ecology and evolutionary biology at the University of Toronto. She explains that all textiles, including clothing, upholstery, and carpeting (both synthetic and organic), constantly shed microfibers into the air (they're a major component of household dust) and water. Because microfibers are so ubiquitous in the environment — and their effect on human and animal health is still being studied — Julie Peller, a chemistry professor at Valparaiso University, says researchers often call microfiber pollution "the biggest pollution problem you've never heard of." Richard Venditti, a professor in the forest biomaterials department at North Carolina State University, estimates that 1 million microfibers are released in every load of laundry.
Synthetics, specifically, release a type of microfiber called microplastic fibers. Peller says microplastic fibers "act like other plastics in the sense that they're not nature compatible and they're not biodegradable. As opposed to cotton, wool, or other natural-based fibers, when these types of fibers are released into the environment, they don't break down." (That doesn't mean natural fibers are completely benign, however: Rochman says dyes and other additives often found in cotton textiles, like chemical treatments that make garments "wrinkle resistant," slow down the speed at which their microfibers break down, allowing them to build up in the environment along with microplastic fibers.)
What do microfibers do?
Once microfibers are released into the water stream, they can affect aquatic organisms in a number of ways. According to Rochman, some studies have shown that microfiber ingestion by zooplankton inhibits its growth and reproduction. Microfibers also attract other hazardous chemicals. That's especially true of microplastic fibers, which are hydrophobic (meaning they pull away from water) and bond to other hydrophobic substances like oil and gasoline. "They essentially become vectors for pollutants that can be harmful, like heavy metals or pesticides and insecticides," says Timnit Kefel, a Ph.D. student at UC Santa Barbara's Bren School of Environmental Science & Management. "By the time an organism eats a piece of plastic, it's likely super-concentrated with these toxic chemicals, and that bioaccumulates up the food chain," says Lauren Kashiwabara, a graduate student in marine biology who co-authored a study on microfiber and microplastic pollution in Monterey Bay. Becca Reynolds, a graduate student at UC Santa Barbara who works alongside Kefel, says "microfibers are small enough to interact with DNA and can disrupt DNA replication and lead to other issues," potentially causing lots of harm to aquatic organisms and the rest of the food chain.
How can you reduce your microfiber output?
One option that nearly all of our experts suggested is to wash your clothes less often. When it comes to activewear that you get sweaty in, consider switching to wool, which is naturally odor resistant so you may be able to get away with stretching the time between laundry loads. Brands like Smartwool and Icebreaker offer a wide range of wool activewear that's breathable, moisture wicking, and temperature regulating so it will keep you cool in summer and warm in winter. When you do have to wash your clothes, Rochman says a filter is a good idea. Her lab has lobbied federal and local governments to introduce policies that would require all new washing machines to have a microfiber filter, as they're especially effective when used on a large scale.
How do microfiber filters work?
Along with Girlfriend Collective's washing-machine filter, a handful of other products on the market are designed to filter out microfibers in the laundry. "They all have some sort of mechanism to trap them so that they don't leave our household in the first place," says Rochman. Microfibers are not recyclable, but "we can throw them in the garbage can and they will go to a landfill, which is better than into the environment," she says.
Microfiber filters to consider
The Girlfriend Collective filter attaches to your washing machine's drain line and uses a layer of thin steel mesh with tiny openings to trap microfibers. It has to be cleaned after every three loads of laundry. One of the brand's goals in creating a filter was to make it more accessible, so it's one of the most affordable filters on the market. Keep in mind, though, that you do have to purchase additional parts to install it. Reviewers say the installation process is a bit tricky, so you may want to call in a professional if you're not super-handy.
Like the Girlfriend Collective filter, the Lint LUV-R filter is installed on your washing machine to catch microfibers with a thin steel mesh. Rochman tested the Lint LUV-R in her lab, and her study found it had filtered out at least 80 percent of microfibers, depending on the size of the particles. Even though the Girlfriend Collective filter hasn't yet been independently tested, it uses a similar mechanism, so it's likely also very effective at trapping microfibers. You'll have to clean the Lint LUV-R out after every ten-to-15 loads of laundry.
Rochman also tested the Cora Ball, an orb that bounces around in the wash cycle and captures microfibers in its stretchy plastic arms. She found that it filtered out about 26 percent of microfibers. Even though it doesn't collect as many microfibers as the Lint LUV-R (or, potentially, the Girlfriend Collective filter), Rochman says the Cora Ball may be a better option if you don't want to go through the trouble of installing a filter on your washing machine or if the placement of your washing machine makes it impossible to fit a filter. It's also a good choice if you do your laundry at a laundromat or live in an apartment building or dorm and use a communal washing machine.
A study out of the University of Plymouth in the U.K. showed that the Guppyfriend wash bag was 54 percent effective in reducing microfiber pollution. It works by both reducing shedding and capturing microfibers in its mesh. Like the Cora Ball, it's a good solution if you can't install a filter on your washing machine. Its size limits how much clothing you can wash at once, so you may choose to just put your synthetics inside to cut down on microplastic fibers.
The Strategist is designed to surface the most useful, expert recommendations for things to buy across the vast e-commerce landscape. Some of our latest conquests include the best acne treatments, rolling luggage, pillows for side sleepers, natural anxiety remedies, and bath towels. We update links when possible, but note that deals can expire and all prices are subject to change.