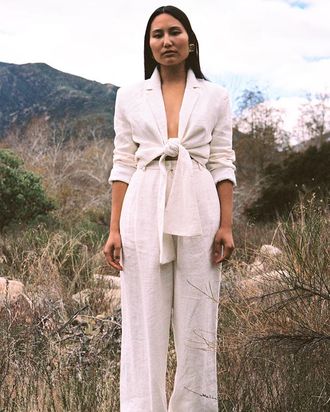 When it comes to clothing, the best way to be truly sustainable is to buy secondhand. But if you're looking for something new, sustainable fashion brands can be a solid choice for reducing your carbon footprint and ensuring that the people making your jeans, dresses, and bags are treated fairly. The problem: The process by which brands get to call themselves sustainable is largely unregulated. With the growing demand for sustainably made clothing, the term is thrown around pretty loosely.
So what does sustainable mean when it comes to fashion? Kristy Drutman, host of the podcast Brown Girl Green, says it prioritizes both environmental and social responsibility throughout the life span of a garment, from raw materials all the way to how long a piece of clothing will last in your closet. According to Haley Boyd, an expert on sustainable fashion sourcing, some brands are going as far as disclosing the wage of the lowest paid worker in their supply chain.
Very few companies are able to achieve true sustainability at every stage of the process, however, and often decide to put their efforts toward one area before moving on to the next. As a sustainability-minded consumer, instead of trying to find the perfect company that's accounting for everything, it's easiest to think about what is most important to you — better labor practices, less waste, or renewable raw materials — and focus your purchasing power on a brand with similar aims.
Thankfully, there are organizations that are happy to vet so-called sustainable brands for you and online resources like Good On You and The Fashion Transparency Index. In addition, nearly all of the experts we spoke to say consumers can avoid greenwashing (brands marketing themselves as environmentally conscious without backing up their claims) by looking for third-party certifications like bluesign, GOTS (Global Organic Textile Standard) certified organic, OEKO-TEX, fair trade, and B-Corp.
We talked to Drutman, Boyd, and six other experts about the sustainable clothing brands they love and buy from. To make the list easier to navigate, we've organized brands by key areas of impact. When a company does a good job in more than one area, we've noted that, too. One thing to note: The products below are more expensive than conventionally made clothing because they are made without cutting corners. But they are also made to last longer because that helps the planet too.
If
Your
Main
Concern
is
Responsibly
Sourced
Raw
Materials
Knickey
This NYC-based direct-to-consumer brand uses GOTS-certified organic cotton for both environmental and reproductive health reasons. According to Elizabeth L. Cline, journalist and author of The Conscious Closet, Knickey "uses high-quality natural materials that biodegrade" and adds that "plastic fibers persist in our environment, pollute our oceans, and are made out of oil." Organic cotton conserves water, reduces pollution, creates more biodiversity, and is safer for workers because pesticides are prohibited and only natural fertilizers can be used. Additionally, Knickey partners with a NY recycling company to recycle old socks, tights, and underwear from other brands — and keep them out of landfills.
Christy Dawn
Christy Dawn is known for their flowy floral dresses that are handmade from upcycled materials in Los Angeles. Boyd likes the company it is incredibly conscious of its impacts on both people and the planet throughout the entire life cycle of their products. "We need more metrics to measure how people are treated, but I think someone working on their farm in India or at their factory in L.A. would be 11 out of 10 on the happiness scale," she says. Christy Dawn also supports an important climate solution called regenerative agriculture, which Boyd explains draws carbon out of the atmosphere and locks it into the soil. "To me, it's one of the most exciting things happening in fashion," she says.
Babaà
Spanish brand Babaà sources the wool for its chunky sweaters from northern Spain. It's spun and dyed by Spanish artisans, as is most of their cotton, which comes from organic farmers in Andalucia. The brand's yarns are never mixed with acrylics or any other synthetic fibers, meaning the end product lasts a long time and is biodegradable. Also, all Babaà samples are donated to CEAR (Comisión Española de Ayuda al Refugiado), a refugee center in Getafe, Madrid. "I feel like they are so well made that they could definitely go to my daughter," says Caroline Priebe, founder of the Center for the Advancement of Garment Making.