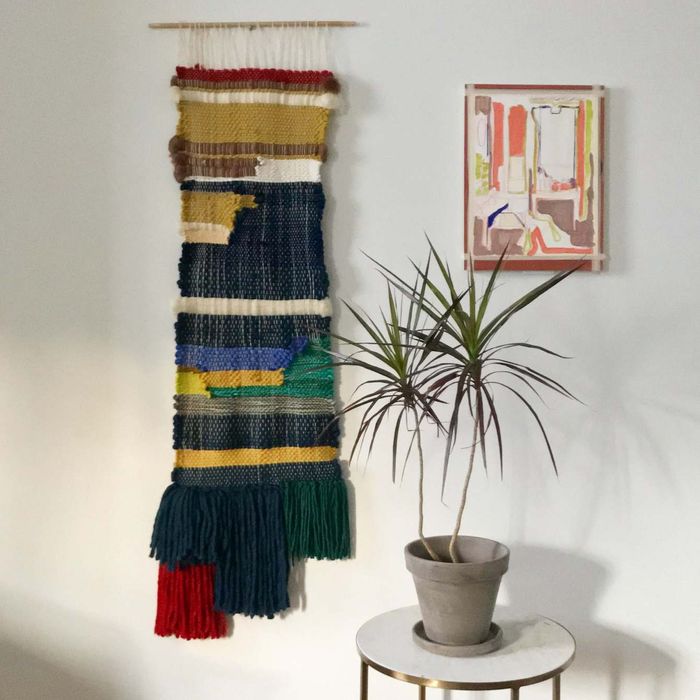 (Title) 2018: The body/country you have vs. the body/country you want
Photo: Avery Williamson
Lots of people have been seeking existential purpose from crafting, be it knitting or tie-dying or even making jam. Weaving — which has seen a recent resurgence in boho home décor — has become another (much needed) opportunity for folks to slow down and be present. "It's a meditative and solo endeavor," says artist Avery Williamson. And weaving is a craft that can be easily done with found items, including leaves and plastic bags or string from an old sock. "Some people see big looms and think it's scary, but you can actually try out this craft with little steps to see what you enjoy, and you don't need anything other than what you already have," explains Anne Weil, designer and maker at Flax & Twine and author of Weaving Within Reach.
Our experts also agree that knowing some basic terms, namely "warp" and "weft," is more important than having any one specific yarn or tool. (And they're important terms to understand as we start talking about the gear you need to weave.) If you imagine weaving in a square shape, "Your warp is vertical, it goes up and down, and your weft is horizontal, it's the string you move left to right," explains self-declared "artpreneur" Shenequa Brooks (whose artist name is SHENEQUA). In the most basic weaving technique, called plain weaving, your warp stays in a fixed position, while you move the string of your weft over-and-under the warp.
Whether you're looking to brighten up a wall with a hanging tapestry, or limit table messes with some (handmade) placemats, we spoke with five artists — including a couple who hold degrees in weaving, and others who have written books on the subject — about the best weaving books, techniques, and tools for getting started at home.
Weaving looms
Brooks, who herself started weaving on a floor loom in art school, knows that it can be intimidating to begin with a wooden apparatus, which is why she begins her children's weaving classes with cardboard looms, which are handheld pieces of cardboard with notches on the edge for stringing your warp. "Cardboard weaving is a great introduction to the basic motion of weaving, you can just get comfortable with the over-and-under repetition of plain weaving," she explains. Textile artist Bryana Bibbs also starts her weaving workshops off with cardboard looms, and recommends keeping some tape on hand to affix the first strand of the warp to the back of the loom. You can buy a pre-notched loom, like this one at Blick, but since Bibbs encourages her students to utilize found materials from their homes for weaving, she (and Weil) suggest making your own cardboard loom; an easy process which the Metropolitan Museum of Art details in their DIY mini loom-making video.
When it comes to wooden looms, all four of the loom-weaving experts who we spoke to recommend that beginners use a frame loom, which has built-in mechanisms for attaching the warp, and is the first step in an array of wooden looms (including upright looms, tabletop looms, and floor looms) that are used by expert weavers. Williamson actually began weaving on a homemade frame loom, literally made from an old picture frame and nails, and she says going the DIY route is a good way to "learn the rough mechanics of how weaving works, and find out if you're interested in it before investing money in something more advanced." If you do want to spend money on a wooden loom, Williamson swears by the Beka, which comes with removable dowel sides so "you could take it apart and pack it up, and then you can also modify it with different rods or dowels in order to make longer pieces."
Although Bibbs ordinarily uses a floor loom, she didn't have access to her studio early on in quarantine, so she crafted most of "The Quarantine Series" — a collection that highlights "nontraditional" weaving materials, which Bibbs used while sheltering in place  — on the Schacht Lilli Loom. "It's a sturdy wood frame and it comes with all the necessary weaving tools," she says (more on the tools below).
Folks can also begin weaving on a small, handheld square loom, which is similar to the plastic potholder looms found in elementary-school classrooms. "Even a big frame loom can be overwhelming, so this lets you practice the technique and see if it's something you enjoy without having a huge loom in your closet," Weil says, adding that even an eight-inch square loom is large enough to craft everything from coasters to jewelry. Weil herself has designed a hand loom, which, like the Lilli Loom, comes with weaving tools. Amazon, Etsy, and some yarn stores also carry hand looms.
Weaving loom tools
Even if your loom comes with a set of tools, it's essential to know their functions in order to use them correctly — and if your loom comes toolless, you'll need to stock up on these items. The most basic is the shuttle, which is a stick that carries your weft yarn, "so you can transfer yarn from the ball or cone to the shuttle, and then pass it through your weaving easily," explains Weil, adding that a stiff piece of mounting board could double as a shuttle in a pinch. Brooks notes that boat-shaped shuttles are popular for larger weaving projects, though they usually also require a bobbin (an internal spool around which you wrap your yarn). Yet another reason to start small.
In order to streamline the up-and-under technique of plain weaving, some weavers use a shed stick: a piece of wood that you weave into your warp in order to separate the upper and lower threads. (For a visual explanation, this video demonstrates the technique at 3:45.) "If you tilt the stick on its side, you get a space between the threads, called the shed, so then you can pass your shuttle through that shed in one direction instead of going over and under," Weil says.
Even with a shed stick, you still have to pick up-and-under the loom in (at least) one direction, which is where a weaving needle comes into play. Though you can pick across with your hand, both Williamson and Bibbs recommend using a thick, six-inch (or so) weaving needle for more ease.
When you weave your yarn won't just fall perfectly into place, which is why our experts suggest using a weaving comb to "push down the yarn and make sure it all stays in an even row," as Williamson puts it. A couple of experts point out that everything from forks to hair combs can also double as weaving combs, in a pinch.