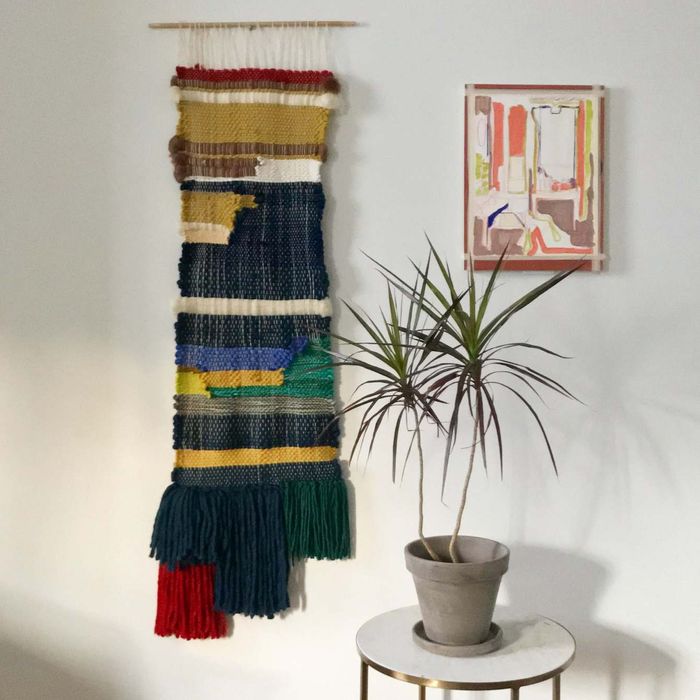 (Title) 2018: The body/country you have vs. the body/country you want
Photo: Avery Williamson
Lots of people have been seeking existential purpose from crafting, be it knitting or tie-dying or even making jam. Weaving — which has seen a recent resurgence in boho home décor — has become another (much needed) opportunity for folks to slow down and be present. "It's a meditative and solo endeavor," says artist Avery Williamson. And weaving is a craft that can be easily done with found items, including leaves and plastic bags or string from an old sock. "Some people see big looms and think it's scary, but you can actually try out this craft with little steps to see what you enjoy, and you don't need anything other than what you already have," explains Anne Weil, designer and maker at Flax & Twine and author of Weaving Within Reach.
Our experts also agree that knowing some basic terms, namely "warp" and "weft," is more important than having any one specific yarn or tool. (And they're important terms to understand as we start talking about the gear you need to weave.) If you imagine weaving in a square shape, "Your warp is vertical, it goes up and down, and your weft is horizontal, it's the string you move left to right," explains self-declared "artpreneur" Shenequa Brooks (whose artist name is SHENEQUA). In the most basic weaving technique, called plain weaving, your warp stays in a fixed position, while you move the string of your weft over-and-under the warp.
Whether you're looking to brighten up a wall with a hanging tapestry, or limit table messes with some (handmade) placemats, we spoke with five artists — including a couple who hold degrees in weaving, and others who have written books on the subject — about the best weaving books, techniques, and tools for getting started at home.
Weaving looms
Brooks, who herself started weaving on a floor loom in art school, knows that it can be intimidating to begin with a wooden apparatus, which is why she begins her children's weaving classes with cardboard looms, which are handheld pieces of cardboard with notches on the edge for stringing your warp. "Cardboard weaving is a great introduction to the basic motion of weaving, you can just get comfortable with the over-and-under repetition of plain weaving," she explains. Textile artist Bryana Bibbs also starts her weaving workshops off with cardboard looms, and recommends keeping some tape on hand to affix the first strand of the warp to the back of the loom. You can buy a pre-notched loom, like this one at Blick, but since Bibbs encourages her students to utilize found materials from their homes for weaving, she (and Weil) suggest making your own cardboard loom; an easy process which the Metropolitan Museum of Art details in their DIY mini loom-making video.
When it comes to wooden looms, all four of the loom-weaving experts who we spoke to recommend that beginners use a frame loom, which has built-in mechanisms for attaching the warp, and is the first step in an array of wooden looms (including upright looms, tabletop looms, and floor looms) that are used by expert weavers. Williamson actually began weaving on a homemade frame loom, literally made from an old picture frame and nails, and she says going the DIY route is a good way to "learn the rough mechanics of how weaving works, and find out if you're interested in it before investing money in something more advanced." If you do want to spend money on a wooden loom, Williamson swears by the Beka, which comes with removable dowel sides so "you could take it apart and pack it up, and then you can also modify it with different rods or dowels in order to make longer pieces."
Although Bibbs ordinarily uses a floor loom, she didn't have access to her studio early on in quarantine, so she crafted most of "The Quarantine Series" — a collection that highlights "nontraditional" weaving materials, which Bibbs used while sheltering in place  — on the Schacht Lilli Loom. "It's a sturdy wood frame and it comes with all the necessary weaving tools," she says (more on the tools below).
Folks can also begin weaving on a small, handheld square loom, which is similar to the plastic potholder looms found in elementary-school classrooms. "Even a big frame loom can be overwhelming, so this lets you practice the technique and see if it's something you enjoy without having a huge loom in your closet," Weil says, adding that even an eight-inch square loom is large enough to craft everything from coasters to jewelry. Weil herself has designed a hand loom, which, like the Lilli Loom, comes with weaving tools. Amazon, Etsy, and some yarn stores also carry hand looms.
Weaving loom tools
Even if your loom comes with a set of tools, it's essential to know their functions in order to use them correctly — and if your loom comes toolless, you'll need to stock up on these items. The most basic is the shuttle, which is a stick that carries your weft yarn, "so you can transfer yarn from the ball or cone to the shuttle, and then pass it through your weaving easily," explains Weil, adding that a stiff piece of mounting board could double as a shuttle in a pinch. Brooks notes that boat-shaped shuttles are popular for larger weaving projects, though they usually also require a bobbin (an internal spool around which you wrap your yarn). Yet another reason to start small.
In order to streamline the up-and-under technique of plain weaving, some weavers use a shed stick: a piece of wood that you weave into your warp in order to separate the upper and lower threads. (For a visual explanation, this video demonstrates the technique at 3:45.) "If you tilt the stick on its side, you get a space between the threads, called the shed, so then you can pass your shuttle through that shed in one direction instead of going over and under," Weil says.
Even with a shed stick, you still have to pick up-and-under the loom in (at least) one direction, which is where a weaving needle comes into play. Though you can pick across with your hand, both Williamson and Bibbs recommend using a thick, six-inch (or so) weaving needle for more ease.
When you weave your yarn won't just fall perfectly into place, which is why our experts suggest using a weaving comb to "push down the yarn and make sure it all stays in an even row," as Williamson puts it. A couple of experts point out that everything from forks to hair combs can also double as weaving combs, in a pinch.
Both Williamson and Brooks say that they like to do some sketching to plan out their weaving before they hop on the loom. Strategist writer and illustrator Liza Corsillo, actor Rob Corddry, and the guy who drew Bugs Bunny all swear by Blackwing Pencils for their doodling.
It might seem like a no-brainer, but "having a soft tape measure is an essential tool for mapping out how you want to make a weaving," says Brooks.
Weaving yarn
All four of the loom-weaving experts we spoke to agree that you can weave your weft with almost any material — Brooks uses synthetic hair in her artwork, Williamson has woven with plastic bags, and both Weil and Bibbs say you can weave with unwoven material from old socks and sweaters, or old T-shirts and jeans cut into one-inch strips. However, when it comes to your warp, most of the experts suggest using sturdy cotton yarn. "When you're putting the warp on, you're applying tension, so you don't want something that'll break," explains Brooks. Although a lot of the yarn she uses is hand spun, in her weaving workshops Bibbs uses the 100 percent cotton Lily Sugar 'N Cream Yarn, because "it's a good basic, inexpensive cotton yarn that's really sturdy and comes in a good variety of colors." If you want to make something with a balanced weave, such as a patterned fabric or usable napkins, Weil notes that "you want to have a warp and weft of the same material and size, and you need to make sure that your spacing is appropriate; if you use the same material, but space the warp too wide, then it'll be a weft-faced fabric."
"I also like Darice Craft Fluff, it's a synthetic, fluffy fiber that's really enjoyable if you're starting off," adds Bibbs. 
Both Brooks and Williamson say that a part of how they chose their yarn is by feel. "I like to go into yarn shops, like Spun in Ann Arbor, and feel the yarn, it's very much an exciting adventure of texture," says Williamson, adding that since there are so many different yarn options, choosing what to use is an essential part of a beginner's weaving process. Williamson also stresses the importance of supporting Black-owned yarn shops and yarn dyers, like String Thing Studio in Brooklyn, which sells Strategist-recommended Clinton Hill Cashmere Bespoke online and is now open by appointment.
Free weaving
Free weaving, also known as no-loom weaving, is a technique that doesn't require any kind of loom, and can be used to make everything from baskets to jewelry and rugs. It is ideal for weavers who don't want to invest in a loom, or prefer the organic shapes that are sometimes associated with the craft. For free-woven baskets, Weil recommends using a stiff weaving material, because "the structure comes from the material that you're working with, so soft and floppy string is going to make a soft and floppy container." She uses a 100 percent cotton, three-strand rope, but says that stiff laundry-line rope or sash cord will also suffice. With this rope, Weil uses a twining technique to make the basket base and to weave around the sides of the basket. "The spines that go out of the base, that's kind of like your warp thread, because even though it's not stretched on a loom, you're weaving around that with a weft," she explains.
"The other fiber I love for baskets is a felted wool, which has more structure than a typical yarn," says Weil.
For most free-woven baskets, Weil recommends using a vessel as a mold. "You can use a pot that your latest plant just died in, or a vase or a glass, basically anything you love the shape of," she says, adding that you can use the twining technique around the vessel to get your desired shape.
Weil notes that some free-weaving basket projects have no set structure, resulting in a more amorphous, organic shape. That's how Lisa Levy, an art teacher and interdisciplinary visual artist (and, full disclosure, my mother), weaves. Levy got into free weaving as a way of upcycling (my) old T-shirts, which can be easily turned into continuous strands of yarn when cut in a specific way. "I began to crochet the yarn in a circle, because that's the only technique I knew, and after a while it began to curl into itself, so I made a pouf and stuffed it with the remaining shirts and old upholstery foam" she says. Since then, Levy's used the technique to make free-woven rugs, adding that the crochet hook serves as a good tool, because "it becomes hard on your fingers or hands to pull the string in and out, so the hook does that work for you." For making circular rugs (especially with kids) Levy recommends weaving with a hula hoop, which Weil has a tutorial for on her website.
Books
Since there are so many different techniques beyond plain weaving, most of our experts say that books are one way to learn more about different patterns. For beginners, both Weil and Bibbs recommend Fiona Daly's Weaving on a Little Loom, which Bibbs describes as a "go-to for first-time weavers who are interested in cardboard loom weaving, frame weaving, and tapestry techniques."
If you're interested in exploring more complicated patterns, Brooks recommends finding a resource for the specific technique that you're interested in. For a more general resource, Bibbs says this book by weaving "legend" Else Regensteiner distills an array of patterns, techniques, and tools that are important "for beyond the up-and-over weaving."
Resources
In addition to free online resources — including Instructables, the DIY world of YouTube, and weavers on Instagram — several of the experts we spoke to mentioned that joining a virtual class or getting one-on-one instruction can be a helpful way to overcome any initial worries or frustrations. Weil has an array of technique-specific weaving workshops available online, Bibbs is teaching an introductory weaving workshop in August, and Williamson teaches virtual one-on-one lessons (which you can set up over email at info@averywilliamson.com).
The Strategist is designed to surface the most useful, expert recommendations for things to buy across the vast e-commerce landscape. Some of our latest conquests include the best acne treatments, rolling luggage, pillows for side sleepers, natural anxiety remedies, and bath towels. We update links when possible, but note that deals can expire and all prices are subject to change.