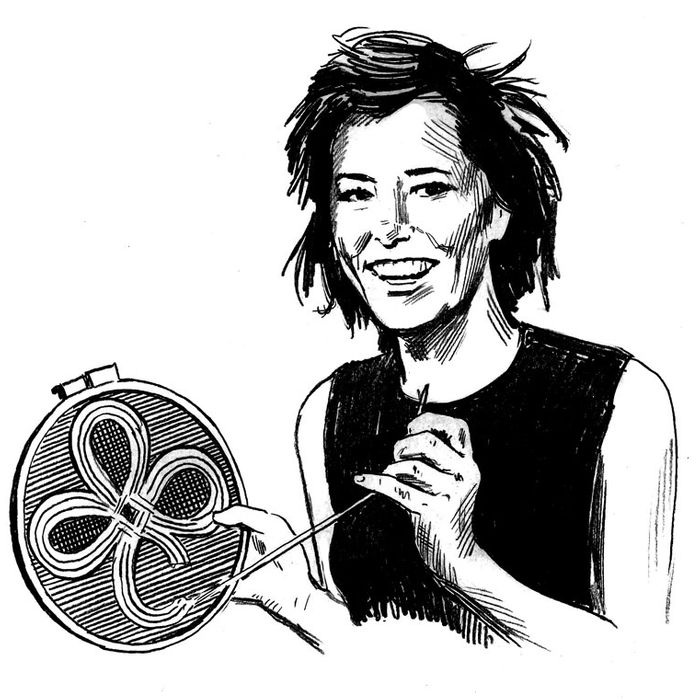 Illustration: Joe McKendry
Parker Posey (a longtime needlepointer) on everything a beginner needs to know, from the eyeglass-case kits that quickly made Cameron Diaz capable to the 1973 pattern book written by an NFL legend.
➽ Needlepoint is easy. People are like, "Oh, that's hard!" But it can just be the same stitch over and over. There's not really counting like with knitting. And a needlepoint canvas is contained. It's just filling in a grid of plastic or mesh — very simple.
➽ Think of it as a form of meditation. Both my grandmothers were southern women who would sit on the porch and sew during difficult times. If there ever was a time to sit down and go stitch by stitch and color by color, it's now, right? It feels like meditation: Colors and patterns and stitches are things that are peaceful and grounding and simple.
➽ And you do have the patience for it. Some people say, "Oh, I don't have the patience." I'm like, "Do I look impatient?" I'm neither impatient nor stressed out because I'm sitting, focusing on the canvas in front of me. I know that I might be here for a while, but it'll come together eventually. I grew up doing it: I had loads of allergies, and I would just sit on the floor waiting for the allergy doctor, stitching away.
➽ Learn the Continental tent stitch. It's a basic stitch. Here, let me read the instructions from a kit: "The stitches are worked horizontally across the canvas; the back of your work will appear as a series of long diagonal lines. To begin, pull a length of wool, knot one end, and insert your needle from front to back." Your fingers will become more nimble as you start to do it.
➽ Get an all-inclusive kit. It should come with canvases, needles that are the proper size for that canvas, and yarn. Canvases that come with patterns printed on them are easier to follow, as you just sew over it to re-create the design. I particularly like the patterns from Charley Harper and Emily Peacock's kits. In fact, I'm making Emily's "Get Over It" canvas right now.
[Editor's note: Emily Peacock lists all prices in British pounds, so the prices shown from that retailer are approximate conversions in U.S. dollars.]
➽ Or just search for turtles or cardinals. While filming Lost in Space, Taylor Russell was like, "I want to know how to needlepoint!" So I said, "What do you like? Turtles? Birds?" She said she liked cardinals. So I said, "Type in 'cardinal needlepoint' on eBay or Etsy."
➽ Or needlepoint "jazz style" like Liza Minnelli. When I worked with Liza on The Oh in Ohio, she was like, "I used to love to needlepoint. I did it jazz style." That means she'd use whatever colors of yarn she wanted instead of following a premade pattern.
➽ Eyeglass-case kits are also good for beginners. I got some eyeglass-case kits — there are nice ones on Etsy — for Selma Blair, Cameron Diaz, and Christina Applegate on the set of The Sweetest Thing. They hadn't done needlepoint before, but they picked it up and enjoyed it.
➽ If you screw up a stitch, unsew it. One mistake you can make is to pull too tightly on the yarn. Generally, you can use just your fingers to take the stitch out. But if it's really too tight, you may have to use tiny sewing scissors to cut the yarn. Or a ripper, a metal tool that has a very pointed tip. But take care not to rip the canvas — if you cut a hole in it, you're screwed.
➽ When you're done, steam the canvas. Or stretch it around a frame like a painter's canvas so it evens out.
➽ Read some needlepointing books from the '70s to figure out what to make. Rosey Grier's Needlepoint for Men is great for figuring out what to make and for pattern inspiration. Rosey's so sweet — he's a famous football player. His book, which was written in 1973, includes step-by-step instructions for more complicated things like tennis-racquet covers and easier things like pillow shams and lots of photographs of boys and men needlepointing back then. There's another book, The Work of Craft, from 1979, about makers' relationships to their crafts, that I enjoy reading. It settles my soul.
➽ You can find a lot of half-started kits on eBay and Etsy. There are loads of people selling kits from the '40s, '50s, '60s, '70s, and '80s. Many come with yarn. I bought another canvas on eBay. It was someone's grandmother's — her eyes had gotten worse, and she couldn't see anymore — and was only a quarter done. It had a black background with all these roses and other flowers in really vibrant colors. When I finished it, I put it on a bench.
*A version of this article appears in the April 13, 2020, issue of New York Magazine. Subscribe Now!
The Strategist is designed to surface the most useful, expert recommendations for things to buy across the vast e-commerce landscape. Some of our latest conquests include the best acne treatments, rolling luggage, pillows for side sleepers, natural anxiety remedies, and bath towels. We update links when possible, but note that deals can expire and all prices are subject to change.