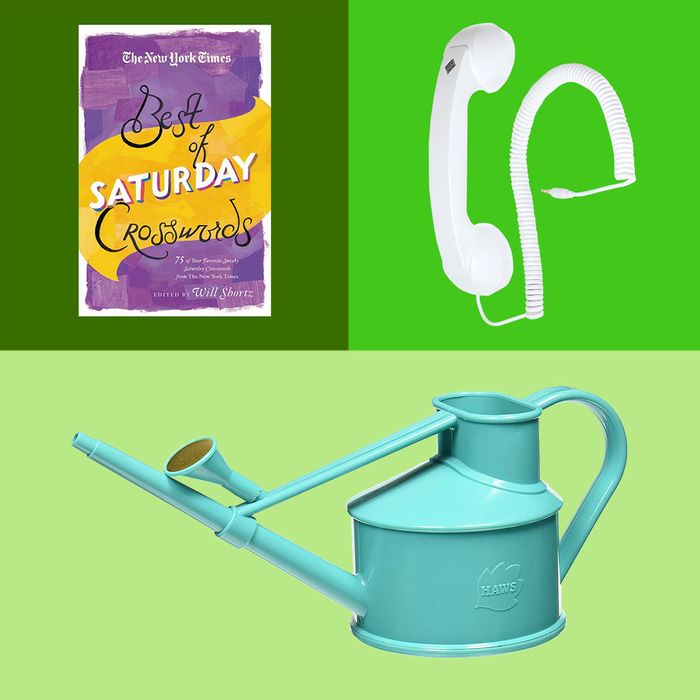 Photo: Courtesy of the vendors
Whether you're looking for a birthday gift or just something to let them know you're thinking about them, finding the right thing for a grandparent can be just as tricky as shopping for anyone else on your list. Like moms or dads, grandparents (who are also moms and dads) are all unique. Some carry iPhones, others still use landlines. Some love to cook, others love to knit. Some prefer sweating to the oldies; others, a warm cuppa and good crossword puzzle. And although many may tell you the best gift is more time together, there are situations — like our present moment — when that simply isn't an option. To help you find the right gift for your grandparent (be it a ma, pa, or both) we've put together the below list of 32 items that include something for just about every type there is, whether they cook up a storm, spend every Saturday with a crossword, love to exercise, or are as obsessed with their plants and pets as they are with their grandkids.
For the grandparent who has a photo of you as their phone background
For the grandparent who does the crossword in pen
For the grandparent who loves New York
For the grandparent who knits
For the grandparent who needlepoints
For the grandparent whose Mr. Coffee is on its last legs
For the grandparent who wears the same pleated khakis day in and day out
These Lululemon styles for women and men will offer them that "dressed-up" feel of actual pants but the comfort of sweats. According to The Devil Wears Prada author Lauren Weisberger, the women's On The Fly joggers "have an elastic waist and are cropped, and the material is kind of crêpey and silky and hangs better than they have any business hanging." And men's ABC pants, a favorite of Strategist writer Louis Cheslaw, "look like suit trousers, but feel far more comfortable," he says.
For the grandparent who could use a little help around the house
For the grandparent who swaps cookie recipes with you
For the grandparent who swaps every recipe with you
For the grandparent with a green thumb
For the grandparent who still writes you letters
For the grandparent with achy feet
For the grandparent with chilly feet
When we recently asked cool people about their favorite slippers, Vogue market editor Naomi Elizée told us she owns four pairs of Ugg's shearling-lined Cozette slides for padding around the house, making them a warm and surprisingly stylish option. If you're looking for a pair for grandpa, these Ugg Olsen moccasins are praised by reviewers, one of whom says that "every step is like a plush carpet underneath your feet."
For the grandparent who starts every day with a stroll
Should your grandparent be looking for comfy shoes they can wear inside and out, these women's clogs from Merrell came recommended to us by fashion designer Sandy Liang, who says they're "the most comfortable shoes I've ever worn." Between their warm lining, slip-on style, and snug (but not too snug) fit, they'll be perfect for grandma's daily meander. For grandpa, Merrell's Jungle Mocs are more or less the men's equivalent (and come praised by podiatrists as one of the best orthopedic shoes you can get).
For the grandparent with a sweet tooth
For the grandparent who always asks to 'turn on Netflix' when they visit
For the grandparent who loves to draw a bath
For the grandparent who likes to curl up with a book
For the grandparent who likes to curl up with a book under a blanket