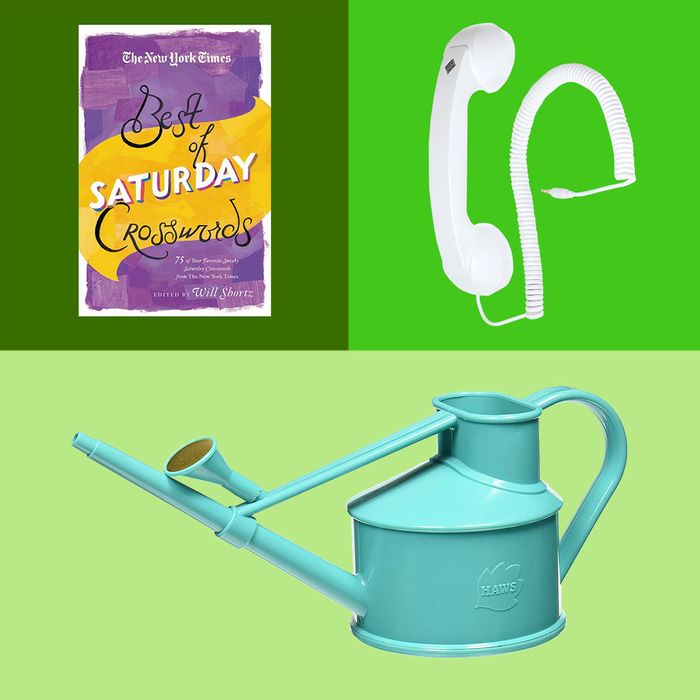 Photo: Courtesy of the vendors
Whether you're looking for a birthday gift or just something to let them know you're thinking about them, finding the right thing for a grandparent can be just as tricky as shopping for anyone else on your list. Like moms or dads, grandparents (who are also moms and dads) are all unique. Some carry iPhones, others still use landlines. Some love to cook, others love to knit. Some prefer sweating to the oldies; others, a warm cuppa and good crossword puzzle. And although many may tell you the best gift is more time together, there are situations — like our present moment — when that simply isn't an option. To help you find the right gift for your grandparent (be it a ma, pa, or both) we've put together the below list of 32 items that include something for just about every type there is, whether they cook up a storm, spend every Saturday with a crossword, love to exercise, or are as obsessed with their plants and pets as they are with their grandkids.
For the grandparent who has a photo of you as their phone background
This photo frame is a long-time Strategist favorite, as well as being one of the best-rated digital photo frames on Amazon, according to reviewers. Fans love it for its picture quality, motion sensor, and smart settings like a sleep timer that ensures it isn't using unnecessary electricity.
For the grandparent who does the crossword in pen
New York book critic Molly Young told us that she loves this book of extra-challenging Saturday crossword puzzles from the New York Times, and promises that any "badass solver" would love it, too.
For the grandparent who loves New York
If they love coming to visit you in the Big Apple, or just its bright lights in general, one way to give them their fix until they can visit again would be to send some genuine New York bagels from Upper West Side institution Zabar's.
For the grandparent who knits
Will they end up gifting the final result of this Strategist-approved sweater kit to you once it's finished? Probably. But that's a good thing, considering how nice the finished product looks.
For the grandparent who needlepoints
This needlepoint kit from Make Workshop features a design they surely won't have attempted before. The brand comes recommended by Erica Cerulo and Claire Mazur (whose former store, Of a Kind, was beloved for its impeccably curated selection) who say that there are "not nearly as many modern-looking needlepoint projects as there should be."
For the grandparent whose Mr. Coffee is on its last legs
For the grandparent who wears the same pleated khakis day in and day out
These Lululemon styles for women and men will offer them that "dressed-up" feel of actual pants but the comfort of sweats. According to The Devil Wears Prada author Lauren Weisberger, the women's On The Fly joggers "have an elastic waist and are cropped, and the material is kind of crêpey and silky and hangs better than they have any business hanging." And men's ABC pants, a favorite of Strategist writer Louis Cheslaw, "look like suit trousers, but feel far more comfortable," he says.
For the grandparent who could use a little help around the house
To lighten their load, treat your grandparent to the best-rated robot vacuum on Amazon, according to reviewers. As one happy customer (literally) summed up: "This thing sucks!"
For the grandparent who swaps cookie recipes with you