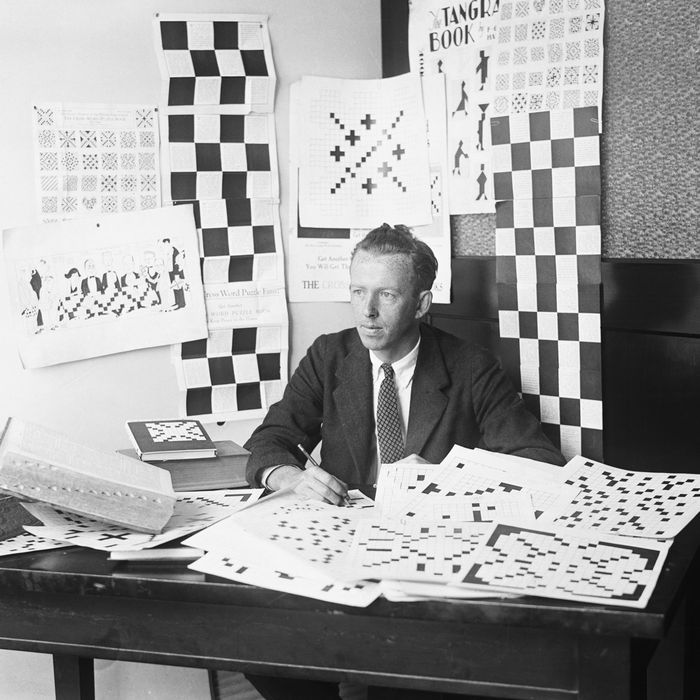 If there was ever a time to get into crosswords, this is it. And not just because we're all stuck at home: As Will Shortz, the New York Times crossword editor and one of the best-known names in the game, told us, "We're living in the golden age of crosswords — they've never been as interesting or as well made as they are now, partly because they're not as bookish as they used to be, the themes are more interesting, and they connect more to real life." And while you can do a daily crossword if you have a print newspaper subscription (or puzzles online, including New York's by Matt Gaffney, which go up every Sunday night), there's something satisfying about moving page by page through a puzzle book. To get a sense of the best books out there, we talked to Shortz and three other crossword experts about their favorites.
Elizabeth Gorski, the editor of Crossword Nation and a crossword contributor to The New Yorker, recommends Simon & Schuster's Mega Crossword series (full disclosure, she has contributed to the series) and says she likes to give the books as gifts because they are good "intermediate-level" puzzles. But there's something in the books for puzzlers of all kinds, according to Gorski: "I like Mega's variety of puzzles: You'll find crosswords made by folks of all ages and backgrounds. There's something for everyone — simple 15x puzzles, big Sunday-sized crosswords, themelesses of various sizes, literary themes, and tricky rebuses." If you're just getting into crosswords, the Mega books might be a good place to start. "I wouldn't hesitate to recommend them for beginners, as well," says Gorski. "There's no crime in looking up an answer or two to nudge you along while solving. I liken it to musical study — whether we're studying the viola or solving puzzles, it's important to review our mistakes if we want to hone our skills." Gorski notes that the paper in the Mega Crossword books is "high quality," which is important "because you won't destroy the page when you 'accidentally' stab the puzzle with your pen or pencil while recoiling from a bad pun" (or while crossing out mistakes) and that the pages are perforated so that you can tear out a few puzzles rather than carrying the whole book around.
Both Adrienne Raphel, author of the new book Thinking Inside the Box: Adventures With Crosswords and the Puzzling People Who Can't Live Without Them, and New York Magazine literary critic and crossword enthusiast–author Molly Young recommend collections of Times crosswords. "You can't go wrong with any of Will Shortz's for the New York Times, depending on whether you want easy (Monday) or fiendish (Saturday)," says Raphel. For those starting out, try a Monday volume, which come in various sizes (you can buy one with 50 puzzles or 200) and which will start getting you into shape for those more difficult days further in the week.
Matt Gaffney, who writes crosswords for New York, told us that this collection, which has 72 puzzles and is edited by "living baby boomer legend" Stanley Newman ("legend" isn't an overstatement — his puzzles are syndicated globally to over 100 newspapers) is another worthy Monday-level crossword-puzzle book. "They're simple, fun puzzles," says Gaffney.
And while the puzzles in the Easy As Pie book aren't actually food-themed, fear not: There are plenty of food-centric crosswords in Erik Agard's Food for Thought. "It's a food-themed book of crosswords, written by the greatest crossword writer of the millennial generation," says Gaffney. "Agard is one of the seven puzzle writers in The New Yorker's rotation, and he's also a three-time Jeopardy! champ — he's the kind of puzzle writer where you can sense his cleverness in pretty much every puzzle he makes." Gaffney suggests this book for puzzlers of all levels.