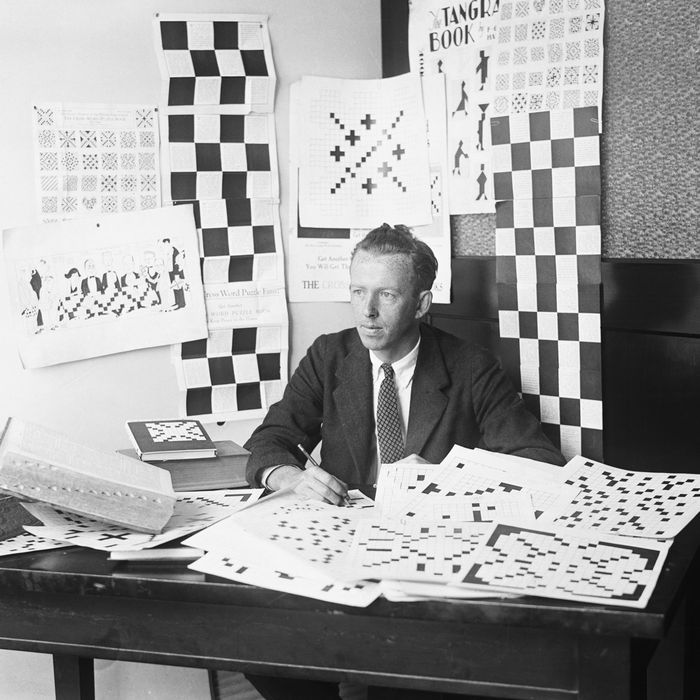 If there was ever a time to get into crosswords, this is it. And not just because we're all stuck at home: As Will Shortz, the New York Times crossword editor and one of the best-known names in the game, told us, "We're living in the golden age of crosswords — they've never been as interesting or as well made as they are now, partly because they're not as bookish as they used to be, the themes are more interesting, and they connect more to real life." And while you can do a daily crossword if you have a print newspaper subscription (or puzzles online, including New York's by Matt Gaffney, which go up every Sunday night), there's something satisfying about moving page by page through a puzzle book. To get a sense of the best books out there, we talked to Shortz and three other crossword experts about their favorites.
Elizabeth Gorski, the editor of Crossword Nation and a crossword contributor to The New Yorker, recommends Simon & Schuster's Mega Crossword series (full disclosure, she has contributed to the series) and says she likes to give the books as gifts because they are good "intermediate-level" puzzles. But there's something in the books for puzzlers of all kinds, according to Gorski: "I like Mega's variety of puzzles: You'll find crosswords made by folks of all ages and backgrounds. There's something for everyone — simple 15x puzzles, big Sunday-sized crosswords, themelesses of various sizes, literary themes, and tricky rebuses." If you're just getting into crosswords, the Mega books might be a good place to start. "I wouldn't hesitate to recommend them for beginners, as well," says Gorski. "There's no crime in looking up an answer or two to nudge you along while solving. I liken it to musical study — whether we're studying the viola or solving puzzles, it's important to review our mistakes if we want to hone our skills." Gorski notes that the paper in the Mega Crossword books is "high quality," which is important "because you won't destroy the page when you 'accidentally' stab the puzzle with your pen or pencil while recoiling from a bad pun" (or while crossing out mistakes) and that the pages are perforated so that you can tear out a few puzzles rather than carrying the whole book around.
Both Adrienne Raphel, author of the new book Thinking Inside the Box: Adventures With Crosswords and the Puzzling People Who Can't Live Without Them, and New York Magazine literary critic and crossword enthusiast–author Molly Young recommend collections of Times crosswords. "You can't go wrong with any of Will Shortz's for the New York Times, depending on whether you want easy (Monday) or fiendish (Saturday)," says Raphel. For those starting out, try a Monday volume, which come in various sizes (you can buy one with 50 puzzles or 200) and which will start getting you into shape for those more difficult days further in the week.
Matt Gaffney, who writes crosswords for New York, told us that this collection, which has 72 puzzles and is edited by "living baby boomer legend" Stanley Newman ("legend" isn't an overstatement — his puzzles are syndicated globally to over 100 newspapers) is another worthy Monday-level crossword-puzzle book. "They're simple, fun puzzles," says Gaffney.
And while the puzzles in the Easy As Pie book aren't actually food-themed, fear not: There are plenty of food-centric crosswords in Erik Agard's Food for Thought. "It's a food-themed book of crosswords, written by the greatest crossword writer of the millennial generation," says Gaffney. "Agard is one of the seven puzzle writers in The New Yorker's rotation, and he's also a three-time Jeopardy! champ — he's the kind of puzzle writer where you can sense his cleverness in pretty much every puzzle he makes." Gaffney suggests this book for puzzlers of all levels.
"You can get a whole book of whichever day best suits your solving level, whether it is Monday, Tuesday, or beyond," says Young. "I, a 'badass solver,' prefer the Saturday collections." Young told us that the Saturday puzzles are "the trickiest, with the most sophisticated grids," though they do lack the themed clues of the earlier weekday puzzles. If you're a regular Times crossword solver, try ordering a volume from a few years ago. "I like to buy older books because it is less likely that I will have previously solved the puzzles within," says Young.
"Right now, I'd go for any of the Sunday Omnibus collections," says Raphel of the Times' extra-large, 21-letter-by-21-letter puzzles (a standard crossword is 15 x 15). "It's like getting a 2,000-piece instead of a 1,000-piece jigsaw — I like to leave one lying around the house and let my subconscious brain simmer on these all day, or all week, or all … any amount of time." Raphel says these are "the juiciest puzzles."
If you want to pair your 5 p.m. glass of Merlot with an on-theme puzzle book, Gaffney suggests Drunk Crosswords: "They're alcohol-themed puzzles from two A-plus list Gen-X crossword writers." The puzzles are on the medium-hard level, and include cocktail puns and clues based on drinking games.
If you want a little history with your crosswords, Raphel suggests ethnomusicologist and crossword editor Ben Tausig's The Curious History of the Crossword. "Each chapter dives into some aspect of crossword culture: A particularly thoughtful section charts the troubling underrepresentation of women in prominent crossword publications during the end of the 20th century," says Raphel. Alongside the history, you'll find a "treasure trove" of 100 puzzles from the past 100 years, to celebrate the 100th anniversary of the crossword form in 2013.
"My number one suggestion is Games magazine," says Young. "It's a now-defunct magazine stuffed with puzzles and terrific design. The tone of the magazine is very 'Hark! My fellow nerds — let us feast upon puzzles!'" Young says the magazines, which were edited by Shortz in the early 1990s, have crosswords as well as cryptic crosswords, "the devilish mistresses to normal crosswords" and "an overwhelming basket of solvable challenges."
Editor's note: This particular set of back issues is sold out, but you can find many other Game Magazine issues from various Ebay sellers.
Shortz is also a fan of the difficult, cryptic crosswords mentioned by Young. "What I like to do most are cryptic crossword puzzles in the British style, but by American puzzle-makers — there are some really nice ones that have appeared in the Nation magazine for years and years." Shortz explains that the difference between American and British puzzles lies in the wording of the clues. "American crosswords have straightforward clues, whereas in the British style, you have clues that involve anagrams, homophone reversals, and other kinds of wordplay." Shortz's preferred puzzles from the Nation are available in collections, which he calls "addictive and really well made."
And if all of your puzzling has left you inspired to write your own puzzle, Raphel told us about the Crossword Constructor's Handbook, which you can buy online as a PDF. Raphel says that the author, Patrick Berry, is "the so-called 'Thomas Pynchon of crosswords' — an innovative wizard, regular constructor for the New York Times, The New Yorker, etc.," and that the tome is "one of the best books on construction out there — really clear instructions and insider tips."
Raphel also suggests having a crossword puzzle dictionary on hand, which is not the same as your regular old Webster's: "It's sort of the zedonk of word reference guides, a hybrid of a dictionary and thesaurus, and incredibly useful. For each entry, it'll give you helpful other words and related phrases, with their lengths," she says. A crossword-specific dictionary will help verse you in some puzzler lingo: "So if you see 'A1' as clue for a four-letter answer, the dictionary will let you know that it might be 'best' or 'tops.'"
And if all of this puzzling has you wanting to learn more about the history and craft, pick up a copy of Raphel's new book, Thinking Inside the Box: Adventures With Crosswords and the Puzzling People Who Can't Live Without Them, which Shortz told us he "highly recommends for anyone who loves crosswords."
We may be biased, but our list of the best crossword-puzzle books wouldn't be complete without New York Crosswords: 50 Big Puzzles, which includes 50 recently published crossword puzzles by expert puzzler Cathy Allis and a classic puzzle from the New York archives, made by Stephen Sondheim in 1968.
The Strategist is designed to surface the most useful, expert recommendations for things to buy across the vast e-commerce landscape. Some of our latest conquests include the best acne treatments, rolling luggage, pillows for side sleepers, natural anxiety remedies, and bath towels. We update links when possible, but note that deals can expire and all prices are subject to change.