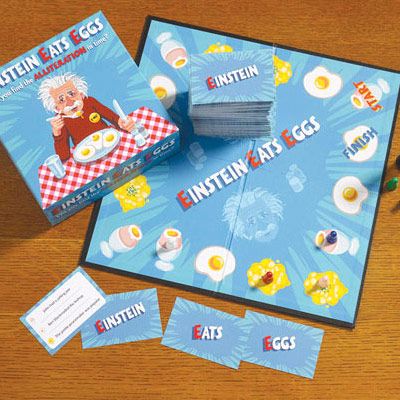 Photo: Courtesy of the retailer
Back in 2012, while working at a high-end skin-care brand in London, I started to set aside some of my salary to invest in my first board-game prototype. I would bring that prototype to the office with me, in addition to refining it on evenings and on weekends, before ultimately quitting my day job to start my own company Clarendon Games, where I've since turned that prototype into a real game called Perigon — and launched 11 other board and card games that we sell in the U.K. and worldwide.
When it comes to designing board games, what I think we Brits do best is infuse them with a quirky, at times surrealist, sense of humor (imagine Monopoly, but created by Monty Python). We excel at light-hearted, performance-based concepts — an idea that dates all the way back to the parlor games our Victorian ancestors played. Riddles, tongue-twisters, and wordplay are also inherent; we are the land of Dickens and Shakespeare, after all. Brits are also often drawn to outward-looking games that reflect the world around us (a detail I'm particularly proud of when it comes to British board gaming).
Of course, a lot of what makes a game good or not (wherever it's made) comes down to personal taste. I'm generally drawn to games that nod to the traditional but offer a modern twist, and aren't too intensely competitive — you don't want to get too focused that it gets in the way of chatting, laughing, or (heaven forbid) drinking. I also like the drama inherent in games where everyone has the potential to win right up until the last minute, and prefer games that allow everyone to play at once, so you're not waiting for six other people to take their turn before you're up again. Below are seven of my favorite less-obvious British board games, all of which offer a taste of how we like to play on this side of the pond, and some of which might feel more familiar than you think. [Editor's note: some of the games are shipped from overseas and thus may require longer delivery times.]
Ticket to Ride is an adventure travel game loaded with intrigue and opportunities for espionage and subterfuge, which is one reason I like to tell friends to think of it as an analog version of the classic video game Where in the World Is Carmen Sandiego. Suitable for between two and five players, this features a playing board designed to look like a dynamic map, and challenges you to connect routes and railways in order to travel across 19th-century Great Britain in an afternoon.
I've heard this game described as Jenga meets Pokémon, and I wouldn't put it any other way. The object is to use the pieces, some of which look like futuristic animals (Pokémon), to build an elaborate tower without letting it fall (Jenga). It's part physical, but also part digital, because there is a corresponding app you can download for free once you've bought the game. The app is an extension of the world you create on the board; you can add plot twists and design unique creatures to increase your score. Because of its whimsical design, Beasts of Balance is also great for families and kids over 6. Apparently, the game's concept came to its founder when he was building a campfire, and was suddenly struck by the balance and symmetry of the stacked logs.
This game has a lot going for it. For starters, it can be played alone or with a group. It's also compact and easy to travel with, making it ideal for weekends away and family holidays. To play, you simply roll the dice — each side of which is adorned with different images depicting actions, objects, and settings — and use your imagination to create a story based on the images that land facing up. I find it truly cathartic, edifying, and mood-enhancing. The complete set shown comes with four themed sets of dice, including "original," "actions," "voyages," and "fantasia."
This party game — which says its playable for between four and 50 people as young as 8 years old — also promises to stimulate creativity by challenging participants to draw, act, and describe their way to victory (its founder says he created it to wean his 12-year-old sister off of a digital addiction). Players pick from three sets of cards (A, B, C) featuring "easy" and "hard" words that together create a scenario, and then try to get others to guess that scenario by performing it via drawing, acting, or speaking. There are more than one-million possible card combinations, so the fun won't get repetitive.
A fast-paced description game, Articulate rewards those who have the gift of the gab. It's team-based, with players drawing cards featuring different words on them and then, against the ticking clock, trying to get their teammates to guess as many of the words as possible without saying the words (kind of like Taboo). This is all done while fending off heckles from the opposing team, making the game rowdy and rambunctious with just the right amount of competitiveness. It requires as few four people to play, but is just as enjoyable for groups of more than 20, too.
Rude and raunchy, Scrawl is for players ages 17 and up. It's kind of like the old-fashioned game of telephone, but with an adult twist, as the topics are raunchy and push the envelope. Scrawl calls for between four and eight players and is team-based, with rounds calling for team members to each sketch a scenario written on a card, then pass their sketch onto their neighboring team member and ask that person to guess what they drew, and continue circulating sketches until each team member has ventured a guess at all of her fellow player's doodles. It might sound a bit complicated at first, but once you get the hang of it, Scrawl is a surefire way to spend an evening in hysterics.
I wouldn't be a very good board-game designer if I didn't stand by my own games — this is one of my newest, and launched earlier this year. It's a high-speed alliterative guessing game that draws on charades, pitting teams of players aged 10-and-up against each other to see how many alliterative phrases each can guess per 90-second round. Imagine trying to explain "Peter Pan picked a pineapple" or one of the other 1,199 phrases (which I spent a few fun months dreaming up) without using any of the alliterative words. The game's name originally was meant as a nod to its alliterative aspect, but it turns out Einstein really did love eggs!
The Strategist is designed to surface the most useful, expert recommendations for things to buy across the vast e-commerce landscape. Some of our latest conquests include the best acne treatments, rolling luggage, pillows for side sleepers, natural anxiety remedies, and bath towels. We update links when possible, but note that deals can expire and all prices are subject to change.