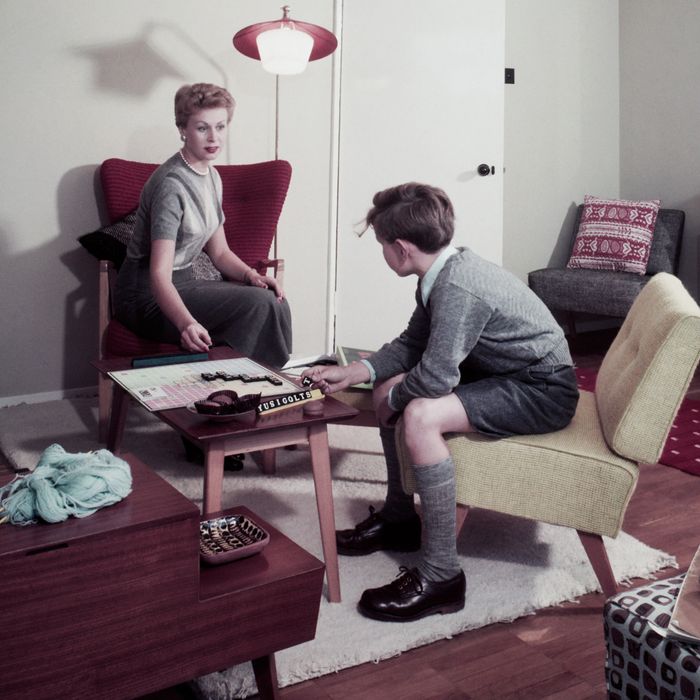 A board game built for two.
Photo: Hulton Archive/Getty Images
Board games are an entertaining way to pass the time — and a little more stimulating than staring at a screen. While many board games require groups of people to play, there are a lot of worthy ones that don't. So, to find the best two-player games for couples or roommates to play together, we asked ten gaming experts about their favorites. "In the realm of two-player board games, there is something for every taste," according to Taryn Gregory, an inventory lead at Guardian Games. Below, she and our nine other board-game experts share the two-player board games they pull out over and over again that will appeal to everyone from beginners looking for a lighthearted fantasy caper to advanced players looking for a vexing strategy game. While the majority are made for two players, there are some that can be played by more people — but our experts say those ones are often the most fun when played by just two. To make it easier for you to find the right one for you, we've organized the games by their level of difficulty — beginner, intermediate, and advanced — leading each category with games that got the most recommendations.
Best two-player games for beginners
Four of our experts recommended Patchwork, created by accomplished game designer Uwe Rosenberg, as one of the best two-player games for beginners. The game challenges players to strategically collect different pieces to create a quilt. Greg May, owner of The Uncommons and Hex & Company, calls it "the perfect game for couples" that is sure to delight "fans of Blokus or Tetris." Scott Cooper, owner of Blue Highway Games, says Patchwork is his retailer's best-selling two-person game because, although the rules are simple to understand and it only takes about 15 minutes to play, the "subtle strategy keeps it interesting." May agrees: "Games are usually quite close, and there are just enough layers to keep you coming back without dragging things out."
"Codenames Duet takes one of the best party games and tweaks it to make an excellent cooperative game," says May. Three other experts also highly praised the word-deduction game as easy and fun. The rules are relatively straightforward: "Players make associations between words as they cooperate to identify targets with a limited number of guesses," explains Cooper. And both May and Lauren Bilanko, a co-owner of Twenty Sided Store, note that there are versions of the game specifically geared toward fans of different franchises, including Harry Potter, Marvel, and Disney.
Santorini, which three folks told us about, is our experts' second most-recommended two-player board game for beginners. Eric Yurko, an American Tabletop Awards committee member and game reviewer for his own site, What's Eric Playing?, calls it his all-time favorite because the game "combines great art with very simple play." Board game designer Rob Sparks is another fan, telling us you can "learn to play in just 30 seconds" and that the game "will have you building various domed towers its namesake island is famous for as you navigate the beautiful board." Yurko also loves this building element, noting that "as players build up the board it mirrors the famous imagery of Santorini itself." According to him, at the start of each game every player gets assigned a Greek god that grants them a different rule-breaking power, which makes "for a very quick and fun game" as the gods interact with each other. "It plays really, really well with two players," promises board game enthusiast and Cartamundi tabletop games ambassador Sean Amdisen-Cooke, who adds that "it's very accessible, so kids can also play."
Strategist senior writer Liza Corsillo discovered this game by way of her "strategy-game connoisseur" brother — it quickly became a game-night staple. According to Corsillo, Raccoon Tycoon combines the fast play of Ticket to Ride with the social interaction of Settlers of Catan, "but is more engaging and fun to look at." Like Ticket to Ride, a player will win the game by collecting the most points, "but there are multiple ways to earn them — amassing wealth and owning railroads, towns, or buildings — so it's harder to get bored." Corsillo also notes that part of what sets Raccoon Tycoon apart is "the intricate, uncanny illustrations," designed by painter Annie Stegg. "Every time I play, I discover some clever detail that makes me laugh," she adds. "Another perk is that you can play with as few as two people or as many as five, and though you have to pay attention to multiple things at once, it's not so complicated that a beginner or child couldn't win on their first time playing."
If you're looking for a "quick, snappy" game that is easy to pick up, but "still has a bit of substance to it," Yurko suggests Cascadia, which he calls "one of my favorite casual games of 2021." The goal of the game is to create a Pacific Northwest ecosystem by collecting animals and tiles, "but each animal scores differently depending on which of its scoring cards is in play at the start of the game." Yurko says this allows for "a wide variety of different strategies to emerge across one or multiple games," which keeps the gameplay dynamic. Plus, Yurko has one word to describe the work of game designer Randy Flynn: "exceptional." He also says that it's a game he's shown to lots of other players who inevitably "end up just as excited about it as I am."
Both Gregory and Bilanko recommend Hive, which Gregory describes as "a bit like chess in strategy and movement, with great pieces and no board." The main objective is to use hexagonal tiles that are each adorned with a different bug and have unique rules to surround your opponent's queen bee. According to Bilanko, "It's fast to learn and easy to play, but the strategy keeps it complex, whether it's your first time playing or your hundredth time playing." The game's resin tiles also make it easy to travel with: "It's portable, so it's great to take to the beach or on a train or to a bar, because you don't have to worry about cards blowing away or getting spilled on," says Bilanko.
Sparks compares Crokinole, a game that dates back to the 19th century, to kind of like playing shuffleboard, calling it a "fantastic game of skill and strategy that has stood the test of time." Players take turns flicking discs from the outermost ring with the goal of getting them to the center of the board to score points — and knocking their opponent's discs out of the way (making them lose points) in the process. Sparks says there is one rule that makes this a bit more challenging, though: "The discs you flick must hit an opponent's to be kept in play," he explains, making it even more competitive.  
Yurko told us that Nova Luna is similar to Patchwork but builds on that game's design "by adding tiles that depend on other adjacent tiles." He calls it "colorful yet abstract," adding that "it's very simple to teach to new players, but strategic enough that experienced players are still having a blast with it after multiple games."
While he's not typically a fan of bluffing games, Yurko says that the "excellent (and fast) card game" Cake Duel is an exception. Players command an army of peckish sheep vying for control of a supply of cake, and Yurko describes the game as being "a bit like poker: You're trying to bluff your opponent to believe that you have cards that you don't as you attack their cake supply."
Scandanivian game Klask bills itself as a cross between foosball and air hockey, during which players face off using a magnetic handle and striker as they try to score goals against each other. "It's a simple addition to a tried and tested game which adds a whole depth of strategy," notes Sparks. While a simple enough premise, Klask adds an extra level of difficulty by placing magnetic traps along the board: Get too close and one will stick to your striker, and if you get caught twice, your opponent scores and a new round begins.
According to Sparks, "Inspired by Norse mythology, Odin's Ravens is simple to play, with delightful artwork and interesting choices that will delight anyone looking to 'get away' for half an hour." According to legend, each morning, Odin releases a pair of ravens to fly around the Earth and report back to him. This lore is what inspires gameplay: "Naturally, the ravens have become quite competitive, and it is up to you and another swift soarer to circumvent the world and get back to Odin first," says Sparks of this racing-style game.