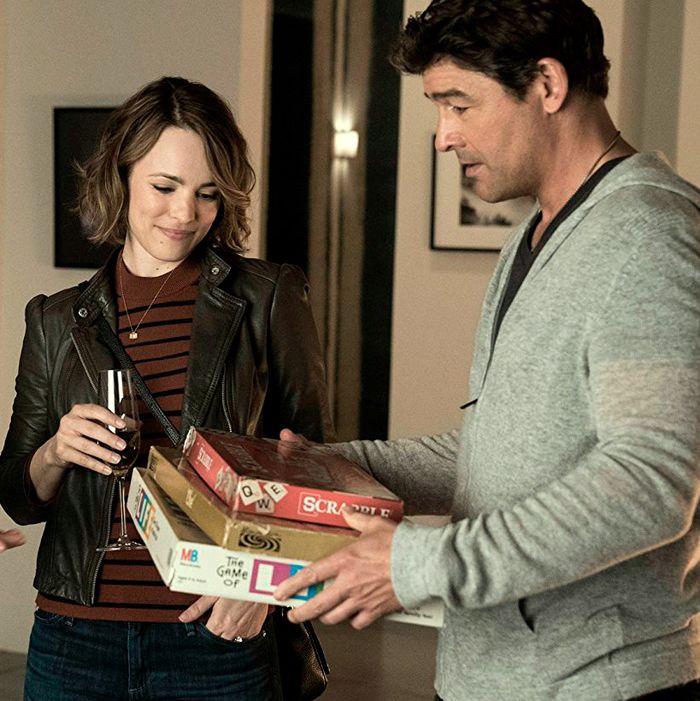 Photo: Hopper Stone/Warner Bros.
Board games are a great way to break the ice, whether you're at a holiday party or hosting a get-together with folks you haven't seen in a while. But with so many options available — from strategy board games to social ones that require singing or drawing — it can be hard to find the right one for you and your friends. So while we've written about board games before — including the best two-player board games, best family board games, and best board games for kids — here, we've rounded up the best board games for adults, as praised by the most enthusiastic Amazon reviewers.
Related Articles: Best Four-Player Board Games | Best One-Player Board Games
Best-rated board game for adults
"This is not a children's game, and this is not a game to play with Grandma," one reviewer starts. "But if you and your friends enjoy laughing at the darker side of life, art, and pop culture … This is the perfect game for your next party." They're just one of more than 101,000 reviewers who give this game five stars. Many call this game the adult-version of Apples to Apples, with one reviewer explaining, "I tried playing Apples to Apples again after having this for a year and it's not even fun anymore compared to this haha." Though many mention this game is not for the "faint of heart," that's part of the appeal. One writes, "It's raunchy, it's full of language, it's inappropriate, it's FUNNY!" Another reviewer says, "This is the most horrible, irreverent game you will ever love."
Best-rated (less expensive) adult board game
As the name of this game suggests, there's no board for this game. Instead, each player puts a card on their head, using a headband, and then asks questions to figure what that card says. "It was confusing at first but after playing it a couple times we really got the hang of it," one player says. "Our friends LOVE it and we bring it to every board game night! I would HIGHLY recommend it." Another reviewer says, "You'll be surprised at the way people describe things and the answers that people give. I have not laughed so hard playing a game." This "Adulting" version is specifically skewed toward an older crowd, but perhaps the biggest indicator that this is truly a game adults will love is how well it works as a drinking game: "We got this during the Great Stay-in and I can't recommend this enough, we had some wine and played this game with my family all stuck indoors together. A nice change of pace from puzzles and card games."
[Editor's note: This game will be in stock soon, but you can still purchase it now.]
Best strategy-based adult board game
"We play with people who range in age from 8 to 72, enjoyable for all so far. We put in about 10 games the first weekend we finally opened the box!," one reviewer says. Over 17,000 people give this game five stars with many noting how fun and easy to learn it is. "The strategy is simple: collect resource cards (sheep, brick, stone, straw, and lumber) in order to build settlements, expand roads, and eventually build cities," explains a reviewer. "Resources can be traded with other players and rewards can be claimed (longest road, largest 'army') and as you work your way through the process of developing the land, the first player to reach ten points wins." Another says, "The game is easy to pick up and the rules are straightforward." But that's probably why about 10 percent of five-star reviewers say it's the strategy that makes this exciting. Many agree that the game is best played with three to four people, and at least one reviewer likes it because you can play for as little or as long as you want: "I feel like Catan hits that sweet spot for game duration. I have played games as short as 15 to 20 minutes, and as long as two hours. Either way, time just flies by."
Best mystery board game for adults
"This is a classic game that everyone should have in their closet," says one reviewer. Another calls this "a great family game," admitting that while they "never played this as a kid," it's still enjoyable to play as an adult, calling it, "fun for adults. Nice way to spend time together." One reviewer who did play as a kid says, "This game takes me back to my youth. I'm so glad I get to share it with my daughter. It is an awesome family game and we really love it." A few reviewers familiar with the classic felt thrown off by the new character who'd been added to this version of the game, saying it ruined the integrity of the game, but most didn't mind, like one who writes, "As long as we still have Colonel Mustard and Miss Scarlett, I'm happy."
Best fast-paced adult board game
Over 2,500 five-star reviewers call this board game "fun," with one noting, "The rules are a little complex but make it a very fun game to play. It really grows on you. Once you figure out some of the strategies, it becomes more fun." Another says part of the fun is that it's fast-paced saying, "The game is easy to learn, and moves fast. You don't have to spend 30 minutes agonizing over a strategy, you can start buying trains pretty early." Because it's an easy to learn game, many like to play this with their family. But plenty of reviewers say this game is great to play with a group of adults. "Once we learned how to play, we were able to quickly and simply explain the rules to our 9-year-old daughter in minutes. We originally bought the game for her," one customer writes, but admits, "But to be honest, my husband and I have enjoyed playing it so much that I think we've played it four times as much as she has." And as this reviewer concludes, "Overall this a really fun game that can be enjoyed with just about any group. It is strategic enough to hold your interest while simple enough to teach in five minutes."
Best party board game for adults
"This game was supposed to kick off a variety board game night, but we ended up only playing this for hours," admits one content reviewer. Another calls it "definitely one of the most enjoyable board games ever," explaining, "I have not played any version but this, but the crazy, kooky answers our friends came up with had me rolling." Many even think this is better than Cards Against Humanity, like one who says, "We are all in agreement that this game was much more fun due to the fact you give your own answers. I don't think I have ever laughed as hard as I did while playing this game." And as this reviewer concludes, "This version kicks it up a notch with questions that are straight-up adult in nature (like 'What could you do to ruin a sexual moment?') and others that could be adult depending on how you interpret them (such as 'What is one lesson you had to learn the hard way?'). Don't buy this for anyone who is a prude or a stick in the mud, because it'll be boring."
Best replayable board game for adults
"Great for a small group, short strategy game. It plays quickly and is fast moving for the most part," says one reviewer. Dozens more call this a quick game to play, including one who notes, "It is an engaging game that lasts a short time and the visual design is beautiful. It has become one of our family favorites, great for those cold winter evenings around the fireplace." Another says that at first he didn't love it, "But after a few rounds, it becomes very addictive," adding, "Now we play game after game. The only drawback is 4 max players. Still, the games are fairly quick, so you can rotate or even play as teams if you have a larger family." And as this reviewer concludes, "My family plays a lot of board games. This hits the table more than any game I have owned."
Best adult board game for large groups
"This is an excellent, quick, rapid fire party game. We have this along with a couple of expansions. Our group usually fluctuates between 5 and 9 people. Almost all of them enjoy whipping out One Night every now and then," writes one reviewer. Another who "plays almost weekly" thinks "If you like social deduction games, you have to have this game. The game also plays really quick, so if you don't like your character, you get to be someone else a few minutes later." Many appreciate that it's easy to understand so younger kids can play, like one who adds, "Oh my goodness, this is an awesome game. We play with my husband and I, and three kids, ages 12, 10, and 7. So many good laughs! It's very easy to learn. We did not realize some of our children could lie as well as they do. Although we knew this before, it has been confirmed to us that our 7-year-old will either grow up to be a very successful CEO, or run a very successful gang. She is very convincing and influential."
Best board game for adults longer than three hours
While many reviewers think that this game is fun, they warn that it takes a long time to play. "Fantastic game. Played with my husband, a 9- and 11-year old. We all enjoyed. Took a long time to finish the game, like, over the span of a week, but still fun." Another bought this for her father, admitting that she "may regret it because he will want to start wars all the time. And this is not a 'short' game. But he loves it." One more reviewer just appreciates that her whole family can enjoy this game, noting, "Family game night hit. This was a great edition of Risk with several different ways to play all in one. My kids with a wide range in age all had a wonderful time sitting down to play. We have family game night once a week and Risk is definitely getting added to our rotation."
Best board game for one or more adults
Unlike the rest of the board games listed, birding game Wingspan has a solo option, which plenty of reviewers appreciate. One such reviewer plays with several boards by themselves and likes that the game is "so beautiful and fun and different every time." Another reviewer (who reports that the game also "plays great with 2, 3, or 4 people with minimal change in quality of experience") says their daughter has played the solo version "numerous times and she enjoys it." Others call out the educational aspect of the game, including an ornithologist who likes playing alone and with friends. Playing it, you learn about birds' "habitats, diets, and markings," explains one reviewer who has "become a bird lover" since playing.
[Editor's note: This game will be in stock soon, but you can still purchase it now.]
Best two-player board for adults
A two-player favorite among Amazon reviewers is Blokus Duo. "This game is addicting," writes one. "It is easy to learn. Quick to play if you don't have a lot of time or you keep playing for hours. You can play it over and over and challenge yourself to do better and have different outcomes." And if you're a Tetris addict, this might be the board game for you. "Love this game," writes one shopper. "I would recommend it to anyone who loves the strategy of Tetris with a twist that makes for a fun competitive game. Great date night game for couples." And the price was a draw: "This is a fine game for two people to play at home or on the go, and it's sold for a fair price to boot," says one reviewer. "The strategy rewards critical thinking and experienced players, but it's very approachable for first time players or novices."
Best cooperative adult board game
Perhaps this board game (in which you have to stop the spread of an infectious disease) is too timely to play, but many Amazon reviewers disagree. "Initially bought this for my husband's birthday as a joke since we are literally in a pandemic – I don't think he thought it was very funny," one reviewer says, but, "We decided to give it a try and actually LOVE the game." Thousands of others do, too, mainly because it is a cooperative game, which means that "everyone collaborates to win against the game instead of each other." Another explains, "Each player has special abilities that help everyone defeat the diseases. All the players must really coordinate their efforts and strategize the best way to stop disease spread." Reviewers note this game does have a bit of a learning curve, "but after you play once or twice you'll get the hang of it," assures one player. And while this might be something you buy yourself to stay busy at home, one reviewer points out it also makes "a funny gag gift during these crazy times."
Best board game for older adults
"This has become my family's favorite game," writes one reviewer. "It's easy enough that people of a variety of ages and mental abilities can have fun playing it, but it can also involve quite a bit of strategy for the more genius types." In fact, it seems to be the biggest hit among the older crowd. A group of 80-year-olds enjoyed it so much that "after an introductory game we were supposed to have dinner together. Well we did not – instead we had to continue playing." Another reviewer says, "My 80-year-old in-laws play Rummikub all the time, and my family plays with them a couple times a year. Boy, are they GOOD." As one reviewer points out, "Not only does it bring the family together without devices but it keeps your mind sharp as well." They add, "I'm on the dark side of fifty and things like this game that keeps my brain active and me laughing and smiling is a great thing." And even if you play it over and over again, for years to come, you won't get bored of it, according to one reviewer: "It just shows me that this is the kind of game that can really grow with your ability, so it never gets boring."
Best tile board game for adults
Shoppers looking for a board game involving tile-lying gave this one some high praise. "Fantastic tile-laying game for two to four players," says one. "Puzzle-lovers will enjoy the visual aspect of the game, which entails creating the medieval French city of Carcassone using fields, roads, abbeys, water features (rivers and lakes), and fortified cities." Another writes, "My wife and I bought this game months ago and it is 100% our most played game. It is the perfect balance of casual yet competitive… The tiles are very satisfying to play and it is a pleasure to watch the board come together." One reviewer was such a fan that they made their own version out of paint and bathroom tiles "when I was a broke college student who couldn't afford a $20 board game," they write. "Since then, I have been afraid to 'loan' my handmade game to my own mother for fear she would steal it."
Best board game for adults who love horror
Fans of horror love this spooky board game because it "really captures the B-movie horror/thriller/sci-fi vibe amazingly well," according to one reviewer. Another player explains that "it's essentially a cheesy horror movie, in that it starts the same every time: A bunch of people exploring where they shouldn't go and then the twist happens." But they note that there's enough nuance to the game that "each time you play it is a different experience, [and] it's always fun." And several reviewers promise that both seasoned and new board-game players alike will enjoy the experience. One player, who has "gifted it several times and taken it to several friends' homes," says it's perfect for anyone with a "sense of adventure." They write, "I've played it with die-hard board-game fans and they loved it, and I've played it with people that are new to board games and usually only played games like Cards Against Humanity. It can be fun for everyone."
Best board game for adults who like steampunk
"Prepare yourself to be immersed in a glorious steampunk reality of endless wonder," writes one reviewer, who, like many, is impressed with the steampunk artwork on this board game. "The art is stunning and immerses the game in an alternate reality that is both beautiful and believable," another says. In this game's reality, "Scythe pits factions of power-hungry individuals against each other in an imaginary, post–WWI world of nearly dystopian scarcity," one reviewer explains. "Players assume the roles of characters that represent different nation-states, all of which are vying for resources and territory following a period of sociopolitical unrest. Players can control character movement, select actions to increase resource production, maximize efficiency to gain power and influence, and conquer territories. Your global achievements in these arenas contribute to your final score, and the game ends after a player completes six specific objectives." Many satisfied reviewers of this board game say this is similar to Catan, though one advantage is that this can be played by small and large groups. "Our group usually plays with four people, and my wife and I play together and it is still just as fun with two people," one reviewer says, adding, "There is even a single-player mode that we haven't tried yet." And though reviewers warn that the instructions and rules are dense, and that the game is based on skill more so than luck, they still say it's worth playing. "If you're up for a completely immersive, steampunk-inspired game that values efficient choices and skill above dice rolling (not a die to be found), I highly recommend giving Scythe a try."
Best singing board game for adults
"Do you hum in the shower? Do you think you know the lyrics to all songs and sing them privately in the car? This is your game," assures one reviewer. Another calls this game "hilarious," explaining, "We never laughed so loud and argued so much about who started singing first. We also argued about whether it was a song or not. Of course it was friendly arguing. One of just a very few games were you could involve young children, adults, and grandparents and all have a good time." A third reviewer agrees, noting "this game was a riot" because everyone can play and have fun: "Half of us are not anywhere near decent singers, my dad actually can't hold a tune to save his life, however, he belted out songs like no one's business. It was hilarious and we are looking forward to playing it again."
Best drawing board game for adults
Dozens of reviewers say this game will leave you in tears. "By the time I was done with my first game, I was crying from laughing so hard," one writes, and people say it's so fun to play that doesn't even matter who wins. "This is a great 'we're laughing with you' experience," they add. "Sure, winning is great, but honestly, everybody is a winner in this game because it's just so darn entertaining." What is it you ask? "It's a combination of the old telephone game and Pictionary," one reviewer explains. "Each player has a dry-erase marker and pad and every round a word or phrase is picked from a card drawn. You then sketch the word/phrase and pass the pad to the next player. They in turn guess what is drawn. After guessing the pad is passed again and the next player has to draw what was guessed. This continues until the pad arrives back at the original owner. At that point you go through the sequence from the beginning to the end. It is amazing how the word/phrase changes as it makes its rounds." Just like in the game telephone, the image rarely looks like the original word, hence all the laughter. Reviewers say it's great for everything from girls' night to a drinking game to fun for the whole family. "Our group was made up of 7-8 people ranging from ages 10–80 and even the teenagers liked it," one writes. Many say it's more fun the more people you get involved, so lots try to play will all eight players at a time.
Best complex adult board game
"Ultimately, this game is quite complicated with a hefty instruction manual and a steep learning curve," writes one reviewer. "But with the endless possibilities of how you want to play the game, the level of strategizing really outweighs the up-front cost, making this a really rewarding game to learn and to play." More than 10 percent of reviewers either describe this board game as challenging or complicated, and agree that it's a blast once you understand it. Essentially it's "a game where the players are taking the role of corporations tasked with terraforming the planet Mars for future colonization," according to one reviewer. They continue, "Players produce resources and income that allow them to take actions and play cards [that] raise the temperature, create oceans, and add oxygen to the atmosphere. While players are working together to terraform the planet, players are scored based on their contributions to the terraforming efforts (and some other scoring mechanisms) to declare an overall winner." Because there are so many ways to play, "This game never plays exactly the same each time you play," writes one reviewer, which is another selling point for reviewers. This, coupled with the fact that there is no set number of turns, means this can be a long game, too. One player writes, "Well, we have played three- and four-player games, and most seem to last for four to five hours. Time FLIES as you play though."
The Strategist is designed to surface the most useful, expert recommendations for things to buy across the vast e-commerce landscape. Some of our latest conquests include the best acne treatments, rolling luggage, pillows for side sleepers, natural anxiety remedies, and bath towels. We update links when possible, but note that deals can expire and all prices are subject to change.
Every editorial product is independently selected. If you buy something through our links, New York may earn an affiliate commission.