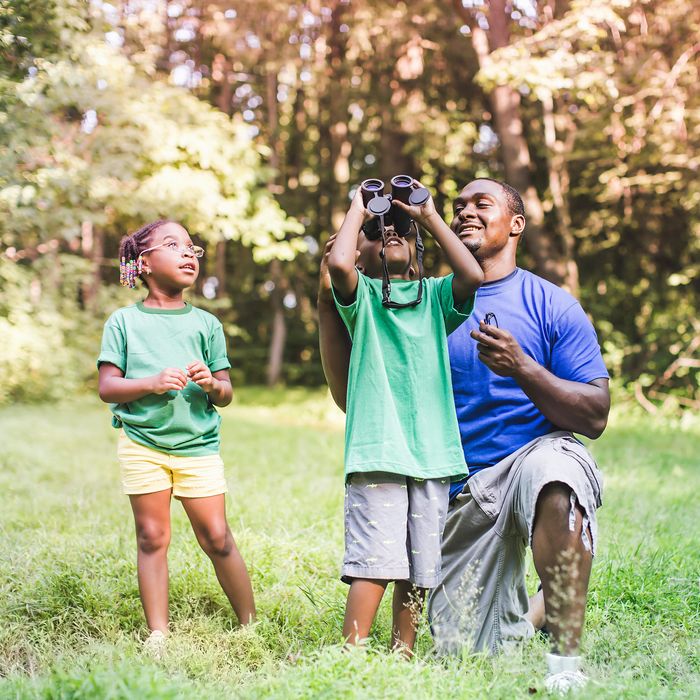 Photo: Chad Springer/Getty Images/Image Source
Buying the bird lover on your list a gift related to their niche passion is a super-thoughtful idea, especially since bird-watching remains a pandemic-appropriate activity (as long as you're at least six feet apart from other birders). But as we've learned from searching for gifts for gamers, hikers, and knitters, actually finding the right thing for someone with a very specific hobby can be a tall order, especially if it's not also your very specific hobby. So we asked a dozen birders about the best gifts for bird lovers that you can give to any avian enthusiast in your life, from binoculars for birders of all levels to gear that will bring birds to your backyard.
Binoculars
Binoculars are a bird-watching must, and "every serious birder should have a good second pair, to take a friend birding or to quickly replace a lost or damaged main pair," according to David Barrett, creator and manager of Manhattan Bird Alert. He recommends a 10x42 pair for their excellent optical quality (at 10x42, they have 10x magnification and 42-millimeter-diameter front lenses), like this pair from Nikon.
Juita Martinez, a Ph.D. student at the University of Louisiana at Lafayette studying evolutionary and environmental biology, also uses 10x42 binoculars but says that "folks can start out with an 8x42 pair." Martinez, who got into birding five years ago while working at the Richardson Bay Audubon Center, says she has been using one pair of Vortex binoculars the whole time. "I beat them up when I'm in the field, and somehow they're not scratched. They've stood the test of time," she says.
Another "affordable and easy to use" pair of binoculars that Molly Adams, founder of the Feminist Bird Club, recommends for beginner bird-watchers (and would also make a great backup pair for someone who already has an expensive set).
Robert DeCandido — also known as Birding Bob, the leader of inexpensive bird-watching walking tours in Central Park — likes these waterproof Sightron binoculars because he can "wear them all day" without feeling any strain on his neck. They conveniently come with a carrying case, neck strap, and lens cover, too.
In the $200 price range, this pair of binoculars from Athlon Optics have a slightly larger lens diameter and ESP dielectric coating, which Steven John — a birder and Strategist contributor — says delivers "excellent contrast and color fidelity, helping you see the often-minute patterns and hues on a bird's feathers." Plus, unlike other binoculars, this pair from Athlon Optics are better protected against water damage and fogging (normal risks during birding), thanks to their argon-purged chamber.
Three of our experts recommend springing for a pair of Swarovski EL Binoculars. Chase Mendenhall, curator of birds at the Carnegie Museum of Natural History, calls them "the Porsche of optics," and says they're ideal for "lowlight warbler watching." Andrew Farnsworth, a research associate at the Cornell Lab of Ornithology, says that "a really good pair of binoculars" like these "will be a game changer for anyone even mildly interested in birds." Experienced bird-watchers may want higher magnification, but a 7x or 8x pair is usually sufficient — especially with really high-end models like this, according to Farnsworth.
Scopes, cameras, and other gadgets
"This inexpensive mount lets you turn your phone and scope or binoculars into a zoom camera," says Barrett. So-called "digi-scoping" or "digi-binning" is the easy way to take high-quality photos or videos of birds without having to buy a camera and long lens, he explains.
Although Martinez also likes taking photos with a phone scope, she says a camera is a good gift option for photographers and beginner birders alike. "Birds move fast, especially if they're hunting, so if you can get a snapshot in the field, then you can see all the details and ID the bird later at a slower pace," she explains. Martinez has a Nikon D5200, which you can buy used online, but for another affordable beginner model, John recommends this Wi-Fi enabled Canon PowerShot.
For a three-in-one item, these binoculars come with a phone mount and carrying strap, meaning you can capture images while birding, which John says are comparable to those taken on a DSLR camera. "The optics are gorgeous. The image quality is comparable to the expensive brand like Bushnell," he adds.
If the birder on your list already has a good pair of binoculars (or two), Farnsworth suggests buying them a spotting scope, which is basically a tiny telescope that offers much greater magnification. We like this easy-to-carry spotting scope from best-rated telescope brand Celestron, which comes in different styles.
"Birding can be device-intensive, and require frequent use of apps for bird alerts, identification, playback, list-keeping, and communication," according to Barrett. He recommends buying the birder on your list a portable charger like this so that they never run out of power out in the field.
Birding books and field guides
For birders of color, Corina Newsome — who co-organized Black Birders Week to celebrate black birders and nature explorers in the wake of Ahmaud Arbery's murder and Christian Cooper's wrongful harassment by a white woman in Central Park while he was birding — recommends reading the writing of Dr. J. Drew Lanham, an author, poet, and wildlife biologist. Newsome specifically told our colleagues at the Cut that she refers to Lanham's article "Nine Rules for the Black Birdwatcher," but for Lanham's in-depth exploration of land, nature, and race, consider reading his memoir, The Home Place.
Lanham is also an award-nominated poet, and his first collection of poems, Sparrow Envy, explores similar themes of birds, the wild, and race, through the medium of poetry.