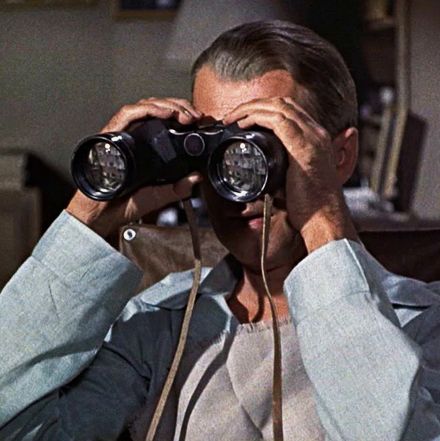 Photo: Courtesy Paramount Pictures
At any given time, I'm probably within about ten feet of a pair of binoculars. At least that's the case if I'm home, driving, or camping, which are all distinct possibilities on any given day. So when someone needs to know how to choose the best binoculars — whether for birding, sightseeing, hiking, or investigating, they know to ask me.
When choosing a pair of binoculars, the magnification power, always the first number listed in bin features, refers to how much the binoculars increase the apparent size of the object you're viewing. 10x (which is solid) will make whatever you're looking at seem ten times bigger. The second number is the lens diameter, or how big the lens measures across its center (larger lenses let it more light, allowing distant objects to appear brighter and easier to see.) The trick is finding the right balance between magnification, lens diameter, and compactness. Below, the ones I recommend to anyone who asks.
I've owned and used a pair of Bushnell bins for many years, and these are a hell of a lot cheaper than mine were a number of years back, yet they have the same decent 8x magnification power and a large 42mm diameter lens that soaks in plenty of light. Distant objects are bright and easy to see even in dim light when I have this pair of Bushnells raised to my eyes. The locking system also helps keep the ideal focal settings in place even when I jostle the hardware around, making the Legend L-Series great all-purpose binoculars for hunters, hikers, birders, and more.
I know what you're thinking — these bins have the exact same magnification and lens diameter as the pair we discussed earlier, so why are they twice the price? First off, 8x42 is a great combo popular with many brands; that magnification and lens diameter pairing allows for a good field of view that's ideal for seeing deep into dark forests, tracking birds across the sky, or watching parades and football games. But this pair also has an ESP dielectric coating, which simply means the lenses deliver excellent contrast and color fidelity, helping you see the often-minute patterns and hues on a bird's feathers.
Secondly, the argon-purged chamber helps protect the binoculars against water damage and prevents fogging, one of the most common issues with binoculars. And third, the company backs their bins with a lifetime replacement warranty against defects and lifetime no-cost repairs if you damage them by accident during normal use. And as any avid bird watcher can tell you, frequent normal use will eventually lead to damage.
At just under $120, any serious birder, hunter, or outdoorsman will tell you that the Nikon Prostaff S3 8x42 bins are quite affordable for what you're getting. And while you can buy cheaper binoculars with more magnification power (I own such a pair and keep them bouncing around in my glove compartment), their quality — of both the lenses and the body — won't match that of the Nikons. The low cost of these binoculars makes them a great choice for a first-time bino buyer, as does their large focus ring and easy-to-adjust eyecups. They also have a long eye relief, which is the distance away from the eyes that the binoculars can be held while still rendering a full field of view — making them great for people who are wearing glasses or sunglasses.
I have used a pair of Pentax binoculars for years, bringing them with me to the tops of mountains, along trails dusty, muddy, snow-bound, and everything in between, and to several different continents. Throughout all those travels, I've been outright rough on them. And while the Pentax U-Series Papilio IIs aren't the most amazing binos ever made in terms of performance, it's their durability that makes them so clutch. It has a "uni-body" design, so it has fewer moving parts and a tougher housing. And while they may look heavier than other binoculars because of that squat, thicker central body, they're in fact quite lightweight at less than 10.5 ounces — another reason they are great for trekkers.
When most people think of amateur astronomy, they picture a dad and son using a telescope perched out in the middle of a soccer field, but you can do it just as well from a fire escape when you look through these decidedly massive binoculars. They let me see details on the surface of the moon I thought were reserved for Apollo astronauts. Get them and you'll see starlight brighter than ever before. You might even catch a distant meteor or comet streaking through the sky. Even in nearly pitch-black night, their massive 100mm diameter lenses gather an abundance of light. Do not bring them on distance hikes — they are nearly 10 pounds and far too heavy.
Yes, these things cost nearly $3000. Why? Lots of reasons, starting with their powerful 10x magnification and 42mm diameter lenses, which work in concert to make faraway objects look nice and big and bright. But it's also because their HighLux and AquaDura coated lenses create crisp contrast and clear colors, gathering all the detail you could want. There's also the super-long 19mm eye relief, which makes the Leica bins ideal for people working in law enforcement, rescue, for military applications, or for nature study and/or photography. For when you need to see quickly and clearly in all sorts of conditions.
If you're looking for binoculars with different needs (or if these are out of your budget), here are some highly reviewed options from Amazon, according to hyperenthusiastic verified purchasers.
"Took these binoculars to see Cavalia Odesseo from the nosebleed section and I must say they gave me an excellent view of the horses and acrobatics. I could easily see the violin soloist, the Spanish guitarist, and the enchanting vocalist behind the shrouds on the balconies. I will never watch a stage performance the same way again. I find that at a certain distance, I didn't have to adjust the focus as often as I had expected. The focal sweet spot is pretty large. There is a mild chromatic aberration when viewing in daylight hours against the light, but this goes away when I fine tune the focus. For the price, these binoculars can't be beat."
"These are quality binoculars. They are great for bird watching both in the national parks or open areas, and the mount helps you capture images that you would need an expensive DSLR camera to get a clear shot of so you can revisit the memories you have created. The optics are gorgeous. The image quality is comparable to the expensive brand like Bushnell. Very satisfied with the quality."
"These binoculars are inexpensive but have many of the characteristics of expensive binoculars. They are water and fog-proof, they have BaK-4 prisms, and they have a well-constructed and rugged body. I purchased Roofs rather than Porros after my Nikon Porros lost their collimation. Nikon repaired them for $10 plus shipping (which was very fair), but I did not want to go through that again. Roofs are generally more durable. These binos appear well collimated (I did every test I could find on the internet, including shining the sun through them onto a screen), they can quickly be focused quite sharply, and there is very little color aberration. The 8x42s have remarkably little distortion near the outside of the field of vision; the 10x42s have more, but are still quite acceptable. The eye relief is good, so I can wear these with or without glasses."
"I am SO thrilled with my new binoculars! I ordered the Compact 8x32s. I'd call them semi-compact. Bigger (and much higher quality) than my super-compact pocket ones and yet perfect to take along in a bag or on a belt. I've had them a week and I've gotten familiar with them and had a chance to use them as well. They look great AND they show things at a distance well, crisp! They are comfortable to hold with an indentation in the nonslip finish for each thumb. I have a problem with the finish on, and eye cups of, many binoculars as most are latex. But these don't smell like tires and they don't bother me. In the center, they adjust to the width between the eyes. And they have a right eye diopter which allows for the difference between most people's eyes."
"I originally bought this for my 6-year-old grandson but when I received them I decided to give them to my 10-year-old grandson. These binoculars have weight to them not like cheap plastic ones I have bought for grandchildren before. They are easy to use. Clear to see through and lightweight. They are worth more than I paid for them. My husband has tried them out and said he wouldn't mind having a pair."
The Strategist is designed to surface the most useful, expert recommendations for things to buy across the vast e-commerce landscape. Some of our latest conquests include the best acne treatments, rolling luggage, pillows for side sleepers, natural anxiety remedies, and bath towels. We update links when possible, but note that deals can expire and all prices are subject to change.
Every editorial product is independently selected. If you buy something through our links, New York may earn an affiliate commission.