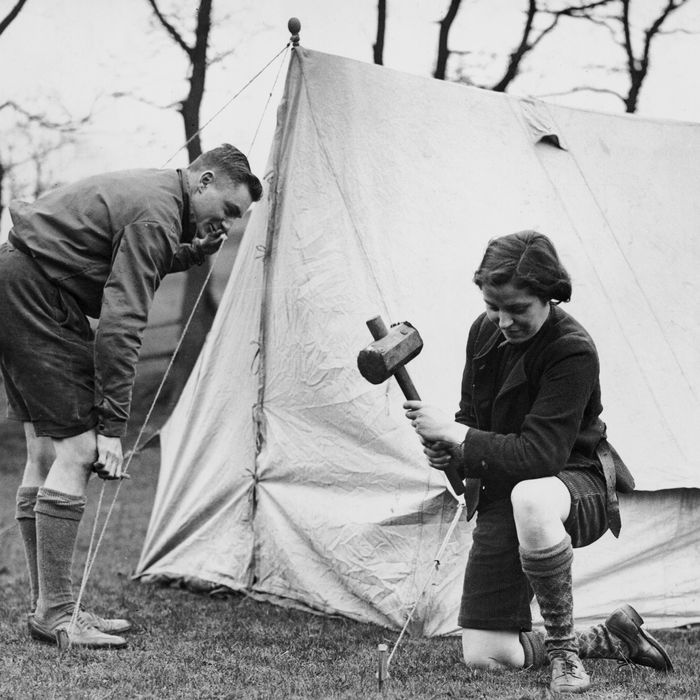 Photo: Hulton Archive/Getty Images
If you're in the market for a camping tent (or are the proud owner of a new one), you know that tent-shopping is complicated at best. For starters, there's the cost. "Someone new to camping is going to be looking at their budget first," says Ryan Potts, a Backcountry hiking and camping expert ("gearhead," to use company lingo). "If you're already a dedicated camper, then budget is secondary to the best gear for your particular need." And with the best-reviewed tents starting around $300, quality gear can cost you.
Then, of course, is the issue of whether you care more about having breathing room or carrying a light load. "If you're car-camping with a group, you care more about comfort and space, and not too much about weight," says Jason Heckle, the tristate outdoor programs supervisor at REI. "If you're hiking for miles and miles, weight is the most important factor. You're going to reduce the size and the number of creature comforts that you would have on a typical car-camping situation."
Arguably the most important factor is whether the tent you've dropped hundreds of dollars on is primed for the unexpected: rain, wind, and unwieldy zippers. Cliff Jacobson, a seasoned outdoors expert with over 20 books on camping and canoeing under his belt, says he won't budge on specs like twin entries (so you're not trapped if a zipper breaks), a long fly wall (or rain cover) that covers all the seams, and a sturdy frame that's windproof and waterproof. To find the best, we sought out expert recommendations for a range of prices, sizes, and weights (with the through line that all should be weatherproofed, too).
"A lot of times, we get people that want one tent they can do everything with. This one's a good example of that: It's a two-person tent. The 'plus' means it's got a little extra length on the interior, so it's certainly for taller people, but you can also fit a bit more gear in there. It's certainly very well priced for what you're getting. It has two doors, two vestibules, a little extra space, and it's made of thicker material, so it's gonna be durable, waterproof, and you're saving $200 from the absolute lightest two-person tents that you can buy on the market. And it's not a onetime-use tent. You're gonna have it for years. It's just a workhouse of a tent." —Jason Heckle
Editor's note: For a similarly priced option that's in this weight class, with two doors and two vestibules, there's also this Marmot option on sale.
"This Marmot tent is probably the best tent out there for the dedicated trekker who is backpacking or car-camping on any consistent basis. The Tungsten is the one everyone can own and be happy with because it's the best balance between weight and space and cost out there. The cost of this Marmot falls between two tiers of heavier, less expensive tents and lighter-weight, more expensive tents. This Marmot stands alone in a nice medium place. The poles are pre-bent, so there's a little bit more head room. This one has two doors and two vestibules, plus the weight on this Marmot is the same as tents that cost $100 more." —Ryan Potts
Photo: Tim Murphy/Tim Murphy Photography Inc. 2017
"This is for the tried-and-true backpacker who knows that the majority of the time spent in the backcountry is going to be away from the car. So they're going to be hiking distances and putting it on their bike and riding places. This is the one to get if space and weight are an issue. They make it in a two- and three-person size. It's an ultralightweight option that has two doors, two vestibules, it's for two people, and it weighs two pounds. It has thinner materials, higher-quality zippers, and it's light, but still waterproof and durable." —Heckle
If you really want a top-of-the-line, lightweight tent that can handle the elements, Jacobson recommends Swedish brand Hilleberg's tents, which he says are traditionally the best tents in the world. "If you want a tent that is really watertight and windproof, you're going to be better off looking at a design that's a standard A-frame or a tunnel because its construction is sturdier," he says. Google "Hilleberg" and you'll find an abundance of articles referencing its stellar reputation, which might owe a lot to the brand's Kerlon nylon fabric, coated with three layers of silicone to make it extra tear-proof and windproof. The tents can run upwards of $1,000, so they're not for the average recreational camper. But if you're a global camper and want a tent suited for all types of terrain, that maximizes storage and space, this is it. Outdoor Gear Lab called this one "a spacious and strong model" and a "world-class tunnel tent."
"Eureka makes a lot of excellent tents for not a lot of money. For people who don't want to spend a great deal of money, I suggest they take a good look at them," says Jacobson. "They make good, solid tents with good designs. The design is really more important than construction. If you want a less expensive tent, A-frame tents are much more windproof than a dome style, and they have a bathtub floor, which is sewn to the tent several inches above the ground and helps keep water out." This one meets many of his specifications for a great tent: It has two doors and two vestibules for easy entry and wider space, has a longer fly wall to protect against rain, a bathtub-style floor to help keep moisture out, and comes in an A-frame shape for greater stability.