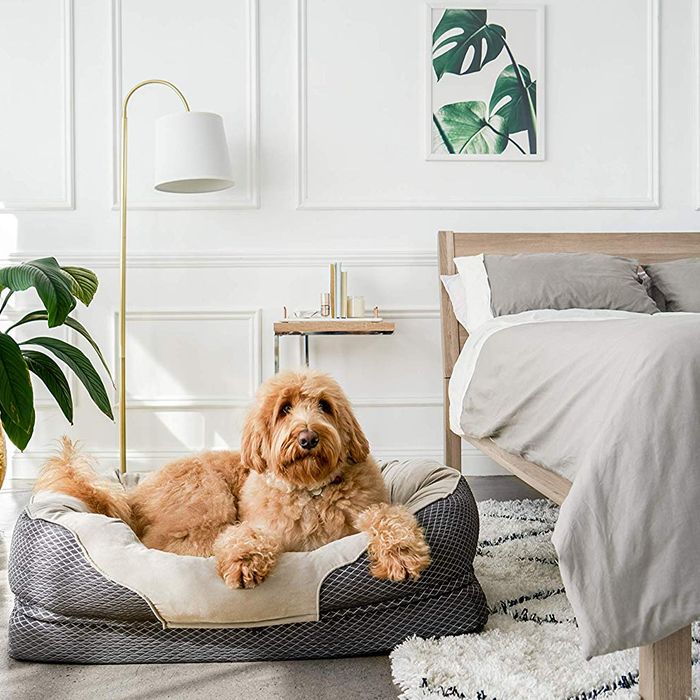 Photo: Courtesy of Amazon
Whether you're a new dog owner as of quarantine or a seasoned dog parent (with pet insurance and all), one of the essential items your pup needs is a bed. And while we've written about lots of fun and cute dog-related products — including the best dog bags, the coolest dog accessories, and even the best dog raincoats — here, we've rounded up the best dog beds, as praised by the most enthusiastic reviewers on Amazon.
Related Article: Best Dog Beds
Best-rated dog bed
A significant percentage of the nearly 11,000 five-star reviewers described this dog bed as "easy to assemble," and "easy to clean." And, perhaps even more importantly, lots of them also said that their dogs love it. "I have three pretty big dogs and they love these beds," one writes, adding, "As I type this, every head is down, every eyeball is shut, and the snoring has begun." Another reviewer who has had their Coolaroo dog bed for several years says, "I bought one of these almost two years ago and it's still in excellent condition today. I have two Siberian Huskies and a German Shepherd–Boxer mix. They all use the bed daily, sometimes all at the same time, and it shows no sign of bending, sagging, or tearing." And this reviewer said she thinks the Coolaroo is made of magic: "My dog paces around frantically at night. Non-stop. No matter what. So when this bed was on Black Friday special, I was like 'Hey, a dog bed the Roombas can get under. That's pretty cool. Let's try it.' For the first time since he had surgery, and was loaded up on painkillers, I actually got to sit on my couch with my husband in peace. … I had no idea a pet cot would be so comfy. I think it might be made of magic."
Best-rated (and less expensive) dog bed
Dog owners say this dog bed is just right to put in a crate, and though it looks thin in the photos, many ensure it's actually quite fluffy and cozy. One customer says, "Chance, my dog, loves it. He goes into his crate just to sleep on it." He originally wasn't sure how high quality it would be, but describes it as "very soft and comfortable," and the best part is Chance hasn't "chewed it up yet, which is a plus." It comes in 10 different sizes to fit a variety of crates, and owners with big and little dogs alike are fans. One customer says his two huskies "love to chew and destroy beds and toys," but apparently they love this one so much, they haven't ruined it yet. Another reviewer says it's good enough for her pure-bred show dogs. She uses them for her dog's crate, but also "at dog shows (on the floor while waiting for [her] ring time." Because she's constantly travelling with it, she washes them often and reports, "They wash well and look good. They dry well in the dryer." And for the price, she thinks it's a worthwhile investment.
Best dog bed for burrowing
This dog bed came recommended to us by experts for how great it is for dogs that like to sleep curled up. "It's great for warm snuggling and cuddling and provides just enough support and security for smaller body types," says Jessica Gore, a CPDT-KA (certified professional animal behaviorist) in Los Angeles. It's even appeared on our best-sellers list three times. And reviewers love it too. Over 1,000 five-star reviewers describe this dog bed as "soft," many of whom share stories of how much their small dogs like to burrow or curl up. "Our 11-pound Chihuahua, Lucy, absolutely loves this bed," writes one reviewer who admitted to wanting a human-size version for herself. "She practically lives in it! It's incredibly soft and well padded on the sides and the bottom. The interior edges are deep enough that she can 'burrow' into them." Another small dog owner writes, "My dog Bentley absolutely loves it. He thought it was a big toy at first but is now loving how soft and snugly it is. I probably wouldn't recommend this bed for larger dogs since the stuffing is not tight enough to withstand their weight. But for smaller dogs it's terrific." And another reviewer with a little dog said, "It couldn't have been more than five minutes after unboxing this bed when I looked over and saw my 16-pound Boston Terrier completely cuddled up."
Best orthopedic dog bed
"Supportive" is a word used in hundreds of five-star reviews to describe this dog bed. One reviewer who owns a Lab with arthritis says, "The memory foam is plush and the base foam is supportive. It's very thick. No bottoming out for this pet bed." Another reviewer writes, "My dog LOVES this bed. Really good quality at a fair price. My only complaint is that I didn't order two, because now I have to carry it up and down the stairs every day because she's sad without it. She's not even sleeping in my bed anymore! Not sure how I feel about that, I miss my cuddle bug!" And a reviewer who looked at more expensive memory foam beds said, "I can't believe how affordable this was; we looked at 'orthopedic' 'memory foam' beds at the local pet stores and they were $60 to $80 for this size and 90 percent of the time they were much thinner and stuffed with egg crate. This bed is 100 percent solid REAL memory foam; it's a steal for the price!"
Best L-shaped orthopedic dog bed
Customers with older dogs picked this dog bed, in large part because customers can choose which type of orthopedic material they want to help their pets with achy joints feel a bit more comfortable. One customer bought the foam, and reports that her Boxer feels so much better now that he has the right amount of support. "It helps with the pressure points on her old bones." She says even her "rapidly growing puppy" loves it. One customer recommends the egg crate foam for arthritic dogs because his pet
didn't sink down into it where he couldn't move like he did with the memory foam, and his weight was distributed evenly. It seemed to really relieve some pressure off of his joints." His 16-year-old pitbull-boxer mix "had severe mobility issues and would sometimes wriggle his way off his other bed and wouldn't be able to get himself back up," but after he got this bed, he had very little trouble. He thinks as far as orthopedic beds go, you won't find a better one, especially for this price.
Best orthopedic dog bed with plush cover
Over 100 five-star reviewers rave about this orthopedic dog bed's soft, plush cover that's easily removable for washing. One says the material is so comfortable, their 7-year-old child lies down on the bed next to their 80-pound dog, who "LOVES it!! He's been snoring and stretching out" thanks to this bed's roomy rectangular shape. The orthopedic features do not go unnoticed by older dogs — including one with arthritis, according to one reviewer, whose dog prefers this orthopedic foam bed to its old egg-crate-foam mattress so much that it's hard to wake the dog when it's on it. She describes the bed as "firm enough to hold their weight, but soft enough to 'give' under them just enough. They don't wind up touching the hard floor through the mattress, and the beds don't feel like a brick under them." Another customer, who is jealous of her dog ("wish it was my bed"), appreciates how easy the cover is to clean. Her puppy has tracked dirt on it many times, and every time she has cleaned it "with no wear, stains, or issues. The zipper makes it super-easy to remove from bed padding and easy to slip back on after drying in the dryer."
Best orthopedic dog bed with waterproof cover
This memory foam orthopedic dog bed is similar to the Petmaker model; however, this Go Pet model comes with a waterproof cover. It's not as fluffy as the Petmaker cover mentioned below, but customers appreciate that if any accidents happen, the bed itself doesn't get wet, and customers think this cover is easy to just wipe down if needed. While one customer didn't buy this for an older dog who needed the orthopedic aspect, she speaks highly of the waterproof cover: "Even though he is perfect in my eyes, my dog was not perfect on the potty training. His accidents were contained to the surface above the liner. I just used a quick sanitizing wipe across to clean after removing the main cover to toss in the washing and drying machines." But for those who wanted it for the orthopedic feature, dozens of reviewers talk about how much it helped their dog. "This bed has real four inches of memory foam," writes one impressed customer. She bought it for her "aging English bulldog," and reports, "the foam really takes shape and provides great orthopedic support."