Photo: Courtesy of Amazon
Here at the Strategist, we like to think of ourselves as crazy (in the good way) about the stuff we buy, but as much as we'd like to, we can't try everything. Which is why we have People's Choice, in which we find the best-reviewed products and single out the most convincing ones. (You can learn more about our rating system and how we pick each item here.)
And while we've written about lots of dog-related products — including the best dog bags, the best things to clean your dog's teeth, and even the best dog raincoats — here, we've rounded up the best dog beds, as praised by the most enthusiastic reviewers on Amazon.
Best-rated (and least expensive) dog bed
Coolaroo Elevated Pet Bed with Knitted Fabric
A significant percentage of the nearly 10,000 five-star reviewers described this dog bed as "easy to assemble," and "easy to clean." And, perhaps even more importantly, lots of them also said that their dogs love it. "I have three pretty big dogs and they love these beds," one writes, adding, "As I type this, every head is down, every eyeball is shut, and the snoring has begun." Another reviewer who has had their Coolaroo dog bed for several years says, "I bought one of these almost two years ago and it's still in excellent condition today. I have two Siberian Huskies and a German Shepherd–Boxer mix. They all use the bed daily, sometimes all at the same time, and it shows no sign of bending, sagging, or tearing." And this reviewer said she thinks the Coolaroo is made of magic: "My dog paces around frantically at night. Non-stop. No matter what. So when this bed was on Black Friday special, I was like 'Hey, a dog bed the Roombas can get under. That's pretty cool. Let's try it.' For the first time since he had surgery, and was loaded up on painkillers, I actually got to sit on my couch with my husband in peace. … I had no idea a pet cot would be so comfy. I think it might be made of magic."
And now for some micro-picks of every type of dog bed you might be looking for.
Best bed for small dogs
Best Friends by Sheri Luxe Shag Faux Fur Donut Cuddler
Over 1,000 five-star reviewers describe this dog bed as "soft," many of whom share stories of how much their small dogs like to burrow or curl up. "Our 11-pound Chihuahua, Lucy, absolutely loves this bed," writes one reviewer who admitted to wanting a human-size version for herself. "She practically lives in it! It's incredibly soft and well padded on the sides and the bottom. The interior edges are deep enough that she can 'burrow' into them." Another small dog owner writes, "My dog Bentley absolutely loves it. He thought it was a big toy at first but is now loving how soft and snugly it is. I probably wouldn't recommend this bed for larger dogs since the stuffing is not tight enough to withstand their weight. But for smaller dogs it's terrific." And another reviewer with a little dog said "It couldn't have been more than five minutes after unboxing this bed when I looked over and saw my 16-pound Boston Terrier completely cuddled up."
Best bed for medium dogs
BarksBar Gray Orthopedic Dog Bed
Dozens of owners of medium-sized dogs gave this dog bed a five-star review. "I bought the medium bed for my 40-pound cockapoo and he liked it from the minute I pulled it out of the box," says one such reviewer. "It was large enough for him to snuggle in while still having some extra room. I like it because the material seems durable. The last bed we bought ripped apart and stuffing came out. But I don't expect that from this bed." Another reviewer even says that her dog preferred this bed to that from a much more expensive brand: "I ordered a medium and my 45-pound senior Shepard-Beagle mix sleeps in it at night. She prefers this bed over the $300 orthopedic bed I just bought for her. So I'll be selling that bed for a large BarksBar. And this five-star reviewer writes of her 11-year-old Weimaraner, "I was having issues keeping her off my couch over the past few months. I decided it was time to invest in a good dog bed that would be just as (if not more) comfy than a couch. This bed did the trick! From the minute I put it down on the floor, she curled right up into the bed and didn't get on the couch once all evening. Not only does the foam mattress offer the support and cushion an aging dog needs, but the outside bedding cover material also helps to keep her warm."
Best bed for large dogs
Big Barker Orthopedic Dog Bed with Pillow-Top
Large dog owners who reviewed this bed said they were impressed with its durability — and durable warranty. "We bought this as an alternative to buying a futon mattress for our 1-year-old Great Dane, and he loves it," one reviewer writes, admitting, "I'm actually a bit jealous. In less than a week after we got the Big Barker, Bear went from waking up at 4 am every morning to sleeping all night, and now he gets up from lying down without having to stretch like he's trying to realign his hips." Another large breed owner writes, "Even though the cost at first seemed off-putting, I realized quickly that in my years of buying inferior beds I had spent more than I would have if I'd just purchased a Big Barker, to begin with." And another reviewer who bought this dog bed for their "145-pound Neapolitan Mastiff, Harley, who used an old love seat as her bed," admits, "I was very hesitant about the price but my thought was I was only going to have buy it once it would be worth it. The bed is solid but comfortable and doesn't come close to flattening out even when she is standing."
Best memory foam dog bed
Milliard Premium Memory Foam Dog Bed
"Supportive" is a word used in hundreds of five-star reviews to describe this dog bed. One reviewer who owns a Lab with arthritis says, "The memory foam is plush and the base foam is supportive. It's very thick. No bottoming out for this pet bed." Another reviewer writes, "Love this bed! My dog LOVES this bed. Really good quality at a fair price. My only complaint is that I didn't order two, because now I have to carry it up and down the stairs every day because she's sad without it. She's not even sleeping in my bed anymore! Not sure how I feel about that, I miss my cuddle bug!" And a reviewer who looked at more expensive memory foam beds said "I can't believe how affordable this was; we looked at 'orthopedic' 'memory foam' beds at the local pet stores and they were $60 to $80 for this size and 90 percent of the time they were much thinner and stuffed with egg crate. This bed is 100 percent solid REAL memory foam; it's a steal for the price!"
Best machine-washable dog bed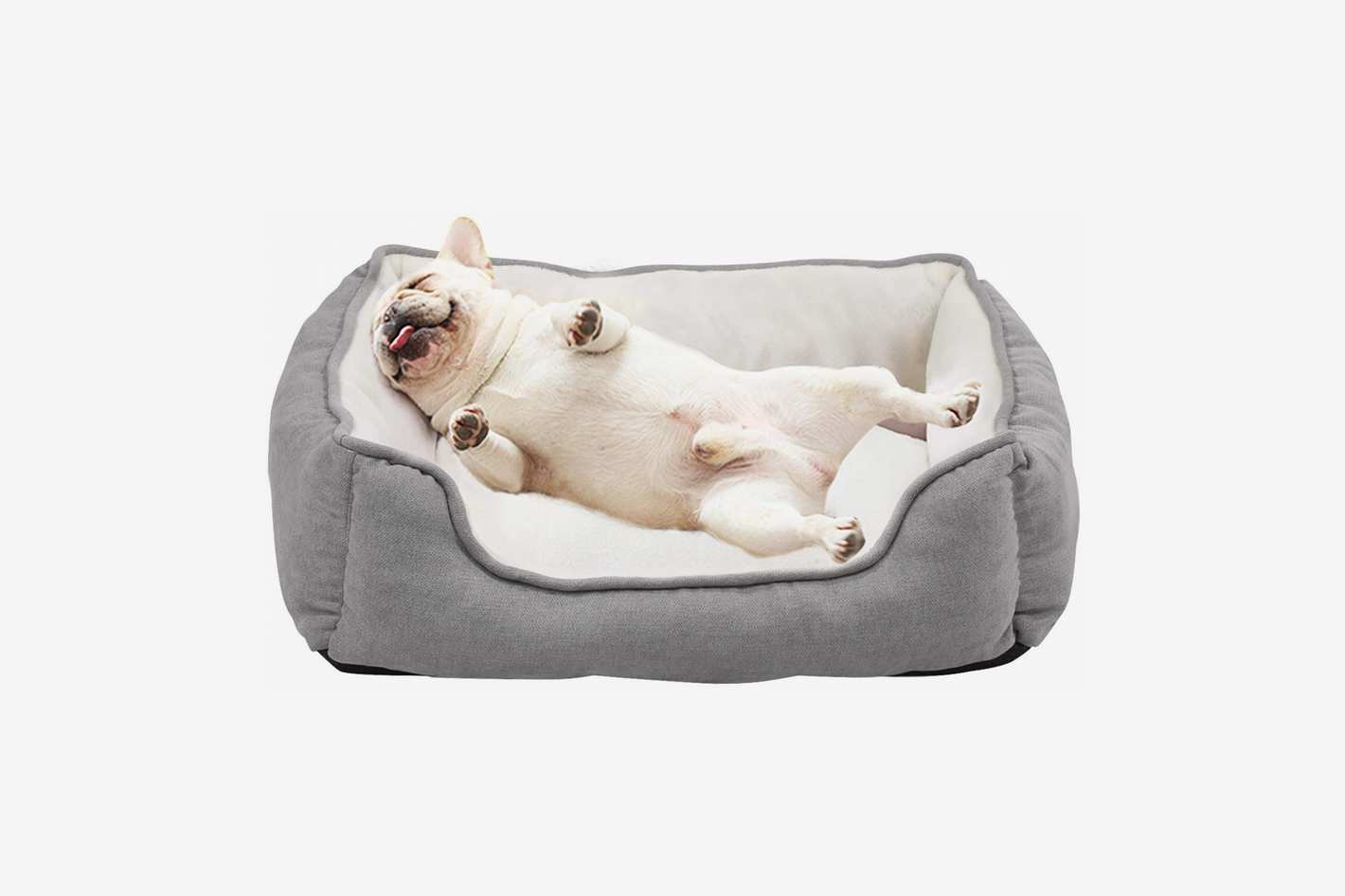 HappyCare Textiles Reversible Rectangle Pet Bed
This reversible dog bed has reviewers describing it as "easy to clean," "a great bed for the price" and "puppy-approved," in large part because it is machine washable. One reviewer calls it, "the perfect bed for my two dogs. I ordered two — one per dog — and they seem to spend most of the time sharing one. The back gives support and the opening allows for their feet, legs, and head to hang out. The be seems well made and does fine in a vigorous washing machine cycle and dryer." Another dog owner "bought two beds, one for each floor. My dogs love them! I washed them in the washing machine multiple times already and they still look like new. Great quality." Though a happy customer with two Shitzus warns that when you wash it in the washing machine, "Just make sure you have kind without that stick in the middle (whatever it's called), otherwise it will get stuck on one side and bounce like crazy."
Best dog bed with bolsters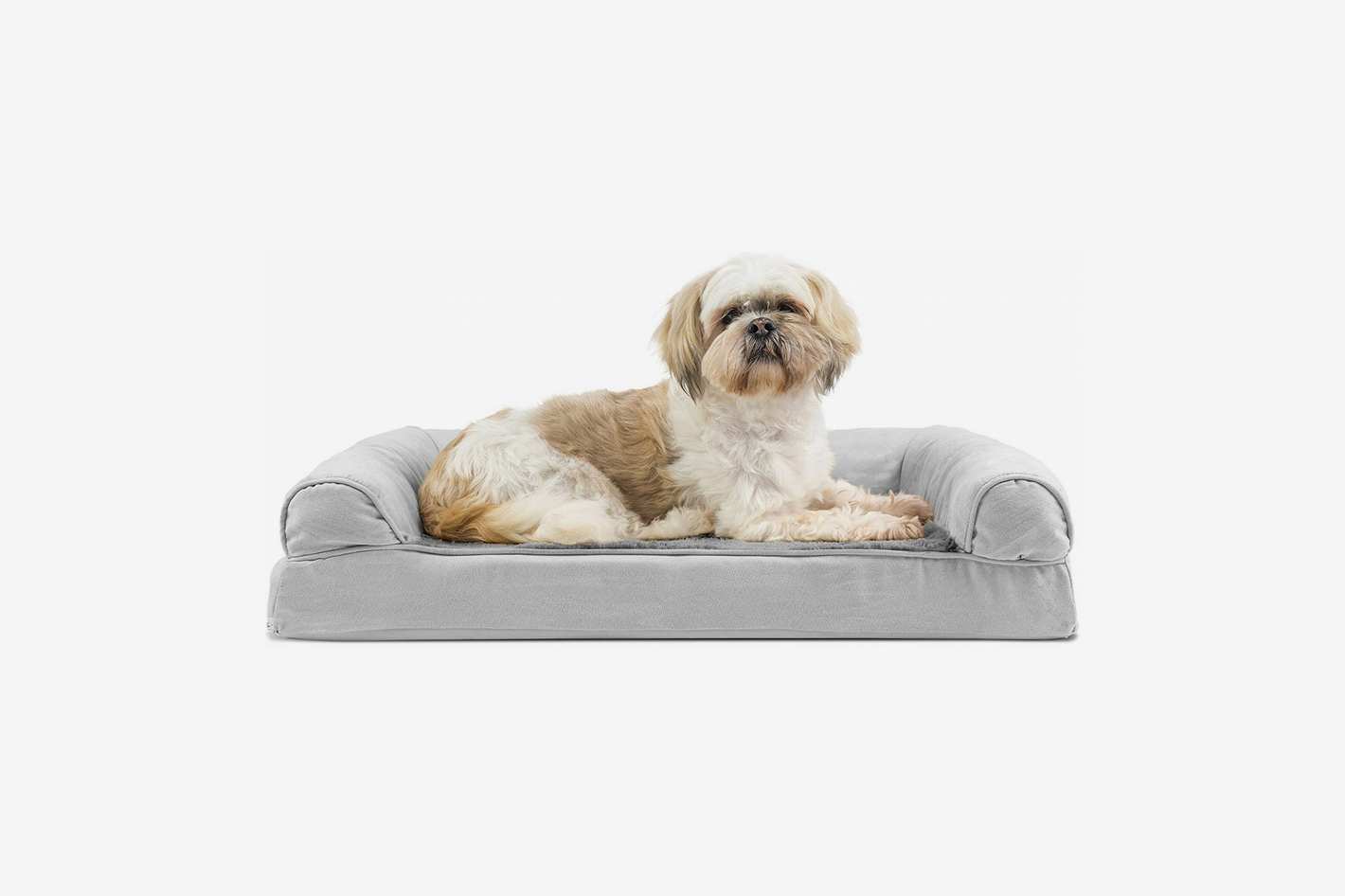 FurHaven Pet Dog Bed Orthopedic Plush Pet Bed for Dogs
From the 3,000 five-star reviews for this bed, the biggest takeaway we found is that dogs of all sizes love snuggling up to the three-bolstered sides. "My 90-pound Lab loves a bolster and this was his first bed that had the bolsters on three sides. He LOVES this bed," writes one reviewer, adding, "My other dog, a little 20-pound Shi-poo also enjoys the bed during the day when the Lab is with my husband. I would definitely buy this bed again." Another reviewer says, "Wembley slept so well last night. Before this bed, he'd get up to adjust himself turning round and round then plop back down. It didn't take him long to get comfortable in this new bed and start using the bolsters for his head. He loves it. 5 huge stars!" And this happy customer says that this bed giver her seven pound, mature pup, "a nice back-rest to lean against. The sleeping surface is just the right softness for her old tiny bones. The spacious size of the bed allows her to stretch out comfortably in any direction. It is easy for her to get into because one edge has no raised side, unlike those bowl-shaped beds which are hard for her to get in and out of. Yet she feels secure on the bed because three sides are bolstered. Really an excellent dog bed all the way around."
Best tent-style dog bed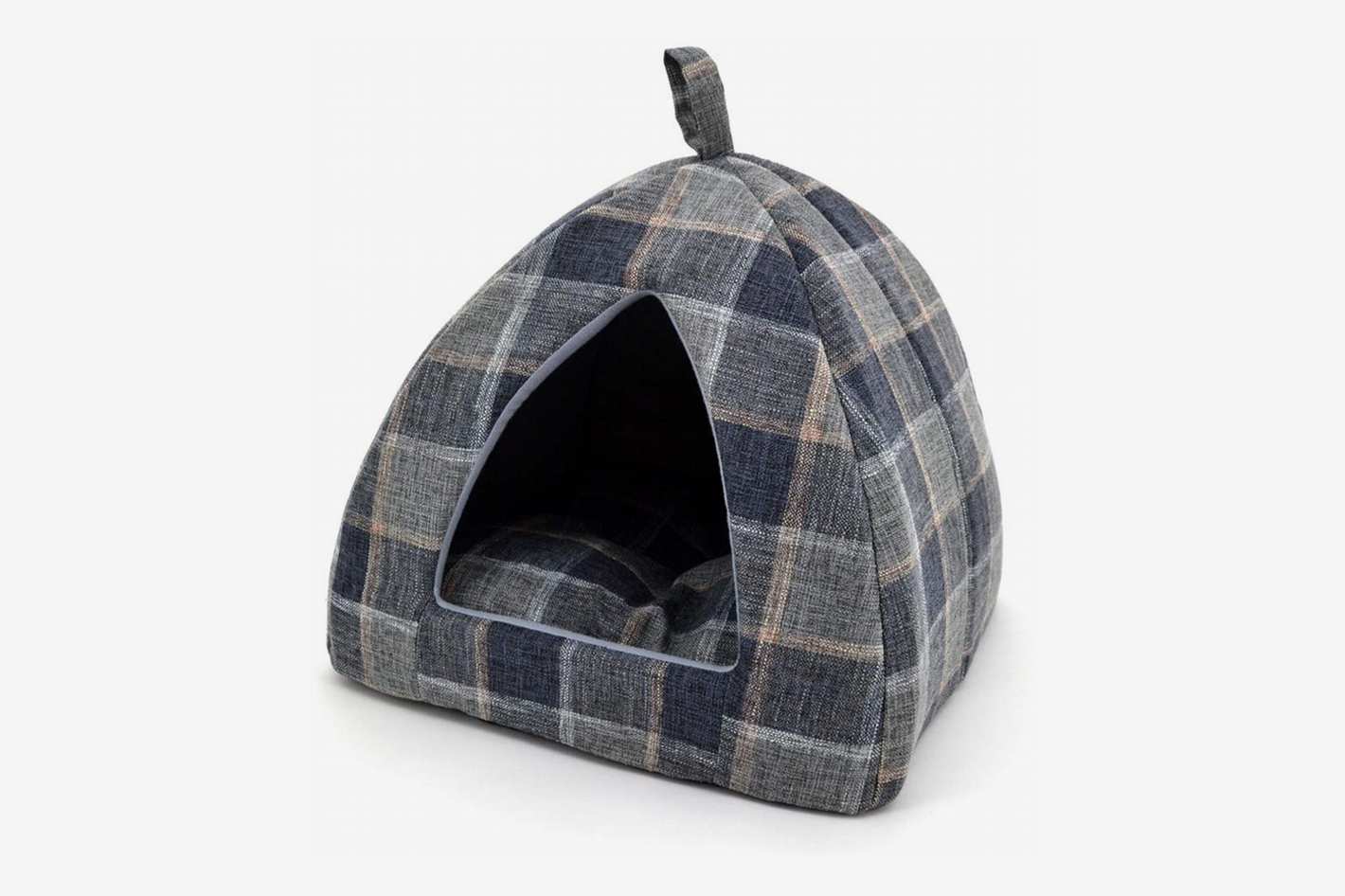 Best Pet Supplies Tent Bed for Pets
"My dogs LOVE this 'pup' tent," one reviewer says, adding, "I bought just one, but they fought over it. So, I bought a second one — but now they both pile into the same one." Another reviewer, who describes this pup tent as "the softest, most comfortable bed for my beagle," bought this specifically to keep their dog warm at night: "It has been getting more chilly at night and her pajamas would be half off by morning with her curled up in a ball and face tucked into her legs. I needed to find something that would keep her warm even after her jammies came off at night. I've stuck my hand inside and the tent really helps insulate and keep her body heat. She loves it in there so much I have to drag her out of bed every morning." Another five-star reviewer writes that even a blind pup can tell the difference between this tented bed and anything else: "I have two Shih Tzus, but only ordered one tent because one of my dogs is blind. I figured she wouldn't know the difference between a tent and her other beds. WRONG! Shortly after her sister vacated the tent bed she found it and climbed into it and loved it too. I immediately ordered a second one."
Best dog bed for a crate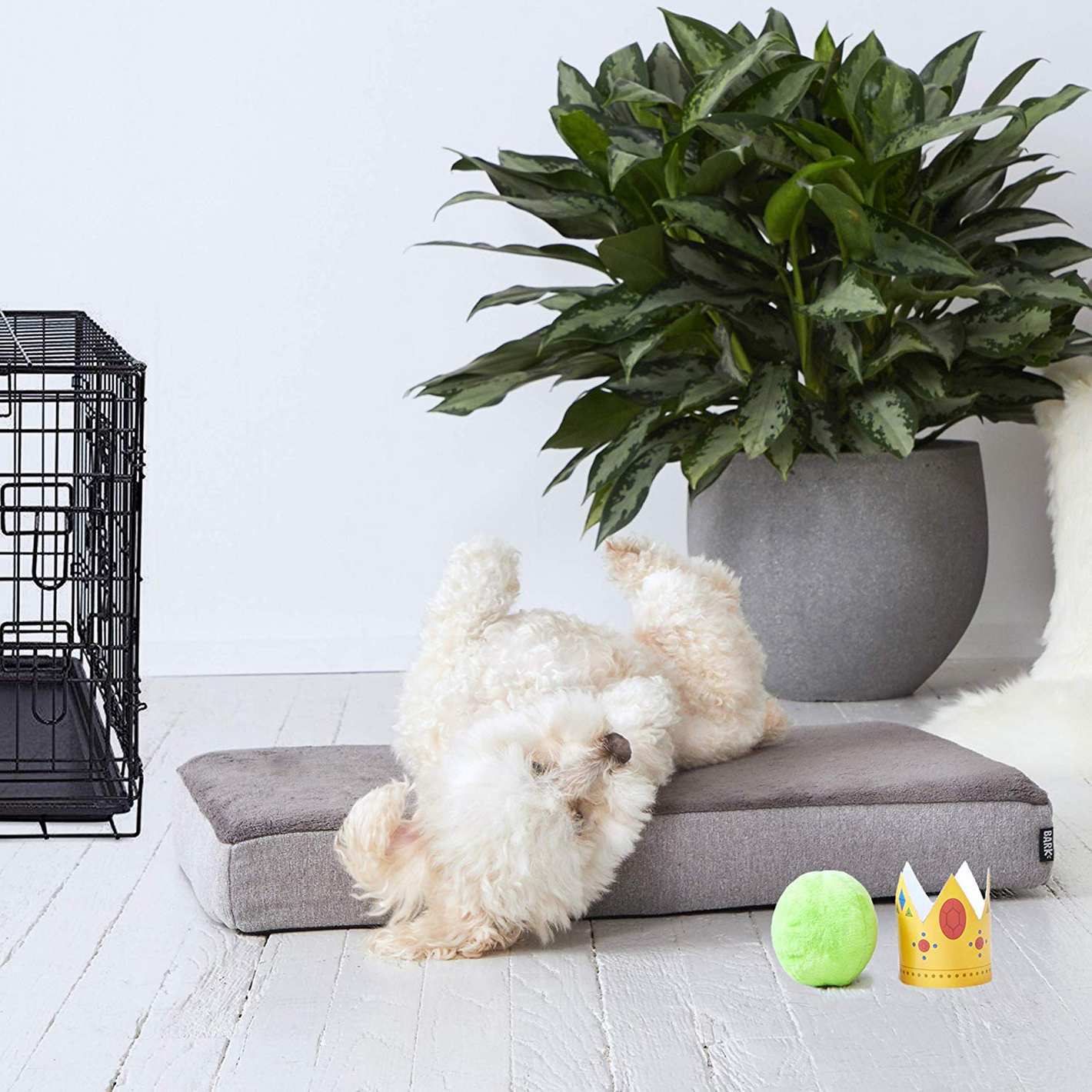 BarkBox Memory Foam Dog Bed Multiple Sizes Plush Orthopedic Joint-Relief
Reviewers were excited to find a bed that fits so well inside their dog crates. As one reviewer raves, "As soon as I took this out of the box my dog took possession of it! It's for her indoor doggie hut (she doesn't like us to call it a crate). We leave it open for her and she retreats whenever she wants to. This is very good quality and seems very comfortable as well." Another dog owner initially bought "a very cheap and basic puppy bed" for their crate. "Eventually, even though she is going to stay a small puppy, she outgrew her bed," they write, adding, "But rather than having her sleep in her bare crate we kept it. I came across this one and let me tell you… It is perfect! The small size fits perfectly in her 24-inch crate. Now our pup can have a great night sleep!" Another bonus is the included toy, a perk mentioned by over 100 five-star reviewers, including one who writes, "The kicker was the little green pea squeaky toy. Usually, she kills toys in five minutes. She's been dragging that pea around and kicks it around, pounces on it."
The Strategist is designed to surface the most useful, expert recommendations for things to buy across the vast e-commerce landscape. Some of our latest conquests include the best women's jeans, rolling luggage, pillows for side sleepers, ultra-flattering pants, and bath towels. We update links when possible, but note that deals can expire and all prices are subject to change.
Every editorial product is independently selected. If you buy something through our links, New York may earn an affiliate commission.