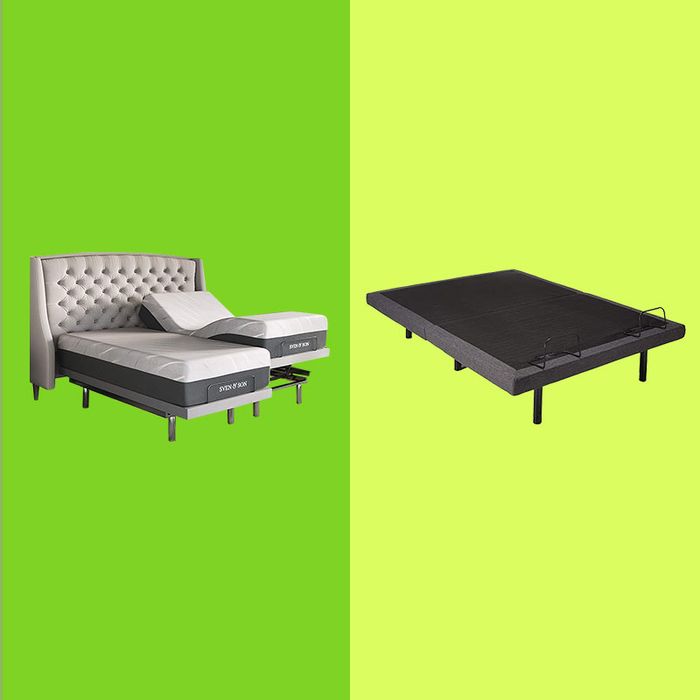 Photo-Illustration: Amazon / Lucid
When it comes to sleep, a lot of focus is placed on finding the right mattress, but finding a good bed frame is also important. One option is an adjustable bed base that tilts, raises, and lowers to facilitate angled or elevated sleeping positions, and Mitch Costner, a sleep expert and buyer for Mattress Firm, says it is "beneficial to everyone no matter your sleep position or sleep style." People with health issues, especially, may find that sleeping is more restful and comfortable when their body is at an angle. Chiropractor Dr. Robert Hayden explains that "anyone who has any difficulty breathing will likely feel more secure and rest better with the head up perhaps 30 degrees." Additionally, he says, "people with arthritic problems, postsurgical issues, spine pathology, and more may rest better with variations in the sleep platform which they can control" because "it is always difficult to sleep if you are hurting." Aside from pain management, hanging out in your bed to read, work, or watch TV may be more comfortable if you are reclining in a "zero-gravity position" — with your head and legs slightly elevated above your heart and stomach, which lets your spinal vertebrae decompress and helps your muscles relax.
To help you find the best adjustable bed base, we talked to Costner, Hayden, and Karen Jacobs, an occupational therapist and clinical professor, about what to look for when buying one.
Best overall | Best less expensive | Best even less expensive | Best with wired remote | Best quiet | Best split king | Best adjustable-base-and-bed-frame combo
What we're looking for
Head and foot elevations: According to Jacobs, the benefits of an adjustable bed lie in the incline — and the higher you can raise your head and your feet, the more you can customize your sleep position. "Inclining the head of the bed can help with decreasing pressure on the lungs and better support breathing," she says, while "elevating the foot of the bed can help promote better circulation." All of these changes can help people sleep better, Jacobs explains. For each adjustable bed base below, we've listed the maximum head and foot elevations by degree. If elevations weren't provided by the brand, we wrote "not listed."
Zero clearance versus non–zero clearance: Some adjustable bed bases can be used with an existing platform bed, while others are stand-alone pieces that aren't compatible with an existing bed frame. Zero-clearance bases are usually tool free and can be placed on top of the platform panels of your bed, which is a convenient option if you already have a bed you love. Zero-clearance bases don't need extra room underneath for the pieces to move freely, allowing you to use the space under your bed for storage. Non-zero-clearance bases come with legs and are designed to be used alone, not with an existing bed frame, and need space underneath to move and operate, which limits the usable space under your bed. However, if you want to use a non-zero-clearance base with your current bed frame, it may still be possible if you remove the center slats so that the legs of the adjustable bed base can rest on the floor.
Zero gravity: Similar to those lawn chairs that allow you to lie back with your upper and lower body perfectly balanced, zero-gravity adjustable bed bases support your body while you sleep in a neutral position. While your head is lifted to sit above your heart, your legs are bent at the knee so that your thighs and torso are evenly angled from your hips. The result is a weightless feeling that can provide a more comfortable way to sleep for some. It can also help with snoring, acid reflux, and general aches and pains. All of the bed frames we've included below have a zero-gravity option.
Warranty: We've noted what type of warranty each base has and for how many years.
Best overall adjustable bed base
60° head, 35° foot | Non–zero clearance | 10-year warranty
While you'll find that many of the adjustable bed bases on our list have helpful features like zero gravity, soothing massaging vibrations, and anti-snoring buttons, the Amerisleep Adjustable Bed+ is our best overall pick because a few less common features set it apart. In addition to more typical and expected features like independent head and foot angling and a zero-gravity option, the legs of the Amerisleep base can be adjusted to three different heights: six, nine, or 12 inches. Aside from customizing the height of your mattress to match your personal preference, this feature allows you to maximize the space under your bed for extra storage without interfering with the functionality of the base. And when you adjust the head of the base upward, its Wall Glide feature also moves your mattress back toward the headboard instead of just up and away, so you're always in alignment with your nightstand. The bed base is designed to fit inside most stand-alone bed frames, or ones with removable platforms, and can also attach directly to some headboards. It is compatible with Amazon Alexa and Google Home, so you can use your voice to adjust your bed if you choose to pair it with a smart home device, or you can adjust it using the remote, which also controls the under-bed LED lights and the rolling-wave full-body massage. Finally, the base ships free with in-home delivery included, and it comes with a ten-year warranty.
Best (less expensive) overall adjustable bed base
60° head, 45° foot | Non–zero clearance | 10-year warranty
The Lucid L300 can adjust your head up to 60 degrees and your feet up to 45 degrees via its wireless remote that has a built-in flashlight for easy nighttime use. Extra features include a programmable memory button to save your favorite bed position, Bluetooth capability, and built-in USB charging ports on both sides of the base. According to the company, setup takes just five minutes, and many reviewers on Amazon agree, noting in their reviews that the base was surprisingly easy to set up. It has a total weight capacity of 750 pounds and comes with a ten-year warranty.
Best (even less expensive) overall adjustable bed base
58° head, 40° foot | Zero clearance | 5-year warranty
An even more affordable option that'll still meet many folks' needs, the Lucid L150 is a more basic version of the L300 model above. It comes with a wireless remote that allows you to adjust the elevation but doesn't have any extra bells and whistles like USB charging ports. It also has a lower weight capacity than the L300, at 600 pounds total, and a shorter, five-year warranty. It has independent head (up to 58 degrees) and foot (up to 40 degrees) elevations, and it's compatible with most mattresses under 14 inches. And one particularly nice feature is the zero-clearance construction, which offers 11 inches of storage space.
Best adjustable bed base with a wired remote
58° head, 40° foot | Non–zero clearance | 5-year limited warranty
Adjustable bed bases are known to alleviate sleeping issues for "people who suffer from sleep apnea, musculoskeletal pain, and cardiovascular disease," explains Hayden. Additionally, Jacobs says that seniors, in particular, can benefit from using an adjustable bed base, and unlike other options on this list, this bed frame uses a wired (as opposed to wireless) remote, which many older reviewers say they appreciate for its simplicity. It's compatible with foam and foam-hybrid mattresses, and it has a head incline up to 58 degrees and a foot incline up to 40 degrees.
Best quiet adjustable bed base
Elevations not listed | Non–zero clearance | 5-year limited warranty
The maker of some of our favorite affordable mattresses, Zinus's metal adjustable bed base is a budget-friendly option. Like others, it's controlled by a wireless remote and has multiple head and foot inclines. But one notable characteristic reviewers point out is how quiet it is. While many adjustable-bed-base motors can be noisy, multiple people commented that the motor is so quiet they couldn't hear it. Another perk: This base's legs can be adjusted to 4.5, seven, or 11 inches high depending on how much storage space you want under the bed.
Best split-king adjustable bed base
75° head, 45° foot | Zero clearance | 10-year extended warranty
A split-king bed base — which basically holds two twin-size mattresses side by side — is a great option for people who share a bed but have different sleeping styles and preferences. Each person can adjust their side of the base to best meet their needs without bothering their sleeping partner. This feature-packed model has a wireless remote that includes preprogrammed settings for anti-snoring and zero-gravity elevations and a memory button to save a favorite position. It also includes lumbar support and a headrest tilt, the latter of which can adjust your pillow's angle by up to seven degrees; it's the only base on this list to offer either feature. The head and leg angles can be adjusted up to 75 degrees and 45 degrees, respectively, and both have massage functions that you can set to pulse, wave, or full-body massage. The base has a lot of built-in features, too, including four USB ports, under-bed lighting that can be activated using the remote, and a mobile app that lets you control the base using your phone. And for those who like to store things under the bed, this base has adjustable legs that can raise up to nine inches for maximum storage space underneath.
Best adjustable-bed-base-and-bed-frame combo
65° head, 50° foot | Non–zero clearance | 3-year warranty
If you're in the market for an adjustable bed base and a bed frame to go with it, this one-piece combo by Nectar can check both boxes; all you need to add is your mattress. Looks-wise, it is similar to the Lucid L300 above, with an upholstered platform that mimics a traditional bed frame, giving the bed a sleek and stylish look. The head of the base can be elevated up to 65 degrees, and the foot of the bed can be elevated up to 50 degrees. It also has an anti-snoring button that lifts your head slightly while placing the foot of the bed totally flat, a position Dr. Hayden explains can be helpful for proper airway circulation. "Changing the angle of the platform under the pillow can make a significant difference in the airway," he says, explaining that keeping the airway open may help prevent snoring and interrupted sleep cycles. Additionally, the base has several tech-forward features, including a USB charging port, app-controlled capability, and programmable memory to store your favorite settings. There's also a massage option that can be used on the head of the bed, the foot of the bed, or simultaneously for ten- or 20-minute intervals.
Our experts:
-Mitch Costner, sleep expert and a buyer for Mattress Firm
-Dr. Robert Hayden, Chiropractor
-Karen Jacobs, occupational therapist and clinical professor
The Strategist is designed to surface the most useful, expert recommendations for things to buy across the vast e-commerce landscape. Some of our latest conquests include the best acne treatments, rolling luggage, pillows for side sleepers, natural anxiety remedies, and bath towels. We update links when possible, but note that deals can expire and all prices are subject to change.