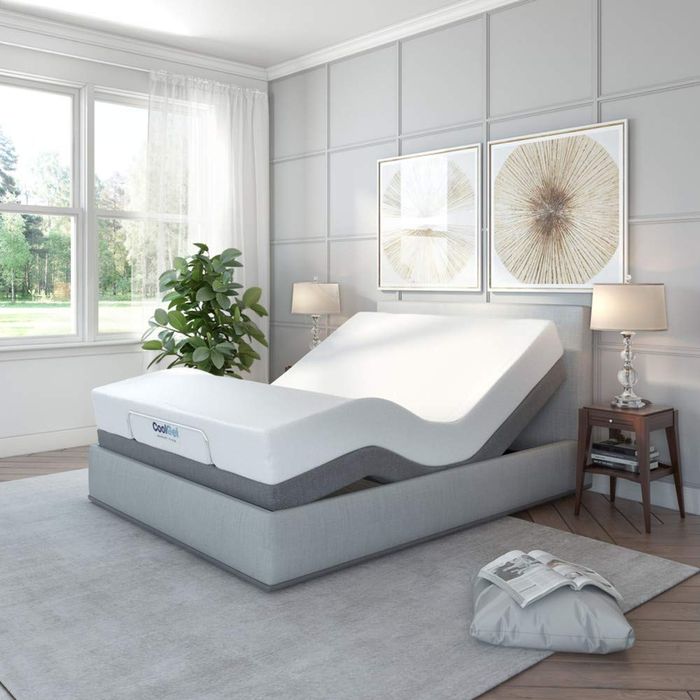 Here at the Strategist, we like to think of ourselves as crazy (in the good way) about the stuff we buy, but as much as we'd like to, we can't try everything. Which is why we have People's Choice, in which we find the best-reviewed products and single out the most convincing. (You can learn more about our rating system and how we pick each item here.)
And while we've written about plenty of bed stuffs for a good night's rest — including the best affordable bed frames (and storage bed frames), the best mattresses you can buy online, and the best sheets on Amazon — here we've rounded up the best adjustable beds, as praised by the most enthusiastic reviewers on Amazon.
Best-rated adjustable bed base
With over 2,200 reviews — 1,400 of which are five stars — this option from Classic Brands is far and away the best-rated adjustable bed base. "Holy crapweasel, this base is the MOST INCREDIBLE purchase I've ever made. Easy setup, everything works, the recline levels are perfect and the three-massage feature is sooooo nice," raves one reviewer. "And the anti-snore feature completely fixed my husband's snoring!" That aforementioned massage feature is a big selling point among reviewers, and multiple users describe the sensation as "powerful" enough to feel through their mattress. Another bed owner lovingly described the massage feature as "a gentle wave that moves up and down the bed."
Ultimately, reviewers seem to recommend this bed because it is comfortable for both sleep and lounging. "I wake up rested and without backaches any longer!" says one satisfied reviewer. "I have recommended this to anyone I hear is purchasing a new bed, whether for reading in bed, breakfast or coffee in bed, doing work on a laptop, watching TV, or reclining in bed for a chat or a massage, this is boudoir awesomeness."
Best-rated (less expensive) adjustable bed base
"When I had to change from using a Japanese-style floor futon to an actual bed due to arthritis, I decided to go all the way," says one reviewer. "This was an excellent decision. I can't believe this bed is so perfect for the price!" And many other commenters remark on the value they get with this adjustable bed base from Classic Brands. One writes, "After comparing prices and reviews from different adjustable bed bases, I decided to take a gamble and buy this one because the price was just so much better than the rest. After I received it, it was simple to put together and it looks great. Really much better quality than I expected."
That affordable price point also means it's accessible: "I live with three rare chronic neuro disorders. And will for the rest of my life. Sleeping is the most painful thing I do. I have been sleeping in a recliner for the last two years because it caused the least amount of pain. I never thought I could afford an adjustable base that would offer me the same ability to adjust like a recliner but on more comfortable padding, a.k.a. a mattress. I randomly decided to check on adjustable base prices on Amazon. I am sooo glad I did … I couldn't be happier to have spent that money on anything else with anyone else!"
And now for some micro-picks for every type of adjustable bed base you might be looking for.
Best adjustable bed base with wireless remote
Reviewers were ecstatic with the Lucid L300, with one remarking that it is "one of the best furniture purchases that I have ever made." Many are surprised by the fast and convenient setup. According to one satisfied, older woman, "Two 70-year-old females had it put together and ready to use in about one hour." One point of convenience is its wireless remote, which has "a nice light on them to find things without waking your spouse." Another reviewer loves the, "'memory' button on the wireless remote — one click and it goes to my favorite position regardless of where it is set currently." But despite all the functionality of the wireless remote, it's still easy to use. After assembling the bed for their grandparents, one reviewer commented that "the remote is very simplistic, and easy for even my grandparents (who don't even own a computer)." Plus, according to at least one reviewer, the bed base itself is a kitty repellent: "Quietly changing elevation and position is highly unsettling to the feline constitution."
Best adjustable bed base with easy setup
This adjustable bed base from Lucid comes highly recommended by reviewers for its dead-simple setup. One reviewer writes that assembly, from "the time UPS left" her house to completion, took "less than 45 minutes." Another wrote that it took them five minutes to assemble: "You simply take the frame out of the box, screw in six metal legs, attach two clearly marked cables and then flip the frame." Its remote is wired, which plenty of reviewers counted as a benefit over an easier-to-lose wireless remote. One reviewer explains, "The cord for the controller is long enough to mount to either side of the bed. (I did not want a loose remote control. I keep misplacing the one for the TV.) Both my husband and I are suffering from seasonal allergies, and raising the head of the bed at night is helping both of us sleep better. His snoring, while not ended, is minimized." And the bed frame is relatively silent as it adjusts. "I was honestly expecting some sort of roaring noise," admitted one reviewer, "like hospital beds, but I guess technology and engineering have come a long way since I've stayed in the hospital."
Best adjustable bed base for queen-size bed frames
This option from Leggett & Platt seems to be the preferred pick for those who want an adjustable bed but don't want to give up their current bed frame. "It fits inside any queen-size bed frame, so it can be used with your existing bedroom set," writes one reviewer. "It is very sturdy and quiet." Owners praised its simple assembly, only requiring that you tighten eight screws: "Arrived in two boxes, easy assembly as advertised, operation easy and quiet, simple and efficient," says one. Plus, with a foot of elevation, it provides ample room to "slide stuff under the bed."
Best zero-gravity adjustable bed base
"I LOVE this frame!!! It's quiet, it's sturdy, it has USB outlets and motion-sensor night lights," says one reviewer. "There are so many positions that alleviate pain and provide comfort whether I'm watching TV or sipping tea. The zero-gravity button is amazing. It puts me in the perfect weightless position." That zero-gravity functionality is one that several reviewers cite as a favorite feature of this adjustable bed frame: "Would highly recommend. We look forward to going to bed and watching TV in our zero-gravity position!"
Best adjustable bed base with massage
"This bed is giving me life!" writes one reviewer with chronic health issues. "Before, with my regular bed, I was using 10 to 12 large-size pillows to try to prop myself up every night, because due to my health issues, I cannot sleep flat. I would toss and turn all night, wouldn't get any rest — but with my new adjustable bed I only use two [pillows]. I push in the position with my remote, and turn on the massage, and I'm out in a matter of seconds! This bed is like anesthesia." Another reviewer exclaims, "The massage really does work. We can feel through the mattress and the different speeds and patterns knock me and my girlfriend out in minutes when we are having trouble falling asleep on restless nights."