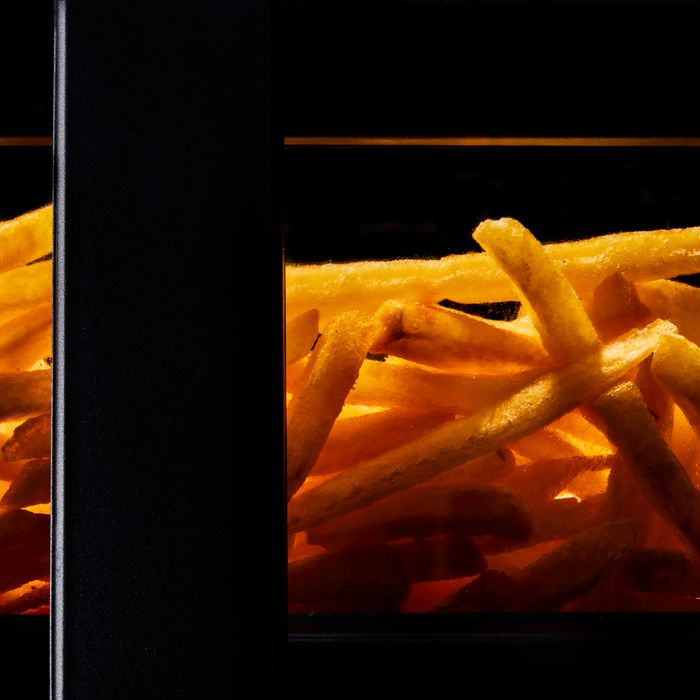 Illustration: Courtesy Retailer
I used to be an air-fryer skeptic, believing them to be unnecessary, flashy appliances that were meant to make healthier versions of French fries, mozzarella sticks, and wings — and not useful for much else. But now, many interviews for this piece later, I finally understand their appeal.
Yes, the classic snack-y, crunchy foods were what people talked about most when air fryers started rising in popularity several years ago ("It's akin to deep-frying without all the oil" is basically what I heard over and over again). But it turns out they also work magic on vegetables, proteins, baked goods, and, yes, toast. This is because they're essentially small convection ovens, meaning they have a fan-and-exhaust system that blows hot air all around your food for more even cooking and browning (this is why professional bakeries use industrial convection ovens). It works just as well whether you're making breaded onion rings from the freezer or roasting broccoli. And while some are lucky enough to have a convection setting on their full-size oven, many don't. Besides, with an air fryer, you're taking "that quality and putting it in a really small contraption, which magnifies it times ten," explains Ben Mims, a Los Angeles Times cooking columnist and the author of a cookbook devoted to the appliance.
Air fryers can also be incredibly convenient. They cook foods way faster than a regular oven, with very minimal preheating time (if any at all), which is beneficial if you're in a rush to eat, live in a small space and don't want to make your kitchen unbearably warm, or need to reheat leftovers without a fuss. Air fryers are a breeze to wipe down after each use so you don't end up with an eventual, terrible deep-cleaning project (as happens with your standard oven). And some come with more than one function so it's easier to rationalize giving up the kitchen real estate (more on that below).
I've spent some time now comparing air fryers to standard ovens, and some of the people I spoke to really do use the former with much more regularity than the latter. But it doesn't necessarily have to be that way to justify buying one. As Mims said to me, "I use it as a kitchen helper. I was never onboard with the air fryer fully replacing everything in your kitchen. I think of it as similar to the Instant Pot. You either take to it or you don't (I have friends who love it, whereas I prefer to braise in a pot in the oven for four hours). It's just about if it fits your cooking lifestyle."
If you do in fact think an air fryer might work with yours, read on for recommendations from Mims and a handful of other experts.
What we're looking for
Single- or multifunctional: Perhaps the most important matter to decide on is whether you want an air fryer that is just an air fryer or one that also does … a lot of other things. Some on this list are one-trick ponies, while others have settings that allow you to broil, dehydrate, proof, and more.
Capacity: How you intend to use your air fryer should, of course, affect what size you buy. Are you planning to use it mostly for yourself to bake off the occasional single cookie or to reheat leftovers? Or is the idea to use it for regular family dinners? For this category, I've listed the capacity of each model. But it should be noted: Basket-style air fryers (the majority here) are measured in terms of how many quarts they hold, while ones with rack inserts (meaning they look more like toaster ovens) are measured in terms of their interior cubic inches.
Best overall air fryer
Function: Single | Capacity: 6 quarts
Jenny Tschiesche, founder of Lunchbox Doctor and author of an air-frying cookbook, has tried a few different air fryers — but the Instant Vortex is the one that has stood the test of time in her kitchen. "I've had this one the longest of any, about two years," she says. "With some of the others, after a few months, the lining starts to come away, or you see scratches. But this one has lasted without damage. And that's something considering how much it gets used by all family members — including two teenagers." She and her family use it every day for roasting vegetables, reheating buns, and making chicken nuggets, salmon, sweet potato fries, flapjacks, and more. For Tschiesche, the fact that many of her Le Creuset dishes fit in there is also a huge plus. Not to mention, the inside of the machine has a light feature just like your oven, and the basket itself has a window in the front so you can see what's going on inside at any time.
Cookbook author Julia Turshen has the same model, but without the see-through window. It made her an air-frying convert, and now she and her wife use the appliance nearly every day of the week (for themselves, as well as for their dogs, who get air-fried ground meat mixed in with their food). The biggest appeal for Turshen is how quickly it becomes hot and cooks food without overheating her kitchen. Then there's the fact that it's basket-style (as opposed to a few models on this list that look like toaster ovens), which means she can "fit way more than a skillet" and "just shake things up in the basket" instead of tediously flipping them over on a sheet tray. Finally, she appreciates how it saves her from having to "clean the stovetop, which I hate," she says.
Bruce Weinstein, co-author of multiple air-frying cookbooks, echoes what Tschiesche and Turshen say about the capacity of this air fryer: While some models are very tall — which accounts for their overall capacity and ability to fit, say, a big pile of French fries — that setup won't allow air to flow around as easily and result in the crispy texture you're after. The Vortex, however, has a large square footage on the bottom, meaning you can lay everything in a single layer and avoid overcrowding. "It just has the perfect ratio of height to width," he says.
Best less expensive air fryer
Function: Single | Capacity: 5.8 quarts
The Cosori comes recommended by three experts who have all tried many air fryers. Jennifer West and Rebecca Abbott, the writers and recipe developers behind Air Frying Foodie, and cookbook author Katie Hale turn to this one more than any other. (Fun fact: It's the model that Vanderpump Rules star Lala Kent also recently raved about to us.) Hale says "it's affordable, especially for the quality," while West says she's used it so much over the course of a few years that she "really knows the way it cooks." Although West and Abbott both own a slightly older model, the company confirms that the one listed here is a very similar version with upgraded internal technology and some different presets.
Abbott and Hale both mostly make food for themselves and their husbands, and still find that it's the perfect size. " I don't think I've come across something you can't fit in the basket," she says. "It has great presets for things like cake, meat, and fish. Also, the directions are very clear and easy. Some air fryers stress me out. You're trying to set time and temperatures and there are too many buttons — and I'm someone who air-fries every day." Both experts say that they can imagine wanting an appliance with additional settings for something like RV living, but that they find the Cosori to be all they need for their day-to-day lives. "It does everything you want an air fryer to do," says Abbott.
[Editor's note: Cosori has recently recalled 20 different models of their air fryers due to overheating and posing a fire hazard. While this one is not being recalled, you can find more information and a full list here.]
Best even less expensive air fryer
Function: Single | Capacity: 3.7 quarts
Mims has for years used and loved his Crux, which he discovered when he was testing all sorts of kitchen gadgets for Buzzfeed's Tasty before air-frying became a phenomenon. (In fact, his is an older model the company no longer makes; the one listed here is its updated version.) "It cooks as great as can be," he told me. "Still to this day, I use it at least once a week, if not more, mostly to roast veggies. A lot of them require you to preheat, but the Crux does not. I don't own a dishwasher, and it's really easy to clean. The basket pulls right out, it unclips, and you can rinse and wipe it out. Others have racks built in that can make cleaning a little more difficult. It's the Goldilocks size, enough for me and one other person, which is perfect."
Best air fryer for beginners
Function: Single | Capacity: 2.6 quarts
If you're air-frying curious but don't want to break the bank, you can't get much better than the Dash's Tasti-Crisp model, which comes recommended by recipe developer and blogger Madeline Park of Cafe Maddy. It's small (even more so than the Crux) and particularly simple to use, with just two dials, for temperature and time. "I live alone and only cook one portion at a time," says Park, who doesn't even like to have leftovers because her video creation requires her to make new meal after new meal. "I can cook a dish in 20 minutes, and it's really intuitive to use."
For a slightly bigger model with similarly simple functionality, Zosima Fulwell, founder of Cooking with Mama Z, turns to her Tower T17021 Family Size Air Fryer. Tower is a U.K.-based brand, so shipping will almost double the price — but we did a reverse image search and found this pretty much identical (and more affordable) version available in the States that will give you three quarts of room. "There are other higher-end models, but in terms of something that is quite basic and simple and affordable, I think this one is a really good starting point to learn," Fulwell says.
Best durable air fryer
Function: Single | Capacity: 7 quarts
Weinstein calls this a very well-made machine for two main reasons. First, the food tray is stainless-steel mesh, "almost like chicken wire," he says. It's a material that is bound to last much longer than the usual slatted nonstick trays you'll find at the bottom of other basket-style air fryers. (Weinstein notes that you can put it in the dishwasher, but if you don't have one, just soak it right after use so no hard bits stick, then wash when you're ready.) The second reason is an additional built-in layer underneath that mesh tray: a catcher where released fat drips and collects. "It keeps splatter and smoke down," he says, "especially with fatty foods like steak and hamburgers." The less grease buildup over time, the better your air fryer will function and the longer it will last.
Best air fryer for baking
Function: Single | Capacity: 4.2 quarts
At first, Gracie Bensimon of Gracie Baked ignored the air fryer her roommate bought, believing it was another kitchen appliance she didn't need. But since she finally tried it a couple of years ago, she hasn't looked back. Technically, you can bake in any of these machines, but Bensimon is obsessed with making cookies in hers and waxed poetic to me about how good the treats turn out. The air fryer itself is one of the simpler models on this list, with just one button for time and another to set the temperature, but Bensimon says she leaves it around 370 degrees. It sits plugged in on her counter, and whenever the need for a cookie strikes she simply turns it on and plops in a ball or two of dough on top of a sheet of parchment paper (yes, without even waiting for it to preheat, which she says has never been a problem). "Toast was my air-fryer gateway snack, but cookies is what pushed me over the edge into a full-blown air-fried addict," she says. "I bake mine for about seven or eight minutes. The cookies get a nice golden bake on the outside but stay so outrageously doughy on the inside. I top mine with chunky sea salt or make myself a cookie and ice-cream sundae."
Best air fryer for kids
Function: Single | Capacity: 2 quarts
Abbott originally bought the Dash Compact Air Fryer for herself and her husband, but it turned out the basket is too small for their needs. Instead, she says, her grandson has somewhat adopted it. "He calls it his," she told me, "and knows how to use it, with my supervision. There are no fancy buttons — just knobs for temperature. I keep it between 380 and 400 degrees, and then there's a little egg timer." With a lower wattage than most others on this list, it takes slightly longer to heat up (but really, we're talking about a difference of minutes). "We'll stick a corn dog or chicken nuggets in there," Abbot says. "Or if we want to bake off a few cookies or biscuits at a time." Plus, it comes in cute colors, costs $50, and at less than a foot all around, can be easily stored in a cabinet. But today, this air fryer is just $40 at Bed Bath & Beyond for Cyber Monday.
Best multifunctional air fryer
Function: Multi | Capacity: 1 cubic foot
The Breville Smart Oven Air Fryer Pro boasts 13 preset functions: toast, bagel, bake, roast, broil, pizza, cookies, proof, air fry, dehydrate, reheat, warm, and slow cook. You can toast nine pieces of bread at a time, roast a 14-pound turkey, and fit a five-quart Dutch oven inside. In other words, it's really not fooling around.
Food writer and editor Alyse Whitney has been using hers for the last three years, and used Breville's previous similar model for eight years before that. "This is like my ride-or-die appliance," she says. "It is what will be buried with me." It's big, and not everyone has the counter space for that. But if you do, Whitney can't recommend it enough. "I use this as my oven six out of seven days of the week," she says. "And I use it as my second oven when I'm hosting a party. Two quarter sheet pans fit nicely in there because it has two levels. The basket ones seem simple but also limiting. I love how many things this one does. Also it has a clear window, so I can see what's happening" As for the more difficult cleanup that Mims mentioned about racks? Whitney has a solution: "I put a piece of aluminum foil underneath."
Best less expensive multifunctional air fryer
Function: Multi | Capacity: 0.6 cubic feet
The Cuisinart is a slightly smaller (12 by 16 by 14 inches instead of 21 by 17 by 12) machine with seven preset functions: air fryer, convection bake, convection broil, bake, broil, warm, and toast. Mims says that if you want an air fryer that can do more than just air fry, this one "does as good of a job as the Crux at cooking." Like the Breville, it comes with a tray and a basket insert, though it will only hold one level at a time.
Best basket-style multifunctional air fryer
Function: Multi | Capacity: 4 quarts
Unlike the Breville and Cuisinart, this Ninja is a basket-style multifunctional air fryer (as opposed to tray style). It boasts five stars on Amazon with over 34,000 reviews — and was one of our readers' favorite models from a previous version of this article. There aren't as many settings as the other two — just air fry, roast, reheat, and dehydrate — but that's still more than having just two buttons to control time and temp. The dehydrate option in particular is only otherwise found on the much more expensive Breville, and several reviewers had great success making beef jerky in theirs. Finally, a striking number of people noted how easy this air fryer is to clean by hand. "I don't even bother using the dishwasher," says one, while another claims they can wash the drawer and removable bottom plate in about a minute.
Best air fryer with rotisserie basket
Function: Multi | Capacity: 10 quarts
This Instant air fryer is the largest on the list and as such, accommodates several insertable accessories for cooking that wouldn't fit in any other model. The first is a metal spit specifically designed for making rotisserie-style chicken that Hale says "has the crispiest skin on all sides." You secure the bird on the spit, insert it into the air fryer, set your temperature and time, select the "rotate" button, and let it go. (While Instant says you can fit a bird up to four pounds, Hale prefers hers to be around three to prevent it from rubbing against the sides.) The machine also comes with a perforated cylindrical basket suspended in the center of the main chamber that rotates so the food inside tumbles around and receives maximum air flow. Hale says this makes the outside of French fries, tater tots, and vegetables even more uniformly crisp than other air fryers. It also accommodates two trays at a time that you can air-fry on, as well as use with the machine's toast and bake settings. While Hale admits the appliance isn't quite as easy to clean as her Cosori XL based on sheer size, she says the inside still wipes down nicely and the front door comes completely off so it can be washed more thoroughly by hand.
Best air fryer with dual baskets
Function: Single | Capacity: 8 quarts
This air fryer has something none of the others on this list do: two baskets. This allows you to cook separate foods separately but at the same time — say, wings in one compartment and fries in the other — with each side set to a distinct temperature for a particular amount of time. As one of the nearly 15,000 five-star reviewers wrote, "I own the one-basket Ninja already, but immediately saw the issue of preparing different courses of meats and veggies. Different foods take different times and temps so you have to figure out how to get everything hot at the same time. This dual basket solves that."
Best combination pressure cooker and air fryer
Function: Multi | Capacity: 8 quarts
In fact, the Instant Pot Duo has 11 preset functions — but it's the only one on this list that pressure cooks in addition to air frying. "For a long time, I was one of the most outspoken and vehement critics of air fryers," says Courtney Kassel, co-founder and co-writer of the newsletter Sifted. "But after moving in with an air fryer-owning friend, I'm well on my way to converted. In our apartment, as is the case with many, using the oven takes more effort than a simple switch, and can often be unreliable both in preheating time and temperature. Our trusty air fryer, however, preheats in minutes and I'd argue outperforms the oven for various tasks: evenly roasted vegetables, cooking proteins quickly, or just generally existing on TikTok in 2022. Additionally, ours happens to be a combination air-fryer-Instant Pot, meaning I can further justify the space it eats up in our limited kitchen storage and it's a lifesaver on nights when the 'What's for dinner?' conversation doesn't even kick off until 7 p.m."
Some more air fryers we've written about
Our experts
• Rebecca Abbott, co-founder of Air Frying Foodie
• Gracie Bensimon, founder of and baker at Gracie Baked
• Zosima Fulwell, founder of Cooking with Mama Z
• Katie Hale, cookbook author
• Courtney Kassel, co-founder and co-writer of Sifted
• Ben Mims, Los Angeles Times cooking columnist and cookbook author
• Madeline Park, Cafe Maddy cook and blogger
• Jenny Tschiesche, founder of Lunchbox Doctor
• Julia Turshen, cookbook author
• Bruce Weinstein, cookbook author
• Jennifer West, co-founder of Air Frying Foodie
• Alyse Whitney, food writer and editor
The Strategist is designed to surface the most useful, expert recommendations for things to buy across the vast e-commerce landscape. Some of our latest conquests include the best dining-room décor items, coffee-makers, knife sets, Japanese coffee brewer, charcoal water filter, and drinking glasses for water and more. We update links when possible, but note that deals can expire and all prices are subject to change.
Every editorial product is independently selected. If you buy something through our links, New York may earn an affiliate commission.