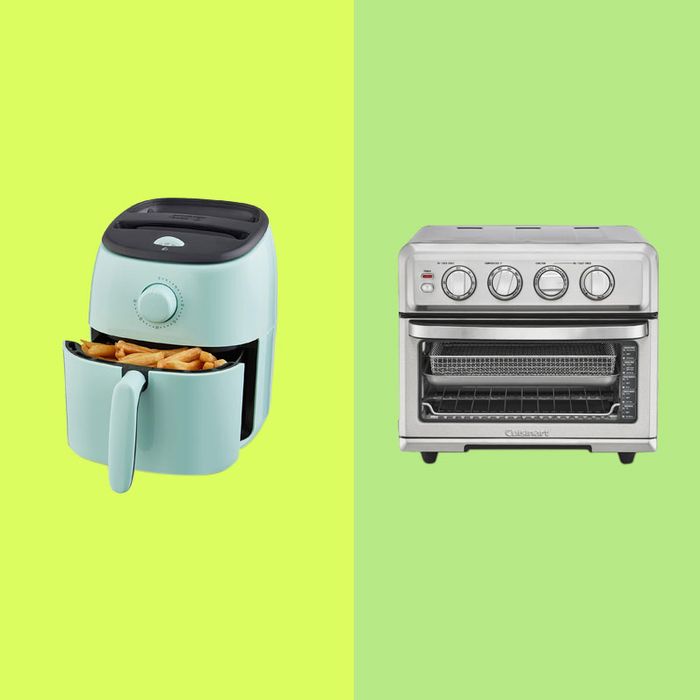 Photo-Illustration: Courtesy Retailer
I used to be an air-fryer skeptic, believing them to be unnecessary, flashy appliances that were meant to make healthier versions of French fries, mozzarella sticks, and wings — and not useful for much else. But now, many interviews for this piece later, I finally understand their appeal.
Yes, the classic snack-y, crunchy foods were what people talked about most when air fryers started rising in popularity several years ago ("It's akin to deep-frying without all the oil" is basically what I heard over and over again). But it turns out they also work magic on vegetables, proteins, baked goods, and, yes, toast. This is because they're essentially small convection ovens, meaning they have a fan-and-exhaust system that blows hot air all around your food for more even cooking and browning (this is why professional bakeries use industrial convection ovens). It works just as well whether you're making breaded onion rings from the freezer or roasting broccoli. And while some are lucky enough to have a convection setting on their full-size oven, many don't. Besides, with an air fryer, you're taking "that quality and putting it in a really small contraption, which magnifies it times ten," explains Ben Mims, a Los Angeles Times cooking columnist and the author of a cookbook devoted to the appliance.
Air fryers can also be incredibly convenient. They cook foods way faster than a regular oven, with very minimal preheating time (if any at all), which is beneficial if you're in a rush to eat, live in a small space and don't want to make your kitchen unbearably warm, or need to reheat leftovers without a fuss. Air fryers are a breeze to wipe down after each use so you don't end up with an eventual, terrible deep-cleaning project (as happens with your standard oven). And some come with more than one function so it's easier to rationalize giving up the kitchen real estate (more on that below).
I've spent some time now comparing air fryers to standard ovens, and some of the people I spoke to really do use the former with much more regularity than the latter. But it doesn't necessarily have to be that way to justify buying one. As Mims said to me, "I use it as a kitchen helper. I was never onboard with the air fryer fully replacing everything in your kitchen. I think of it as similar to the Instant Pot. You either take to it or you don't (I have friends who love it, whereas I prefer to braise in a pot in the oven for four hours). It's just about if it fits your cooking lifestyle."
If you do in fact think an air fryer might work with yours, read on for recommendations from Mims and a handful of other experts.
Best overall | Best less expensive | Best for beginners | Best durable | Best for baking | Best for kids | Best multifunctional | Best less expensive multifunctional | Best basket-style multifunctional | Best with dual baskets | Best combination pressure cooker and air fryer
What we're looking for
Single- or multifunctional: Perhaps the most important matter to decide on is whether you want an air fryer that is just an air fryer or one that also does … a lot of other things. Some on this list are one-trick ponies, while others have settings that allow you to broil, dehydrate, proof, and more.
Capacity: How you intend to use your air fryer should, of course, affect what size you buy. Are you planning to use it mostly for yourself to bake off the occasional single cookie or to reheat leftovers? Or is the idea to use it for regular family dinners? For this category, I've listed the capacity of each model. But it should be noted: Basket-style air fryers (the majority here) are measured in terms of how many quarts they hold, while ones with rack inserts (meaning they look more like toaster ovens) are measured in terms of their interior cubic inches.
Best overall air fryer
Single-function | 5.8 quarts
The Cosori comes recommended by two women who have "lost count" of how many air fryers they've tried. Both Jennifer West and Rebecca Abbott, the writers and recipe developers behind Air Frying Foodie, turn to this one more than any other. (Fun fact: It's also the model Vanderpump Rules star Lala Kent recently raved about to us).
"I've been using it for a couple of years now," West says, "cooking for four to six people on the regular. I use it so often that I really know the way it cooks." Abbott, who mostly makes food for herself and her husband, still finds that it's the perfect size. "I don't think I've come across something you can't fit in the basket," she says. "It has great presets for cake, meat, and fish. Also, the directions are very clear and easy. Some air fryers stress me out. You're trying to set time and temperatures, and there are too many buttons — and I'm someone who air-fries every day." Both experts say that they can imagine wanting an appliance with additional settings for something like RV living, but that they find the Cosori to be all they need for their day-to-day lives. "It does everything you want an air fryer to do," says Abbott.
Best less expensive air fryer
Single-function | 3.7 quarts
Mims has for years used and loved his Crux, which he discovered when he was testing all sorts of kitchen gadgets for Buzzfeed's Tasty before air-frying became a phenomenon. (In fact, his is an older model the company no longer makes; the one listed here is its updated version.) "It cooks as great as can be," he told me. "Still to this day, I use it at least once a week, if not more, mostly to roast veggies. A lot of them require you to preheat, but the Crux does not. I don't own a dishwasher, and it's really easy to clean. The basket pulls right out, it unclips, and you can rinse and wipe it out. Others have racks built in that can make cleaning a little more difficult. It's the Goldilocks size, enough for me and one other person, which is perfect."
Best air fryer for beginners
Single function | 2.6 quarts
If you're air-frying curious but don't want to break the bank, you can't get much better than the Dash's Tasti-Crisp model, which comes recommended by recipe developer and blogger Madeline Park of Cafe Maddy. It's small (even more so than the Crux) and particularly simple to use, with just two dials, for temperature and time. "I live alone and only cook one portion at a time," says Park, who doesn't even like to have leftovers because her video creation requires her to make new meal after new meal. "I can cook a dish in 20 minutes, and it's really intuitive to use."
For a slightly bigger model with similarly simple functionality, Zosima Fulwell, founder of Cooking with Mama Z, turns to her Tower T17021 Family Size Air Fryer. Tower is a U.K.-based brand, so shipping will almost double the price — but we did a reverse image search and found this pretty much identical (and more affordable) version available in the States that will give you three quarts of room. "There are other higher-end models, but in terms of something that is quite basic and simple and affordable, I think this one is a really good starting point to learn," Fulwell says.
Best durable air fryer
Single function | 6 quarts
Jenny Tschiesche, founder of Lunchbox Doctor and author of an air-frying cookbook, has tried a few different air fryers, but the Instant Vortex is the one that has stood the test of time in her kitchen. "I've had this one the longest of any, about two years," she says. "With some of the others, after a few months, the lining starts to come away, or you see scratches. But this one has lasted without damage. And that's something considering how much it gets used by all family members — including two teenagers." She and her family use it every day for roasting vegetables, reheating buns, and making chicken nuggets, salmon, sweet-potato fries, flapjacks, and more. For Tschiesche, the fact that many of her Le Creuset dishes fit in there is also a huge plus. Not to mention the inside of the machine has a light feature just like your oven, and the basket itself has a window in the front so you can see what's going on inside at any time.
Best air fryer for baking
Single-function | 4.2 quarts
At first, Gracie Bensimon of Gracie Baked ignored the air fryer her roommate bought, believing it was another kitchen appliance she didn't need. But since she finally tried it a couple of years ago, she hasn't looked back. Technically, you can bake in any of these machines, but Bensimon is obsessed with making cookies in hers and waxed poetic to me about how good the treats turn out. The air fryer itself is one of the simpler models on this list, with just one button for time and another to set the temperature, but Bensimon says she leaves it around 370 degrees. It sits plugged in on her counter, and whenever the need for a cookie strikes she simply turns it on and plops in a ball or two of dough on top of a sheet of parchment paper (yes, without even waiting for it to preheat, which she says has never been a problem). "Toast was my air-fryer gateway snack, but cookies is what pushed me over the edge into a full-blown air-fried addict," she says. "I bake mine for about seven or eight minutes. The cookies get a nice golden bake on the outside but stay so outrageously doughy on the inside. I top mine with chunky sea salt or make myself a cookie and ice-cream sundae."
Best air fryer for kids