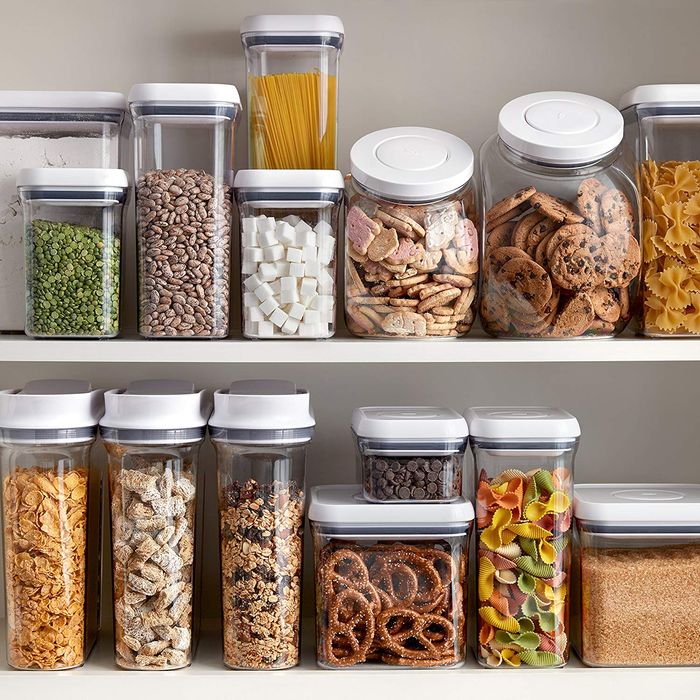 Here at the Strategist, we like to think of ourselves as crazy (in the good way) about the stuff we buy, but as much as we'd like to, we can't try everything. Which is why we have People's Choice, in which we find the best-reviewed products and single out the most convincing ones. (You can learn more about our rating system and how we pick each item here.)
While we've written about enamel bowls that keep fruit fresh longer, sleek bento boxes for school and work lunches, reusable food-storage bags, and a bunch of other ecofriendly kitchen products, we've gone deep here on the best food-storage containers on Amazon.
Best-rated food-storage containers
These BPA-free, microwavable food-storage containers are hundreds of reviewers' go-to pick for meal prepping. "These containers are a lifesaver! They save me so much time and money! I wish I had discovered them sooner," writes one satisfied customer. "I used to live off of those processed frozen TV dinners until about two years ago, when I decided to go vegan and adopt a plant-based, mostly whole-foods diet. In the last two years, I have admittedly missed the convenience of being able to pop a tray in the microwave and have a meal in five minutes, but now I can again (only a healthy, home-cooked version)." Another reviewer writes, "I've been using these meal-prep containers for a few months now, and I love them! I'm not sure why, but food just seems to taste better out of them. I LOVE how organized they look in the fridge."
One compares these plastic container to those from a takeout spot, noting, "Like those, there are no areas to separate your food, so be aware of that prior to purchasing. Otherwise, no leaks, solid seal on lid, universal lids, and containers are all the same size, which is excellent for food preppers. I highly recommend these for anyone who wishes to own microwavable, BPA-free, and dishwasher-safe food-storage containers."
Best-rated (less expensive) food-storage containers
This affordable storage container receives high praises for its compact size. "I like that the box is compact, but in my opinion it holds a lot (And I am not a small eater)," writes one. Another exclaims, "These are just too cute! I love that they are BPA-free, and dishwasher- and microwave-safe. I've been using them for my work lunches for a couple of months. I love the ice pack that comes with it. Everything stacks so nicely." That accompanying ice pack is another selling point for many reviewers. "Best lunch boxes ever! I throw the cold packs in the freezer, and they're always frozen by the next morning. I pack my entrée, a sliced apple or some other kind of fruit, and a couple kinds of raw nuts for snacks, and I'm set for the day," writes one satisfied customer. "They're sturdy, convenient and I'm glad I found them. I was looking for a bento box, but these are better."
And now for some micro-picks for every type of food-storage container you might be looking for.
Best leakproof food-storage containers
"I'm pleased with the performance of these glasslike plastic containers. They're great for meal prep, freezing, and microwaving. Even microwaved tomato sauce doesn't stain these," says one satisfied reviewer. "The clip-on lids mean there's no spilling or leaking despite frequent drops." The visual appeal of these containers, while being extremely lightweight, gets a lot of top marks from reviewers. "My healthy salad and veggies look so bright and colorful — people often comment on how delicious my lunch looks, and it's usually just a green salad. The crystal-clear container really makes it look appetizing, and the seal is supertight," notes one. "I've thrown soup in my purse and carried it around all day without worrying. I've always preferred glass, but these are so light, nestle so well, are supereasy to clean, and so dripproof that maybe I'm a convert. I immediately purchase another set as soon as I got the first." Another reviewer confirms, "The seal is very tight and absolutely no spilling or leaking. Another big plus for me is the microwave vents that appear when the latches are opened. I haven't had them long enough to see if they scratch when eaten out of, but they seem very durable. Great buy!"
Best no-stain plastic food-storage containers
According to hundreds of five-star reviewers, these food-storage containers are all about the stain-resistance. "Perfectly clear, hasn't stained a single bit, and the inner container surface remains perfectly smooth after microwaving something," says one reviewer. "Looks really clean and clear, and mine have not stained," adds another. "I have stored spaghetti in them and other random foods, tossed them in the dishwasher, and I haven't noticed any stains or discoloration. Been using them for about four to five months now."
The lids get lots of praise as well. Here, a reviewer writes, "The lids are very secure and don't slip or pop off. Additionally, they'll click in to the bottom of other containers — of the same size — in the set so you can find them and securely them easily."
Best stacking food-storage containers
"These are great! Even more so because they stack inside each other, like Russian nesting dolls," writes one customer. "It's great for space-saving, which was a major issue we had with our old Tupperware. It made for a pleasant surprise!" Another reviewer is so pleased with these containers they've purchased them more than a dozen times: "Just ordered my 14th set. Now refrigerators at our house, cabin, and boat are well organized and have more usable space. Seems like it nearly doubled the capacity of our tiny boat fridge … They stack and stay put even in wavy conditions on the boat."
These sealable food-storage containers work just as well on land. "I ordered these as airtight containers that I could use to keep pantry moths from invading my house," writes one reviewer. "They have really been helping, and I love using the ones I don't store food in my cupboards in for taking lunches to work and whatnot. They are great, leakproof containers. They also make my cabinets look really neat, swapping plastic baggies and twist ties for a sleek stack of containers. Highly recommended!"
Best food-storage containers with easy-to-find lids
These food-storage containers have hundreds of satisfied fans who are sick of rooting around in the cabinet for matching lids, like this one, who admits, "I know, ridiculous, it's just food storage, but it's really great. Since it all nests together (EASILY) AND the lids connect, it has simplified my container cabinet!" Another reviewer says, "They're very rugged — I don't think I've ever had to throw one away. They stand up to microwaving, they easily survive multiple trips through the dishwasher, and the lids stay on tightly, even when the occasional container slides out of my refrigerator and bounces off the floor."
Best food-storage containers in bulk
One self-described "health nut," who dries fruits and herbs at home and cooks a lot, swears by these medium-size plastic containers: "I love how affordable it was for them all. If you are not looking for variety in sizes, and need bulk plastic fast, I would surely recommend these." Another reviewer, who is handicapped and likes to bulk cook so to avoid being "on my feet in the kitchen every day," notes, "These are perfect for the freezer. I haven't had any problems with them thus far, and they are affordable enough that if I have to throw one away, I don't feel too badly." And these containers are versatile. As one reviewer explains, "We cook our ground chuck in bulk and then freeze it. We do the same for big batches of vegetable soup and then freeze in these containers. My favorite is during canning season when we do applesauce, tomatoes, and strawberry jam — just pour in and freeze, simple and easy."
Best collapsible food-storage container