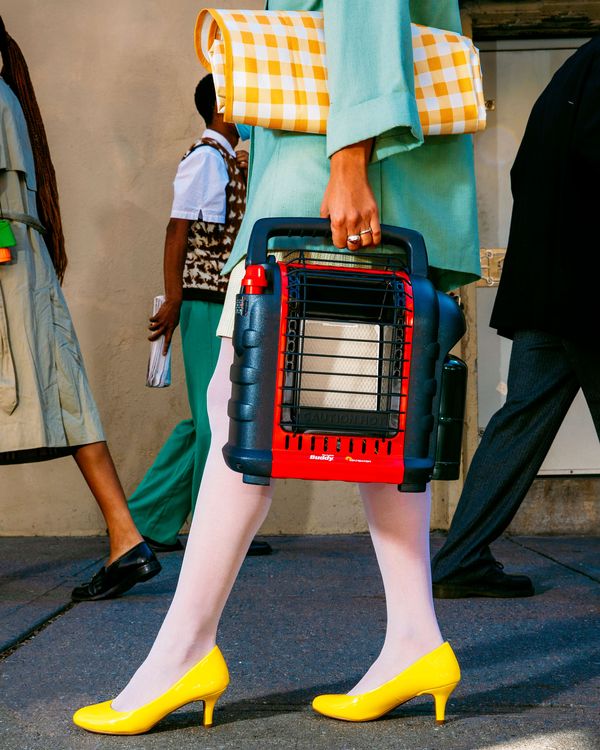 The pandemic's second winter is about to arrive. And though indoor venues are more open than ever before, many of us are still most comfortable when gathering outside. If the thought of doing so in 36-degree weather makes you nervous, it may be wise to consider buying an outdoor heater, and to do so as soon as possible. Last winter saw a sales spike for many of our favorite patio and portable heaters, leading to supply-chain issues.
There are a couple things to consider when choosing an outdoor heater, says David Heiman, the senior director of training at Phoenix's the Refrigeration School Inc. The first, of course, is location: "Determine the size of the space that will be heated," he says. If you're just a few bodies around a blanket or a campsite, a smaller tabletop or camping heater should suffice, but if you're looking for something to provide warmth in an outdoor dining area that can fit slightly larger groups, you might opt for a larger freestanding heater (which can also be moved, but not as easily, given their hulking frames). If you're looking to heat a larger outdoor space you use a lot, you can also get mounted heaters that will require a bit more installation but then become a permanent fixture.
In addition to considering your space, Brandi Andrews, the founder and CEO of National Air Warehouse, also says you'll want to think about the type of fuel source. Based on the heaters that experts recommended for this story, those looking to purchase one should opt for either propane-fueled or electric heaters, which are two of the most common and user-friendly styles. As far as the difference between electricity- and propane-powered heaters goes, Scott Gorky, the president of Atlas Party Rentals, says that while electric heaters are more reliable (as opposed to propane, which will eventually run out), propane heaters can be more effective, because they emit radiant heat (meaning they warm the people and objects in outdoor areas much in the same way the sun heats our planet) rather than forced-air heat (the system used by most indoor heaters, wherein the heater warms the air around it). "You can stand in a circle around a propane heater, but with an electric one, you've got to kind of be in front of it because electric heaters only point heat in one direction," he says.
To find the best outdoor heaters, we asked Dean, Heiman, Andrews, Gorky, and 13 more experts — including hospitality professionals, contractors, and folks who just love their own outdoor heaters — about their favorites. Below are their recommendations, which we've organized by size to help you better identify the right one for your needs, whether you're looking to extend patio season in your private backyard or spend more time (comfortably) in nature as it cools down. Just note that, depending on where you live, there may be restrictions on propane use (in New York City parks, for instance, propane heaters are illegal), so be sure to consult your local fire, building, or safety regulations.
Best
small
outdoor
heaters
Whether propane-fueled or electric, most outdoor heaters are meant to stay in one place (say, on your home patio or deck). But there are a few that are truly portable, including tabletop heaters and camping heaters. They're typically fueled by propane, whether one-pound canisters or 20-pound tanks. The latter obviously will be slightly heavier and bulkier, but they're still portable nonetheless. That means you can bring one along camping, if, for whatever reason, a campfire won't suffice (or isn't an option at all), or to a socially distanced picnic in the park on a chilly day (where campfires are definitely not allowed).
Best overall small outdoor heater
Mr. Heater was one of the most recommended brands for convenient, portable outdoor heating, with several experts telling us about a few different models from the brand. The heater that kept coming up, though, is the Buddy, which Taylor Kalsey, a community manager for camping platform the Dyrt, says "a number of our staff have and really like" (the heater is one of the Dyrt's must-haves for cold-weather RV camping. The Mr. Heater Buddy is a propane heater that takes a one-pound canister, which adds to its portability, with an adjustable output of between 4,000 and 9,000 BTUs. (As with air conditioners, many outdoor heaters measure power in BTUs, with models that have higher BTUs generally being stronger and better at warming bigger swathes of space.) According to the manufacturer, if run on high, a one-pound canister can power the Buddy for up to three hours; if on a lower setting, it can power it for even longer. Outdoors, Kalsey says this should be enough for "four to five people sitting around it in a close circle." (The heater, which can also be used indoors, "heats a small enclosed space, like a tent or RV, pretty well," he adds.)
Strategist deputy editor Maxine Builder is also a fan of the Mr. Heater, and not just for the camping trips she takes. She says it "puts out serious heat" and is a cinch to use: "All you have to do is screw on the propane canister, click the pilot light on, and once it catches, set it to either high or low." She finds it so effective and easy to use that she "convinced my boyfriend's mom to buy two more for outdoor hangs." Dean also likes the Buddy. "I personally have one; it has a nice carrying handle and can easily heat up a patio or be placed on a tabletop," he says, noting it's "also convenient for camping" and that it would be "plenty warm if you have three or four folks around it." Like many outdoor heaters, this comes with an automatic safety shut-off function should it accidentally tip over.
Best less-expensive small outdoor heater
Mr. Heater makes this even tinier model that's only about a foot tall. It uses a one-pound canister (which lasts about five and a half hours) and radiates 3,800 BTUs of heat, meaning it's probably a better choice for a stoop sit. Strategist writer Katherine Gillespie bought this compact style last winter to save space while car camping and found it plenty warm enough for two people sitting outdoors but probably not ideal for larger groups. Like the regular Buddy, the Little Buddy has an automatic-shut-off feature in case it tips over.
Best extra-powerful small outdoor heater
While this Mr. Heater model is the least sleek-looking of the bunch, it's no less effective. The Tank Top comes recommended by Cooper Mitchell, the founder of the website Garage Gym Reviews, who tells us that this outdoor heater is a great affordable way to heat an (almost always) uninsulated space like a garage — which, as his website suggests, are utilized for far more than just storing junk (especially these days). According to Mitchell, who says it often gets "below freezing" where he lives in Missouri, "it disperses heat widely" thanks to its output of 30,000–45,000 BTUs. As its name suggests, this heater attaches to the top of a propane tank — it can fit as small as a 20-pound tank or as large as a 100-pound tank — and will last about 9 to 10 hours at full blast on a 20-pounder. "For the cost of both the unit and the propane fuel, it will do an incredible job" heating up a one-car garage–turned–gym or art studio or whatever, Mitchell says. (As it's technically meant for outdoor use, Mitchell suggests opening your garage a few inches "simply to allow airflow for the exhaust from the propane to have a place to go.") While Mitchell uses it for a garage, this heater would also be a good option for anyone with their own backyard who plans to hang out in it a lot, doesn't mind it's DIY look, and isn't looking for a fancy freestanding one. It's no campfire, but the Tank Top does have a 360-degree burner head that can swivel up to 180 degrees for multi-directional heat — so it could be called the next best thing. And if you have the means to transport it and its fuel source, Mr. Heater notes that the Tank Top is also great for camping, fishing, and — when the time comes — sporting events, too.
Nicest-looking small outdoor heater
Standing just below three feet tall, this option recalls the more design-y freestanding models you see at restaurants or hotels but in a smaller package. Justin Edwards, an HVAC contractor in Michigan, says that despite weighing a mere 14 pounds, it's "efficient" and "especially easy to operate."
Best tabletop outdoor fireplace
For those who have a table in their backyard or on their deck, Kellie Sirna, a co-founder of Studio 11 Design, recommends this propane fireplace. The (adjustable) flame sits on a nice-looking matte-black base and gives off a good amount of heat (it has an output of 33,000 BTUs) — plenty to warm a small group.
Best small outdoor heater that's also a stove
Climber and outdoor-adventure journalist Ryan Wichelns turns to this nifty 2-in-1 propane heater and stove from Ignik when he needs a bit of extra warmth. At just eight pounds, he notes it's "portable enough for car camping," but says he personally doesn't "take it anywhere I need to carry it far." But when Wicheln sets it up, he says it functions like a campfire that "maybe four or five of us can huddle around comfortably," adding that, "when cranked, it puts out some real heat." Wicheln also likes that this can be used as a stove, calling it a "bonus" but admitting that because he can't control the heat it emits as well as on an actual stove, "I might not cook anything I need a real fine simmer with." While this heater is propane fueled, one downside is that it can't just attach to any canister — it requires you to use Ignik's own "growler," which has a 4.5-liter capacity.
Best
large
outdoor
heaters
Typically found on the patios of homes or restaurants, larger freestanding outdoor heaters are actually pretty simple to use despite their size. Though they're not portable like many of the smaller heaters above, some come with wheels so that you can easily roll them from place to place (but never when they're on). Because of their size, they're typically fueled by 20-pound propane tanks (another reason why they're not the most portable), which allows them to provide more heat. As Andrews explains, "an outdoor heater that reaches up to 48,000 BTU could keep 8 to 10 people on a regular-sized deck or patio quite warm." (All of the heaters recommended below feature BTU outputs of between 40,000 and 48,000). Because of this, choosing a larger outdoor heater, as many of our experts note, can largely come down to aesthetics.
Best large outdoor heater
Brandi Andrews, the CEO of National Air Warehouse, says her favorite heater for backyards and gardens is easily this seven-foot model from Hampton Bay. It uses a 20-pound propane tank and has a 48,000-BTU burner. Though it lacks wheels, it's fairly easy for even the non-bodybuilders among us to pick up and plop down wherever people are sitting, Andrews says.
Best large outdoor heater with wheels
For a patio or deck, Michael Dean, an outdoor-living-environment consultant, likes this freestanding option, which does have wheels. Standing at slightly above seven feet tall, the 45,000-BTU heater starts with exceptional ease — literally with the push of a button. Functionality aside, Dean likes this one for its look, which he describes as "unusually sleek."