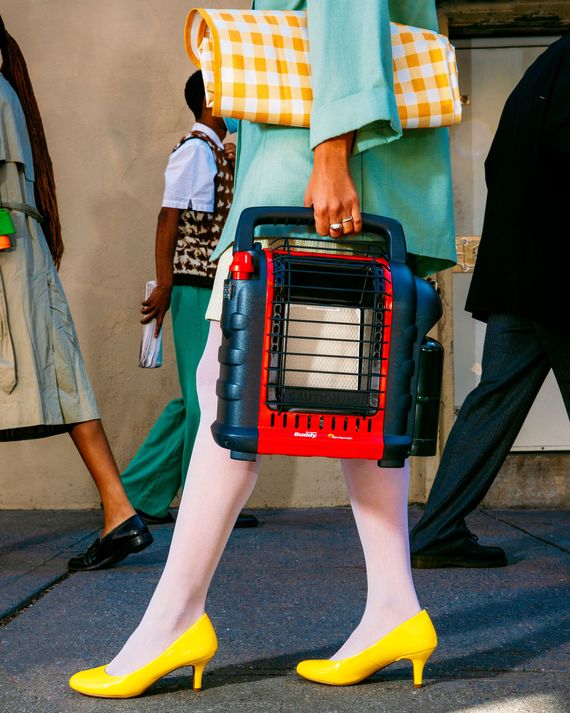 The pandemic ushered in a golden age for the outdoor-heating industry. Three years in, many people have adapted to outdoor living when they used to stay indoors, whether hiking and camping more often in the winter, heading to the park with friends, or just eating great restaurant food at a sidewalk table. With summer weather finally here, the right heater can help you enjoy those activities longer — they're great for hosting gatherings and dinner parties in whatever outside space you have.
To find the best and most reliably stocked outdoor heaters, we turned to hospitality professionals, contractors, and folks who just love their own outdoor heaters to find out more about their favorites. Below are their recommendations, from propane-powered gizmos for RV living to a bronze column of flames that'll make your patio feel like a fancy hotel courtyard.
There are a couple things to consider when choosing an outdoor heater, says David Heiman, the senior director of training at Phoenix's the Refrigeration School Inc. The first, of course, is location: "Determine the size of the space that will be heated," he says. If you're just a few bodies around a blanket or a campsite, a smaller tabletop or camping heater should suffice, but if you're looking for something to provide warmth in an outdoor dining area that can fit slightly larger groups, you might opt for a larger freestanding heater (which can be moved — but not as easily, given their hulking frames). If you're looking to heat a larger outdoor space you use a lot, you can get mounted heaters that will require a bit more installation but then become a permanent fixture.
As with air conditioners, many outdoor heaters measure power in BTUs, with models that have higher BTUs generally being stronger and better at warming bigger swathes of space. As Andrews explains, "An outdoor heater that reaches up to 48,000 BTU could keep eight to ten people on a regular-size deck or patio quite warm." All of the non-portable heaters recommended below feature BTU outputs of between 40,000 and 48,000 — because of this, choosing a larger outdoor heater, as many of our experts note, can largely come down to aesthetics.
​​In addition to considering your space, Andrews says you'll want to think about the type of fuel source. Propane-fueled and electric are two of the most common and user-friendly styles of heaters. Scott Gorky, the president of Atlas Party Rentals, says that while electric heaters are more reliable (as opposed to propane, which will eventually run out), propane heaters can be more effective because they emit radiant heat (meaning they warm the people and objects in outdoor areas much in the same way the sun heats our planet) rather than forced-air heat (the system used by most indoor heaters, wherein the heater warms the air around it). "You can stand in a circle around a propane heater, but with an electric one, you've got to kind of be in front of it because electric heaters only point heat in one direction," he says.
Best overall outdoor heater
Intended use: Camping, RVs, small outdoor gatherings | Output: 4,000 to 9,000 BTUs | Fuel source: 1 lb. propane cylinder
It won't warm up an entire restaurant dining area, but this winter quarantine hero remains our best overall outdoor heater pick for its affordability, ease of use, and toasty radiant heating power. It's beloved by experts like Taylor Kalsey, a community manager for camping platform the Dyrt, who says it's a must-have for cold-weather RV camping. According to the manufacturer, if run on high, a one-pound propane canister can power the Buddy for up to three hours; on a lower setting, you'll get more like five. Outdoors, Kalsey says, this should be enough for "four to five people sitting around it in a close circle." Strategist editor Maxine Builder is a fan of Mr. Heater, and not just for the camping trips she takes. She says it "puts out serious heat" and is a cinch to use: "All you have to do is screw on the propane canister, click the pilot light on, and once it catches, set it to either high or low." She finds it so effective and easy to use that she "convinced my boyfriend's mom to buy two more for outdoor hangs." Dean likes the Buddy. "I personally have one; it has a nice carrying handle and can easily heat up a patio or be placed on a tabletop," he says, noting it's "convenient for camping" and that it would be "plenty warm if you have three or four folks around it." Like many outdoor heaters, this comes with an automatic safety shut-off function should it accidentally tip over or detect low-oxygen levels, which is great if you're using it to work in a cold garage or heat up an RV (but be sure to ventilate the space either way).
Best miniature outdoor heater
Intended use: Camping, hunting and fishing, RVs | Output: 3,800 BTUs | Fuel source: 1 lb. propane cylinder
For couples or solo winter outdoorspeople, I love the Buddy's smaller version, appropriately called the Little Buddy. It's only a foot tall, and you can adjust the angle of its heating element to direct warmth where you need it. It has a run time of just over five hours with a one-pound propane tank. I took a Little Buddy on an eight-month van-life expedition and used it for frosty nights out in the desert: it's plenty warm and intuitive to use and was compact enough to store in a small space. It would suit cold-weather stoop hangs for up to three people. As with the larger model, the Little Buddy has a low-oxygen sensor and accidental tip-over switch.
Best extra-powerful small outdoor heater
Intended use: Industrial spaces | Output: 45,000 BTUs | Fuel source: Any propane tank
While this Mr. Heater model is less sleek-looking than those above, it's no less effective. The Tank Top comes recommended by Cooper Mitchell, the founder of the website Garage Gym Reviews, who tells us that this outdoor heater is a great affordable way to heat an (almost always) uninsulated space like a garage — which, as his website suggests, are utilized for far more than just storing junk (especially these days). According to Mitchell, who says it often gets "below freezing" where he lives in Missouri, "it disperses heat widely" thanks to its output of 30,000–45,000 BTUs. As its name suggests, this heater attaches to the top of a propane tank — it can fit as small as a 20-pound tank or as large as a 100-pound tank — and will last about nine to ten hours at full blast on a 20-pounder. "For the cost of both the unit and the propane fuel, it will do an incredible job" heating up a one-car garage turned gym or art studio or whatever, Mitchell says. (As it's technically meant for outdoor use, Mitchell suggests opening your garage a few inches "simply to allow airflow for the exhaust from the propane to have a place to go.")
Best better-looking miniature heater
Intended use: Camping | Output: 3,333 BTUs | Fuel source: Butane tank
Outdoorswoman Brittany Alexandria Parks uses this cute little camping Kovea to warm up her tent on chilly mornings and nights. She initially considered buying the Mr. Heater Little Buddy above but decided that it was too bulky to pack in the trunk of her Kia Soul. Indeed, while the Cupid is plenty warm, its main draw might just be its compact size and unusually good looks. "Aesthetics are important to me," Parks admits. "It feels silly, but I do try and keep things at the campsite as minimal as possible, so they don't distract from the natural environment." She likes that the heater comes with a hard plastic carry case — "like the old-school Coleman lanterns came in." Note that this heater, unlike its fellow portables above, lacks an automatic tip-over switch, but it is much harder to knock over in the first place, as it's positioned closer to the ground on a metal stand that can be angled to direct warmth wherever you want it. Just make sure to use it in a ventilated space and away from flammable objects and fabrics. "I put it in the corner of my tent, being sensible and making sure there's space around it," says Parks. "It's super-stable, and I haven't had any issue with it tipping over."
Best patio heater
Intended use: Outdoor entertaining | Output: 48000 BTUs | Fuel source: 20lb propane cylinder
Andrews says her favorite heater for backyards and gardens is easily this seven-foot model from Hampton Bay. It uses a 20-pound propane tank and has a 48,000-BTU burner that will suit spaces of up to 200 square feet — and you can adjust the temperature. We like this model for its affordability combined with heating power: Pricier models will have added features like wheels or more stylish metal encasements, but this one has a sturdy stainless-steel frame that, at 33 pounds, is still light enough to move around, even for non–garage gym rats.
Best portable patio heater
Intended us: Outdoor family dining | 10,000 BOutput: TUs | Fuel source: 1lb propane cylinder
Standing just below three feet tall, this bronze-colored heater recalls the designy freestanding models you see at restaurants or hotels but in a smaller package. Justin Edwards, an HVAC contractor in Michigan, says that despite weighing a mere 14 pounds, it's "efficient" and "especially easy to operate." While it will only suit small groups of people and isn't as portable as the Buddy heater, it's a lot classier. If you don't want or need to commit to a true patio heater, we think this one's a nice semi-permanent addition to small garden spaces.
Best patio heater for stylish spaces
Intended use: Outdoor entertaining | Output: 42,000 BTUs | Fuel source: 20lb propane cylinder
And here's a patio heater you'll find yourself inventing outdoor winter social events for — just to show it off. Justin Grimes, the managing director of nine boutique hotels in Maine, uses Lava Heat Italia's pyramid-style Capri A-line heater on his property for outdoor dining. The six-foot-tall unit has "an attractive bronze finish," he says, that's rustproof. Plus, it can cover about 36 square feet, which gives plenty of space to party. One propane tank will last for around 12 hours with 360-degree infrared heat, and the "column of flame" design looks pretty damn cool. Or hot.
Best (less-expensive) outdoor heater for stylish spaces
Intended use: Outdoor entertaining | Output: 40,000 BTUs | Fuel source: 20lb propane cylinder
Though still an investment, at a third of the cost, I think this heater is a worthy dupe for the Lava Heat one above. Plus, its wheels make it incredibly simple to rearrange in any outdoor space. "You can just tip [the heater] and steer it to where you want it," one Amazon reviewer writes. "It is easy to assemble, easy to ignite and looks classy." Many other purchasers praise its sleek display of flames: One calls it "mesmerizing to watch." But despite its fiery majesty, a fourth reviewer assures that the design is child-friendly. "I liked the fact that the grills that go on the four sides do not heat up. I have twin 10-year-olds that are already very curious about the flames, but the side grills are cool to the touch."
Best fire pit
Intended use: Camping and outdoor entertaining | Output: 7 hours of high-flame burn time on one battery charge | Fuel source: Firewood, battery-powered fan
The problem with most backyard fire pits is that you have to, well, build a fire to make them work. BioLite makes this an accessible skill to even non-outdoorsy types with its clever built-in USB rechargeable fan, which keeps flames burning at three different intensities while reducing smoke. Strategist contributing writer James Lynch purchased one of these "tech-bro" fire pits during peak pandemic lockdown, and was amazed at how easy it was to create roaring flames. "After lighting newspaper or other kindling under the wood, instead of causing yourself to hyperventilate, just tap a button in the app, and airflow in the burn chamber increases automatically," he explains. "If you want more heat, just turn the fan up. You don't have to stoke the fire to keep it burning either. Add wood and the FirePit takes care of the rest." While I haven't used one of these myself, I've cooked a few camp meals on BioLite's similar wood-fired stove, and can attest that a fan truly makes all the difference.
Best mounted outdoor heater
Intended use: Outdoor entertaining | Output: 20,472 BTUs | Fuel source: Electric
For the best mounted heater, we turned to the people who, after two years of pandemic dining, know the truth about outdoor heating: restaurant owners and the people who design their dining spaces. Gowanus Gardens partner Kelly Hayes sung the praises of Infratech's 4,000- and 5,000-watt mounted outdoor heaters, which emit radiant heat and have kept the venue's outdoor-dining space cozy since winter 2020. "Back then, we were the only game in town," she says. "All of our friends who owned other bars came here to drink, even when the weather was frozen." Two other folks recommended Infratech's mounted heaters: Shaun Gotterbarn, a project architect at Alisberg Parker Architects, and Dean, who pointed us to this 6,000-watt model, which would be great if you're outfitting a smaller space and don't wish to buy more than one heater. Measuring about five feet in length, its maximum output of 6,000 watts means it can keep about four to six people warm, as long as they're sitting or standing near it. Dean notes that because it's infrared, the heater is "not only energy-efficient but very quiet when it's on." He appreciates the "low-profile look of the heater itself," which he says is "great for homeowners who don't want the heater to be too visible or noticeable — a priority for many people." Of Infratech's heaters, Gotterbarn adds, "They integrate into spaces very well, and our clients have been very happy with them." The unit can be controlled by a switch and even comes with an option to integrate it with smart-home devices.
Best budget mounted outdoor heater
Intended use: Outdoor entertaining | Output: 5,100 BTUs | Fuel source: electric
For a much more affordable electric infrared wall-mounted heater, Heiman recommends this one from Star Patio. About two feet in length, it's half the size of the above Infratech heater and boasts an output of 5,100 BTUs. If you're opting for a smaller (and affordable) mounted heater like this, you might heed Gotterbarn's advice and get at least two "so that the heat feels balanced on each side of you, similar to stereo sound from speakers." Heiman promises this is "very easy to install," and the heater comes with a remote control and an on-off pull switch and button.
Best outdoor heater alternative
Intended use: Home | Heat range: Up to 140℉ | Power source: AC
When Milk Bar Park Slope co-owner Kylie Sachs sought to improve her café's courtyard set up in 2020, propane and electric heaters were too expensive — not to mention the ongoing energy bills they'd require. She was already using these cozy heating pads at home, so she purchased more for Milk Bar's outdoor diners, with whom they were an instant hit. "It was an affordable but highly effective solution," she explains. "Sometimes people sit on one and have another one on their shoulders." Reminiscent of heated car seats, the pads offer a direct-contact heat during chilly brunches. They're washable, and Sachs says that when one of her pads stopped working, PureRelief was happy to replace it free of charge.
Additional reporting by Lauren Ro
Some more outdoor heaters we've written about
• Brandi Andrews, founder and CEO, National Air Warehouse
• Maxine Builder, editor, the Strategist
• Michael Dean, outdoor-living consultant and founder of Pool Research
• Justin Edwards, heating, ventilation, and air conditioning contractor 
• Scott Gorky, president, Atlas Party Rentals
• Shaun Gotterbarn, project architect, Alisberg Parker Architects
• Justin Grimes, managing director, Kennebunkport Resorts
• Kelly Hayes, partner, Gowanus Gardens
• David Heiman, senior director of training, the Refrigeration School Inc
• Taylor Kalsey, community manager, the Dyrt
• James Lynch, Strategist contributing writer
• Brittany Alexandria Parks, outdoorswoman
• Kylie Sachs, co-owner, Milk Bar Park Slope
The Strategist is designed to surface the most useful, expert recommendations for things to buy across the vast e-commerce landscape. Some of our latest conquests include the best acne treatments, rolling luggage, pillows for side sleepers, natural anxiety remedies, and bath towels. We update links when possible, but note that deals can expire and all prices are subject to change.