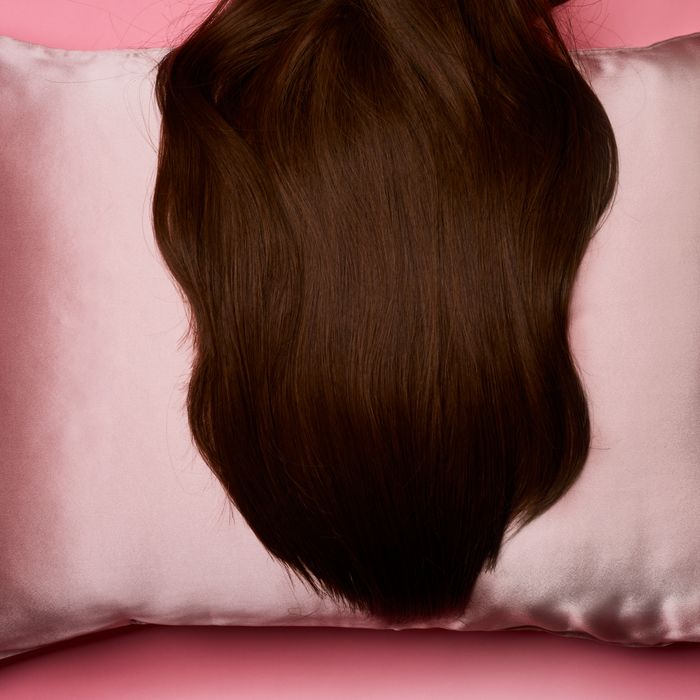 Sleeping on silk is said to reduce irritation, wrinkles, and hair frizz — and even though it sounds luxurious, it doesn't have to cost an arm and a leg to make the switch. The practice has become popular in recent years thanks to beauty enthusiasts who note the considerable effects on skin and hair. (I've personally slept on three of our picks below—the best overall, luxury and affordable.) But all silk is not created equal. The highest-quality silk is mulberry silk, which is made from silkworms who eat from the leaves of the mulberry tree. It's the most durable silk and also the softest, which makes it ideal for a high-traffic item like a pillowcase. There are grades within silk — A, B, and C scale, with A being the best quality. Grade-A silk has long strands that are naturally white and have a noticeable sheen. From there, there's different numbers — starting with 2A and going up to 6A, with 6A being the most expensive to produce. All of the pillowcases on this list are made with 6A silk, the highest-quality silk available.
When you're shopping for a silk pillowcase, one of the most important metrics is momme count, which reflects the weight of the silk. The higher the number, the softer the silk will likely be. For reference, the average momme count is 19, and the popular Slip silk pillowcase — a favorite of Kourtney Kardashian's that was developed by a dermatologist — is 22 momme. On this list, we've included silk pillowcases from 19 momme all the way up to 25.
Silk pillowcases come in a wide variety of colors, so we've noted the amount of colors available. The wider variety of color, the more likely it is to find one that works for you.
Best overall silk pillowcase
Momme: 22 momme | Color range: 7 colors
Quince makes some of our favorite high-quality, affordable goods — including supersoft cashmere and lightweight linen sheets. Its mulberry silk pillowcase is also impressive, and after spending a few nights sleeping on it, the Quince pillowcase has unseated the long-standing ZimaSilk as the best overall pick. Despite being less than half the price of the Slip, it's just as thick and luxurious, and when I woke up I had near-identical results. My hair was noticeably less frizzy than when I snooze on a cotton pillowcase, and it felt nice on my skin, too. It has the same momme as Slip (22) and a convenient zip closure so your pillow won't slip out. I also like that it comes in a range of neutral hues, so you have lots of options for your bedscape. Another bonus: Quince offers a generous return policy — you'll have 365 days from the date of purchase to decide if it's right for you. With all of that in mind, and the price point factored in, there isn't a better option at this price point and quality level, making it the best overall.
Best luxury pillowcase
Momme: 22 momme | Color Range: 15 colors
Though all of these silk pillowcases can help with skin and hair, this dermatologist-developed Slip pillowcase has been recommended by celebrities such as Kourtney Kardashian and celebrity dermatologists like Dennis Gross. It's also a favorite of aestheticians like Candida Lawson, who shared her love for Slip's silk pillowcases in 2018. "I'm a true believer that they help my blowouts last longer." Celebrity hairstylist and co-founder of Flawless by Gabrielle Union Larry Sims — who counts Gabrielle Union and Janet Jackson among his clients — is also a Slip fan. "It's great for keeping your hair moisturized and gives it a beautiful shine," he says. "The slippery smooth texture of silk helps to minimize frizz, breakage, and split ends." It's an OG in the silk-pillowcase space and has been around for more than 15 years. I've had my fair share of Silk pillowcases (and an endless amount of eye masks) over the years, and can confirm that it has a very luxurious feel. It has a higher momme than our best pick, which is reflected in the price. A single queen pillowcase is $89. They also last a while. Although I'm not a consistent silk sleeper, I do use the same Slip when I do. I will say they're a bit delicate. Even though the silk is washable, it's less silky after a regular-cycle wash. After learning my lesson, I started hand-washing it with the brand's detergent, and it holds up much better. There's a range of core colors available, but the brand often does limited-edition collaborations (their most recent one was with Alice + Olivia), expanding the color range.
Best affordable silk pillowcase
Momme: 19 momme | Color range: 42 colors
The Zimasilk pillowcase is a consistent bestseller here at the Strategist, and for good reason. First, the material. It's made from high-quality 6A mulberry silk and has a standard momme of 19, which, while lower than some of the other picks on the list, is mostly felt in texture and fabric thickness. I slept on the Zimasilk and did notice it is thinner and more textured than our luxury favorite Slip and our new best overall from Quince, but it's still soft and a good option if you're making the shift from satin or don't want to spend a lot of money. A single Slip pillowcase will run you almost $90, while a Zimasilk pillowcase costs you just $25. And despite the thinner texture, my hair was less frizzy than normal in the morning. The pillowcase also holds up on the durability front. Strategist senior editor Crystal Martin says hers has held up to many warm washes and line-dries (throwing it in the dryer could possibly damage the material), and while I haven't washed mine just yet, I'm certain it's sturdy enough to hold its shape. It's also a favorite of our beauty columnist, Rio Viera-Newton, who says it's a dupe for the pricier Parachute pillowcase. "If the tags were removed, I truly do not think I'd be able to tell the difference between the $25 Zimasilk pillowcases and my fancy $109 pillowcase," she says. They've survived multiple turns in the wash and cut her bed head down to a minimum. More appealing still, it comes in a wide range of colors — from white to soft pink to cobalt blue. There are even patterned options, in case you'd like something with a little more flair.
Best silk pillowcase for acne
Momme: 22 momme | Color range: 4 colors
Even though silk pillowcases are less absorbent than cotton, they still collect bacteria over time. The collected oils can be irritating for acne-prone skin, and may cancel out the benefits of using a silk pillowcase at all. This one from Dore & Rose is treated with silver ions, which combats those effects. Silver is naturally antibacterial and helps to reduce the bacterial load of the textiles it's applied to. Although I don't own the Dore & Rose pillowcase, I have used silver ion-treated cotton washcloths in the past and can attest that they stay fresher longer and haven't caused any body or face breakouts. It has a momme of 22 (on par with Silk and Quince) and comes in four neutral hues. There's also a nifty hidden zipper feature, which is nice if you want a streamlined look.
Best hybrid pillowcase
Momme: 19 momme | Color range: 3 colors
For an even more affordable 19-momme pillowcase, there's LilySilk, which comes recommended by Strategist UK contributor Natalya Lobanova, who calls them "a dream to sleep on." They last through multiple washes and because they're only silk on one side, they can be flipped to look like cotton pillows if you prefer. The brand also sells affordable 22- and 25-momme pillowcases, which makes them overall a very good deal.
Best silk pillowcase for curly hair
Momme: 22 momme | Color range: 24 colors
When scouring Amazon, we came across the Tafts silk pillowcase, which we dubbed the best option for curly hair. It has a high momme (22) at its price point and is beloved for its ability to cut down on frizz. This is key for curly hair, which is particularly sensitive to friction. It also remains smooth and shiny after washing, which is key to ensuring it holds up over time. Depending on the look you prefer, there are both zippered and envelope pillowcases available.
Best patterned silk pillowcase
Momme: 22 momme | Color range: 7 colors
All of the silk pillowcases on this list come in basic colors like white, black, and beige. Brooklinen has all of those along with funky, limited-edition graphics that will liven up your bedscape. Asides from the fun colorways, it has all of the markers of a genuinely good pillowcase: sturdy, soft, and made from 100 percent Mulberry silk.
Best monogrammable silk pillowcase
Momme: 22 momme | Color range: 14 colors
In case you want to add a personal touch to your linens, you can monogram these ShhhSilk pillowcases on its website. There's 18 different thread colors to choose from and four font options. The word can be up to nine letters, so here's a few ideas in case your initials don't appeal: Adulthood, Newlyweds, Cry Baby. It's an extra $25 for this service, but worth it if you want to make the pillowcases your own.
Some Strategist-approved pillows to complete your bed's makeover
• Candida Lawson, aesthetician and skin therapist
• Natalya Lobanova, Strategist U.K. contributor
• Rio Viera-Newton, beauty columnist and aesthetician
The Strategist is designed to surface the most useful, expert recommendations for things to buy across the vast e-commerce landscape. Some of our latest conquests include the best women's jeans, rolling luggage, pillows for side sleepers, ultra-flattering pants, and bath towels. We update links when possible, but note that deals can expire and all prices are subject to change.
Every editorial product is independently selected. If you buy something through our links, New York may earn an affiliate commission.