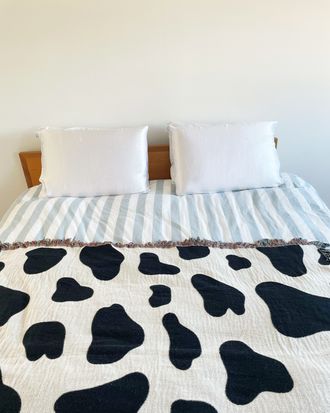 These affordable silk pillowcases make me feel like I'm sleeping in a fancy hotel.
Photo: Rio Viera-Newton
Silk pillowcases are one of my favorite ways to ensure I'm getting optimal beauty sleep. The smooth material reduces friction and minimizes your chances of waking up with frizzy hair. It's also gentler on your cuticles than standard cotton, so it's less likely to cause damage or breakage while you sleep. And many believe these benefits also extend to the skin — silk is not only softer and allegedly less likely to tug and rub (causing wrinkles and triggering irritation), many skin-care enthusiasts claim that that they're less absorbent of moisture and bacteria than standard cotton pillowcases, making them an excellent choice for anyone with super-sensitive, acne-prone skin (though this evidence is primarily anecdotal).
As someone with eczema, consistent hormonal breakouts, and severely bleached hair, I've long relied on silk pillowcases to ensure I'm not pissing off fragile locks and unpredictable pores as I sleep. A few years ago, I read in an airport magazine that expensive silk was much better than cheap silk, as it was softer and less likely to be blended with rougher and other potentially sensitizing fabrics. For whatever reason, I took this as gospel, and have since been shelling out the big bucks to ensure that I was buying the very best silk pillowcases. Don't get me wrong, I love my silk pillowcase from Parachute — it's incredibly soft and makes me feel like some sort of princess when I sleep. But the truth is, at $109 a pop, Parachute's prices only allow for the purchase of a single pillowcase, maybe two if I'm really treating myself.
I had long fantasized about a bed full of pillows exclusively clad in silk — my brittle hair, acne-prone skin, and easily irritated eczema had benefited so much from just one — and thus my hunt for an affordable alternative began. I had tried this once before a few years ago by searching "cheap silk pillowcases" and Priming the first one that came up. It was fine, but it felt a lot rougher and it started to form holes in only two weeks. So naturally, I was skeptical when I stumbled across a Reddit thread where some folks swore by a cheap silk pillowcase from Zimasilk. "I will never and I mean never buy another expensive silk pillowcase," said one Redditor. "It feels super luxurious, not at all like a crap knockoff," said another. Amazon reviews of the pillowcase were equally persuasive: "This is a must buy. By far the best affordable silk pillowcase out there … I have ten." Convinced, I purchased two of the brand's white pillowcases and anxiously awaited their arrival.
If the tags were removed, I truly do not think I'd be able to tell the difference between the $25 Zimasilk pillowcases and my fancy $109 pillowcase. They feel just as smooth, cool, and soft on the skin as my high-end version, so much so they make me feel as though I'm sleeping at a luxurious hotel every night. The fabric doesn't have that odd sticky feeling that some cheap silk pillowcases have; it's thick and substantial, nothing like the flimsy pillowcase I had purchased on Amazon before, and it even has a sturdy, well-built zipper to secure the pillow inside (some cheaper pillowcases sit open, and easily slide off the pillow in the middle of the night).
I've had my Zimasilk pillowcases now for about four months, and they've survived multiple rounds of washing without showing wear or developing holes. Every week or so, I hand-wash them with a gentle detergent in cold water, hang them to dry, and they look as good as new. There's no need to iron them, either; they might look a little wrinkled at first, but as soon as you slide a pillow in and let it sit for a minute, they smooth out.
I'm pleased to say that I now have four of these silk pillowcases on my bed at all times. Not only do they feel heavenly and luxurious, but I can't stress how much they've minimized my bedhead. I'm no longer taking knots out of my hair all morning; I just run my brush through a couple of times and I'm out the door. Also, the pillowcases have really helped with reducing skin irritation along my cheeks, which is where I typically get patches of eczema during the winter. I've noticed such an improvement in my eczema, I'm genuinely considering trying out Zimasilk's silk sheets to see if they help with eczema patches on my body.
If you've long wanted to try silk pillowcases but have been put off by the steep price tag or concerns about quality, Zimasilk's versions are worth a look. After falling in love with my first two pillowcases, I added two more to my collection, in light blue and gray. The $25 price tag means that for the price of one fancy silk pillowcase, I now own four, and I'm well on my way to the silk-clad bed of my dreams.
The Strategist is designed to surface the most useful, expert recommendations for things to buy across the vast e-commerce landscape. Some of our latest conquests include the best acne treatments, rolling luggage, pillows for side sleepers, natural anxiety remedies, and bath towels. We update links when possible, but note that deals can expire and all prices are subject to change.