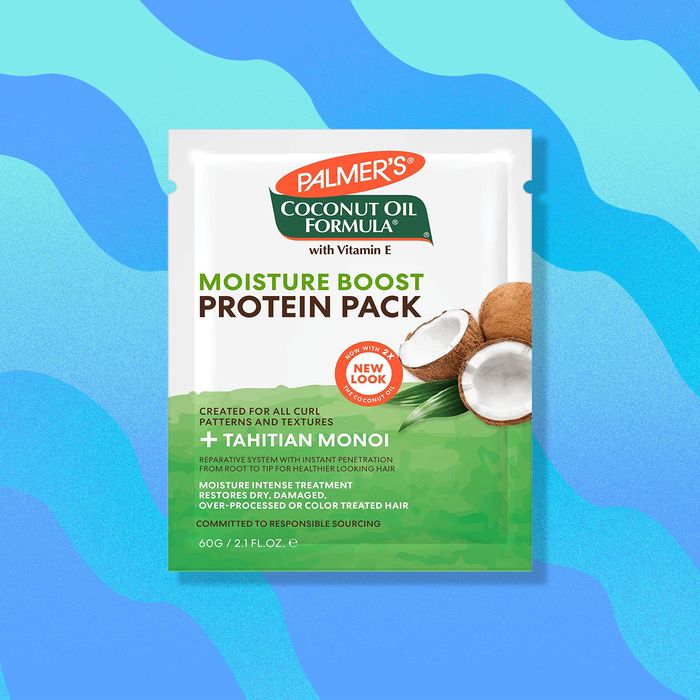 Illustration: Jordan Moss; Photo: Retailer
Editor's note: When this story was originally published in July 2020, this product was called Palmer's Coconut Oil Deep Conditioning Protein Pack. It has since been rebranded, but all of the ingredients remain the same — so we're republishing it this week, as part of Natural-Hair Week.
I've had my hair in braids since 2014, but in May, with salons closed, I was suddenly forced to go braidless. Without my protective style in place, I found myself confronting the reality of my hair: While it wasn't in horrible condition, it was definitely damaged. It frizzed easily and the ends were nothing but splits and knots, even after I gave myself a trim.
While wandering around Target, I came across Palmer's Coconut Oil Moisture Boost Protein Pack. I'd heard good things about protein treatments — last year, one Strategist contributor said they help her "maintain a halo of healthy kinks and coils while minimizing breakage and frayed ends" — but I'd never done one myself. At just $1.50 per pack, I decided Palmer's was worth a try.
Later, I hopped into the shower, shampooed my hair as usual, then worked the majority of one pack of protein treatment through my hair. I put a shower cap on and went to bed, then rinsed the protein treatment out the next morning. Immediately after styling my hair, I could see the difference. Most of my split ends seemingly disappeared before my eyes, and the frizzing on my twists was minimal. My hair was stronger than it'd been in a very long time and it felt, for once, like a cohesive unit rather than 100,000 strands with separate agendas.
Impressed, I decided to look into how protein treatments work and learn more about what I was smothering my hair with. The basic science is that a damaged strand of hair looks like a Jenga tower after four rounds of play. Using a protein treatment is like adding brand new blocks — in this case, keratin — into the gaps and giving your hair renewed structural integrity.
There are several things to consider when it comes to protein treatments. After using one, your hair will feel strong, but it won't feel particularly soft, especially at the roots. It's nothing to worry about — within a day or two, it'll soften back up. And while it seems like a miracle product, it's important to know that protein treatments should be an every once in awhile thing, used once a month, at most, if doing overnight treatments. Overuse can lead to stiff hair.
This Palmer treatment now has a permanent spot in my routine, and I'm not alone — hundreds of Amazon reviewers agree, with one calling it a "holy grail." And at a dollar and a half (or $2 to $3 at some stores), it's truly is a steal, especially when compared to the cost of masks with similar claims.
Here's everything I use with it
In addition to the keratin, this protein pack features coconut oil and monoi oil (made from Tahitian gardenias), which are both sustainably sourced, and help lock in moisture. Remember, oil is a sealant, not a moisturizer, so you'll still have to use your favorite leave-in conditioner afterward.