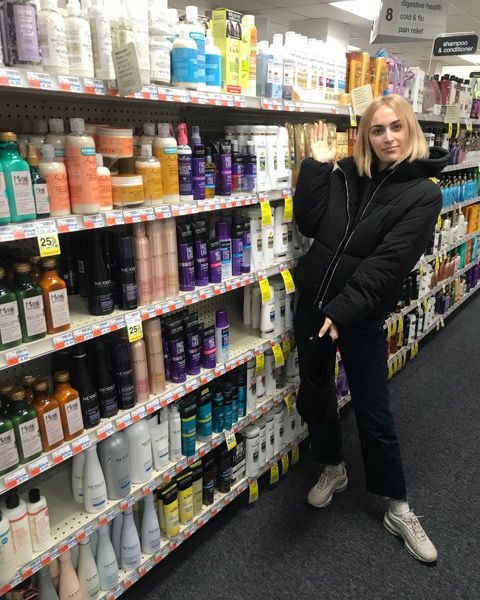 The author at CVS.
Photo: Rio Viera-Newton
I've put my hair through a lot over the years — red, platinum, and everything in between. This means it's important that I use a lot of hydrating, conditioning hair care products to help repair my brittle, damaged strands. Certain brands — Christophe Robin, Gisou, and Sachajuan — can keep my fried hair soft, shiny, and bouncy, but those products are definitely not cheap. Repurchasing Christophe's $71 prickly pear mask every few months can be downright upsetting. Sometimes, when I'm low on money or just need a cheap alternative (typically when traveling), I gotta go to the drugstore. And while I really do adore all my fancy hair products, I must say my drugstore favorites have held me down in some pretty tricky situations. Below, some of my low-budget faves for my intensely high-maintenance hair.
Best Hair Oil
While Paul Mitchell might not be the cheapest drugstore option (most of their stuff is over $20), their products are reliable — and some, like this cult-favorite hair oil, are genuinely great. I've been using it regularly since high school — it's lightweight, doesn't give your hair that sticky feeling, and quickly smooths out any frizzies or flyaways, ensuring that your hair looks silky smooth. Plus, I love the light floral smell.
Best Hair Mask
When I was icy platinum, I used this at a friend's house and was completely dumbfounded — it left my strawlike, stripped locks feeling soft and bouncy. I've tried a lot of deep-conditioning products and can honestly compare how my hair felt after I used this to how it felt after using Gisou's Honey Mask.
Best Single-Use Hair Mask
If you're looking for a single-packet drugstore hair mask, this is your girl. It contains, of all things, antioxidant-rich blueberries, which promotes hair strength, and probiotic-filled greek yogurt, which helps your hair retain moisture. Leave it on for ten minutes, wash it off, and your hair will look shiny and smooth. A great thing to have in your toiletry bag for traveling!
Best Neutral Shampoo & Conditioner
I'm currently trying to grow out my natural hair, which has created a very specific predicament. On top of my head is my oily and flat virgin hair; on the bottom, my strands are still double-processed (so completely dry and bleached). This means if I use a too hydrating shampoo and conditioner, the top of my hair gets oily, and if I use something too volumizing, the bottom of my hair gets upset. When I was in L.A., I picked up this shampoo and conditioner on a whim — and it's become my new go-to. It's really simple and neutral — nourishing enough that my temperamental ends don't wither up, but not so overly moisturizing that my hair gets greasy. Since it works so well for both sides of my half-and-half hair, I think it would work well for almost hair types, whether you're dry or oily or somewhere in between. And as a side note: My curly-haired mom tried it and liked it as well!
Best Hair Spray
I have to admit that this hair spray was first introduced to me by a middle school classmate whom I can only describe as a "scene kid." Her hair was always amazingly big and voluminous and managed to stay that way for hours. Ever since then, if I ever have a blowout or particular hairstyle that I really want to stay put, this is what I reach for — it doesn't leave hair feeling crunchy or crispy and really works.
Best Dry Shampoo
This is one of the best dry shampoos I've ever used. [Editor's note: We've written about this dry shampoo before.] What I love most about this product is that it really volumizes your locks and lasts all day long — if you wake up with limp, oily hair, a few spritzes and rubs of this in the a.m. will help your hair look matte and full well into the evening. I also love the smell — the subtle coconut scent is pleasant without becoming a full-on hair perfume.
Best Texturizing Product