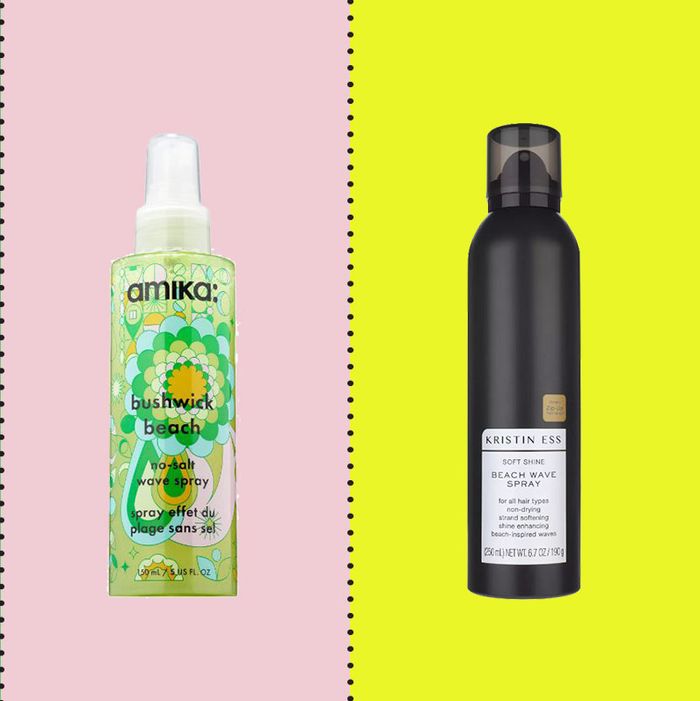 Photo: Courtesy of the retailers
Sea salt as a hair texturizer has been around for, well, as long as the sea, and while the mists and sprays that try to harness the effects of a day at the beach haven't been around quite so long, they've still been around for awhile — ever since Bumble and Bumble launched their Surf Spray in 2001. Over the past few years, though, a new class of sea sprays have started popping up. Some are marketed as less crunchy and less drying than their predecessors, while others introduce new scents that are more floral — think lavender and rose — than the traditionally beachy, coconut-y scents of the wave sprays of yore. Some are meant to be used on dry hair, a step away from the traditional application of the spray to damp hair that you would then scrunch to your desired waviness. And some are even salt-free, in order to be less drying.
We wanted to try out some of these new sea sprays, and see if they really were so different from earlier sprays. And so the Great Sea-Spray Discussion of 2019 began: four writers, each with a different kind of hair, testing four sprays, and then getting together (on Google Hangouts, since three were in New York and one was in Los Angeles) to discuss each.
The testers and their hair types
Marie Lodi: The top half of my shoulder-length hair is my "real" hair — super straight and fine with the tendency to get oily — while the bottom part, which is more textured and slightly wavy, is still recovering from two years of dyeing and bleaching. TL;DR: Straight and fine on the top, post-processing on the bottom.
Tanisha Pina: I have thick, 3C-type curls that for the most part are a mix of tight corkscrews and strands densely packed together. My hair is super prone to knots, loss of curl definition, and dryness — like, insatiably thirsty all of the time. TL;DR: Curly, thick, and prone to dryness.
Kelsi Trinidad: My natural hair is thick and leans oily with a texture that's between straight and wavy. I've found that a couple of spritzes of sea-salt spray and a second's worth of scrunching is usually enough to make the transition to fully wavy hair. TL;DR: Thick, sometimes oily, and quick to wave.
Hilary Reid: My hair is pretty straight, flat, and medium-thick. It gets a little wavy in humidity, and I like to embrace that waviness as much as I can. Products tend to make my hair look dirty, so I use them sparingly. TL;DR: Straight-ish, fine, but lots of it.
Best overall sea spray
We all loved Kristin Ess's Beach Wave Spray, which happened to be the least expensive spray and is meant to be used on dry hair. "I actually used it on both wet and dry hair and got well-formed, consistent results waves-wise," says Kelsi Trinidad, who tested this on her long, thick hair, which easily holds waves. "It didn't weigh my hair down." Tanisha Pina says this worked well for her tight curls. "It really softened my hair at its driest — superlight and just feels like something I want to keep at my desk to bring my hair back to life when its shape inevitably fades mid-day." Marie Lodi, who tried this on her part-processed and part-grown out hair, says, "It worked for me and gave me some great waves and volume." And for me, Hilary, the spray gave volume to my straight hair, and didn't make it dry or crunchy.
The one that gives volume to thick and fine hair
Herbivore's Sea Mist, which is infused with coconut and sea salt, was another crowd pleaser. "I think this one was my favorite spray because it was so basic," says Trinidad. "Instead of sticky, my hair remained light and voluminous. I liked that it wasn't crunchy in my hair like a lot of other salty ones are, a.k.a Bumble and Bumble." The Herbivore was one of my favorites, too — I found that it gave my hair good volume when it was dry. Pina, who also named this spray as a favorite, described how this helped give shape to her hair a few days after washing: "My day-three, four hair turns into a proper afro, so while I don't necessarily ever get 'beach waves' from any of these products, keeping my hair together in one unit — instead of having the hair on the top of my head sticking up and the hair on the bottom all over the place — is a big win for me." Lodi wasn't as crazy about this one, which left her straight and fine hair a little greasy. "My hair looks greasy after a day at the beach so at least it was accurate!" she says.
The one that gave big waves to fine hair
"I wanted to love it because I've generally loved Amika's other products in the past but it made my curly hair feel really crunchy," says Pina. Trinidad, whose long hair is prone to oiliness, comments that "It made my hair oily and grimy and by the end of the day, my hair moved as one singular unit." This one wasn't a great fit for my hair, either: It initially added some waves, but by the end of the day my fine hair was flat again. Lodi, whose straight hair is recovering from processing at the bottom, but growing in fresh on the top, had better results. "It gave me the strongest waves (I almost felt like Baby in Dirty Dancing, except with more beach waves and not curls, but almost the same type of volume,)" she says. "But when I applied it on damp hair it felt heavy and dried kind of matted."
The floral-y one that's hydrating for curls
The light rose scent of this spray was a plus for all of us, as was the chic packaging. "I actually really liked this one!" says Pina, who calls the spray "really lightweight" and comments that it "left my thick, curly hair pretty defined even on my dryer strands at the bottom of my hair." Lodi found that this spray worked well on the still-processed part of her hair, while not having much of an effect on the fine hair at the top of her head. "It gave me nice, small waves without the volume," she says. "So it looked cool in that sense, like Californian girl natural waves." I had a similar experience to Lodi, and found that this worked best when I wanted to put my fine hair in a bun, but still have some texture. Trinidad said that for her thick and sometimes oily hair this one was "a tad sticky, with less hold," leaving her "in an odd place of kind-of-limp waves."